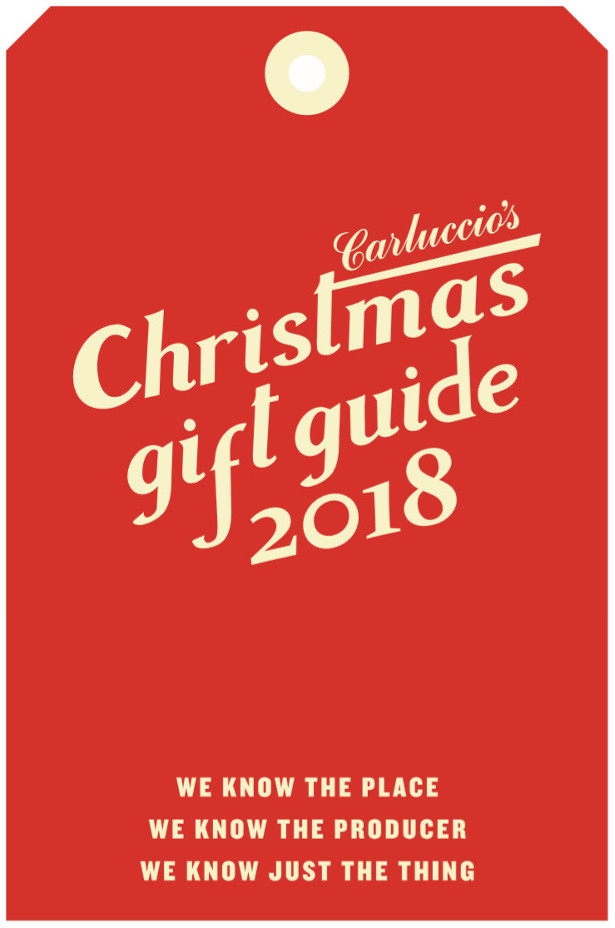 Carluccios Gorgeous Christmas Gifts, they have just the thing! > www.carluccios.com
FACEBOOK | INSTAGRAM | TWITTER
TORRONCINI 200g £12.95 Assorted flavours of soft almond and hazelnut torrone from Sicily coated in chocolate

PANETTONE TRADIZIONALE 1kg £17.95 A hazelnut glazed panettone with plump sultanas & candied peel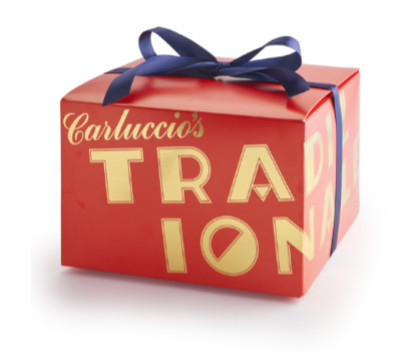 PANETTONE AL PROSECCO 900g £19.95 From veneto, soft and buttery cake with a prosecco cream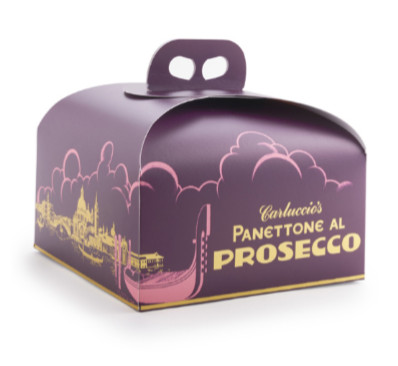 LIMITED EDITION ADVENT CALENDAR £85 Risotto, pasta, oils, sauces, jams, chocolates, biscuits and Christmas treats.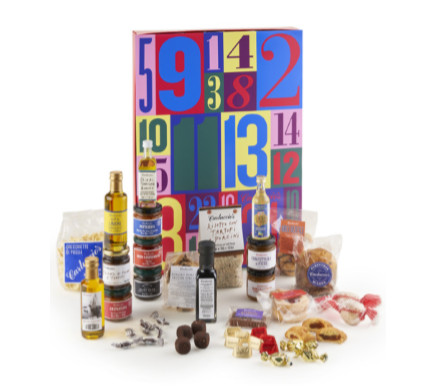 IL TERZETTO £17.95 A trio of truffles: A tritato for crostini, oil for pasta and honey for cheese.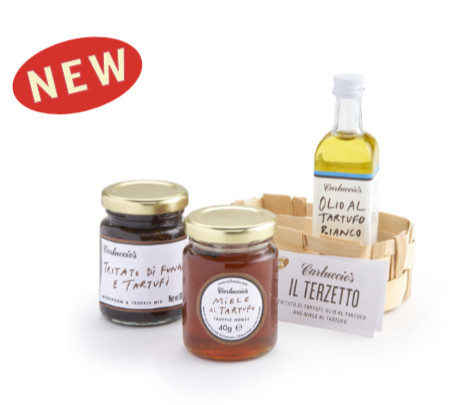 CESTINO DI FRUTTA 300g £17.95 Traditional hand-decorated Sicilian marzipan fruits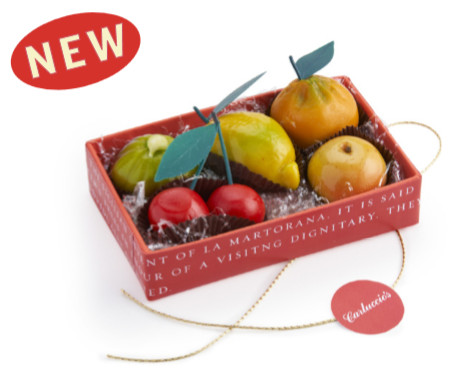 GIANDUIOTTI SELEZIONE TORINESE
220g £14.95 An assortment of milk, dark and white hazelnut chocolates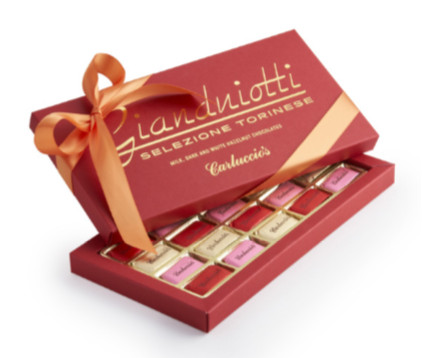 PANETTONE AL LIMONCELLO 950g £19.95 Decorated with white chocolate and filled with a zesty limoncello filling and lemon peel

IL MASSIMO £75 All of your favourite Carluccio's Christmas products in one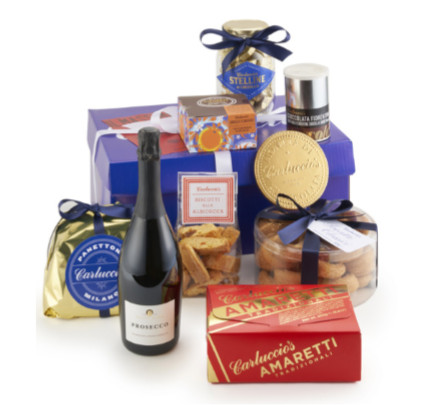 FICHI CON CILIEGIE AL RHUM 200g £12.95 Calabrian figs soaked in rum, stuffed with candied cherries and double coated in dark chocolate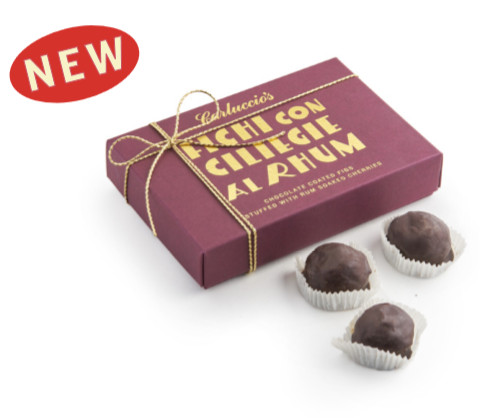 PITTA 'MPIGLIATA 500g £10.95 A pastry cake made with olive oil and wine, stuffed with fruits, nuts and honey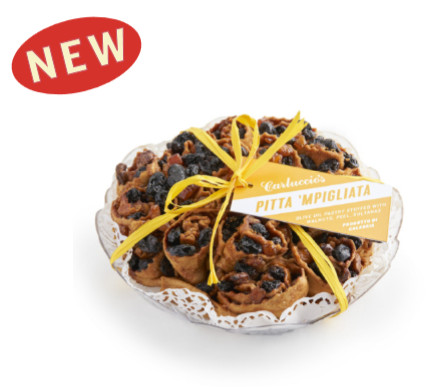 BAUBLE DI NATALE £3.95 Filled with milk chocolate hazelnut Santas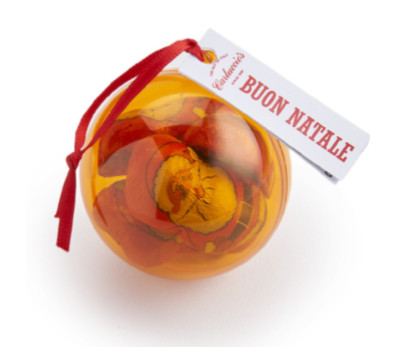 GIFT BOXES & HAMPERS
Carluccio's festive gift boxes come perfectly wrapped and tagged with a note about where they were made. Flip over the tag to write your own personal message.
IL PENTOLONE £30 In a scarlet hat box, this is the perfect present for pasta-lovers and comes with four lesser-known durum wheat pastas: orecchiette, scialatielli, strangoloni and gigli. Mix and match with our favourite sauces; spicy arrabbiata, porcini mushroom, venison ragu or vongole. Or make your own pasta with the ravoli cutter, recipe included.
IL TERZETTO £17.95 A new addition to the range, this trio of truffle-based condiments, packaged in a hand-woven wicker hamper, adds indulgence to any meal. Enjoy the truffle sauce alongside antipasti, stir truffle oil into your favourite pasta; and enjoy the sweet truffle honey with a hard cheese like parmesan.
IL MASSIMO £75 If you could put all your favourite Italian delicacies into one box, this would be the result. An Italian box brimming with suitably indulgent festive sweet treats including classic Milano panettone; milk chocolate gianduja-filled stars; traditional amaretti biscuits; Florentine hot chocolate; a giant milk chocolate coin; apricot biscotti; candied clementine segments in dark chocolate; Torcetti butter biscuits and a bottle of Santa Sara prosecco.
CHOCOLATE GIFTS
All Carluccio's chocolate gifts are made with generous helpings of nuts and fruits grown by Italian producers.
CESTINO DI FRUTTA 300g £17.95 A Christmas tradition as old as Babbo Natale himself. Almost life-size traditional Sicilian marzipan fruits including clementine, cherries, lemon, fig and apple are hand-painted to create a charming gift or eye catching table centre piece.
TORRONCINI ASSORTITI 200g £12.95 New for 2018, try this assortment of soft almond and hazelnut torrone coated in dark, milk or white chocolate with orange hints, a popular festive treat from Sicily.
FICHI CON CILIEGIE AL RHUM 200g £12.95 Calabrian figs soaked in rum and stuffed with candied cherries, then double coated in dark chocolate. Perfect to share and definitely not one for designated drivers!
CLEMENTE IN CAMICIA 200g £12.95, 300g £17.95 These juicy candied clementines are grown in Italy's south coastal region of Calabria. They are candied at the estate and double-coated in rich dark chocolate.
STOCKING FILLERS & DECORATIONS
BAUBLE DI NATALE £3.95 These milk chocolate hazelnut Santas encased in a cute bauble make elegant tree decorations or unique place settings.
GIANDUIOTTI FONDENTI 100g £5.95 The perfect stocking filler, these traditional milk chocolate gianduiotti are made using the finest hazelnuts from Piemonte and dark chocolate.
LIMONCELLO E BICCHIERINI £14.95 This duo of Limoncello liqueur from Sorrento and milk chocolate cups is excellent served together chilled after dinner.
BUON NATALE! www.carluccios.com
#CarlucciosChristmas
@carluccios