'FOCUS ON THE FANS: Lions Tour 2017' BOOK NOW AVAILABLE by author Ken Skehan, on www.focusonthefans.com
Raising money for Rugby Charities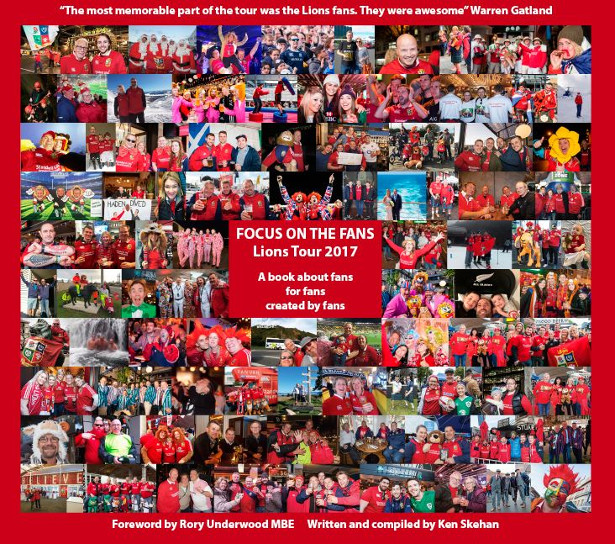 About this time last year more than 20,000 rugby fans were excitedly preparing to go on what for many will have been their trip of a lifetime – following The British & Irish Lions to New Zealand for what turned out to be a historic tour.
Freelance journalist Ken Skehan went with them. Ken wanted to pay tribute to fans of all sport for the role they play in attracting finance from broadcasters and sponsors. After all, they only invest the sums they do to engage with us fans.
He chose the Lions Tour as one of the most extreme examples of the lengths fans will go to in order to witness the highest quality sport live. Their investment of time and expense to travel half way round the world for extended periods is surely one of the great stories of fan support anywhere on the planet – as British & Irish Lions head coach Warren Gatland was quick to acknowledge to Ken the day after the final test in Auckland.
The resulting high quality, 255 page hardback book, 'FOCUS ON THE FANS: Lions Tour 2017' is now available. Rugby World's Alan Pearey in reviewing the book said: '…with nearly 600 photos and 79,000 words he has done a fine job in reflecting the scale and fervour of the lions invasion. Even if you're not one of the 600 fans featured, it's a pleasing and unique record of the Lions tour experience'.
Ken chose to finance the whole project from his own pocket and to print and publish the book himself. That way he could control what happens to revenues, and rather than a mainstream publisher taking a significant cut, a proportion of sales would immediately be allocated to rugby related charities.
£8 per copy sold from Ken's website www.focusonthefans.com is being equally split among:
Wooden Spoon
RFU Injured Players Foundation
My Name'5 Doddie Foundation
Borne (in support of their North Pole Trek that Will Greenwood completed last month).
Ken chose to support the latter because he had a brother who died soon after being prematurely born, which is the area Borne research into.
In the first few months since publication over £1000 has been distributed to these charities and to Exeter Chiefs Foundation, for whom he did a match day book signing.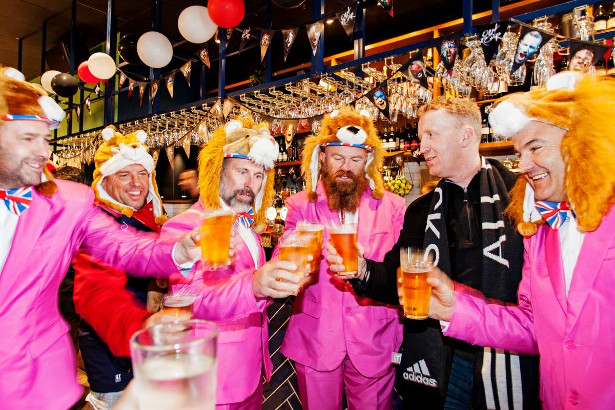 Ken is recouping some – but not all – of his considerable costs from the remaining sales proceeds.
Ken comments,
"The book celebrates the part fans play in sport, and would be a great memento for anybody who was on the tour. For those who would like to have gone but couldn't, the book will give them a flavour of the extraordinary experience that is a British & Irish Lions tour."
The book's cover price is £24 + packaging and postage costs of £4.50
FOCUS ON THE FANS: Lions Tour 2017
Raising money for rugby charities
Website: www.focusonthefans.com
Twitter: @FOCUSONTHEFANS
Facebook: @Focusonthefans
Ken Skehan ARPS MCIoJ
www.throughthelensphotography.net
Member:
The Royal Photographic Society (RPS)
The Chartered Institute of Journalists (CIoJ)
The International Travel Writers Alliance
The Bureau of Freelance Photographers