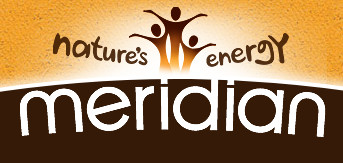 PINTEREST | YOUTUBE | TWITTER | FACEBOOK | INSTAGRAM
RECIPES
Roast Winter Veg & Quinoa Buddha Bowl
Ingredients
1 small sweet potato, peeled and chopped into bite size pieces Handful of cauliflower florets, approx 150g 1 carrot, peeled and sliced into 2cm disks 1tbsp oil 100g quinoa 1 avocado 4 brussel sprouts 1tbsp pumpkin seeds For the dressing ½ clove garlic, grated ½ cm ginger, grated ½ tsp miso paste ½ tsp soy sauce 1tbsp Meridian Peanut Butter with Seeds
Method
1.Heat the oven to 200C/180C fan. Put the sweet potato, cauliflower and carrot in a large roasting tray, drizzle with the oil and season well. Roast in the hot oven for 30 minutes, shaking the tray halfway through to shuffle the veg. 2.While the veg is cooking put the quinoa in a saucepan with double the depth of water. Bring to the boil and simmer for 10 minutes. When the quinoa is cooked drain any remaining water. 3.Make the dressing by mixing together all of the ingredients with 3tbsp hot water until smooth. 4.Slice the avocado, finely shred the sprouts and toast the pumpkin seeds in a dry frying pan. 5.In two large deep bowls, build the dish in sections, piling the roast veg in one side then add a mound of quinoa, some slices of avocado and pile of sprouts. Scatter over the toasted seeds and drizzle with dressing. Serves 2.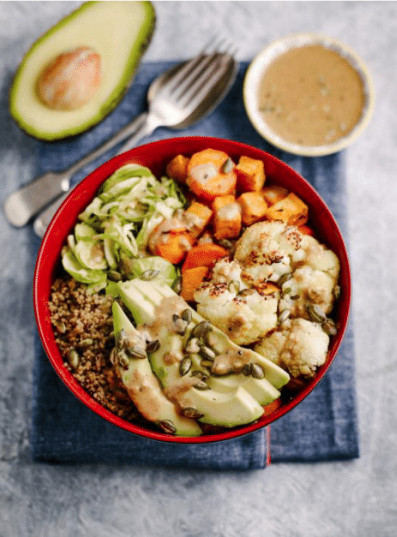 Peanut Butter Mocha
Ingredients
A shot of espresso 2tsp Cocoa powder 2tsp Meridian smooth rich roast peanut butter 100ml Boiled water 100ml Steamed Milk Cocoa powder for dusting Sugar to taste Hand held mini whisk
Method
Mix a shot of espresso with 2tsp of cocoa powder and 2tsp of Rich Roast Smooth Peanut Butter and 100ml of boiled water and mix until all smooth and combined. Whisk in 100ml of steamed milk and top with a dusting of cocoa. Add sugar to taste. Serves: 1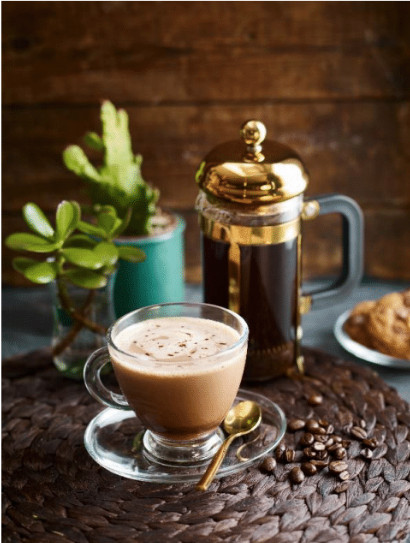 Peanut Butter Chocolate Chunk Ice Cream
Serves: 6-8Takes: 15 minutes plus freezing time
What you need:
4 ripe bananas, peeled, chopped and frozen 200ml almond milk 3 tbsp Meridian crunchy peanut butter Plus 2 tbsp for the ripples 60g dark vegan chocolate, chopped fine
What you do:
Put all the frozen bananas, almond milk and 3 tablespoons of Meridian Crunchy Peanut Butter into a blender and whizz together until smooth. This will take a while, keep scraping down the sides and separate any banana chunks that have become frozen together. Once smooth, remove the blender blade and stir in the chopped chocolate. Tip the ice cream into a freezer container dotting and swirling in the remaining peanut butter as you go, cover and freeze until set. Remove from the freezer 10 minutes before serving. Recipe suitable for vegans.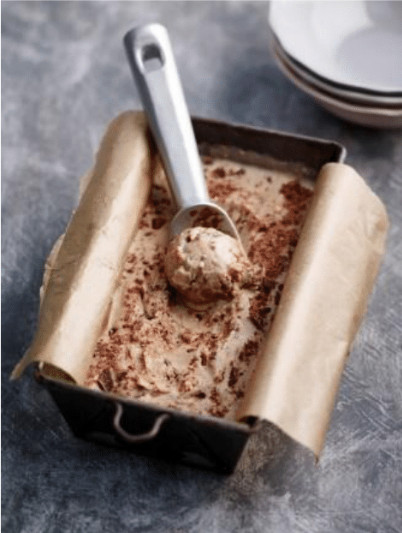 Chocolate Orange Porridge
Ingredients
100g Porridge Oats 500ml Milk 2 eggs, beaten 2 tbsp Meridian Cocoa hazelnut butter 1 orange 2 tbsp Greek Yogurt drizzle of honey and flax seeds to serve
Method
1.In a saucepan combine the oats, milk and eggs and bring to a simmer. Cook for 6-8 mins, stirring regularly until the oats are cooked and the porridge is thick. 2.Stir in the nut butter and the zest of the orange. Add a little more milk if the porridge is too thick for your liking. 3.While the porridge is cooking, slice the skin from the orange and cut into segments. 4.Divide the porridge between two bowls and top with the yogurt, orange, a drizzle of honey and sprinkle of flax seeds.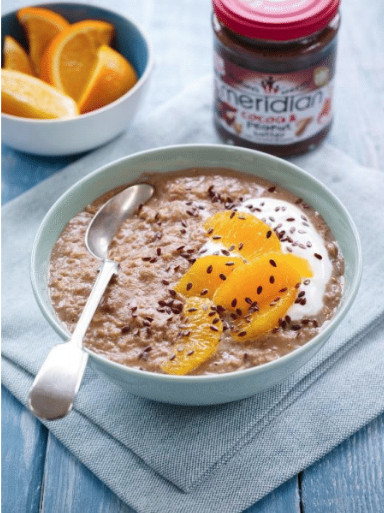 Cashew Butter and Honey Breakfast Muffins
Ingredients
275g self raising flour 50g oats 1tsp baking powder 100g Sultanas 2 eggs 100g runny honey 2 bananas, mashed 100g Meridian Cashew Butter (Smooth or Crunchy)50g butter, melted 200ml milk Makes 12 muffins
Method
1.Preheat the oven to 190C/gas 5 and line a muffin tray with 12 paper muffin cases. 2.Mix the flour, oats, baking powder and sultanas in a large bowl and set aside.3.In another bowl, beat the eggs, and then gently beat in the honey, mashed bananas, peanut butter, melted butter and milk. You'll end up with a gloopy liquid.4.Make a well in the centre of the dry ingredients, tip in the wet ingredients and quickly combine. Don't over mix.5.Spoon the mixture into the muffin cases and bake for 25-30 minutes, or until the tops are golden brown. Cool on a cooling rack.Cook's tip – these muffins are perfect for breakfast in a hurry or as an addition to a sandwich box.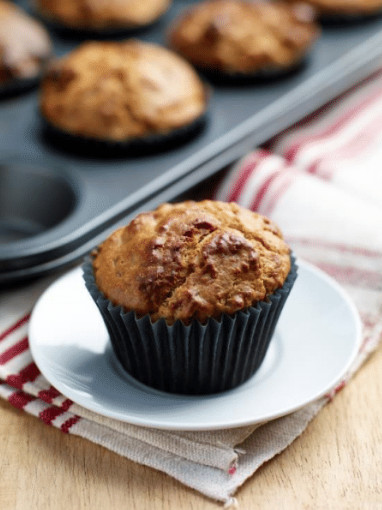 Sweet potato and baby kale Peanut Satay Curry
Serves 4
Takes 20 minutes
What you need
2 sweet potatoes 1 jar Meridian Peanut Satay 2 large handfuls of baby kale Rice, coriander and lime to serve
What you do
. Peel the sweet potatoes and chop into small chunks. Put in a saucepan with the Meridian Peanut Satay sauce. ⅓ fill the jar with water and shake to release all of the sauce and pour into the pan too with the potatoes. 2. Simmer for 10 minutes, stirring occasionally. Add a little more water if the sauce gets too thick. Stir in the baby kale and check that all is tender. Serve with Rice, coriander and lime. Notes Try some other veg combinations for a change. It also works well with cauliflower and spinach. Great for lunch boxes too.
Here are some Images and inspirational ideas from Meridian!
Check it all out on thier social media!
FACT: We do not use Palm oil in any of our products 🧡
We work closely with The Borneo Orangutan Survival Foundation who provide care and rehabilitation for orphaned and displaced orangutans due to deforestation. 🥜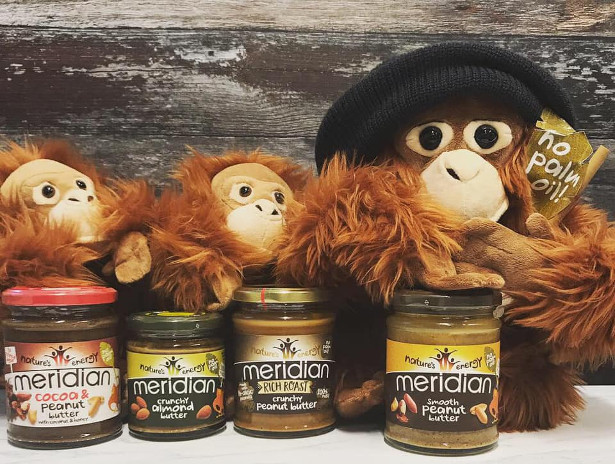 To find out more about our stance on no Palm oil, head over to our website www.meridianfoods.co.uk and click on the Orangutan 🐵
Did you know that our peanut butter tastes great in a stir fry!?
Try this Thai style prawn & peanut noodle recipe: https://bit.ly/2ACzoP4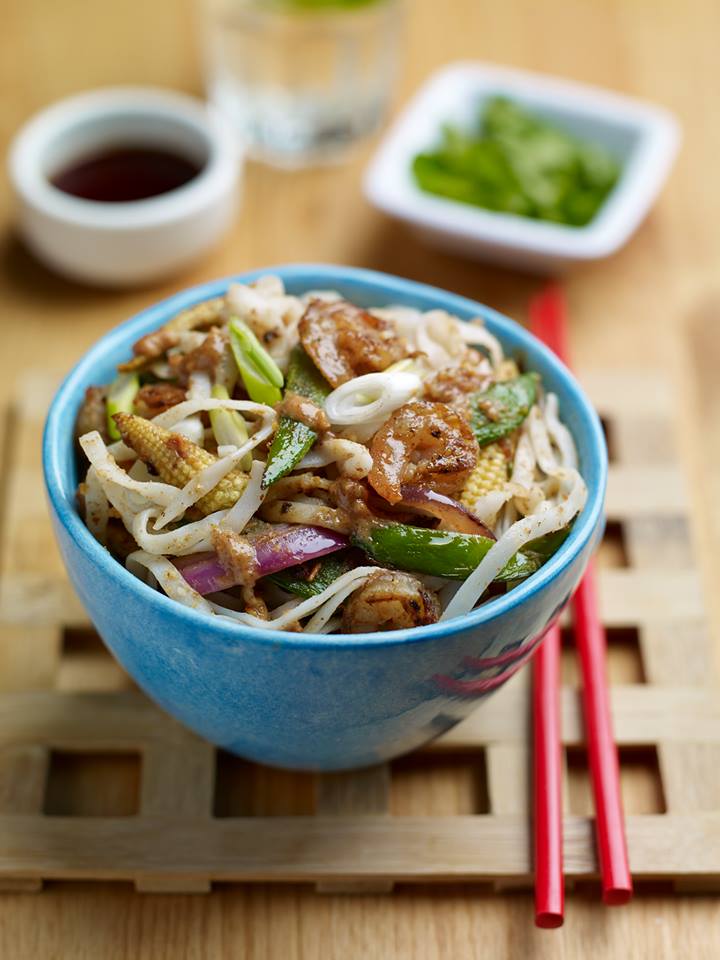 thai style prawn & peanut noodles
Noodles
print
ingredients
4 tbsp Meridian crunchy peanut butter
2 tbsp sweet chilli sauce
1 tbsp dark soy sauce
Juice of 1 lime
2 tsp fish sauce
1tbsp sesame oil
1 red onion sliced into thin wedges
2 cloves garlic
2cm ginger
150g baby sweetcorn, sliced in half lengthways
150g mange tout, sliced in half lengthways
300g frozen prawns
2 x 300g packs straight to wok thai noodles
4 spring onions, sliced widthways
method
In a bowl whisk together the Meridian peanut butter, chilli sauce, lime juice, fish sauce and soy with 2 tbsp boiling water.
Put the sesame oil into a wok or large frying pan and heat till very hot, toss in the onion and stir fry for 2 mins. Finely grate the garlic and ginger directly into the pan and continue to stir fry until the onion starts to soften.
Add the sweetcorn and mange tout then the frozen prawns. Continue to stir fry for 3-4 mins on a high heat until everything is hot. The vegetables should be tender but not soggy.
Finally add the noodles and the dressing and toss well. Once the noodles have warmed and everything is coated in peanut dressing, divide between 4 bowls, top with the spring onions and serve.
Serves 4
Nut butter and toast is a simple yet delicious treat! Have you tried our Cocoa & Hazelnut butter on toast? We have 🌟15% off🌟 our Cocoa range- SHOP NOW! 🛒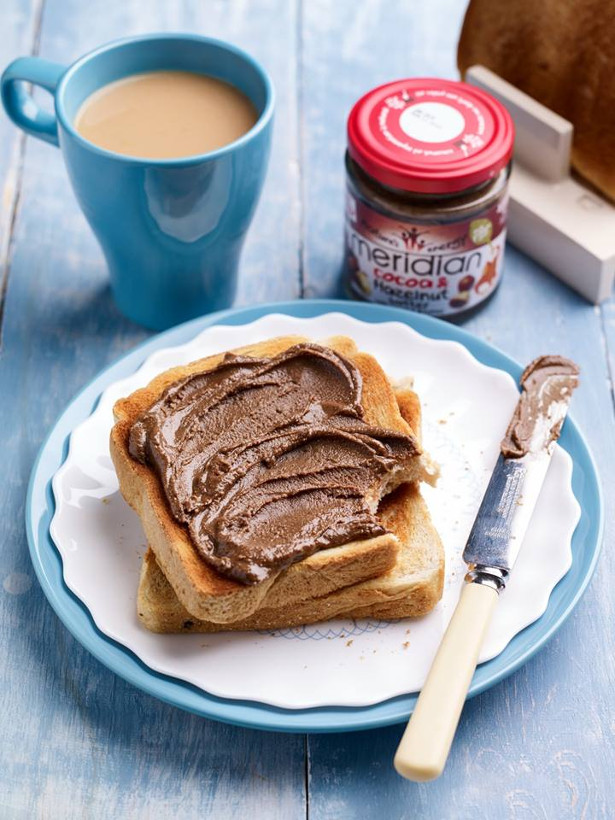 Sunday mornings 🧡
Sometimes a simple breakfast of peanut butter on toast is all you need to start your day! Especially if it's using our new rich roast peanut butter 🥜
#nutsaboutnuts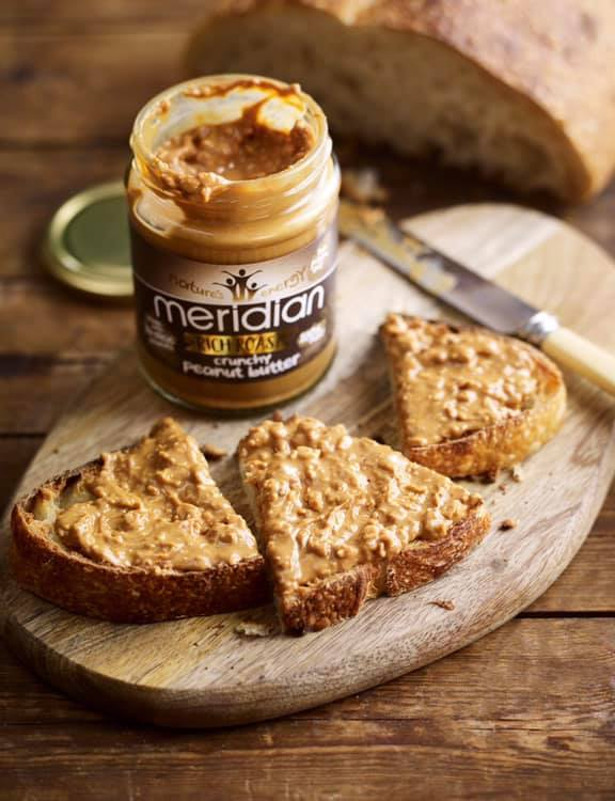 Saturday morning banana pancakes…what a way to start the weekend!
Recipe for these peanut butter & banana scotch pancakes here: https://bit.ly/2JwGojC #nutsaboutnuts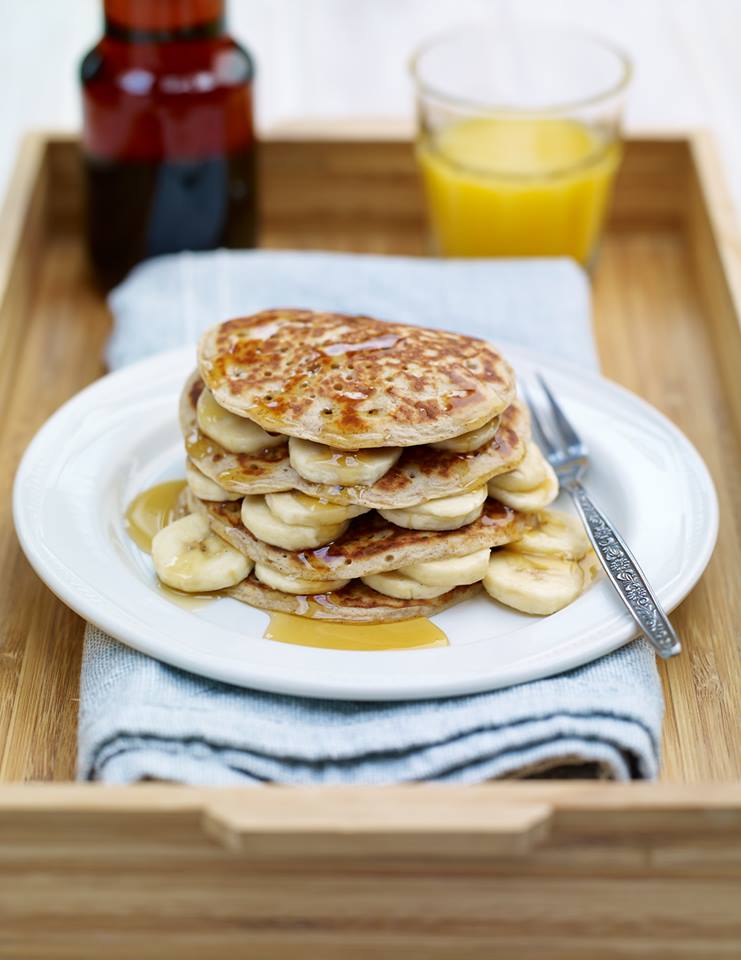 peanut butter & banana scotch pancakes
Pancakes
print
ingredients
125g self raising flour
1 tsp baking powder
1 egg beaten
300ml milk
1 small banana well mashed
2tbsp smooth peanut butter
method
Mash together the banana and peanut butter until you have a smooth-ish thick paste. In a large bowl whisk the rest of the pancake ingredients until smooth then add the peanut butter and beat into the batter.
Wipe a little oil over a heavy based, non-stick frying pan, skillet or bake stone and heat to a medium temperature.
To make each pancake, pour 2 tablespoons of the mixture onto the pan so it forms a small circle. Cook until you see bubbles rising and the top begins to dry then flip over and cook the other side for a further minute. Cook 3 or 4 at a time depending on the size of the pan.
Stack the pancakes on a warm plate in a low oven to keep warm while you?re cooking the rest. Serve with more sliced banana or some seasonal fruit and a drizzle of maple syrup.
The batter mix can be made in advance and stored in the fridge overnight so its ready for breakfast time.
Serves 4
We have a wonderful vegan recipe for Indonesian peanut butter and tomato soup! 🥜🍅
Recipe here: https://bit.ly/2AEz1DE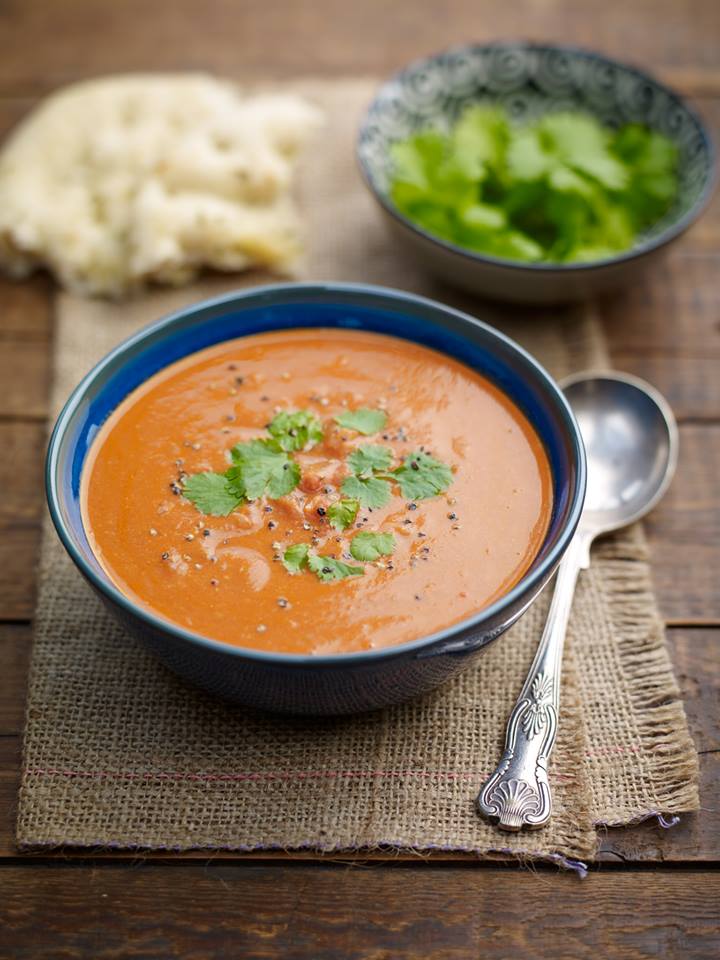 indonesian peanut butter and tomato soup
Makes: 2
print
ingredients
2 tsp nut oil
1 onion, finely diced
2 cloves garlic, crushed
2cm of ginger, grated
1 red chilli, diced
1tsp paprika
1tsp cumin
3tbsp Meridian crunchy peanut butter
440g chopped tomatoes
2tbsp tomato puree
500ml vegetable stock
Small bunch coriander
method
Heat the oil and gently cook the onion for 6-8 minutes until it's soft. Add the garlic, ginger, chilli, paprika and cumin, stir and cook for 2 minutes.
Stir in the peanut butter, chopped tomatoes, puree and stock, season to taste. Bring to the boil and simmer for 5 minutes and serve scattered with coriander leaves.