Spokester make bike accessories to make your bike sound like a motorcycle, which are great stocking stuffers for kids.
They easily attach to the frame of the bike and hit the spokes of the wheel to make the sound. They've been really popular this year as more families are spending time together and trying to be healthier and more active. It's also great way to encourage kids to spend more time outdoors.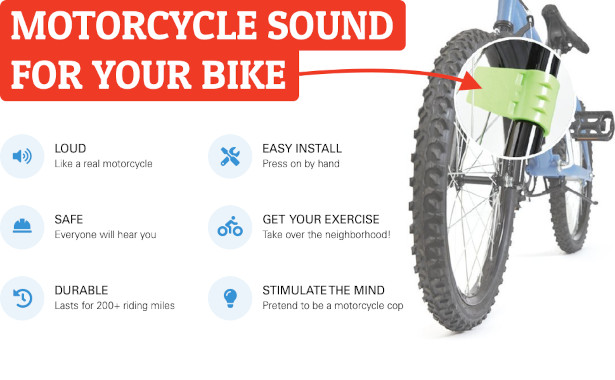 The Spokester Bicycle Noisemaker snaps on to the front fork of kids' bicycles and makes a motorcycle sound. Pretend to be a real motorcycle cop!
You can purchase Spokester™ here:  www.spokester.com !
SPOKESTER Bicycle Noise Maker – Makes Your Bike Sound Like a Motorcycle
SOUND LIKE A MOTORCYCLE Bicycle accessory for kids that adds realistic motorcycle exhaust sound. Snap Spokester on for more NOISE than you know what to do with!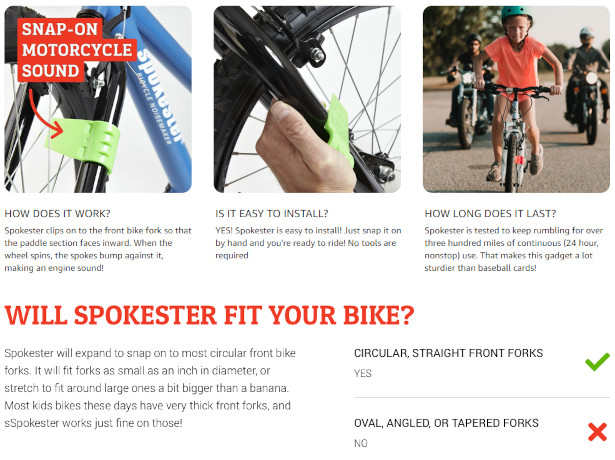 EASY TO INSTALL Spokester is easy to install. Just snap it on by hand and you're ready to ride! No tools are required!
BUILT TO LAST Durable plastic lasts for hundreds of miles. Don't waste your time replacing playing cards and clothespins, or jamming empty plastic bottles in your spokes and damaging your bike.
ONE SIZE FITS MOST If it has circular forks, it'll fit. Spokester works great on BMX bikes, mountain bikes, kids' tricycles, balance bikes, and road bikes.
GREAT GIFT IDEA Makes a great present for boys and girls for birthdays, Christmas, stocking stuffers, or any occasion!