Aduna Launches New Superfood Energy Bars:
Superfood Snacks with Functional Benefits
FACEBOOK | TWITTER | PINTEREST | LINKEDIN | INSTAGRAM
Delicious fruit & nut energy bars powered by nutrient-rich African superfoods
Only bar with sufficient natural nutritional content to support "Superfood" health claim
Tapping into 3 major trends: natural health, superfoods & ethical consumerism
LONDON, 27th April 2018: Africa-inspired health food brand Aduna announces the launch of a new range of Superfood Energy Bars: its most functional product range yet. Made from dried fruit & nuts and powered by nutrient-rich African superfoods, the range has been designed to take African superfoods into the mainstream – by delivering on taste, texture and nutrition in equal measure.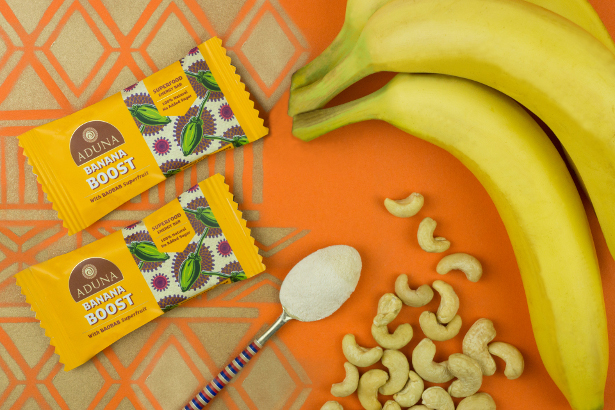 Developed in response to consumer and retailer demand for naturally healthy snacks with functional benefits, Aduna Superfood Energy Bars are 100% natural and contain no added sugar, preservatives, additives, gluten- or dairy-ingredients. Each bar is a source of fibre and at least two vitamins and minerals that support energy release –making them the only bars in their category which can "naturally" support a "superfood" health claim. Packed with nutrients, bursting with flavour and with a delicious chewy texture, they are the perfect on-the-go pick-me-up.
The range includes Aduna's three existing bars – which have also had a packaging and recipe revamp – as well as three delicious new flavours including:
Banana Boost with Baobab Superfruit: The world's most consumed and globally-loved fruit transformed into an irresistible feast of chewy, banana-y goodness powered by nutrient-packed African baobab fruit.
Berry Bite with Hibiscus Superflower: Luscious raspberries with added flower power: tangy, full of flavour and bursting with benefits. Both Wholefoods and Holland & Barrett predict flowers to be a top health trend in 2018.
Choc-Orange Burst with raw Cacao – all the deliciousness of a dark chocolate orange with all the goodness of nutrient-rich cacao. So tasty, it's hard to believe it's healthy!
The new bars have a more indulgent, brownie-esque shape and new packaging with real stand-out shelf appeal. The new packaging, which was based on extensive consumer research, more clearly communicates the USP and consumer benefit of the products while retaining Aduna's trademark African wax print patterns and premium look and feel.
Andrew Hunt, Co-Founder and CEO of Aduna says: "Our new bars bring the extraordinary health benefits of our African superfoods to an even wider consumer base, tapping into three major trends: naturally healthy foods, superfoods¹ and ethical consumerism². The range will drive category growth for our retail partners by bringing superfood consumers into the bar category and attracting millennials looking for products that make a positive social impact – and based on the response from consumer testing, they are set to be a hit! Our bars were blind taste tested against a leading competitor and scored 7.10/10 vs the competitor's 6.06. Scores of 7 or more out of 10 are deemed 'exceptional' by the facility."
Aduna's range of Baobab, Moringa and Cacao superfood powders and energy bars are sold in 2,000 stores in 18 countries. In the UK, the company supplies over 1,000 retailers including Holland & Barrett, Ocado, Whole Foods and Planet Organic. In 2017, Aduna achieved annual revenues of over £1m.
Aduna is a social enterprise, which means it is driven by purpose as well as profit. It sources its ingredients wherever possible from small-scale producers in Africa. It has its own supply chain for baobab fruit in Upper East Ghana, through which it has created sustainable incomes for over 850 women producers, enabling them to provide basic needs for their families. As such, every bar helps create sustainable incomes for rural African households.
RRP: £1.89 for 40g
Sources
¹ Naturally healthy foods" including "superfoods" is the largest and fastest-growing segment of the $1tr global health & wellness sector (Euromonitor International 2015)
² 33% of UK consumers "actively choose" to buy brands doing social good (Unilever 2017)
As part of the product development process, Aduna spoke to 450 snack bar consumers to understand what is driving consumers' decisions in this category, prime usage occasions and trends. There are some interesting insights, which Andrew Hunt, Aduna's Co-Founder and CEO would be happy to take you through.