BAKER STREET BBQ PRODUCTS

Seeded Burger Buns
6 classic burger buns with that extra special touch. Crunchy sesame seeds scarreted on top of each, just to enhance your burger that little bit more. Deliciously soft and perfect for a last-minute barbecue, all you need to do is whip them out of the cupboard, slice them open and add your favourite burger. Heat them up first – for around 3 minutes. Your burger just got even better.

Burger Buns
A burger isn't a burger without a bun. Soft and tasty, this is the classic, medium-sized burger bun – ideal for a classic burger. Some say plain, we say simple. Simply delicious. Ideal for BBQs, it's the perfect size for beef, chicken, falafel, halloumi, whatever takes your fancy. Heat it up for 3 minutes first, add your burger of choice, and it will taste amazing!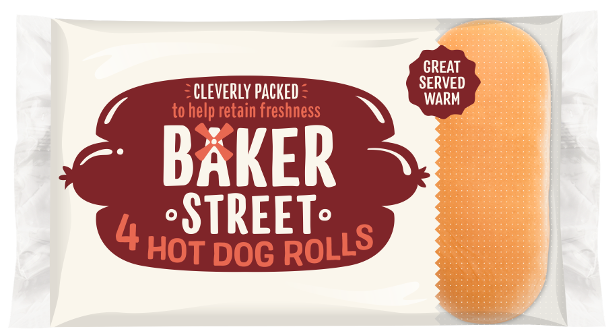 Hot Dog Rolls
When you've got a sizzling sausage on the BBQ or a classic hot dog on the hob, these deliciously soft hot dog rolls should be on hand for the perfect assembly process. Just the right amount of bread and filling. Pork, beef, chicken, veggie sausage – whichever you prefer. Make that hot dog extra tasty by heating the roll up first – 3 minutes should do just the trick.
Stockist information: NISA Local & SPAR