Bare Biology Announce September Startover
The perfect product for those re-establishing their personal health focus and for the health of their families & neighbours!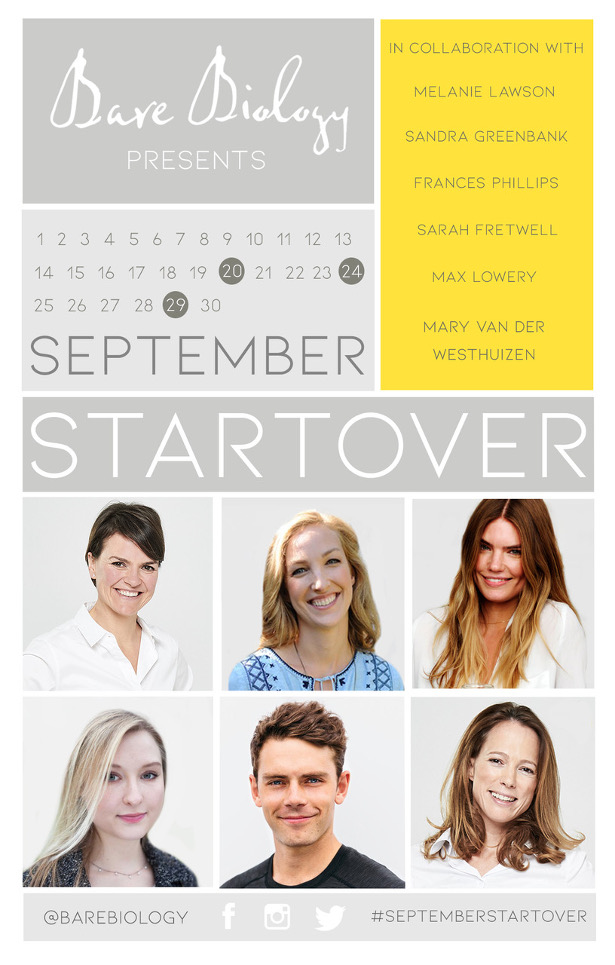 TWITTER | FACEBOOK | INSTAGRAM
September is known to be one of the most stressful months of the year, as we send kids back to school and try to re-adjust to daily life. The month presents the perfect opportunity to reset our lifestyle habits which we might have relaxed, deservingly so, during the holidays. Rather than go into Christmas countdown mode and start wearing oversized jumpers, Bare Biology want to help you refocus this September and start over.
Bare Biology are super excited to announce we will be hosting a series of helpful tips & advice on their website, including
· How to go back to work calmly by Coaching Emily
· Slowing down your eating habits by Nicky Duffel
· Top tips on how to apply for a new job by Caroline Binns
· 5 tips on setting up your own business by Melanie Lawson
· Trying out a new sport by Christina Howell
· Not losing you by stylist Milda Chellingsworth
· Daily habits and why fasting is so good for you by Max Lowery
Bare Biology have also teamed up with the rather swanky Devonshire Club & are hosting a range of events to help get your September started on a great note. These are free to attend but you must be either a member of the Devonshire Club or a signed up to Bare Biology in order to secure an invitation.
Yin Class
A delightful hour of stretching to help ease the tension of the day and clear your mind.
Hosted by Sarah Fretwell
Monday 24th September at 6pm
Insight into Nutrition
Bare Biology are bringing together 3 leading experts from the world of nutrition. They will be offering insight & advice on how to change your diet, quick fixes and tips. This is an interactive session.
Mary Van Der Westhuizen, Sandra Greenbank, Max Lowery & hosted by Melanie Lawson
Thursday 20th September, 6.30pm – 8.30pm
Making your own skin care
An exciting opportunity to join Frances Phillips, leading nutritional therapist, journalist & founder of The Natural Edit, to create your own moisturiser.
Saturday 29th September in the Garden Room at 12pm
About Bare Biology
Founded in 2013 by Melanie Lawson, Bare Biology is the leading premium Omega 3 brand in the UK. It's the first UK Omega 3 brand to be independently certified for strength, purity and freshness and has products for every life stage – Lion Heart capsules, Lion Heart liquid, Bump & Glory (for pregnancy) and Super Hero (for children). Stockists include Liberty, Whole Foods and Planet Organic. For more information head to www.barebiology.com