Celebrate the magic of storytelling this Christmas with Another Seven Simple and Slightly Silly Stories by John Foley
Stories with Warmth, Wit and a touch of Wonder. www.quizzicalworks.com
FACEBOOK | TWITTER | INSTAGRAM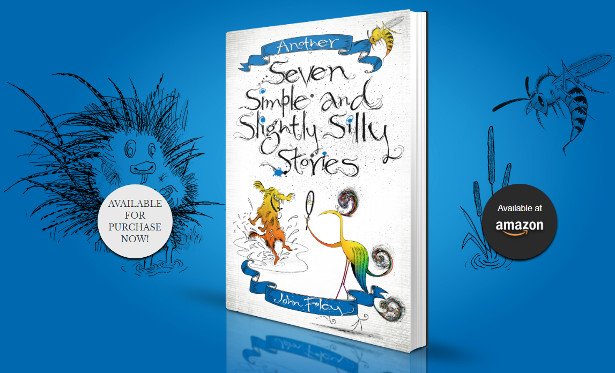 Following the success of his debut book, Seven Simple and Slightly Silly Stories, John Foley's second collection of darkly witty short stories for adults and children, Another Seven Simple and Slightly Silly Stories, is now available to buy – with 100% of the profits donated to Mencap, a UK charity working to improve the lives of those with learning disabilities.
In his new collection, Foley presents another set of seven charmingly quirky and remarkable fables, inspired by his time living in Hans Andersen's house in Copenhagen. In each magical tale, Foley brings new, wondrous worlds to life, transporting you to universes in which hotel lifts talk ('Going Up, Going Down, Going Out'), puddles have feelings ('The Snooty Puddle') and reindeer learn to read ('The Wisdom of Teaching Reindeer to Read')!
From a bird in search of the secret of singing ('The Squirlybird'), to an unlikely friendship between a porcupine and a pixie ('The Pixie's Quest'), the warmth and wit of
these short stories is something to be treasured. But each delightful story carries an important and surprising sting in its tale. Demonstrating the true magic of story-telling, Foley's twists and turns imbue his extraordinary tales with wisdom, revealing a deeper meaning that's anything but 'silly'.
In Foley's own words, these stories have been written for 'the young at heart aged 10 to 110' and showcase the power of reading and story-telling to develop empathy, identification and learning, at any age. With this in mind, Foley has pledged all profits from the sale of Another Seven Simple and Slightly Silly Stories to Mencap. As the leading voice of learning disability, Mencap strives to transform society's attitudes to learning disability and to improve the quality of life of people with a learning disability, their families and carers.
"I'm really enjoying reading John's book, Another Seven Simple and Slightly Silly Stories – my favourite short story is 'The Wisdom of Teaching Reindeer to Read'. I really enjoyed that one, it made me chuckle. It's a great book to just pick up and dip in and out of on my commute", Lloyd Page, Mencap volunteer
Another Seven Simple and Slightly Silly Stories is available direct from www.quizzicalworks.com at £7.50 (p&p included); also from bookshops and Amazon.
More quotes on Seven Simple and Slightly Silly Stories…
"MOVING WITH A WONDERFULLY SHARP WIT"
Jim Broadbent
"Delightful and moving with a wonderfully sharp wit, and never again will I be dismissive of the poor old mayfly."
"CURL UP ON YOUR OWN FOR SOME SELF-INDULGENT MIRTH!"
Maxine Peake
"This is a delightful book… full of silliness and joy, with a sprinkling of morality to boot. An ideal gift to lift the spirits or to curl up on your own for some self-indulgent mirth!"
"I LOVED IT"
Julian Fellowes
'Wonderful helpings of whimsy and truth in equal measure. I loved it.'
"AN INSTANT CLASSIC"
Dominic West
'I'm reading John's gently beguiling stories to my children and we think they are fun and thought-provoking. Little gems like "The Mayfly", a joyful call to "seize the day!", seem like an instant classic. I hope more children will enjoy these wonderfully wise tales.'
John Foley
John Foley FRSA is an actor, puzzle setter and audiobook producer.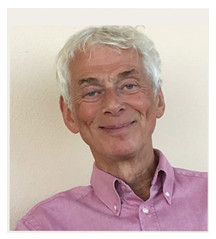 After years of stage work as an actor, he turned to writing and radio. He has scripted and voiced more than 600 programmes for BBC English/World Service. Other audio work includes adapting numerous plays by writers such as Alan Bennett, Ronald Harwood, John Osborne, J. B. Priestley and Victoria Wood for World Service Drama and Radio 4. John has also produced more than 70 audiobooks for Macmillan, Naxos and Random House, mainly of unabridged works by Boccaccio, Byron, Theodore Dreiser, Thomas Hardy, Henry James, Rudyard Kipling, D.H. Lawrence, Salman Rushdie, Anthony Trollope, H. G. Wells, Virginia Woolf, and many others.
John's other published works include several recreational reference books, a volume of musical anecdotes, stories for Disney comics and a number of graded readers for children.
Another Seven Simple and Slightly Silly Stories is the follow-up to Seven Simple and Slightly Silly Stories, the first collection of fables inspired by summers in Hans Christian Andersen's house in Copenhagen. Both books are enlivened with drawings by award-winning screenwriter, illustration artist and actor Grant Cathro. The first collection was published in 2017, with all profits being shared between Macmillan Cancer Support and The Silver Line. All profits from the new book are going to Mencap (www.mencap.org.uk)