(Re)Introducing GALAXY® Truffles – a fan favourite, back with a twist!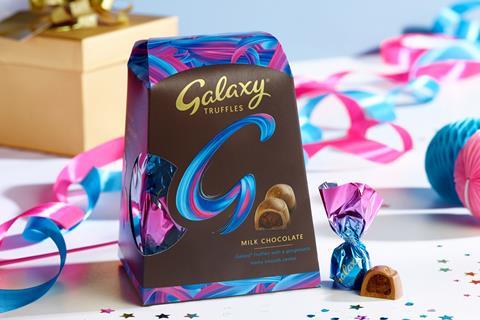 Chocolate lovers, rejoice! GALAXY® unveils its latest innovation – NEW GALAXY® Truffles. Answering the demands of fans across the UK, this new launch offers a contemporary twist on the GALAXY® Truffle, which first found fame in the mixed CELEBRATIONS box.
GALAXY® Truffles have long had a loyal fanbase – we all remember the infamous gifting scene in Gavin and Stacey, back in 2008, when characters Gavin Shipman and Uncle Bryn shouted, "I got the GALAXY® Truffle!" – declaring it the best in the box. So, when GALAXY® Truffles left the mix back in 2011, devoted Truffle lovers petitioned passionately for their return. Now, fans can celebrate as GALAXY® brings the melt-in-your-mouth chocolate treats back – but this time as the star of the show, in their own bespoke box.
The launch marks the first GALAXY® product to enter the all-year-round gifting market. Encased in smooth GALAXY® milk chocolate, each GALAXY® Truffle has a rich, velvety centre, individually foil wrapped in new eye-catching colours, offering a premium chocolate that's special enough to give.
Sarah Mellor, GALAXY® Brand Director said: "We are extremely excited to be launching GALAXY® Truffles in the UK this year and to be entering the all year-round gifting market for the first time as a brand. For so many, GALAXY® Truffles were part of a much-loved festive tradition and we are thrilled to be answering the undeniable demand, reinventing this favourite, now available all year round, as the perfect gift to bring pleasure to the next generation of GALAXY® fans."
*NOTES TO EDITORS*
GALAXY® Truffles will be available in a 206g box (RRP £4.99) in stores nationwide from mid-August.
From mid-September, enjoy GALAXY® Truffles in a 329g box (RRP £7.49), available exclusively in Tesco stores nationwide.
About Mars, Incorporated:
Mars is a family-owned business with more than a century of history making diverse products and offering services for people and the pets people love. With more than $35 billion in sales, the company is a global business that produces some of the world's best-loved brands: M&M's®, SNICKERS®, TWIX®, MILKY WAY®, DOVE®, PEDIGREE®, ROYAL CANIN®, WHISKAS®, EXTRA®, ORBIT®, 5™, SKITTLES®, UNCLE BEN'S®, and COCOAVIA®. Mars Associates proudly take care of half of the world's pets through our nutrition, health and services businesses such as Banfield Pet Hospitals™, BluePearl®, Linnaeus, AniCura, VCA™ and Pet Partners™. Headquartered in McLean, VA, Mars operates in more than 80 countries. The Mars Five Principles – Quality, Responsibility, Mutuality, Efficiency and Freedom – inspire our more than 115,000
Associates to take action every day to help create a world tomorrow in which the planet, its people and pets can thrive.
ST GILES HOTELS CEO ABIGAIL TAN – ALONG WITH MEDIA, FRIENDS AND GUESTS – ABSEILS DOWN THE ST GILES LONDON HOTEL TO RAISE MONEY FOR STREET CHILD UNITED AS PART OF ITS HOTELS WITH HEART PHILANTHROPIC INITIATIVE
In its third annual Abseil for Charity, St Giles Hotels gives adventure-holics a heart-beating experience and raises more than £7,000 for Street Child United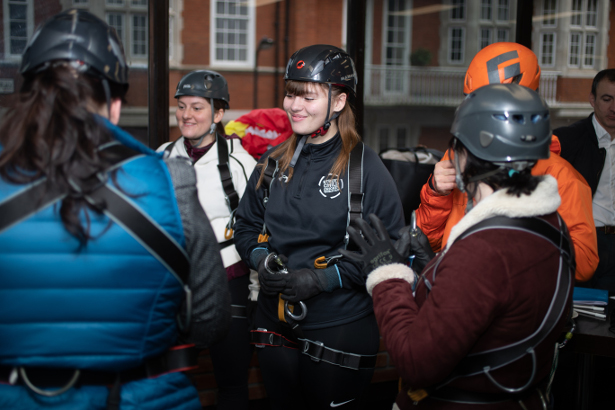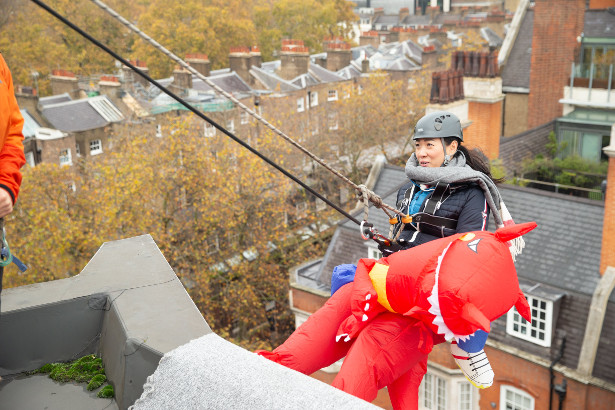 LONDON – 25 November 2019 –St Giles Hotels third annual Abseil Charity Event was an exciting feat to experience at St Giles London hotel on 15th November, that rallied the bold and brave to rappel down 10 floors of the famed brutalist high-rise with St Giles' CEO Abigail Tan leading the charge. The London hotel stands at over 164 feet tall, equivalent to nearly 30 black cabs stacked on top of each other, which offered the Abseilers unparalleled views of the city – including sweeping views of Centrepoint, London Eye, The Shard, The Gherkin and the British Museum.
While this action-packed CEO enjoys the thrill of an adventure while raising eyebrows, ultimately it's the raising of awareness for Hotels with Heart that motivates her. Hotels with Heart is St Giles' philanthropic initiative which engages the communities where St Giles' hotels are located to empower and educate vulnerable and troubled youth.
This year's Abseil raised a record breaking £7,000, tripling last year's total, for benefiting charity, Street Child United – a newly forged partner of Hotels With Heart that uses the power of sport to provide a global platform for street children to be heard, so they can receive the protection, support and opportunities to which every child is entitled.
"One of the most rewarding encounters here at St Giles is not just getting to know our wonderful guests, but the special partnerships and activities we facilitate through Hotels with Heart, giving young people in the communities we serve the opportunity to benefit from enriching and exciting experiences," said CEO Abigail Tan. "What is unique about the St Giles' culture is how we weave our values into our daily work to positively impact and uplift those less fortunate…and, of course, having fun while we're at it."
"We're really excited that the St Giles network of hotel guests, supporters and staff are joining our campaign for the rights and protection of street-connected young people," said John Wroe, CEO of Street Child United. "St Giles' Hotels with Heart initiative, focusing on empowerment and education of vulnerable young people in the communities in which they have a presence, is a great fit with our values, and we're delighted to partner with them over the next four years."
For more information about the Abseil and St Giles' Hotels with Heart philanthropic initiative, visit www.stgilesabseil.com.
Looking for the perfect gift for everyone on your list?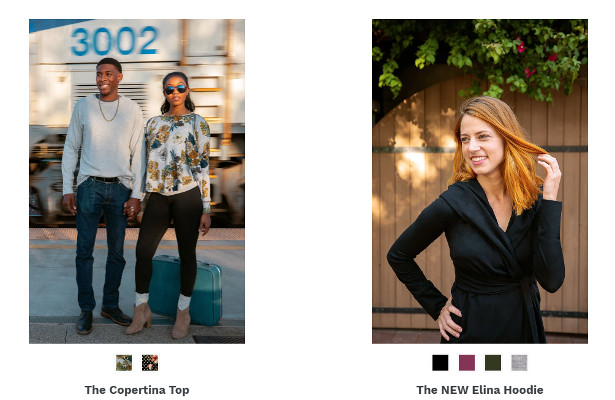 Look no further than Majamas Earth, an eco-friendly, responsibly made clothing collection perfect for anyone who loves fashion and the planet.
For Women, nab a pair of our printed Polsino Pants or our modest Riposo Pant. Both have printed, lined front pockets and are versatile enough to wear out on errands or off to bed. If she's more into shorts, pick up a pair of our printed Picolli Shorts or our solid Viaggio Shorts. Pair them up with one of our Forte Tanks, Nuovo Tops or a long sleeved Aurora Top all made from soft, cotton/Modal and lined in one of our prints for added comfort and detail.
Guys love our Franco Jogger and Marco Shorts designed using soft Cotton/Modal. Both have printed lined pockets. Pair them up with a Wally Crew Neck, a Vinny V-Neck or a Lorenzo Long Sleeved tee. All are soft, and so versatile, they'll become his favorite casual Friday go to.
JIV Athletics is a luxury athletic undergarment company for women.
All our products are made in the USA, our premium fabrics are sourced from Italy + Japan, and our packaging is produced from recycled materials. We are best known for our patent pending camel toe proof athletic thong which women LOVE.
www.jivathletics.com
www.instagram.com/jiv_athletics


Group Travel for Solo Female Travelers
The Price Varies depending on the destination
See more at www.travelsouly.com/2020trips
Promo code to save $250: HOLIDAYS
Rockin' Green.
Active Wear Laundry Detergent
Platinum Series Active Wear Detergent is the one solution to fresh, clean activewear (and other funky laundry.) With its powerful, plant-based enzyme blend, Platinum Series Active Wear detergent attacks both stains and odors left behind from fats, proteins, and starches that come from sweat and other biological residues and body oils. Not only does Active Wear Detergent properly clean high-tech workout fabrics found in sports bras, yoga pants, compression gear, and moisture-wicking fabrics, it even works to protect and preserve them.
MADI Apparel
Loungewear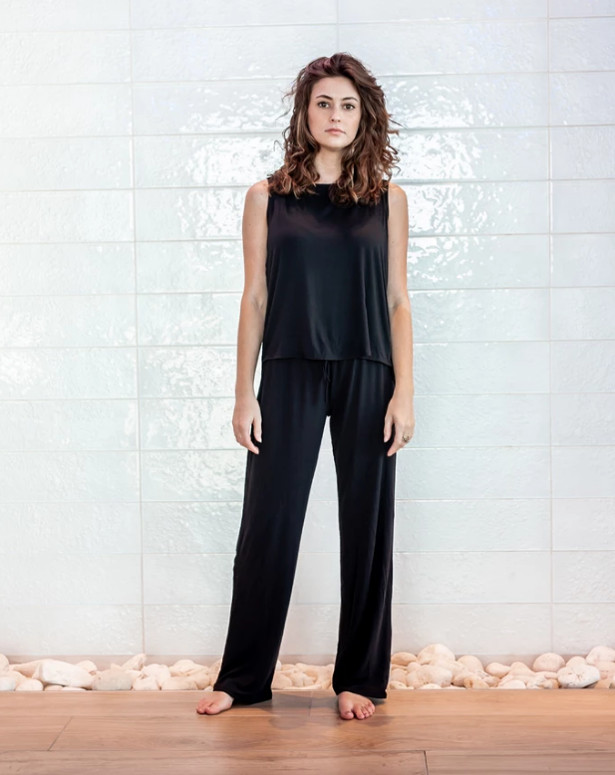 Great for travel,packing light and wearing out at night. ww.madiapparel.com/collections/sleepwear-collection/products/the-ashley-bamboo-pajama-pants-in-black
It's truly the gift that keeps on giving. MADI Apparel,(which stands for Make a Difference Intimate Apparel), is a line of elegant, eco-friendly underwear, and lounge wear, that donates a new pair of underwear to women in domestic violence shelters, homeless shelters and rape crisis centers for every MADI garment purchased. Buy one, give one. MADI is the TOMS Shoes of underwear. They are perfect for women who want to make a difference. Why underwear? Underwear tops the most urgent needs list of nearly every domestic violence and homeless shelter and rape crisis center. Those organizations receive clothing and household goods donations, but rarely new underwear.
Another plus, the underwear, and lounge wear are made in the USfrom viscose from bamboo, beautiful high-end fabric that is self wicking, antimicrobial and quick drying so women in need can hand wash and hang dry a pairover night – important for women with little access to washers. Not only is the bamboo fabric very sustainable, MADI is a woman-owned small business andthey hire woman-owned cut and sew teams to manufacture the underwear in the US,substantially lowering their carbon footprint.
So far, MADI has donated over 6,000 pairs of underwear to women in need through 26 partnered organizations including domestic violence shelters, homeless shelters, rape crisis centers and international aid organizations.
Your readers might also be interested in a new program MADI launched through its non-profit subsidiary, MADI Donations 501c3. The program teaches at-risk women to sew the donation pairs of underwear on commercial sewing machines. Once they successfully complete their apprenticeship, MADI Apparel (the for-profit) will contract with them to sew the donation underwear. They make money, learn the lifetime skills they need to bepart of the garment industry workforce, and toss aside their barriers to employment. A win – win.
We will be happy to provide photos and any additional information that will be helpful in your segment. MADI has been featured in a wide variety of media, television, print, online including being named one of the. "10 Coolest Feminist Shops on the Internet," by NYLON www.nylon.com/articles/feminist-online-shops
Also recently featured in Brides Magazine, www.brides.com/story/eco-friendly-bridal-shower-ideas
The Knot, www.theknot.com/content/honeymoon-lingerie?fbclid=IwAR1m62zkWq-6FwHVL2lTdvDzh7vq1oipMqYq4-iT4jNrM0HrU5tmvtmoGhM
StyleHaul, stylehaul.com/thehaul/lifestyle/madi-apparel/
Forbes Valentines Day Gift Guide – www.forbes.com/sites/vanessamcgrady/2017/02/04/valentines2017/#404c1011664a
on BBC News – www.bbc.com/news/business-41097280
Here is a link to the online store www.madiapparel.com
MADI Apparel
America's Most Impactful Intimates
Silverstar is getting festive!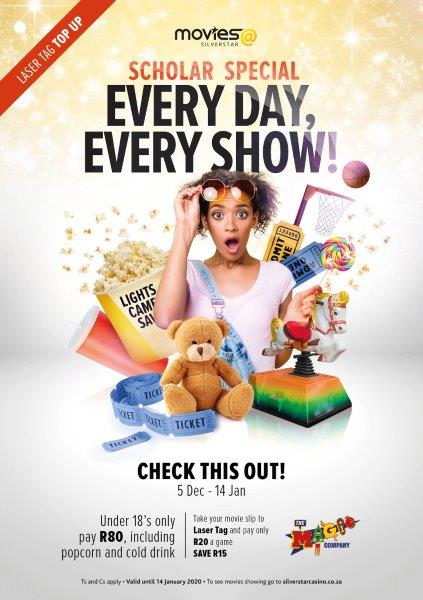 Silverstar Casino (www.tsogosun.com/silverstar-casino), the West Rand's favourite entertainment destination, is bursting with excitement as it introduces two new restaurants to its list of fine food offerings. Ocean Basket for seafood lovers and Hussar Grill for its carnivorous patrons! If that isn't enough, check out the festive food and beverage deals – it's time to celebrate!
Ocean Basket is open for business
Ocean Basket (www.tsogosun.com/silverstar-casino/restaurants-bars/restaurants/ocean-basket) – the Mediterranean Home Of Seafood – offers delicious Mediterranean style seafood at exceptional prices. Ocean Basket has made a name for itself through its fresh and tasty seafood, generous portions and welcoming, homely atmosphere. What more could you ask for?
Hussar Grill – the new kid on the block
Hussar Grill is a firm favourite with South African dining audiences. The restaurant is known for its top-quality fare, offered in a setting that combines warm hospitality with an extensive menu that is bursting with exceptional flavour. Menu items range from the traditional flame-grilled steaks with a multitude of alternative culinary options that ensure all preferences are covered. As the festive season is approaching fast, it's a good idea to put The Hussar Grill at the top of your list when it comes to event requirements. It provides an ideal setting for year-end functions!
Billy G year-end special
End 2019 off in style! Take the lead in making your year-end party a day (or night) to remember with Billy G's affordable buffet special (www.tsogosun.com/silverstar-casino/offers/billy-g-year-end-special). Book a table of 10 adults and only pay for 9 at R199 per person – valid until Tuesday, 31 December. Lunches are served from 12h00 to 16h00, while dinners are served from 18h00 to 22h00. Some more good news? Celebrate your birthday with Billy G's and get a complimentary meal! All you need to do is give them your ID or drivers licence and sign up for your membership card – Ts and Cs apply! Billy G will open for lunch on Mondays from 25 November! For bookings please contact Billy G on (+27) 11 662 7476.
movies@ Scholar Special
From Thursday, 5 December to Tuesday, 14 January 2020 – every day and every show – under 18s pay only R80 for a movie, popcorn and a cold drink with the movies@ Scholar Special (www.tsogosun.com/silverstar-casino/offers/scholars-special-movie-offer). The cherry on top? Send them to Laser Tag with their movie ticket receipt and they will only pay R20 for a round of Laser Tag! That's a saving of R15! What a treat for the school holidays!
Summer specials are back at The Barnyard Theatre!
Tickets will be selling at only R140 per person (kids under 12 free) from Sunday, 15 December to Saturday, 29 February. PLUS, pensioners get 50% off on Sundays and anyone can take the Package for 2 on Wednesdays for only R350. It's the festive season! Gather your friends, family or colleagues and enjoy a Barnyard experience for less!
Smash Hit Radio heats up the stage!
Catch 60 years of hit songs with Smash Hit Radio (www.tsogosun.com/silverstar-casino/whats-on-silverstar/barnyard-theatre/smash-hit-radio) – a radio station for all listeners, featuring a 10-piece cast of musicians and singers and the onstage funky DJ Gee. Catch this live show until Sunday, 29 December with ticket prices starting at R140 per person.
Christmas and New Years at Silverstar
Good news! Billy G, Ocean Basket, Vigour & Verve, Hussar Grill and Publicity are all open for Christmas and Old Year's Eve! Billy G and Ocean Basket are taking bookings only while the other eateries will be open to walk-ins, where there are tables available. Why not book now to avoid disappointment!
Get Social:
Be the first to know the latest Silverstar news on Facebook @SilverstarZA or follow us on Twitter @SilverstarZA #LoveSilverstar
…ends
MEDIA RELEASE ISSUED ON BEHALF OF SILVERSTAR CASINO by STRATEGIC PUBLIC RELATIONS. All media queries can be directed to Dallace Rickson Jolly on (011) 672 2037 or dallace@stratpr.co.za
ABOUT SILVERSTAR
Silverstar is nestled in a magnificent natural environment and surrounded by parts of the Magalies Mountains. Live music, hilarious stand-up comedy, blockbuster movies, mouth-watering dining, casino thrills and so much more all in one fantastic destination. Not to mention the ample under-cover and open parking and convenient location just off the R28 which makes Silverstar easily accessible from Lanseria International Airport. It is easy to see why this Tsogo Sun destination attracts in excess of 100 000 visitors monthly. For a day out in Johannesburg with a difference, go West…to Silverstar.
Southern Sun Silverstar is a 34-roomed, luxurious and contemporary hotel with a magnificent view of the fountains, outdoor Square and giant outdoor screen. This is definitely the place to stay in Krugersdorp.
Catch all the latest blockbuster movies on the big screen at movies@ Silverstar with six movie theatres to choose from and a 4K projector in the Grand Star Cine, you are sure to be entertained. There is so much more fantastic family entertainment on offer at Magic Company and the best events and shows take the stage at the Silverstar Centre. For breakfast, lunch, dinner or a cocktail, we have a restaurant venue to suit your taste buds. Great food is offered at eight restaurants and four fast food outlets.
A visit to Silverstar isn't complete without trying your luck on the casino floor. There are plenty of winning opportunities to be had with over 900 Slot machines and 32 Table games! Our Silverstar Rewards card Rewards you while you earn, save and play! No frills, no fuss just genuine benefits that will make your time at Silverstar even more rewarding!
Our stylish conferencing facilities accommodate up to 700 delegates and can be utilized for everything from high-level corporate meetings to glamorous private functions.
Indulge yourself at the Soulstice Day Spa and let us nurture your mind, body and spirit. This is a spa experience not to be missed with a menu offering massage, therapies and beauty treatments.
Silverstar – West Rand's Number One Entertainment Destination!
For more information go to www.silverstarcasino.co.za or call +27 11 662 7300.
Another Tsogo Sun Gaming Experience. Tsogo Sun Gaming supports the National Responsible Gambling Programme. Winners know when to stop. Only persons over the age of 18 are permitted to gamble. National Problem Gambling counselling toll-free helpline: 0800 006 008.
STYLIST TO THE STARS, MATTHEW CURTIS, LAUNCHES
GIFT EXPERIENCES FOR CHRISTMAS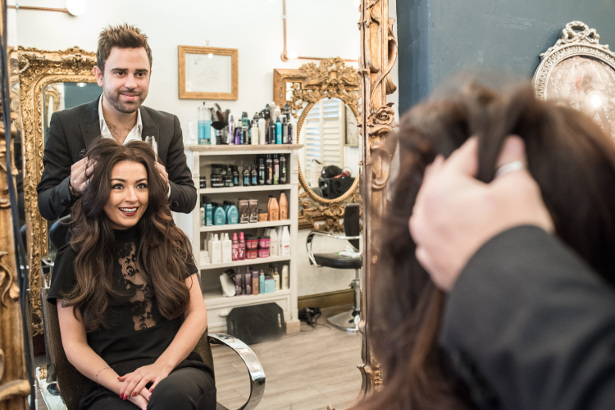 If you're struggling to find the perfect gift for that special someone this Christmas, world-renowned celebrity stylist Matthew Curtis has come to the rescue by launching a range of incredible gift experiences for the very first time this year.
Experiences range from affordable indulgence to the amazing. With over a dozen varied and exciting experiences to choose from, including a classic blow dry and style through to the exclusive private hire of Matthew's award-winning boutique salon at the stunning Rosewood Hotel in London. Not to mention a luxury gentleman's grooming experience or even a personalised styling tutorial delivered by Matthew himself.
Gift packages are priced from just £15 to £1,700 for the ultimate indulgence, so there's something to suit all budgets.
All Matthew Curtis stylists are part of a team that travels the globe styling celebrities from Paris Hilton to Victoria Beckham, to Sharon Osbourne and the cast of TOWIE. Matthew and his talented group of fashion and session stylists are regulars at New York, London, Paris and Milan Fashion Weeks, as well as a host of national and international award ceremonies such as the Baftas, the Emmys and the National Television Awards.
The brand new gift experiences are available across all Matthew Curtis high-end salons based in the Cotswolds, Stratford-upon-Avon, at Hoar Cross Hall and the truly magnificent Rosewood London.
For more information, visit www.matthewcurtis.biz
DELIVEROO HELPS YOU TO GRAB LIFE BY THE BAUBLES
LIMITED EDITION FOOD BAUBLES REVEALED AND 'YULE' BE SORRY TO MISS THEM
• Deliveroo launches eight food themed baubles as a tree-mendous, exclusive free gift for customers
• Launching with offerings from ASK Italian, Burger King, Bryon, GBK, KFC, Pizza Hut, Wagamama and YO!
• Celebrating the best-selling dishes in Deliveroo's favourite restaurants through the festive season
November 2019: This year Deliveroo are celebrating all that's good about Christmas: giving and eating, by creating and giving away a range of delicious food-inspired decorations. They are set to be the most sought-after bauble this season as they are scrumptious enough to 'spruce' up any tree.
These limited-edition, money-can't-buy ornaments are not only bang on trend but are also a deliciously realistic addition to ensure your tree is insta-ready. Moulded on their best-selling dishes, each bauble is hand painted and worth £34 and can be yours absolutely free – a Christmas gift from Deliveroo.
These chosen delectable dishes include the crunchy cali roll from YO!, gyoza from Wagamama, the cheesy bites pizza from Pizza Hut, a bucket from KFC filled with finger lickin' chicken, a stacked burger from GBK, the 'All Hail the Turkey' burger from Byron, the Whopper ® from Burger King and the purple basil pesto Genovese from ASK Italian. There will be over 1,000 baubles up for grabs across the UK, for a few lucky people.
To receive a bauble completely free of charge, hungry customers simply need to order through one of the participating restaurants and await to see if they've been randomly selected to nab a bauble with their meal.
The baubles are made in clay, moulded in silicone, built in resin and then hand painted to ensure they are as durable and detailed as possible and completely un-'fir'gettable.
Joe Groves at Deliveroo says, "Christmas isn't just about pigs in blankets and brussels sprouts and Deliveroo are here to prove it by giving our customers a foodie treat for their tree. We wanted to show off some of the most iconic dishes available from some of our best-loved restaurants, which are likely to get even Santa drooling as he puts your presents under the tree."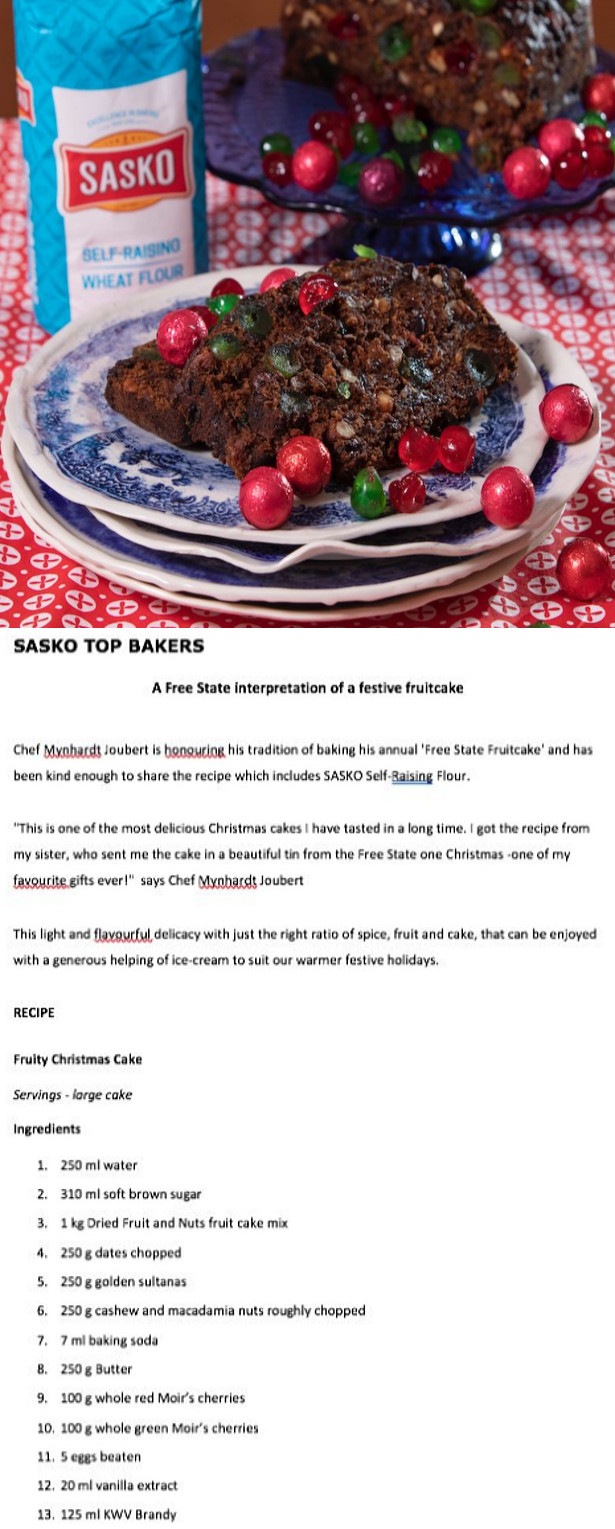 John Button Cufflinks and Tie Clip Gift Set for Men, Stainless Steel Silver Cuff Links and tie bar with Gift Box
www.amazon.com/dp/B07PN1F24S?ref=myi_title_dp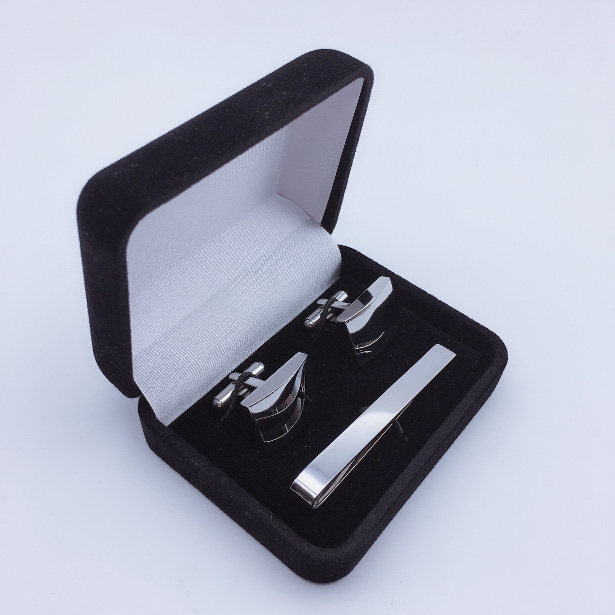 The Alcatel 3T10" – The Perfect Tech Treat Under £160 this Christmas.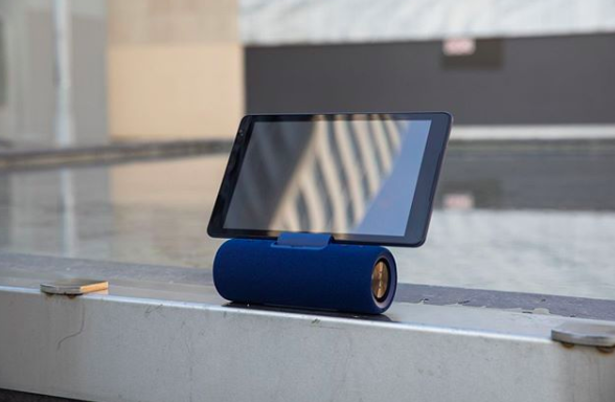 Whether it's for your partner, kids or parents -buying tech pressies for Christmas can be expensive – but Alcatel have you covered. The Alcatel 3T10" is packed with premium features and is priced at only £159 from O2.
Make it your hub
The Alcatel 3T 10 is more than just a tablet. It comes with an Audio Station in the box, so you can make it the hub of your home. Hosting a party? Pop on some tunes and get dancing. Planning a movie night? Dock your tablet to enjoy clearer sound. You can use the Audio Station as a Bluetooth speaker, or connect to it through the 3.5mm auxiliary port. And with up to seven hours of battery life between charges, you won't be rushing to find a power outlet.
Bring movies to life
Got half an hour free before you need to pick up the kids? Or want to fill a train journey with something more interesting than social media? Grab your Alcatel 3T 10 and get stuck into a new movie or TV series. It's got a 10 inch screen and powerful dual speakers that'll bring the action to life.
Get a helping hand from Google
Play your favourite song, create a to-do list, or get step-by-step recipe instructions – all without tapping or typing. The Alcatel 3T 10 comes with Google Assistant built-in, to help your day run more smoothly. And it's voice-activated, so you won't have to lift a finger.
Keep it secure with face recognition
From banking details to passwords, your tablet can hold all kinds of stuff you wouldn't want getting into the wrong hands. That's why the Alcatel 3T 10 has Face Key. It recognises your face, so you can be confident your tablet is for your eyes only. And since it unlocks at a glance, it's a quick and secure way to access your tablet.

New phone accessory helps people keep hold of their phones
Ideal stocking filler for under £10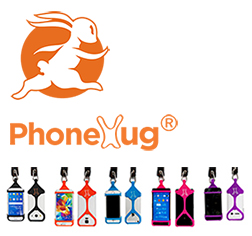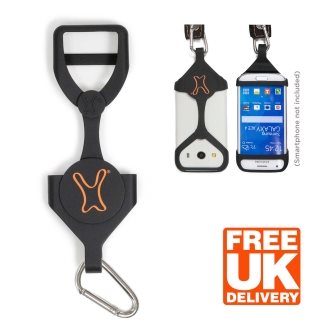 FACEBOOK | TWITTER | INSTAGRAM
PhoneHug® a funky accessory, clips to a lanyard it can be worn in several ways, enabling people to keep their hands free and phone safe, available in eight different colours.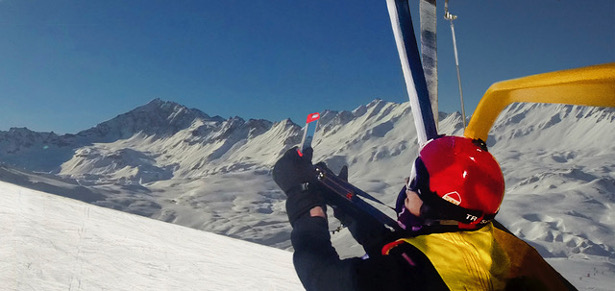 No more dropsy moments down the toilet and packing the phone off for its sleepover to the airing cupboard in a bag of rice! With phones out of pockets, handbags, off tables, chairs and even in users' hands, there's less picking and snatching with PhoneHug®.
Simple and easy to use, it's popular with customers who love the outdoors such as, winter sports, water sports, festival goers, travellers, hikers, dog walkers, to name a few. PhoneHug® lovers are all ages from millennials to the elderly, as well as those with health issues and or disability.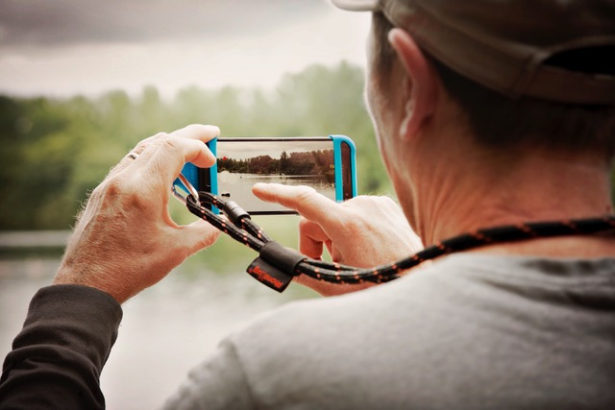 NHS workers including nurses and doctors increasingly need their phones for work and their hands free on the front-line, they currently enjoy a 20% staff discount off the product.
UK based ex-photographer turned entrepreneur Sam Fairbrother invented the PhoneHug® in 2013. The idea started out as a rough drawing on paper and after a series of prototypes PhoneHug® has developed to fit almost all smart phone models.
A product created from an initial drawing and paper model, tested with sailors, snow boarders, photographers, ramblers and horse riders. PhoneHug® was also tested at festivals, making its debut at Hideout Festival in Croatia, followed by Glastonbury, WOMAD Charlton Park and Creamfields with both back-stage crews and festivalgoers. Festival fans loved it according to feedback, but the pilot scheme identified the product size needed modification to fit almost all smart phones.
PhoneHug® is disrupting a $30 billion phone theft industry, with up to 2000 phones being stolen every day in the UK and over 3 million phones being lost or damaged every year. PhoneHug® is intended to help reduce this risk and enhance people's lives, so they can relax and enjoy their activity, knowing their phone and data are safe.
The silicone phone holder is available in eight colours with a choice of lanyards and can attach to a belt loop, hang around the neck, the wrist, a bag strap, or just be hung up.
PhoneHug® designer Sam Fairbrother says:
The PhoneHug® has the edge on the market because it's the only phone holder that: has a strong and robust loop; grips tightly to the phone; can be easily fitted and removed; is compatible with the vast majority of smartphones.
Compostable cellophane is used on all lanyard products and we aim to be using compostable packaging for all product by 2019.
Giving back is a large part of our drive, to date PhoneHug® has helped a number of charities including; Help for Heroes, Future Dreams, South Manchester Rehome & Rescue, Girl Guide volunteers and local fund-raising events. We look forward to helping more communities, charities and environmental projects."
The retail price is £8.95 per PhoneHug®. An affordable item and ideal stocking filler gift! Available here: https://phonehug.co.uk/collections/all
For most this price it is a no-brainer, the price of one month's phone insurance.
The UK spent £5million on repairing smartphones in the last 2 years.
3 million Brits damaged or broke their phone last year.
500,000 people in the UK have their phone stolen every year.
Order here: phonehug.co.uk/
Stockist info: phonehug.co.uk/collections/all
Lanyards RRP: From £3.45
PhoneHug® RRP: £8.95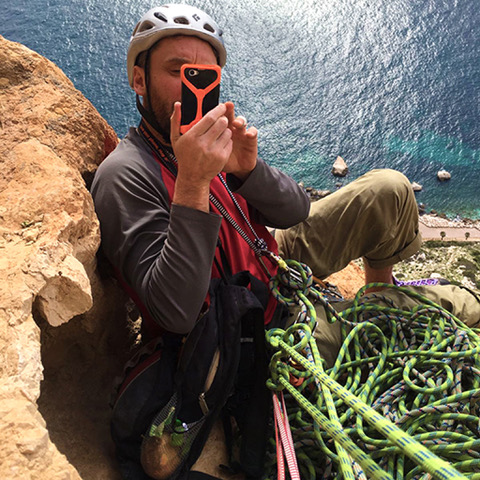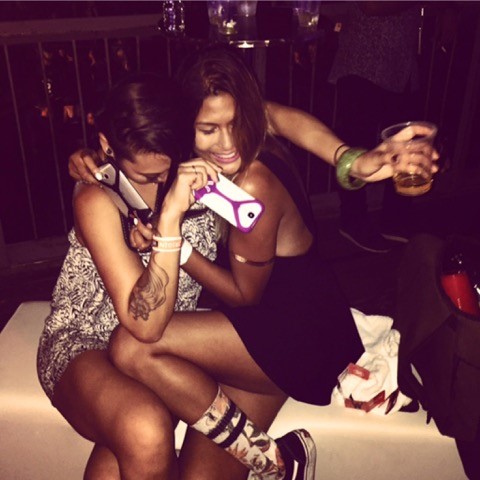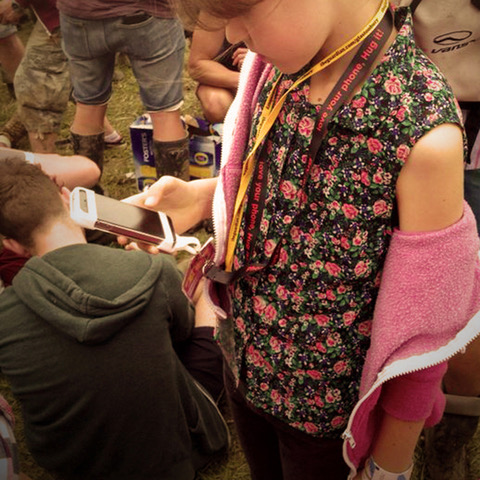 Dundas & Burgun launches the Lensrappa
An original leather accessory which protects your lenses in a slimline cover.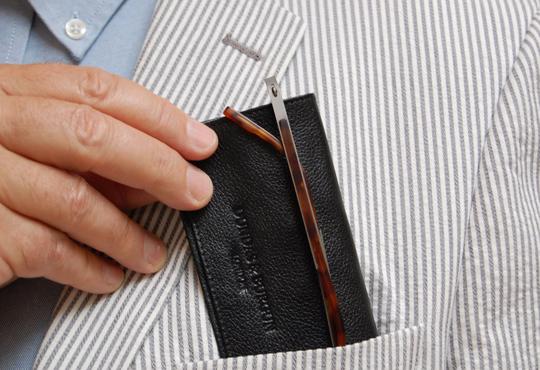 In time for Christmas, British luxury accessory brand Dundas & Burgun have launched the Lensrappa, an innovative, slender and lightweight glasses protector.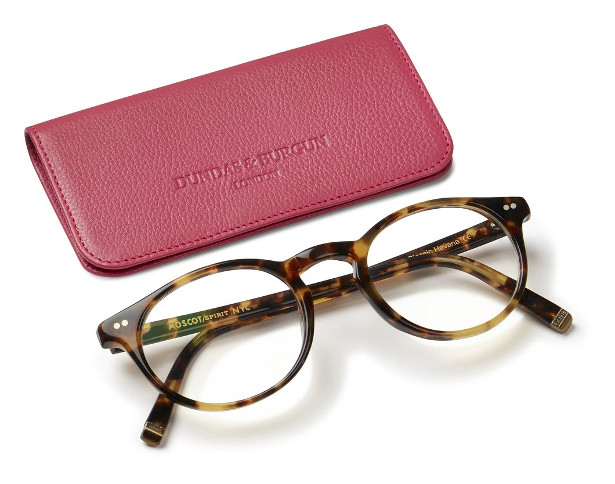 Designed in the UK, Lensrappa is a single piece of premium leather which is folded over the lenses and attached with a magnetic fastener keeping glasses and sunglasses safe and unscratched. The arms are crossed outside the case, allowing it to keep the thinnest possible profile while still protecting the lenses. The Lensrappa easily fits into a pocket without ruining the line of a jacket or trouser, and takes minimum space in handbags.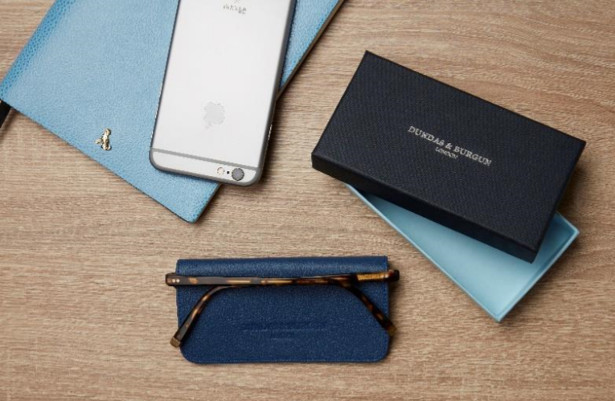 Dundas & Burgun products are handmade from full-grain premium leather and presented in a stylish box, making a perfect Christmas gift or stocking filler. The Lensrappa is available in 6 different colours; Jaguar Black, Ocean Blue, Raspberry Pink, Ruby Red, Racing Green and Mandarin Orange.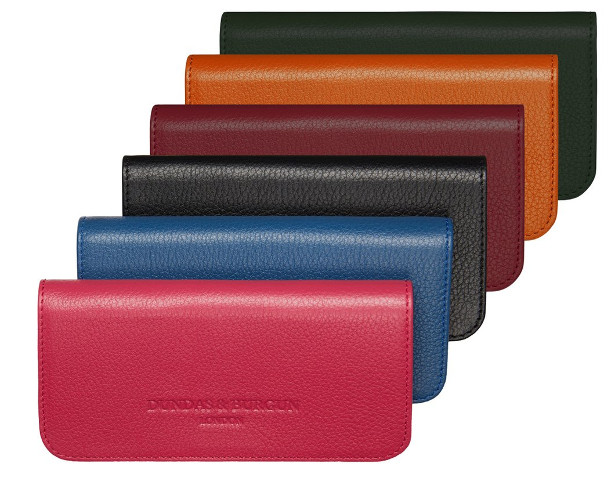 Using different colour cases for multiple glasses can help with easily identifying types of glasses and the bright colours are perfect for locating glasses in the bottom of a handbag.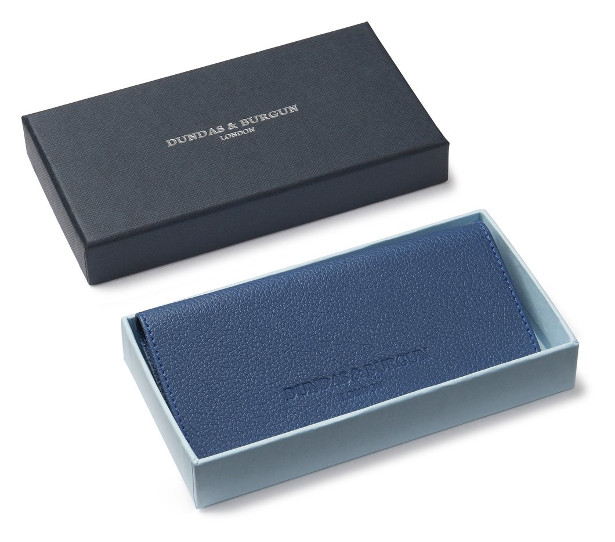 Chris Dundas and Guy Burgun become disenchanted with bulky, unattractive and impractical glasses cases that were too big to put in their pockets, leading to the invention of the Lensrappa. Dundas & Burgun was founded in 2019.
The Lensrappa is £20 available from www.dundasburgun.com
How it works
Don't buy a dashcam this Christmas – buy Theo
the smart in-car companion that sees, senses and talks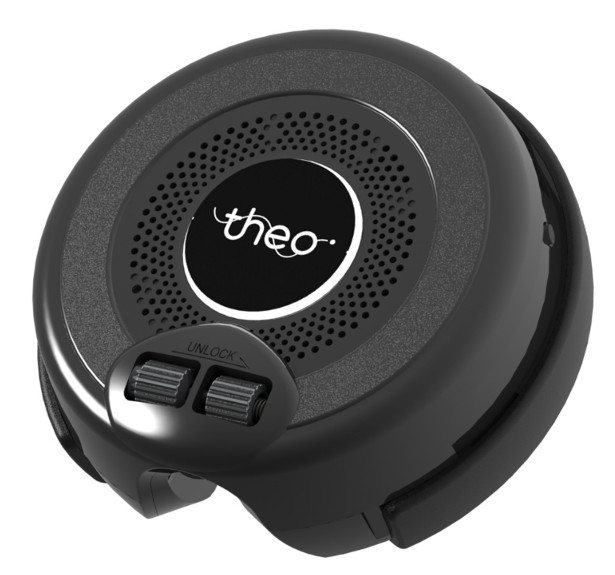 Compact 4G connected device with a diameter of only 10cm, to slip perfectly into a Christmas stocking. £177.00 plus subscription of £4.99 per month after the first three months
Records the road ahead through a night mode enabled HD camera with download options
Forward Collision Detection Warning System (ADAS) incorporated
Full accident support service from point of impact and can call the emergency services after a severe accident
Amazon Lex technology speaks to the driver in a collision
Telematics enables drivers to access insurance based on how they drive – not how insurers THINK they might drive
Accompanying app for tracking journeys and driving scores
A range of rewards for safe driving
November 2019 – This Christmas, the gift of the latest in-car safety technology is now possible thanks to the launch of Theo, the video enabled and connected in-car companion. Theo is professionally fitted to the windscreen of a car to provide a whole range of benefits to motorists and is now available on Amazon.
Theo offers a unique combination HD video camera, forward collision warnings, Intelligent Voice in an accident and telematics to track journeys and offer feedback on trips. What really makes Theo stand apart is the support it offers immediately following a collision giving motorists much more control of their insurance claims and costs.
If a collision does occur, a series of events is triggered:
Video footage and telematics data is sent in real time to the Theo Accident Assistance Centre;
Theo will speak to the driver to check if they are OK and alert emergency services if necessary;
Following the initial support, the Theo team will then work to achieve the best outcome in respect of an insurance claim, using the Theo data combined with their own expertise. This applies whether the driver was at fault or not, putting them in greater control of how to move forward following a collision
Using the Theo app, customers can track their driving behaviour, plan and review their trips, manage claims, opt in to receive rewards and incentives and access cheaper insurance.
Theo has been created by Mike Brockman, CEO of ThingCo and a pioneer of road safety technology.
Mike says: "Our roads are not getting any safer[i] and the rise in dashcam sales over the past few years show motorists are looking for ways to protect themselves in a collision. The problem is that most of these devices do little to actually help drivers. Theo takes the dashcam concept to a whole new level, making any car a connected car, to help expedite help in a crash and support drivers in the way they choose. It's a Christmas gift that will keep giving back in safety and cost benefits to motorists and their families."
A new Christmas book in the hugely successful Hannah the Spanner series.
The Hannah the Spanner and the Polar Bear is the latest addition to the hugely successful Hannah the Spanner series of children's books.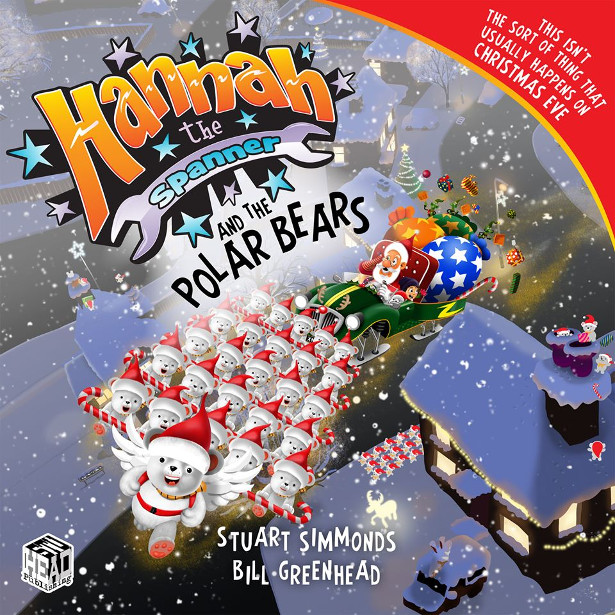 TWITTER | FACEBOOK | INSTAGRAM
Released this month – in time for Christmas – Hannah the Spanner and the Polar Bear follows the adventures of Hannah and her friends as they cope with grumpy parents, sick reindeers, and some strange goings-on in the back garden. This leads to an emergency visit to the Professor and befriending a lost polar bear in an attempt to help a big chubby man in a red suit save Christmas.
The books were all originally written as bedtime stories for Stuart Simmonds' eldest daughter Hannah, and Stuart promised one day he'd find a publisher for them. That happened earlier this year and the books have been such a huge success that Stuart has been inundated with bookings from schools asking him to visit to read the books and run workshops encouraging children to read, that the next two books in the series are now being published.
The previous books in the series are:
Hannah The Spanner and the Dancing Bear
Hannah The Spanner and the Robot
Hannah The Spanner and the Circus
Hannah The Spanner and the Trip to the Moon
Hannah The Spanner and the Diamond Robbery
Hannah The Spanner and the Racing Car
The entire Hannah the Spanner series has been written with bedtime reading in mind; the books are short fun stories, about Hannah on her incredible adventures, which can be enjoyed time and time again.
Stuart comments; "So many parents tell me they wish they could read to their kinds before bedtime more often, and I really hope these books will help them do so. Reading to Hannah and Lucy every night was one of my favourite parts of their childhood, and something that both of them remember and often talk about. I know children love to hear their favourite stories over and over again, so I have done my best to ensure the books are entertaining for the parents, as well as the kids.
The Hannah the Spanner books are aimed primarily at four to nine-year olds and are chock-full of colourful imagery to keep little ones entertained, whilst the engaging, funny stories resonate with older kids – and even keep the adults amused.
The books are in full colour and illustrated by Bill Greenhead, who previously worked on Charlie Smith Super Kid (Emma Lynch) and Animal Avengers (Malorie Blackman).
Stuart Simmonds is an accomplished cricketer and sports coach, he now runs a property business from his home in East Grinstead, Sussex. Prior to writing the Hannah the Spanner series, he wrote an autobiography on a life in cricket, titled 'Watching With My Heroes', which was widely sold through all major retailers.
The Hannah the Spanner series is available from Waterstones and all good bookshops, Amazon and direct from the Hannah the Spanner website: www.hannahthespanner.com.
This holiday season is full of sugar and spice and everything nice with a variety of specialty gift offerings by Second Harvest Food Bank of Central Florida.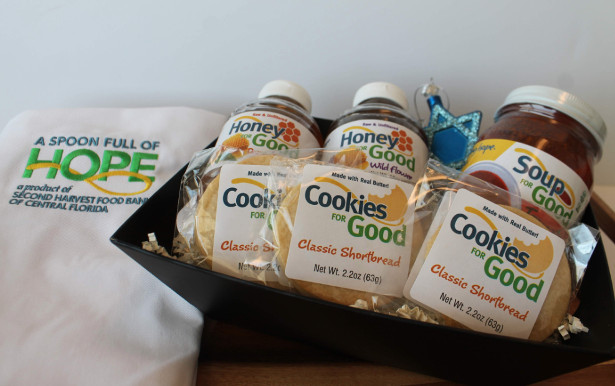 Through A Spoon Full of Hope, the organization's multi-product food retail line, a variety of customizable gift options are offered ranging from party gifts to corporate holiday packages. All proceeds from each purchase goes back into Second Harvest's no-cost, 16-week Culinary Training Program for disadvantaged adults. With a 100-percent job placement rate, it nourishes the soul for the purchaser and recipient. Visit www.ASpoonFullofHope.org.
Photos (credit Second Harvest Food Bank of Central Florida)
DVD and Blu-ray release of Game of Thrones Season 8 and Game of Thrones Season 1 – 8 was on the 2nd December.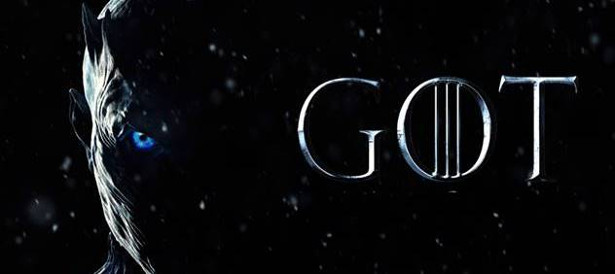 Lowlander 0.00% Wit Beer – The Dry/Try January Must-Have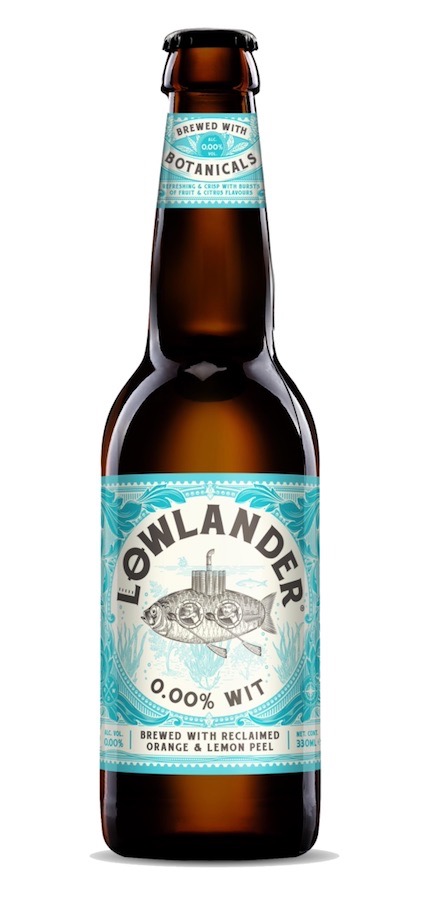 It's that time of year again, Christmas is over, funds are low, you can't remember the last time you saw the sunshine and now it's time to dial down your alcohol intake.
Don't be disheartened… Lowlander Botanical Brewery has the perfect tipple to brighten up your January – Lowlander's 0.00% Wit (White) beer! A refreshing and crisp zero alcohol beer with bursts of fruit and citrus flavour.
Lowlander's 0.00% is brewed with reclaimed orange and lemon peels, from bars and restaurants in The Netherlands, who use the fruit to squeeze fresh juices. Every year 250 million kilos of orange peel are discarded in The Netherlands. By working with PeelPioneers, who pick up and process this 'waste' in a circular, eco-friendly way, Lowlander are not only able to make sure each beer has the same zing and bitterness that alcohol usually provides but are also helping to reduce our collective environmental footprint.
Unlike alternative adult soft drinks, Lowlander's 0.00% is low in sugar (76kcal a bottle) and full of flavour.
Why not try it in a Lowlander 'Sobeer Citrus Beergarita' mocktail and serve with garlic Coriander Shrimps or fresh seafood for a food and drink pairing made in heaven!
Recipe:
150ml Lowlander 0.00% Wit Beer
30ml Seedlip Grove
10ml Ginger syrup
10ml Lime juice
Garnish with a juiced orange peel
Method:
Fill a highball glass with ice.
Stir all ingredients and strain into the glass over ice.
Garnish with a swirl of juiced orange peel.
Now that's worth toasting to…Proost!
Lowlander 0.00% Wit Beer is available to purchase online from:
As a single bottle from LightDrinks.co.uk for £1.99
As a single bottle from 31Dover.com for £2.02
As a case of 12 from Amazon for £36.95
Samsung Galaxy S10 5G
RRP £1,099.00
Available from Samsung.com/uk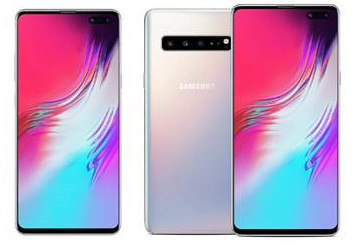 Unlock a new world of connection for that special someone with the future-ready Samsung Galaxy S10 5G. Releasing lightening quick data speeds, this impressive device allows owners to effortlessly download music, stream movies, games and much more.
Samsung QLED Q950R 8K TV
From £4,999.00
Available in 55", 65", 75", 82"
Indulge in the perfect reality of QLED 8K this festive season, with pin-sharp clarity users can rediscover their most loved Christmas films. Boasting the highest brightness levels of any TV to date and every frame optimised to perfection, Samsung's Q950R QLED 8K picture is as detailed as it is in the real world.
With AI upscaling, the TV will adapt to provide the very best picture and sound – even if it's not filmed in 8K.
Samsung Galaxy Watch Active2
From £269
Available in Black and Rose Gold
The Galaxy Watch Active2 is a one-stop shop for tracking fitness, health and sleep – perfect for those fitness fanatic family members.
Designed with wellness in mind, this must-have accessory will help users to stay motivated for New Year's resolutions by tracking fitness and advising on nutritional info via the Samsung Health app. What's more, users can also monitor their sleep pattern, manage stress and measure their blood pressure and heart rate.
AKG Y500 Headphones
RRP £129.00
Available from www.samsung.com/uk
Available in Pink, Ocean Green, Marine Blue and Black
Discover a rich, uncompromised sound with detail that'd deep in bass and rich in the mid-range, allowing every layer of sound to be felt. Available in four refreshing colours, enjoy up to 33 hours of wireless playback time on a single charge, and get an extra hour of use from a 5 minute speed charge
Samsung Galaxy Buds
RRP £139
Available in Yellow, Black, White
Go wireless and enjoy music everywhere with the super slick Samsung Galaxy Buds.
Built with adaptive dual microphone technology, users can fully immerse themselves in their playlist without a single background noise. Users can alternatively shift their focus to the surroundings without taking them off, to never miss what's coming and going.
Samsung Galaxy Fit E
RRP £35.00
Available from Samsung.com/uk
Available in Yellow, Black and White
Get a loved one moving with the Samsung Galaxy Fit E. Boasting a lightweight design and military-level durability, this ultimate stocking filler will take workouts to the next level in any location.
With Auto Workout Tracking, this smartwatch automatically detects walking, running and dynamic workout. It also sends the user's heart rate to their phone via the Samsung Health app, to easily check the status before and after exercise.
Samsung A70
From £369.00
Available in Black, Blue, Coral and White
Make a friend's year by hooking them up with the epic Galaxy A70. Complete with a display that gives more room to play, the 6.7-inch screen will bring to life films and gaming sessions like no other.
In addition, the user can snap their favourite memories effortlessly with the impressive triple camera set-up. Features include Flaw Detection to nail the ultimate shot and Ultra-Wide lens to fit in the world without any restrictions.
Samsung Q70R Soundbar
£799.00
Give a loved one the gift of truly immersive surround sound with the Samsung Q70R soundbar.
Boasting eight custom designed Dolby Atmos speakers, this impressive device is tuned by Harman Kardon to project crisp and realistic audio every time.
Pair this soundbar with the award-winning Q70R QLED 4K TV and enjoy home entertainment like never before.
Samsung CRG5 Curved gaming full HD monitor
From £229.99
Available in 24", 27"
This Christmas, get fully immersed in your favourite games with Samsung's new CRG5 Gaming Monitor. The new release features a deeply rounded curved screen with a lightning-fast refresh rate – offering a powerful combination of exceptional picture quality and speed for high intensity gameplay.
A New Cheese for Christmas from Paxton & Whitfield – Brightwell Ash
Paxton & Whitfield, the UK's oldest cheesemonger, prides itself on being a leader in sourcing exceptional British and European cheeses for its customers. New for this Christmas is Brightwell Ash.
Brightwell Ash (£8.95/140g) (Unpasteurised, vegetarian rennet) This goats' cheese is made by Fraser Norton and Rachel Yarrow of Norton and Yarrow Cheese at the Earth Trust Farm, Shillingford, South Oxfordshire. Fraser and Rachel started cheesemaking in 2014 and make cheeses using traditional French methods but give them an Oxfordshire flavour. The milk to make the cheeses comes from their own herd of goats that is made up of Anglo Nubian goats with a few splashes of British Toggenburg. They also use milk from another goat herd based in nearby Steventon. Brightwell Ash is a ripened goats' cheese, ripened for around 21 days, with a rich creamy texture and a flavour with a light hazelnut and citrus notes that deepen with age. It has a smooth paste and an ash and yeast based rind. The ash on the cheese helps it form a thin rind. It is also an alkaline substance that neutralizes acidity and aids in the ripening process.
See more at: www.paxtonandwhitfield.co.uk/shop/buy-cheese/by-region/english-cheese/brightwell-ash?number=566
Brightwell Ash is available from Paxton & Whitfield's four shops in Jermyn Street – Piccadilly, Cale Street – Chelsea Green, Bath and Stratford upon Avon, as well as online at paxtonandwhitfield.co.uk.
Mark Badgley and James Mischka Debut
Badgley Mischka's 2019 Holiday Gift Guide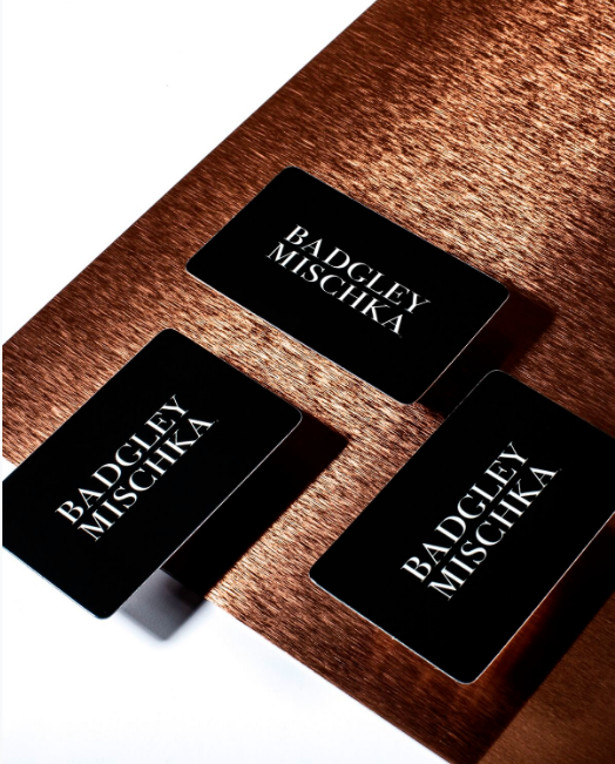 Something For Everyone This Holiday Season and All with a Touch of Glamour
Use Code HOLIDAY30 for30% off sitewide (Some Exclusions May Apply)
NEW YORK, November 25, 2019 — Badgley Mischka, the iconic American design house that exemplifies timeless glamour, invites you to celebrate this holiday season with the legendary designers Mark Badgley and James Mischka's top picks for gift giving. You don't have to be a famous fashion designer to exchange gifts like these two! Badgley Mischka 2019 Holiday Gift Guide is full of wonderful items and offers gifts for everyone on your list from under $50 to $595 MRP. When ordering, use codeHOLIDAY30 for 30% off items sitewide (some exclusions may apply).
Badgley Mischka's 2019 Holiday Gift Guide has no-fail items that are guaranteed to put smiles on all your hard-to-buy-for friends and family's faces. There are glamourous options for all whether it's beautiful women's jeweled shoes, which dress up any holiday outfit, to newly launchedmen's shoes and stylishsneakers, to girls shoes, perfect the little ones on your list. The stand out this year is the new fragrance, Forest Noir, in its gorgeous emerald green jeweled designed bottle. Both theBadgley Mischka Fragrance and Badgley Mischka Forest Noir have gift sets with body cream and purse size sprays to complete the collection.
Men's and women'seyewear make a perfect stocking stuffer as well as Badgley Mischka's latest colorful cashmeresweaters with beading and flower details to make any outfit, even jeans look dressed up. Choose to give your loved one a brightly colored wintercoat and she will thank you every time she heads out into the cold. No need for extra tinsel when you give shimmering, festive Badgley Mischkajewelry to your favorite relative. For that extra special person on your list, surprise a loved one with a Badgley Mischka designedluggage collection, and maybe include tickets to a favorite destination?
Discover the full holiday gift guide here >.
About Badgley Mischka
Badgley Mischka has captivated the fashion world with timeless glamour and luxurious designs for 30 years. Principal American designers Mark Badgley and James Mischka exemplify an unwavering commitment to detail, quality and effortless elegance. The brand has evolved from couture and evening gowns to include day dresses and sportswear, as part of life's every day celebrations. Their product categories include bridal; women's, men's and children's shoes; handbags and jewelry; children's formal wear; cold weather accessories and outerwear; fragrance; watches; swimwear; plus home furnishings and decorative accents. For additional information, please visit www.badgleymischka.com.
HOW DO YOU BUILD A RUGBY PLAYER?
By Melissa Hooper, Registered Dietitian & Nutritionist, Spokeswoman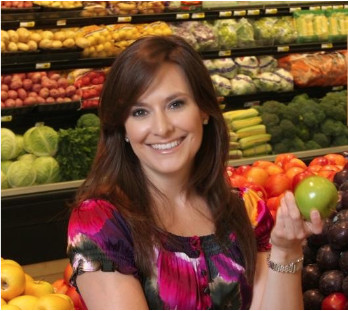 www.bite-sizenutrition.com/category/blog/
How do you build a Rugby-fit body? One bite at a time. It's not just meat and potatoes, but rather a diet designed to increase and maintain strength, stamina, endurance and short sprints. More food isn't always better, but rather, the combination of the best nutrients that produce the best fitness.
Let's face it, Rugby is not for the faint of heart, but then again that's why the sport is so revered and what separates it from all others. It's a sport of extreme physical and mental toughness that requires not only endurance, but also short sprints throughout the match. So, what exactly is the best diet for a Rugby player? A "smart diet."
In training and preparing, the "smart diet" consists of long-acting – also called complex carbohydrates – protein-rich foods, healthier fats, vegetables and foods high in fiber, and low or no alcohol. Long-acting carbohydrates provide sustained energy over time, and include foods such as whole grains, rice, pasta, potatoes and legumes. Protein-rich foods are not only lean meats, but also eggs, dairy products, legumes, nuts and seeds. When picking healthier fats, choosing unsaturated fats that are liquid at room temperature. Keep in mind, too, that some of the best fats include olive oil, avocado, and nuts such as almonds, cashews and peanuts. And, lastly, but also very importantly, proper hydration.
According to NutriStrategy, a Rugby player can burn between 590 to 931 calories per hour, depending on weight of 130 to 205 pounds. So Rugby players need to focus on not only the type of nutrition, but also need to ensure they are eating the amount of servings required per day. Depending on whether the Rugby player is in training, pre-match, during a match or recovery of a match phase, will determine the "smart" combination of nutrients needed for optimum performance.
Staying hydrated is essential to all phases. When it comes to hydration, water is the best. However, electrolyte waters and sports drinks can be essential in maintaining fluid balance and preventing dehydration on and off the field. But, according to recent research by Pacific Health Labs, the myth of long-acting carbohydrate sports drinks for recovery after matches may not "hold water." It takes time for these types of carbs to be converted to energy, thus not the best source of carbs during and post-match. Choosing short-acting carbohydrate sport drinks are best to provide the instant energy for during and post-match.
And, surprise! A research study from the European Journal of Clinical Nutrition suggests chocolate milk provides similar or superior results for recovery when compared to other recovery drinks.
Nowadays, athletes can be inundated by the explosion of choices available to prepare athletes for the rigors of Rugby. Players need to focus on training and their game, and let the experts design a unique plan for their fueling. And, as always, check with your doctor before making changes to your diet and before starting any sport or exercise plan.
Melissa Hooper is a Registered Dietitian and Nutritionist, Spokeswoman and on-air Expert in Nutrition. She has worked with companies all over the world and was the "nutrition expert" for Stater Bros., a grocery-store chain with more than 100 stores across Southern California. Her articles and advice have been featured in each store – reaching tens of thousands of people a week — not to mention the Los Angeles Times. Hooper is known for Bite-Size Nutrition, a website that shows better nutrition can be yours, one-bite-at-a-time, but making small "bite-sized" changes to your diet.
She also custom-makes nutrition programs for corporations, individuals and others looking to better their health and lowering their healthcare costs.
Rethink Nutrition
www.rethink-nutrition.com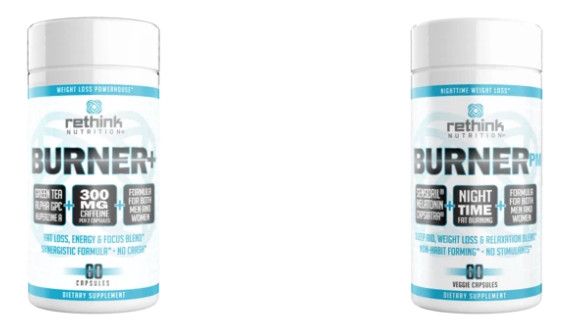 Rethink Nutrition have designed two amazing supplements for people who strive to live a happy and healthy lifestyle. They contain natural ingredients that benefit brain activity, memory, focus, energy, relaxation, sleep and fat burning. We have spent years perfecting the dosage of the ingredients to ensure maximum effectiveness. Our customers love it so much, a great deal of our sales are from their referrals.
Their Burner+ is perfect for the busy person on the go, who requires energy and focus throughout the day. It contains Alpha GPC and Huperzine A which promote focus, memory and cognitive thinking. It also contains Green Tea Extract which not only gives you energy, but acts as a fat burning component.
Their Burner PM was designed for people who just can't seem to fall asleep and/or stay asleep. It contains Sensoril-Ashwagandha which give a relaxing/calming effect and Melatonin which promotes sleep. It also contains a sweet pepper extract that acts as a fat burning component. Because it's a sweet pepper it doesn't cause heartburn as many peppers in supplements do.
Here is a breakdown of the products, their natural components and the benefits:
Burner+ (Energy – Focus – Fat Loss)
Green Tea Extract – This is the component that gives you energy but also promotes weight loss, blood sugar regulation, healthy skin and liver, reduces blood fat levels, regulates blood pressure and improves brain health.
Alpha GPC – This is a natural compound that allows one to focus. It helps deliver choline to the brain and actually increases the production of acetylcholine along with cell membrane phospholipids.
Huperzine A – This component is used for memory and learning enhancement, and age-related memory impairment. It is also used for increasing alertness and energy, and for protecting against agents that damage the nerves such as nerve gases.
*This is NOT a supplement that leaves the consumer feeling jittery!
Burner PM (Sleep – Relaxation – Nighttime Fat Loss)
Melatonin – This is a hormone that is naturally made by the pineal gland that helps one to fall asleep. Melatonin production declines with age. The dosage of this supplement allows one to sleep without feeling groggy in the morning.
Sensoril-Ashwagandha – Ashwagandha is a medicinal ancient herb that reduces stress and anxiety. It is known to leave a kind oi calming effect. It is also known to reduce symptoms of depression, and improve brain function including memory.
CapsiAtra – Found naturally in sweet peppers, CapsiAtra helps increase the metabolism for weight management and has a thermogenic effect on the body.. It allows the body to burn calories off of stored fat within the body. Significant reduction of abdominal fat has been seen in human studies.
* This is NOT a supplement that leaves the consumer groggy upon waking.
www.facebook.com/rethinknutritionllc/
www.instagram.com/rethink_nutrition_llc/
rethink-nutrition.com/
Baabaazuzu.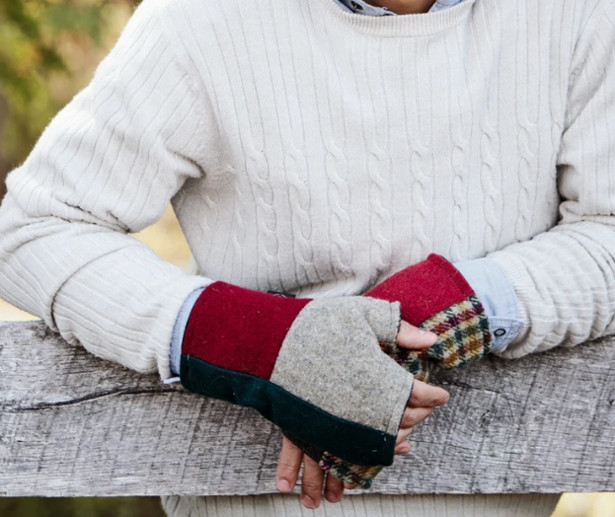 Baabaazuzu creates 100% American made, upcycled wool accessories. They've been featured on ABC's Skating with the Stars and HGTV's Cash and Cari. Think fingerless gloves (We can see Rugby players loving these!), hoodie scarves, and pom hats—for both women and men.
All of their products are very unique as each item is one of a kind! Here's a link to check out the fingerless gloves for men. And you'll love to read this story on how the company (which sells to HUNDREDS of retailers nationwide) came to be.
Friends of the Earth's planet-friendly Christmas gift guide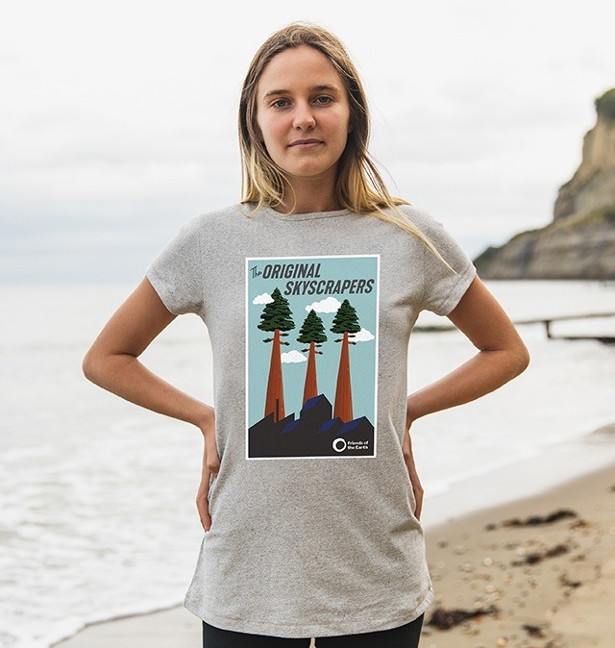 With Christmas edging ever nearer Friends of the Earth has compiled its guide to gifts that do the planet good. Including art prints from Greta Thunberg and Katharine Hamnett, eco-friendly clothing and tote bags and a Christmas gift to the planet.
Emi Murphy, campaigner at Friends of the Earth said:
"Christmas presents don't need to cost the earth. By shopping around a little you can find unique gifts that support the fight against the climate crisis, keep plastic out of our oceans and boost tree cover."
The Art of Activism printshop in partnership with The Guardian and printspace gallery. A range of fine art prints from activists like Katharine Hamnett and Turner Prize-winning artists such as Jeremy Deller. Even Greta Thunberg donated her now famous 'School strike for climate' placard to the shop. Profits donated to Friends of the Earth to support campaigning work in areas such as fighting climate breakdown, doubling tree cover and stopping plastic pollution.
Give a Christmas gift to the planet. Be kind to the planet this Christmas by donating to Friends of the Earth, either for yourself or as a gift to a loved one. You'll instantly receive a personalised e-certificate and you'll be helping make sure real action is taken to protect our planet next year. The perfect planet-friendly last-minute gift!
'STOP CLIMATE CHANGE' Tote bag By Katharine Hamnett. Limited edition sustainable Tote bag designed by pre-eminent fashion designer and activist Katharine Hamnett. Featuring 100% GOTS certified Organic cotton. Made in India, printed slogan, double handled with full gusset. Designed exclusively for The Guardian and Friends of the Earth, with profits donated to Friends of the Earth, to continue their vital environmental campaigns.
Friends of the Earth's eco-clothing range in partnership with Teemill. Friends of the Earth's range of t-shirts, tote bags, hoodies and more are the perfect gift for any loved ones after new clothes this Christmas. All products in this collection are printed on demand in the UK, using low waste printing tech. Read more on the product journey here – including organic cotton, low water usage, plastic-free packaging and ethical working conditions.
Reusable water bottles that fund the fight against plastic pollution. Healthy oceans are crucial for a thriving planet so Ion8 are donating 25% profits of sales from this reusable bottle to support Friends of the Earth's campaign to end plastic pollution.
For more hints and tips on how to have a planet-friendly Christmas visit foe.uk/21-xmas-tips
A note on wrapping paper. When wrapping any presents this year, make use of salvageable materials like newspaper, textiles and string. Wrapping up gifts in newspaper might sound odd, but you'd be surprised by how good it looks. If you are buying wrapping paper, make sure it's not plastic-lined as this can't be recycled.
MIRROR, MIRROR ON THE WALL, WHO'S THE BRAVEST​ ​ OF THEM ALL?
All Pics (C) Instinctively Limited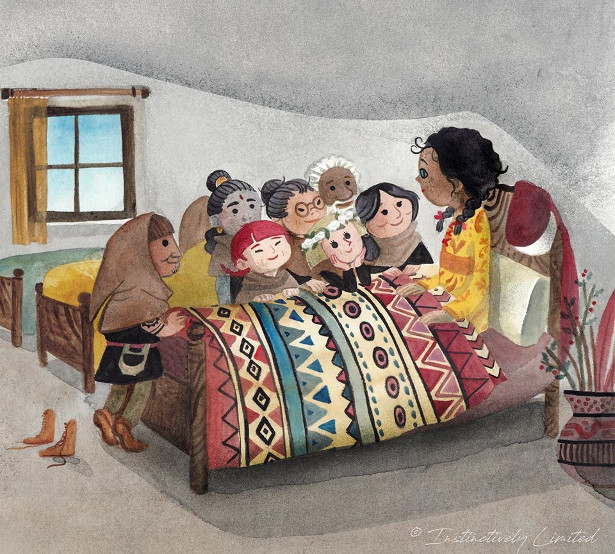 FACEBOOK | TWITTER | INSTAGRAM | SOUNDCLOUD
Instinctively launches book series, Fairy Tales Retold, which retells famous children's storybooks with an emphasis on empowerment, agency and inclusivity – just in time for Christmas!
Once upon a time, there was a little girl called Snow White. People thought they knew her story – she was beautiful, she was saved by a prince, she lived with Seven Dwarfs! But little did they know, her story was evolving. This age-old tale was being rewoven, and this time Snow White was bravest in all the land, she was calling the shots, and her seven friends were a diverse mix of ages, races and genders. The new tale was created by Fairy Tales Retold, who transform traditional, patriarchal stories into modern, empowering narratives for children.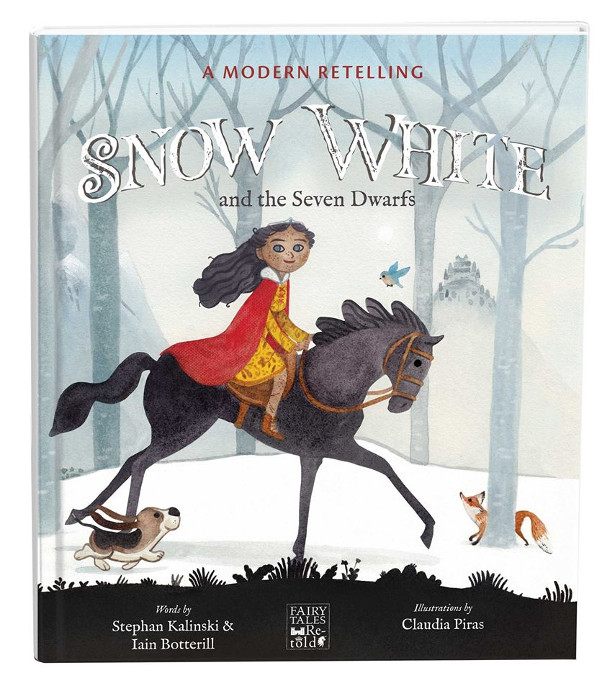 "A wonderfully refreshing and thought-provoking addition to any collection of more traditionally told fairy tales, beautifully illustrated to spur the imagination of any child." Mel Giedroyc
But, who is the storyteller behind this new fable? In a city not so far away, a soon to be middle-aged, balding dad was lying in bed reading bedtime stories to his baby daughter. While lying there, with the little one in his arms, he noticed something strange: it appeared that all princesses in these fairy tales needed to be saved and that their most important characteristics focussed on their beauty.
He didn't like that at all. It wasn't something he wanted his daughter to grow up with. So, while reading, he started changing words here and there. All of a sudden a 'beautiful' princess became a 'brave' one and he saw a sparkle in his daughter's eyes! From this, grew Fairy Tales Retold, with a simple yet powerful premise: changing a word can change everything.
Launching this November, Fairy Tales Retold's first book, Snow White will be available in hardback with stunning, full colour illustrations for £17.95 in independent stores. To share the retold narrative with everyone, Instinctively have released a free audiobook version as a podcast on Spotify & iTunes.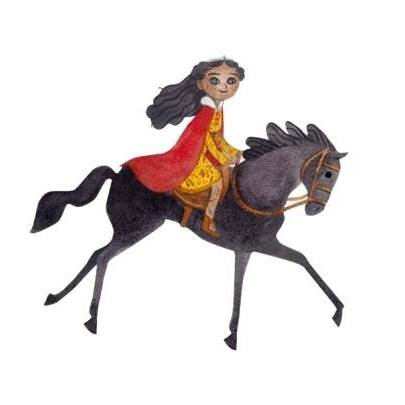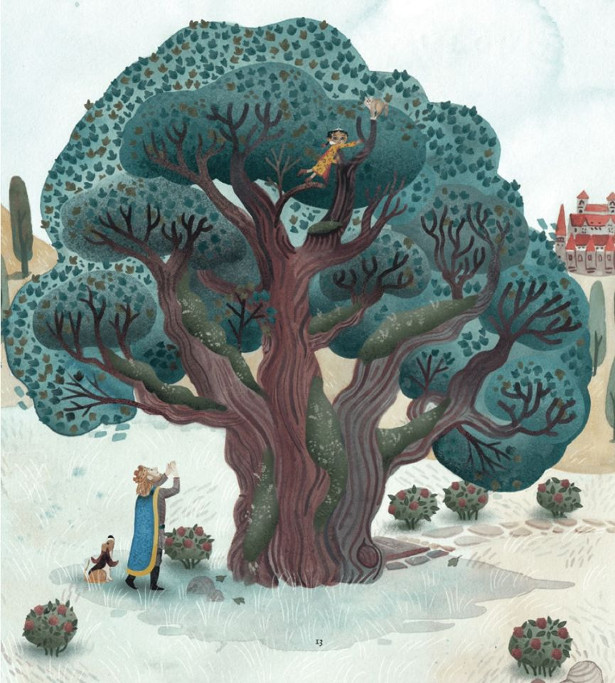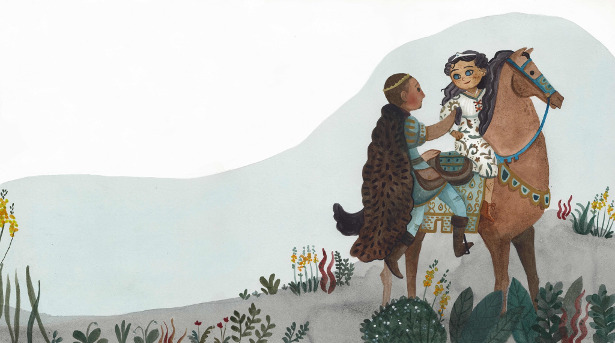 Create Your Own Coffee Pods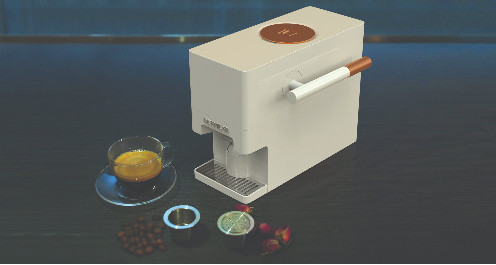 We drink 90 million cups of coffee each day in the UK and it's a trend that is increasing. Once we find a perfect coffee, we saviour the flavour and stick with that brand. Some brands spend millions on adverts with film start jumping from boats, hopping into casino's and enjoying a coffee. The reality is that despite all the glamour some leading coffee pods are unsustainable. A recent study found that 39,000 Nespresso pods are used every minute around the world and a staggering 29,000 pods end up in landfill. It's a major environmental issue, that even jet-setting celebrity activists can't ignore.
How do we find a coffee we love and make it sustainable? Capsulier have the answer. They are a new, exciting brand with a long-term plan to cut needless waste. That's why they've created the Capsulier Lite. It allows you to make your own coffee pods and experiment with your own flavours. Simply put your favourite ground coffee into its reusable stainless-steel pod and you'll have a Nespresso compatible pod in seconds. The pod lasts a lifetime and will save a person who drinks two Nespresso's a day, 7,280 pods in a 10 years. With Capsuiler you just need one reusable pod. Not only will it help save the environment it will save you a fortune as well.
They are easy to use and can be used time and time again in the place of single-serve coffee pods, such as Nespresso Pods which are an expensive. The average cost of making your own coffee pod is 4 times cheaper than buying Nespresso pods. You can have fun, exploring new flavours, vibrant blends and create a perfect cup of coffee that is unique to you. With Capsulier the possibilities are endless.
Capsulier is the World's first single-push, reusable, mess-free capsule maker. Simply load roasted and ground beans into the Capsulier Lite, close the lid and push the lever. You'll have a unique capsule ready for use in seconds.
The Capsulier Lite costs £100 from Amazon. This Black Friday to Cyber Monday it will be £75, saving £25.

Diamond MMA are an innovative high impact sports company offering revolutionary groin protection that is changing the game for athletes and sports professionals worldwide.
www.diamondmma.com have a great range of excellent products but we are focusing in on their compression brief! They offer exceptional gifts for any hard-to-shop-for athlete, since proper protection is essential for anyone who plays sports to prevent disastrous injury.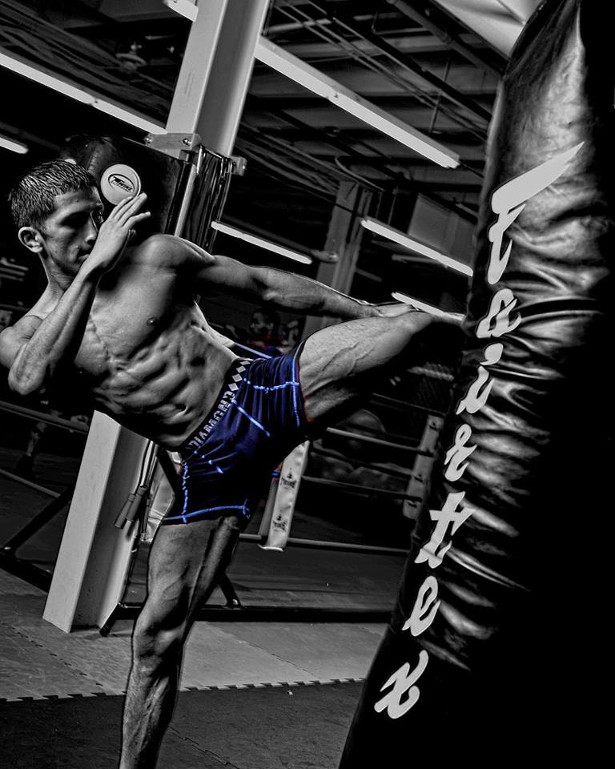 FACEBOOK | TWITTER | INSTAGRAM
Merry Midwinter
How to Rediscover the Magic of Christmastime
Gillian Monks
3rd October |paperback|£8.99
____________________________________________________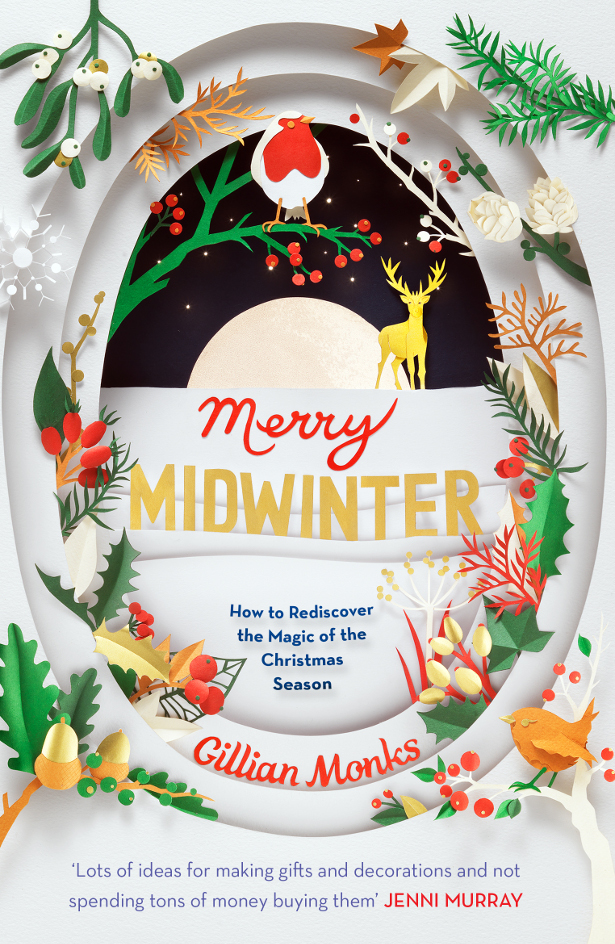 How to reconnect with the season and live winter well by rediscovering ancient festivals, easy recipes, traditional decorations and simple homemade gifts.
For fans of The Almanac and other lifestyle titles such as The Little Book of Hygge, Merry Midwinter chimes with the current thirst for books about finding peace of mind in a frenetic modern world by rediscovering the old ways.
This year celebrate Christmas authentically, avoiding the consumerism that blights much of our 21st Century seasonal celebrations.
___________________________________________________________________
Celebrating midwinter is not about what you buy or how much you spend – it's about your attitude to life. Turn away from the frenetic commercialisation of Christmas and rediscover the meaningful realities of this, the oldest and most precious celebration of the year.
The true significance of midwinter is not found in any individual spiritual or religious belief or practice. Instead, the winter solstice provides an opportunity to celebrate what we as humans share; to set aside our differences and come together with a sense of community and cheer.
Merry Midwinter is a cornucopia of ideas for how to make your own decorations (kissing boughs, advent wreaths, crackers, stockings and more); your own alternative gifts which cost nothing except time and thought; your own entertainments and games and simple, seasonal recipes from years gone by.
About the author:
A Quaker, Theosophist, and practicing Druid, Gillian Monks facilitates workshops in self-development and spirituality. She was born and brought up in Lancashire, before training as a teacher and graduating from Lancaster University. Gillian lives in the heart of Snowdonia with her husband and son, and five cats and two dogs. www.merrymidwinter.com
HOMEBASE TO HELP LOCAL COMMUNITIES GET FESTIVE
WITH ITS CHRISTMAS 'COMMUNI-TREE' INITIATIVE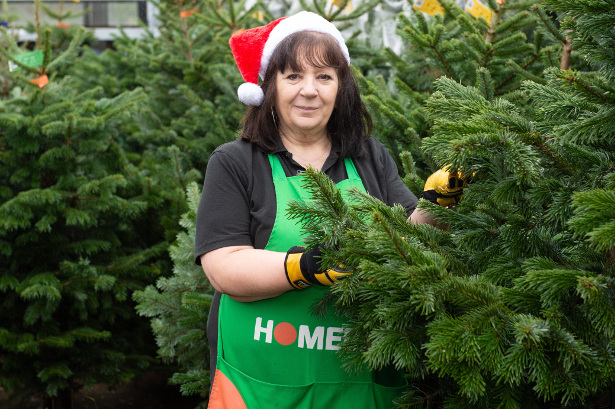 Today, Homebase will be helping over a thousand local schools, charities and community groups kick start their festivities through its Christmas 'communi-tree' initiative.
The home improvement and garden retailer is empowering team members across its 170 stores to identify local schools, charities and community groups they want to see receive a large, Nordman Fir real Christmas tree.
Homebase team member, Elizabeth, with some of the first Nordman Fir Christmas Trees
to arrive in the UK which will be donated to charities across the country
David Gillespie, Homebase Christmas Tree Buyer, says: "Putting up the Christmas tree is often the moment when, for most of us, people come together, and the festive season officially begins. We're delighted to be supporting local communities by donating over a thousand trees to schools, charities and community groups to enable them to take part in this 'tree-mendously' magical time of year with their own, real Christmas tree."
The Homebase Christmas 'communi-trees' initiative coincides with the advent of the first real Christmas tree harvest and their arrival in stores, which starts from Wednesday 27 November 2019. To celebrate their arrival, across the weekend the Homebase Nordman Fir Christmas tree will be available from just £15.
All variety of Homebase Christmas trees, whether a small living potted Nordman Fir or a 6ft Fraser Fir, are sustainably grown and all sourced from across the UK – Inverness, Tayside, West Calder and Berkshire.
David Gillespie, Homebase Christmas Tree Buyer, continues: "All Homebase Christmas trees are carefully nurtured throughout the year before being delivered into stores within a few days of being harvested and kept outside in the cold which keeps them fresh. So, whether you put up your tree on the 1 December or wait until Christmas eve, you can rest assured your Homebase Christmas tree will still look enchanting on the big day!"
For an organisation to be considered to receive a real Christmas tree, simply email ChristmasTrees@Homebase.co.uk and put the name of your local store in the headline, or pop into store with a letter addressed to the Store Manager.
The thousand schools, charities and local groups will be chosen and contacted by local Homebase store teams by Monday 2 December 2019.
Available now!
Creatures of the ocean celebrate Christmas Eve in an undersea retelling of "A Visit by St. Nicholas"
Christina Laurie
Illustrated by Elizabeth Moisan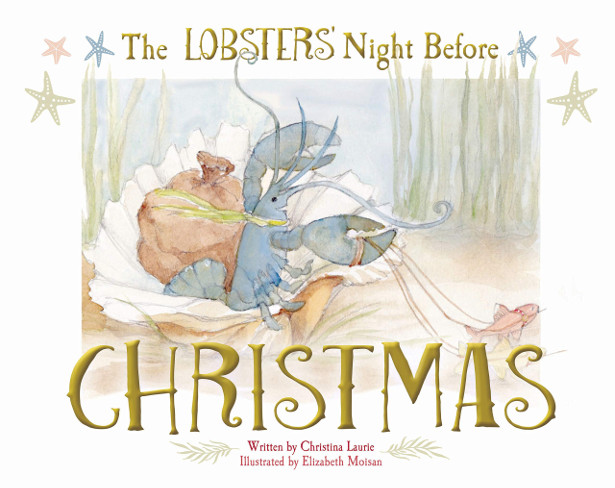 Under the waves and surrounded by swaying ocean eel grass, Sea Santa makes his yearly Christmas journey. Pulled in his clamshell sleigh by his eight faithful minnows, beautiful watercolor paintings illustrate his visit to a family of lobsters. Told in sweet and clever rhyme, The Lobsters' Night Before Christmas combines a holiday classic with delightful newness. After the poem, children can learn fun facts about lobsters, such as what they look like, what they eat, and how they moult.
See if you can find the lobster hiding in the eel grass throughout the book!
Pages: 32 215x279mm 26 color illustrations Hard Cover
ISBN: 978-0-7643-5826-5 £16.99
Schiffer Books are available from Gazelle Book Services
Change Habits, Change The World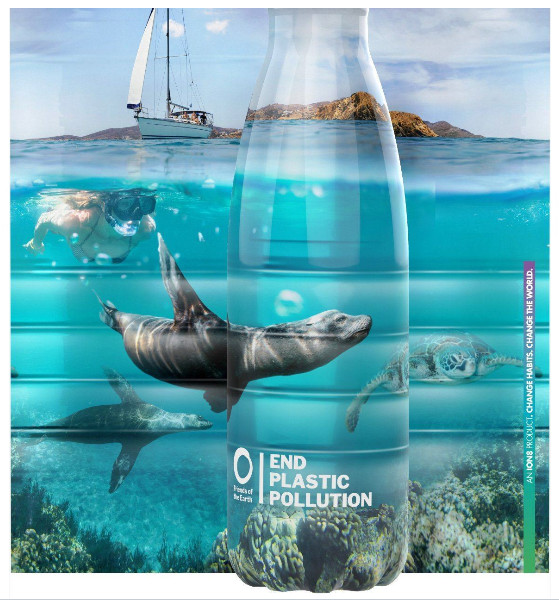 Ion8 have created a Friends of the Earth reusable bottle. Friends of the Earth are an international campaigning community dedicated to the protection of the natural world and the wellbeing of everyone in it. It leads campaigns, provides resources and promotes solutions aimed at securing a cleaner, healthier, fairer world for everyone, everywhere, for generations to come.
Healthy oceans are crucial for a health thriving planet and Ion8 are donating 25% profits of sales from these unique and reusable bottles to support the Friends of the Earth campaign to end plastic pollution. The bottle is available in two stunning designs:
Sunset Surfer: Vibrant and buzzling coral reefs the platform to a turtle (and the surfers) paradise. We must not allow scenes like this to become a thing of the past. If we want to enjoy our oceans we must take better care of them.
The Sunset Surfer Ion8 Friends of the Earth 500ml Insulated Bottle costs £19.99 from Leakproof.co.uk
Seal snorkeller: Deep marine scenes, seals sweep past and turtles gently pass us by. We must not allow scenes like this to become a thing of the past. If we want to enjoy our oceans we must take better care of them.
The Seal Snorkeller Ion8 Friends of the Earth 500ml Insulated Bottle costs £19.99 from Leakproof.co.uk
The bottles feature an exclusive Friends of the Earth designs which portray the majesty of our oceans caught inside a single-use bottle. It's a message in a bottle, a statement in your hands. Reuse and end single use.
One million plastic bottles are bought worldwide every minute and only 9% of plastic has ever been recycled. 12 million tonnes of plastic pour into our oceans every year. Sign the petition and take action here: friendsoftheearth.uk/plastics
Rugby 20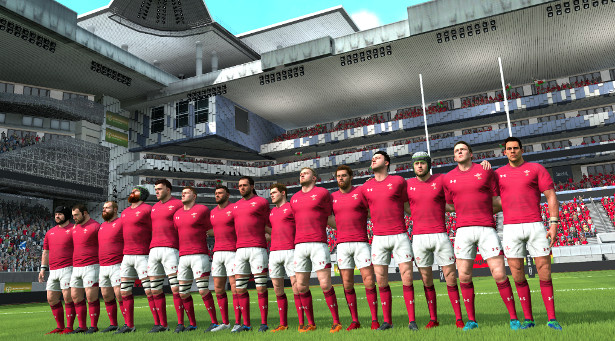 Lesquin, France, November 27, 2019 – The third and last phase of the closed beta for Rugby 20 on Xbox One will be from 19 December to 3 January 2020. Players who pre-ordered the game may once again dive into the world of the oval-shaped ball during the year-end holidays in anticipation of the full release of the game on 23 January 2020 on Xbox One, PC and January 28 on PlayStation®4 in North America.
Pre-ordering gives you an early taste of the new-generation rugby simulation and gives you the opportunity to share your opinions and feedback with the developers on the game's official Facebook page.
While the beta only includes national teams, the final version will contain significantly more licensed content, with 69 official teams, 4 leagues and over 2,000 players faithfully reproduced in the game. Rugby fans will be able to replay some of the sport's greatest matches, solo or with friends.
With a strong focus on simulation, Rugby 20 offers players all the elements that make up modern rugby: tactical changes during matches, attacking pods, passing after contact and set plays. Rugby fans will find all the sport's essential elements in the video game.
With real tactical depth, the addition of a set plays system, revised motion-capture animations, redesigned AI and innovative gameplay, Rugby 20 is ready to become the new standard for rugby video games.
Rugby 20 will be available on January 23 2020 on Xbox One and PC worldwide and on January 28 for PlayStation®4 in North America.
Find all the information on hwww.rugby-thegame.com/ and on the official Facebook page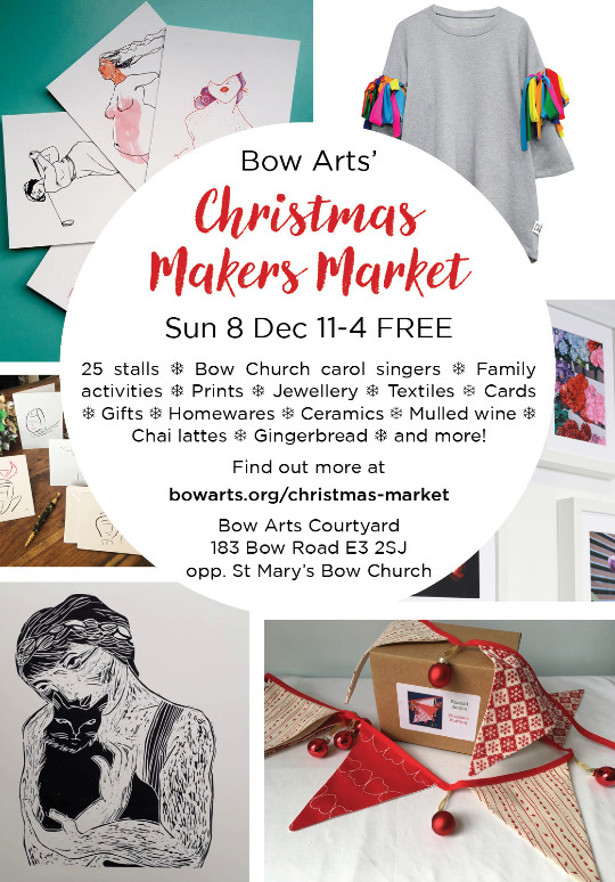 CELEBRATE THANKSGIVING WITH A COMPLIMENTARY WILD TURKEY 101 OLD FASHIONED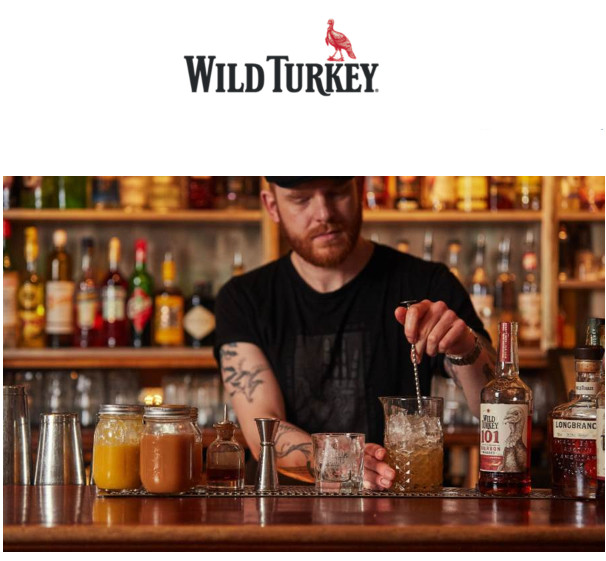 London, November 2019: This year Wild Turkey, the authentic American bourbon, is taking over Thanksgiving in the UK and giving back the only way it knows how – bourbon! To celebrate, cocktail-lovers will be offered a 'token of thanks' in the form of a complimentary Old Fashioned cocktail – with a twist.
Wild Turkey is "giving thanks" to the everyday heroes who always pick up the bar tab – celebrating the generosity of these people who always put their mates first and treating them to a bourbon on the house. To get involved, all bar-goers need to do is grab that friend who owes them a drink and introduce them to a bartender at a participating venue, where they can then enjoy their 2-for-1 cocktail offer – one paid for by their mate, and the other on the house, courtesy of Wild Turkey.
For this, the brand has joined forces with 20 bars across the UK and challenged the finest bartenders to come up with a series of limited-edition Old Fashioned recipes, inspired by the people they want to give thanks to – from their legendary local barber, to the person they got their first tattoo with! Available from 25th November – 1st December, these cocktails are sure to boast both unexpected flavour pairings and eye-catching garnishes to tickle the taste buds.
Thanksgiving is a holiday traditionally associated the U.S., but with over 200,000 Americans living in the UK and a 147%1 increase in Thanksgiving related searches on Google over the past five years, there is more appetite to celebrate the occasion here in the UK.
Joseph St Clair Ford, Brand Ambassador at Wild Turkey UK, says "We've all got that friend who owes us a drink or two, so make the most of it this November and grab your free Wild Turkey Old Fashioned at a bar near you!"