Dadmin Celebrates all the jobs Dads do with a range of stylish products and gifts so you can do your Dadmin with pride! www.dadminstore.com Unique gifts for Dads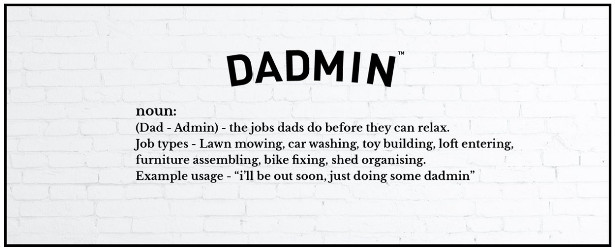 What is Dadmin?
Dadmin is a phrase that combines the words Dad & Admin. It's actually a celebration of all of those jobs we find ourselves doing in life. It was a term that we started using with friends in a fun way and the idea for this brand stemmed from there.
Where are you based?
We are based in the UK but can ship our products all over the world with pleasure.
How long will my products take to arrive?
We currently hold 90% of our stock ready for dispatch. So most orders placed by 12noon will be dispatched the same working day. First class Royal Mail usually arrives the following day. Any orders taken after 12noon on a Friday and over the weekend will be dispatched on the Monday.
If a product is printed on demand the turnaround time until dispatch is 3-5 working days maximum. This will be highlighted on the product page.