Divine chocolate launches exciting luxury Easter treats for 2019
Divine launches a delicious range of Easter goodies for 2019
Divine Chocolate, voted Best Brand 2017*, adds delicious new Fairtrade Easter treats to its range.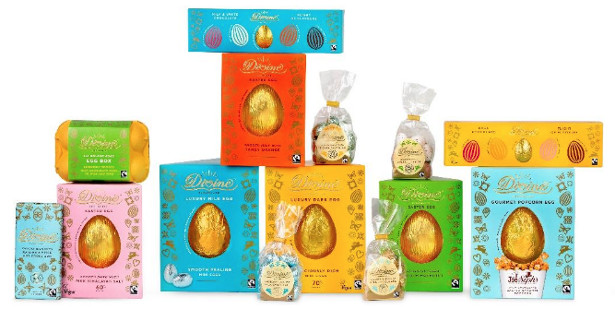 FACEBOOK | TWITTER | INSTAGRAM
About Divine Chocolate:
Divine Chocolate uses only high quality, Fairtrade ingredients carefully sourced from farming communities across the world. The cocoa beans are produced by the farmers of Kuapa Kokoo, a co-operative of over 80,000 cocoa farmers in Ghana who own 44% of the Divine company and receive a share of Divine's distributed profits leading to more economic stability, as well as the increased influence in the cocoa industry that company-ownership brings.
Divine's fine quality chocolate is conched for a long time and made with pure cocoa butter and no fat substitutes to give an especially smooth taste. Divine also uses the finest quality Fairtrade ingredients sourced from around the world, such as sugar from Kasinthula, a Malawian Fairtrade co-operative and vanilla from Fairtrade farmers in Madagascar.
All Divine's Easter eggs are free from artificial flavourings, colourings and preservatives, are suitable for vegetarians (and some for vegans) and are also palm oil free.
Luxury Easter Eggs 2019 (RRP:£10)
Divine Luxury 70% Dark Chocolate Egg with Dark Chocolate Mini Eggs
A 70% dark chocolate shell is paired deliciously rich mini eggs for a truly luxurious treat. Perfect for chocolate connoisseurs and those looking to give a special gift. (Vegan)
Divine Milk Chocolate Gourmet Popcorn Egg with Joe & Seph's Popcorn
Back by popular demand! A luxury milk chocolate egg with gourmet popcorn inside the shell. This Fairtrade certified egg is perfect for popcorn lovers.
Divine Luxury Milk Chocolate Egg with Milk Chocolate Praline Mini Eggs
A perennial favourite for milk chocolate lovers, this luxury egg has a thick shell made from smooth and creamy Divine milk chocolate and a clutch of praline mini eggs for extra indulgence.
Flavoured Eggs 2019 (RRP: £5)
NEW Smooth Dark with Pink Himalayan Salt. The dark chocolate has a truly bold taste that's offset by the delightfully sharp pink Himalayan salt throughout. (Vegan)
NEW Deliciously Dark Smooth Hazelnut. Smooth by name, smooth by nature; this Divine Chocolate Easter egg is a dark choc lover's dream. Made with high-quality dark chocolate and a cluster of crunchy hazelnuts, each bite is as bold and delicious as the last. (Vegan)
Divine Tangy Orange Milk Chocolate. Creating a delectable blend of rich, creamy milk chocolate and sweet orange flavour. The recipe has no palm oil and uses ingredients that are sourced from fair-trade suppliers.
Easter Treats:
NEW Divine Dark Chocolate Flight of Flavours Easter Eggs. (RRP: £8) With a tasty selection of 5 of our most popular dark chocolate flavours, this box includes raspberry, smooth hazelnut and more. There's something here for any dark chocolate lover and great for vegans too. (Vegan)
NEW Divine Milk & White Chocolate Flight of Flavours Easter Eggs (RRP: £8) Offering up a collection of our 5 favourite milk and white chocolate eggs, this box is the perfect way to introduce a friend to the delectable range of chocolates that Divine provides. They can sample some luxurious chocolate mixed with hints of orange, strawberry and more. Each chocolate egg is made without palm oil or soya, as well as zero artificial flavourings.
NEW Easter Egg Box (RRP: £5) 6 seriously smooth Milk Chocolate Eggs, wrapped in gold foil and encased in a fun egg box – perfect for Easter egg hunts for all ages!
Divine Chocolate Mini Eggs (RRP: £4.50 each)
Divine's range of mini eggs are great for sharing, top up gifts and Easter egg hunts. Choose from:
Seriously smooth milk chocolate mini eggs
Rich 70% dark chocolate mini eggs (vegan)
Smooth milk hazelnut praline mini eggs
Scrumptiously crunchy speckled milk chocolate mini eggs
NEW Divine Limited Edition Hot Cross Bun Chocolate Bar (RRP: £2.40)
This hot cross bun chocolate bar from Divine Chocolate is a fantastic fair-trade taste-sensation. On top of mouth-watering luxury milk chocolate, this bar also comes with delectable spices for that perfect hot cross bun taste, plus a cluster of tasty raisins. Each bite is filled with that classic taste of freshly-baked hot cross buns from the bakers – free from artificial flavourings, soya and palm oil.
*Divine was voted Best Brand 2017 in Chocolate and Confectionery by independent shops across the UK for Fine Food Digest magazine
Join the Divine chocolate community at
Twitter.com/divinechocolate
Facebook.com/divinechocolate
Instagram.com/divinechocolateuk
www.divinechocolate.com