Dorothy Lane Market's Taste of Italy Gift Pack offers two authentic Italian flavors: Extra Virgin Olive Oil and Aged Balsamic Vinegar of Modena. shop.dorothylane.com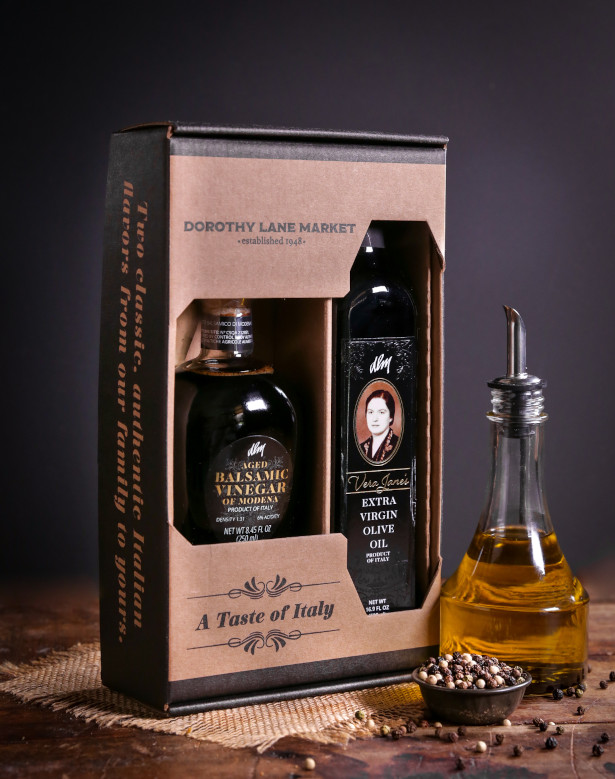 Dorothy Lane Market's Vera Jane's Extra-Virgin Oil is imported directly from Italy through their friend Alessandro. Alex produces it from olive groves near the beautiful medieval town of Lucignano, in Tuscany, Italy. This oil has a nice rounded rustic flavor with a peppery tickle typically found in Tuscan oils. When the DLM owners first tasted the oil, they loved it so much they named if after their grandmother, Vera Mayne, long time matriarch of the DLM family. Oils with the same quality and profile typically cost much more, but we are able to offer this luxurious olive oil at reasonable price thanks to our direct relationships with our importer.
Dorothy Lane Market's Aged Balsamic Vinegar of Modena is sourced from the Manicardi estate in Modena, Italy. It is faithfully crafted in the ancient Emilian traditions. This vinegar meets the rigorous IGP requirements. A few velvety, silky drizzles over your favorite salads, fruits, vegetables, meats or bread will have you hooked. You will start to look for endless ways to use this rich and complex vinegar. Owner, Calvin Mayne and his wife visited the Manicardi Estate a few years ago to taste various ranges of balsamic vinegars and to capture this perfect blend bearing the DLM name.
This gift pack is the perfect gift to impress the most discerning foodies to the beginner home cook. This is a great option for the person who has "everything", it's healthy and can be enjoyed on any type of diet. Buon Appetito!