Divine chocolate launches exciting luxury Easter treats for 2019
Divine launches a delicious range of Easter goodies for 2019
Divine Chocolate, voted Best Brand 2017*, adds delicious new Fairtrade Easter treats to its range.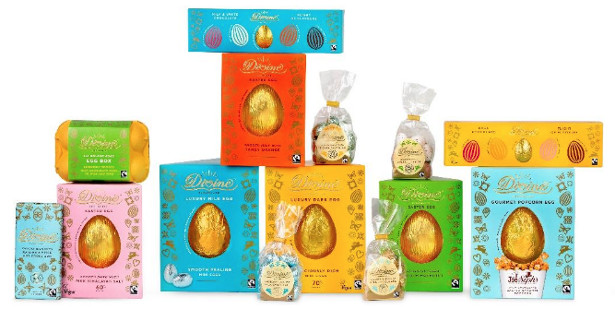 FACEBOOK | TWITTER | INSTAGRAM
About Divine Chocolate:
Divine Chocolate uses only high quality, Fairtrade ingredients carefully sourced from farming communities across the world. The cocoa beans are produced by the farmers of Kuapa Kokoo, a co-operative of over 80,000 cocoa farmers in Ghana who own 44% of the Divine company and receive a share of Divine's distributed profits leading to more economic stability, as well as the increased influence in the cocoa industry that company-ownership brings.
Divine's fine quality chocolate is conched for a long time and made with pure cocoa butter and no fat substitutes to give an especially smooth taste. Divine also uses the finest quality Fairtrade ingredients sourced from around the world, such as sugar from Kasinthula, a Malawian Fairtrade co-operative and vanilla from Fairtrade farmers in Madagascar.
All Divine's Easter eggs are free from artificial flavourings, colourings and preservatives, are suitable for vegetarians (and some for vegans) and are also palm oil free.
Luxury Easter Eggs 2019 (RRP:£10)
Divine Luxury 70% Dark Chocolate Egg with Dark Chocolate Mini Eggs
A 70% dark chocolate shell is paired deliciously rich mini eggs for a truly luxurious treat. Perfect for chocolate connoisseurs and those looking to give a special gift. (Vegan)
Divine Milk Chocolate Gourmet Popcorn Egg with Joe & Seph's Popcorn
Back by popular demand! A luxury milk chocolate egg with gourmet popcorn inside the shell. This Fairtrade certified egg is perfect for popcorn lovers.
Divine Luxury Milk Chocolate Egg with Milk Chocolate Praline Mini Eggs
A perennial favourite for milk chocolate lovers, this luxury egg has a thick shell made from smooth and creamy Divine milk chocolate and a clutch of praline mini eggs for extra indulgence.
Flavoured Eggs 2019 (RRP: £5)
NEW Smooth Dark with Pink Himalayan Salt. The dark chocolate has a truly bold taste that's offset by the delightfully sharp pink Himalayan salt throughout. (Vegan)
NEW Deliciously Dark Smooth Hazelnut. Smooth by name, smooth by nature; this Divine Chocolate Easter egg is a dark choc lover's dream. Made with high-quality dark chocolate and a cluster of crunchy hazelnuts, each bite is as bold and delicious as the last. (Vegan)
Divine Tangy Orange Milk Chocolate. Creating a delectable blend of rich, creamy milk chocolate and sweet orange flavour. The recipe has no palm oil and uses ingredients that are sourced from fair-trade suppliers.
Easter Treats:
NEW Divine Dark Chocolate Flight of Flavours Easter Eggs. (RRP: £8) With a tasty selection of 5 of our most popular dark chocolate flavours, this box includes raspberry, smooth hazelnut and more. There's something here for any dark chocolate lover and great for vegans too. (Vegan)
NEW Divine Milk & White Chocolate Flight of Flavours Easter Eggs (RRP: £8) Offering up a collection of our 5 favourite milk and white chocolate eggs, this box is the perfect way to introduce a friend to the delectable range of chocolates that Divine provides. They can sample some luxurious chocolate mixed with hints of orange, strawberry and more. Each chocolate egg is made without palm oil or soya, as well as zero artificial flavourings.
NEW Easter Egg Box (RRP: £5) 6 seriously smooth Milk Chocolate Eggs, wrapped in gold foil and encased in a fun egg box – perfect for Easter egg hunts for all ages!
Divine Chocolate Mini Eggs (RRP: £4.50 each)
Divine's range of mini eggs are great for sharing, top up gifts and Easter egg hunts. Choose from:
Seriously smooth milk chocolate mini eggs
Rich 70% dark chocolate mini eggs (vegan)
Smooth milk hazelnut praline mini eggs
Scrumptiously crunchy speckled milk chocolate mini eggs
NEW Divine Limited Edition Hot Cross Bun Chocolate Bar (RRP: £2.40)
This hot cross bun chocolate bar from Divine Chocolate is a fantastic fair-trade taste-sensation. On top of mouth-watering luxury milk chocolate, this bar also comes with delectable spices for that perfect hot cross bun taste, plus a cluster of tasty raisins. Each bite is filled with that classic taste of freshly-baked hot cross buns from the bakers – free from artificial flavourings, soya and palm oil.
*Divine was voted Best Brand 2017 in Chocolate and Confectionery by independent shops across the UK for Fine Food Digest magazine
Join the Divine chocolate community at
Twitter.com/divinechocolate
Facebook.com/divinechocolate
Instagram.com/divinechocolateuk
www.divinechocolate.com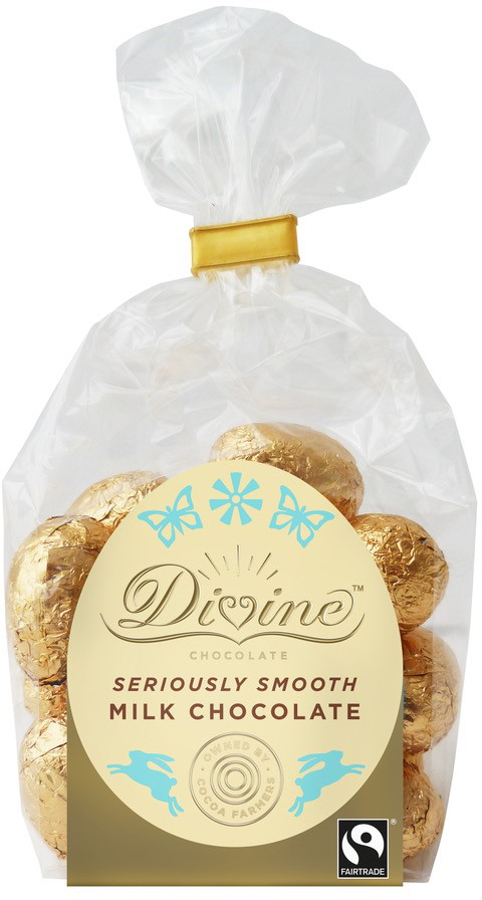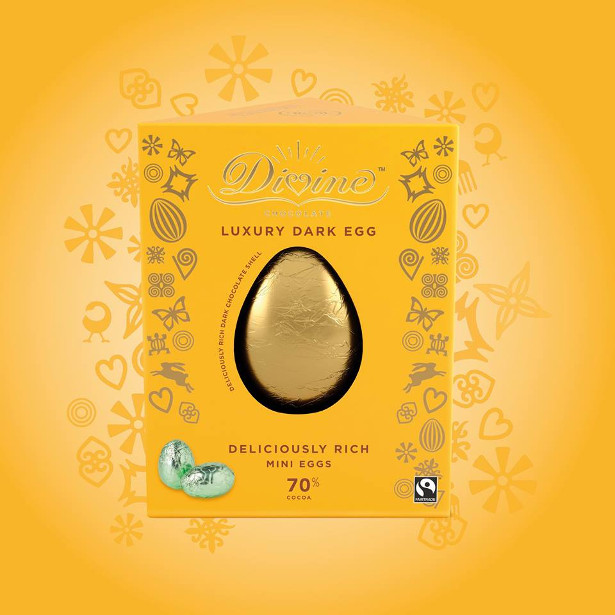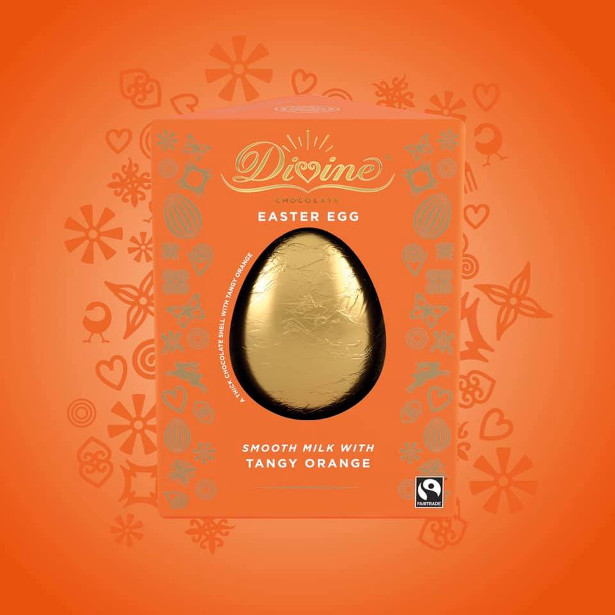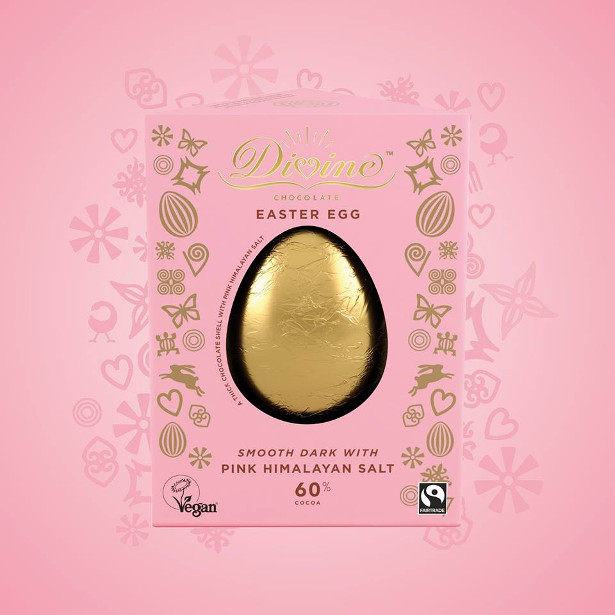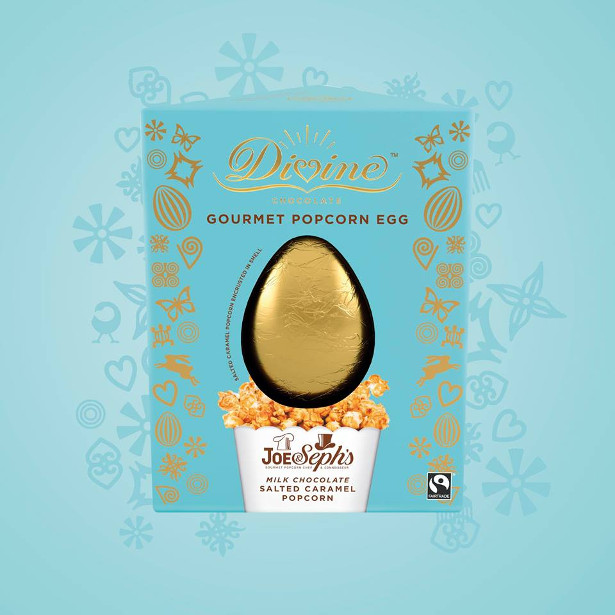 Spring has blossomed so why not pick up some fresh blooms from Serenata.
Pastels that will have you dreaming of the first days of sunshine combined with scents that are sure to bring a burst of freshness as we welcome in the warmer days and brighter evenings.
BUTTERCUP BREEZE
Price: £34.99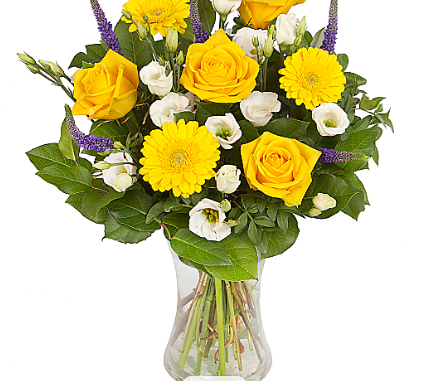 SCENTSATIONAL BASKET
Price: £29.99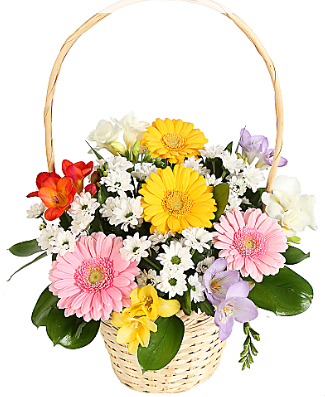 SPRING TIME
Price: £24.99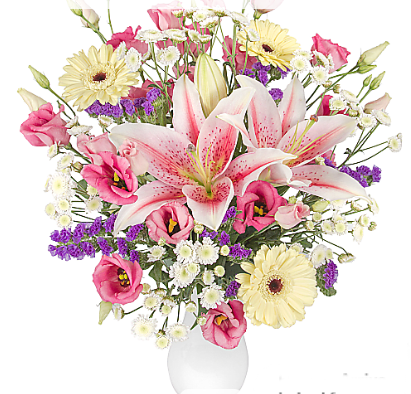 GIVE AN EGG-STRAVAGANT GIFT THIS EASTER
Make Easter epic and give a gift so great you won't want to hand it over…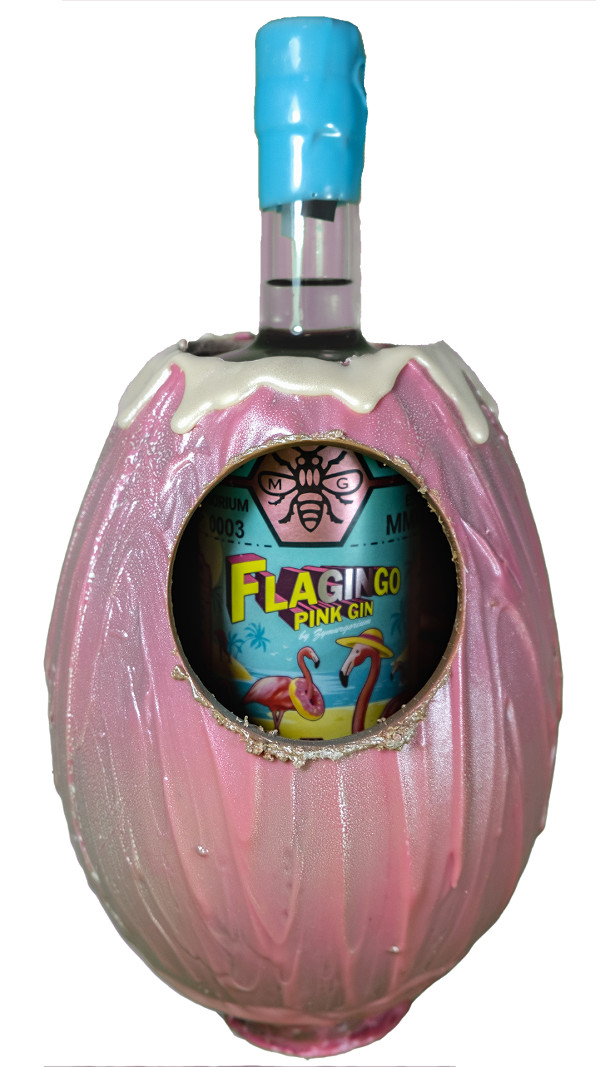 Manchester made Zymurgorium Gin has teamed up with award winning chocolatiers, Slattery, to create a gin-credible Easter egg!
The perfect gift for the gin lover in your life, choose from the tropical Flagingo Gin or sparkling Unicorn Gin both enclosed in a shimmering, luxurious chocolate egg.
Both the Flagingo and Unicorn Gin Eggs are available now in Selfridges stores nationwide.
RRP Unicorn Easter Egg £49.00
RRP Flagingo Easter Egg £59.00
To learn more visit zymurgorium.com or follow us on Facebook @Zymurgorium, Instagram @Zymurgorium and twitter @Zymurgorium.
Take part in London's Highest Easter Egg Hunt
at The View from The Shard this Easter
Family tickets only £50*

From the 6-22 April 2019, visitors to The View from The Shard can take part in London's highest Easter Egg Hunt, educating children on the history of London whilst offering the chance to walk away with a chocolate prize.
All children need to do to take part is look out for six giant Easter Eggs that have been strategically placed in key locations around London's skyline, marking their findings on a worksheet that provides facts and stats on the significance of some of these historical sites.
Family friendly games and Easter themed entertainment, including regular visits from The View from The Shard's very own Easter Bunny, will all be part of the fun during the Easter holidays. Children will be kept amused and entertained giving the rest of the family time to relax and appreciate the unrivalled breath-taking views of the city.
Bring your family to The View from The Shard this Easter for a great day out. On sale from 12pm on 29 March, Family tickets are available from £50 for two adults and two children so book early to secure your preferred time and enjoy our early bird savings*.
Tickets are available from www.theviewfromtheshard.com.
*£50 is based on early bird time slot – 09:00 – 10:00 purchased in advance for selected dates in the Easter period for 2 adults and 2 children
Keep Chocolate out of Paws' Reach from Pets this Easter
Natures Menu is warning owners about the dangers of chocolate toxicity for dogs over Easter.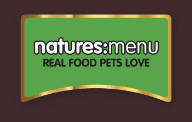 The UK's number one for raw and natural pet food is calling for owners to keep their chocolate out of paws reach over the holiday season to avoid their dog getting ill.
Melanie Sainsbury, Veterinary Education Manager for Natures Menu, explains the hazards chocolate poses to dogs: "While humans know that eating too much chocolate over Easter can cause them to feel sick, many are unaware that just a bite of chocolate could prove fatal for dogs. It's down to the toxic ingredient called theobromine, a naturally occurring chemical found in cocoa beans, which can cause kidney failure, seizures and even death.
"The amount of theobromine in chocolate varies, however darker chocolate tends to contain higher-levels than milk or white chocolate. Humans are able to metabolise theobromine, but dogs lack the vital enzyme required to break it down effectively, which is why it can be really dangerous if consumed. With this in mind, make sure you keep chocolate out of sight and smell from furry-friends.
"While the Easter bunny is busy delivering treats, it doesn't mean that we have to leave our canine companions out of the celebrations. You can look to satisfy them with a dog friendly treat such as our brand-new Country Hunter Chewy Superfood Bars. These bars are suitable for all dogs and made with great tasting natural ingredients, while being rich in protein."
Natures Menu has offered its top tips to help dog owners avoid an unexpected trip to the vets this Easter, as well as the symptoms to look out for to identify if your dog is suffering from chocolate toxicity.
Symptoms
The effects of chocolate poisoning in dogs usually appear within 12 hours and can last up to three days. These include:
Vomiting
Diarrhoea
Increased thirst
Increased heart rate
Restlessness
Retching
Collapse
Muscle tremors
Seizures
Loss of consciousness
Death
Top Tips
Keep your chocolate out of paws' reach! If you have a dog that can sniff out the sweet stuff, keep it out of sight and smell.
Never feed your dog chocolate intended for humans. Make sure you have a dog-friendly treat available, so they don't feel left out.
If you suspect your dog has eaten chocolate, don't panic. Call your vet immediately for advice and make sure you have the packaging to hand.
Natures Menu's Country Hunter Superfood Bars are grain and gluten free and naturally gentle on digestion, making them ideal for dogs with sensitive tummies and allergies. Gently air-dried to retain the natural goodness of their ingredients and provide a mouth-watering chewy texture, the bars are available in a range of delicious flavours including Beef with Spinach and Quinoa; Salmon and White Fish with Cranberries and Kelp; Duck with Carrot and Pumpkin Seeds; Chicken with Coconut and Pumpkin Seeds; and Turkey with Cranberry and Pumpkin.
For more information on Country Hunter Superfood Bars and Natures Menu visit: https://www.naturesmenu.co.uk/natural-dog-food/shop-by-product/natural-dog-treats/country-hunter-superfood-bars
The Wanderers Club are hosting an Easter Egg Hunt and Brunch:
https://www.thewanderersclub.co.za/whats-on/easter-brunch-egg-hunt/
Join us on Sunday for beginner & family friendly outdoor Yoga & receive a yummy Easter treat!!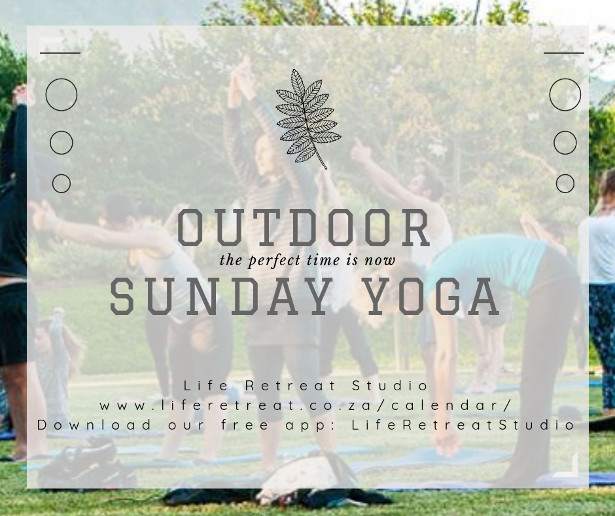 Make a day of it and enjoy the Lourensford Market after the class.
NB: **Please remember to sign in!! Payment can be made in the Lifestyle shop**
Info:
Date:
Every Sunday
Time:
09:00 – 10:00
Venue:
Lourensford Estate
Cost:
R 100 including a mat & bottle of water
Kids U/12 I Free
email: studio@liferetreat.co.za for any queries.
https://www.facebook.com/events/321346135317965/
A SPA TREATMENT GOOD ENOUGH TO EAT
GET COVERED HEAD-TO-TOE WITH CHOCOLATE THIS EASTER AT THE LOWRY HOTEL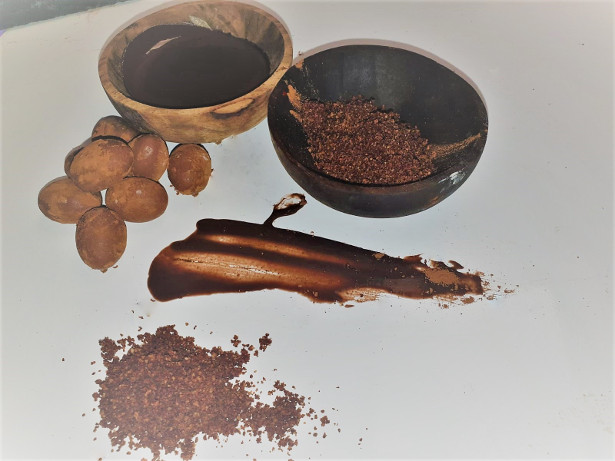 The five-star Lowry Hotel has introduced the dream spa treatment for chocoholics this Easter, where you'll be smothered head-to-toe in luxurious chocolate.
Launching just in time for Easter, the new Cocoa Indulgence package includes a lavish cocoa scrub, one of the latest beauty trends.
The 60-minute treatment includes a full body exfoliation, which removes all dead skin cells and helps to replenish and rejuvenate the skin, and a relaxing back massage, finished off with a luxurious hot chocolate drink, to calm your senses.
Visitors can also upgrade to a full body massage, which extends the cocoa-infused treatment to 90 minutes.
Tanya Andrews, The Lowry Hotel's Spa, Health & Fitness Manager said: "We are really excited to introduce chocolate into our treatments this Easter. Incorporating cocoa into facials and massages is already a huge trend across Asia, largely because of the the amazing benefits for your skin. Chocolate is extremely high in antioxidants, contains lots of anti-ageing properties and frankly, smells and tastes divine."
The Lowry Hotel Spa has six spacious treatment rooms alongside a fitness room, which includes the latest Technogym equipment for anyone who wants to finish off their spa treatments with a workout.
For more information or to book visit https://www.thelowryhotel.com/spa/.

"Creme Egg Bao Bun" recipe!
https://www.thaifoodmadeeasy.com/creme-egg-bao-bun/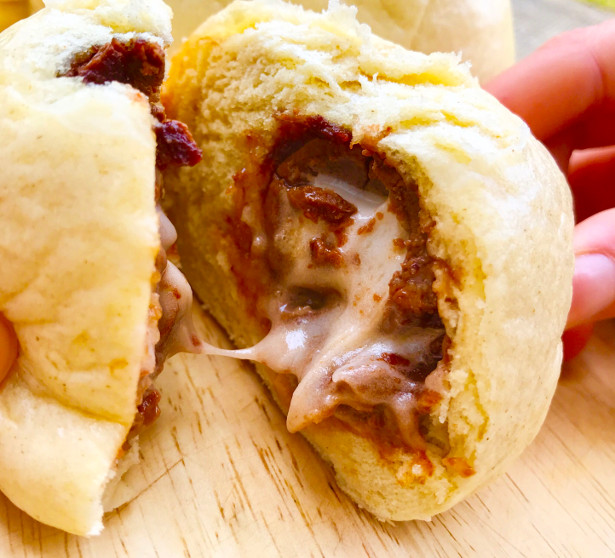 By Marni Xuto
www.thaifoodmadeeasy.com
Instagram: https://www.instagram.com/easy.thaifood/
Facebook: https://www.facebook.com/thaifoodmakeasy/
A QUARTER OF PARENTS HAVE SPENT ALMOST 24 HOURS WATCHING THEIR KIDS' FAVOURITE MOVIE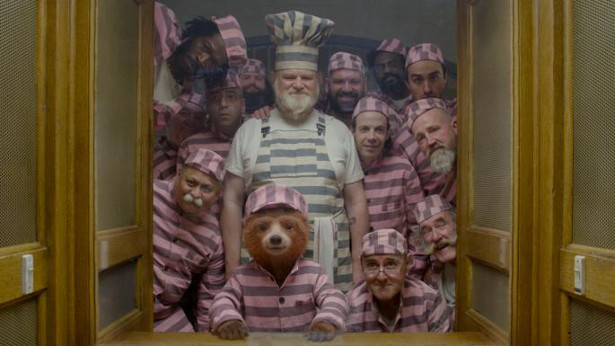 This Easter – up to 5.5M parents* will watch their kids' favourite films on repeat
One in four parents admit to using films as a way of sneaking in a cheeky nap
TV presenters Angellica Bell and husband, Michael Underwood partner with TalkTalk TV to help parents spot hidden movie Easter eggs with the kids
VIDEO: TalkTalk TV invites families to take part in an Easter egg hunt with a twist
London, 16th April 2019: In an era of tablets and mobile phones, parents and kids are still making time to watch family favourite films together according to new research from TalkTalk TV. Nine out of ten (94%) parents regularly watch films with their children with one in three admitting their kids watch their favourite film on repeat an average of 10 times**.
This weekend is a prime time for families to get together over a good film, with data from TalkTalk TV revealing the Easter weekend sees a 27% increase in movie rentals***. Of the favourites in TalkTalk TV's extensive offering, over half (52%) of mums are still in the Frozen phase, despite it being released six years ago. More recent chart toppers like the Greatest Showman and Moana follow close behind with 24% and 23% of parents respectively saying their kids play these films over and over again.
Despite watching their kids' favourite films multiple times, two thirds (62%) of parents have never spotted a movie Easter egg, which isn't surprising when the majority (65%) aren't aware of what a movie Easter egg is. (FYI – it's a visual nod to a previous character or film cleverly hidden in a scene – and big budget films are often littered with them!)
So, while Frozen is 15% of parents favourite of the films their kids watch on repeat, the question is – have they ever spotted Rapunzel roaming the streets of Arendelle?
This Easter TalkTalk TV is helping parents get in on the joke, by creating a helpful video on how to spot a movie Easter egg fronted by TV presenters Angellica Bell and Michael Underwood. The video is full of tips to help parents impress their kids as the family comes together for some bank holiday viewing. Families can take a break from the chocolate and hunt for hidden references in films instead by taking part in TalkTalk TV's Easter Egg Hunt
Angellica Bell said: "Our children must have watched the Lego Movie over twenty times now! If I'm honest, it's quite useful for me as it gives me a chance to catch up with housework and Michael usually takes a cheeky nap on the sofa. But now we're clued up on our movie Easter eggs thanks to TalkTalk TV, when we next sit down with the children to watch the Lego movie for the millionth time, it will certainly be a lot more fun for us too."
Will Ennett, Head of TV Content, said: "There's nothing better than settling into the sofa to watch a family blockbuster after an Easter Sunday roast. But with more content available than ever before, it can be tricky picking a film that the whole family will enjoy. TalkTalk TV brings all the best TV shows and films together in one place – giving you one simple remote to unlock the world of TV whenever you want."
TalkTalk TV gives customers access to 80 top channels with no spiralling costs – just a simple £4 a month. Extra entertainment is available through the TV Boosts, to get channels like Sky One, MTV and FOX one month at a time. With TalkTalk TV customers can save up to £216 a year vs BT, Sky and Virgin Media.
The TalkTalk TV top 10 movie Easter eggs can be found in:
The Greatest Showman
Moana
Incredibles 2
Finding Dory
Paddington 2
Coco
Ralph Breaks the Internet: Wreck-It Ralph 2
Indiana Jones and the Raiders of the Lost Ark
Mary Poppins Returns
Christopher Robin
MAKE IT AN 'EGGCELLENT' EASTER THIS YEAR AND HAVE AN ADRENALINE FUELLED DAY WITH ALL THE FAMILY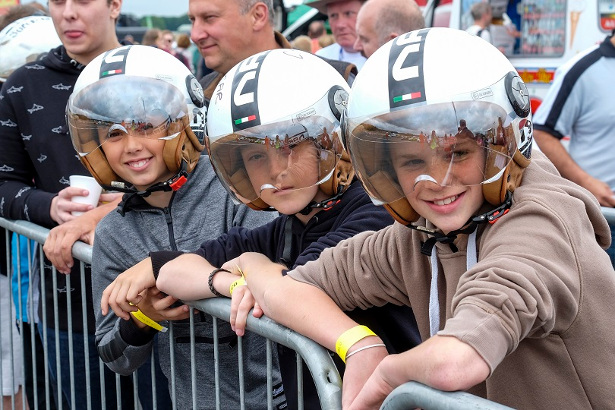 If you're searching for a day out for the whole family, or the perfect substitute for an Easter treat this year, look no further than The Supercar Event 2019. The hugely exhilarating day, held in aid of The Children's Trust, takes place at Goodwood Motor Circuit, Chichester on Saturday 1 June.
The event offers the chance to experience once-in-a-lifetime passenger rides in over 100 world-class supercars, as well as a wide range of fun-filled attractions and speedy activities.
Entertainment for younger guests includes Stay Safe Young Drivers Experience (for children age 14 and above), Mercedes F1 Team Simulator, Diggerland and much more! If you're looking for a great day out, The Supercar Event will be sure to deliver an unforgettable experience.
Peter Dietsch, one of the organisers of The Supercar Event comments: "Over the years we've had millions of pounds of rare cars generously brought along by their owners to give passenger rides around the track in order to help raise money to help children with brain injury. I bring my Lamborghini to the event and it's a day I look forward to every year. This will be the first time we've held the event in Goodwood and I think the new venue will be fantastic!"
One lucky family can also pick up a free 'family fun' package that includes entry tickets for 2 adults, 2 children aged 4-16 and a free ride with the Stay Safe Young Drivers Experience. Also included is a ticket to The Children's Trust Easter Fair.
The Easter Fair takes place on the 20 April 2019 from 11am-3pm in Tadworth, Surrey and features a much-loved Easter egg hunt. There will also be an Easter shopping market, a raffle, tombola and activities to keep the whole family busy.
To WIN your Supercar 'family fun' package', visit thesupercarevent.com/easterpackage and simply enter your email!
Family ticket (2 adult, 2 children aged 4-16) £30, adult ticket £12.00, child and concession tickets £8. VIP tickets £160. Supercar rides must be purchased separately. For more information, visit: thesupercarevent.com.
Tile are offering up to 28% OFF their Tile Mate, Slim and Pro trackers from 17th to 28th April on Amazon.
The new Tile trackers attach to keys, wallets and anything else you can't live without. Plus, Tile Mate and Pro now come with a replaceable battery and increased range and volume.
Amazon deal 17th – 28th April
Discount
RRP
Sale Price
Tile Mate / Slim Combo 4-pack
28%
£65
£47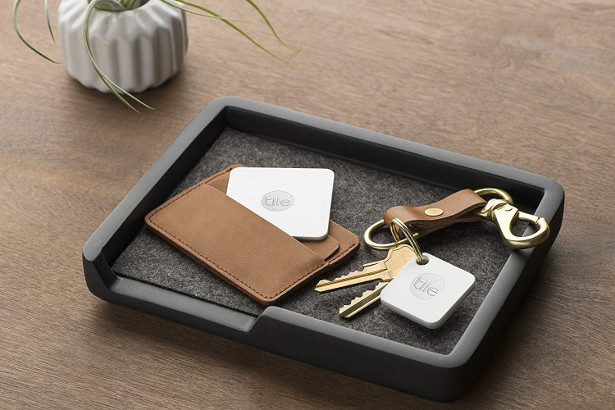 Tile Pro 2-pack
20%
£50
£40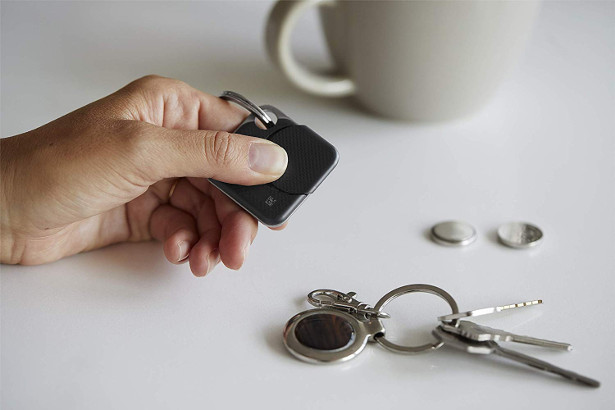 Tile Mate 4-pack
12%
£55
£48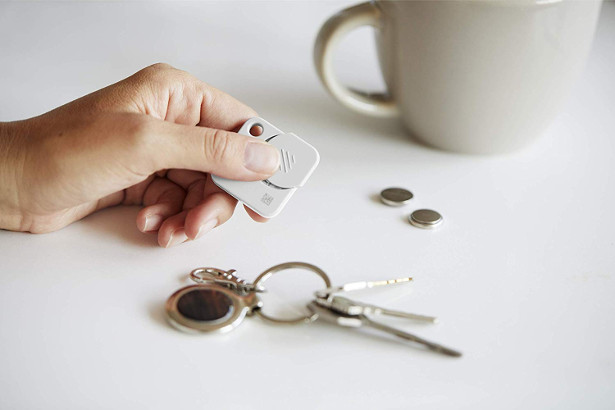 How does it work? With Tile you can locate your item via the Tile app on select iOS or Android phones. You can also use your Tile to find your phone in reverse:
• Locate by sound – Ring your Tile from the app or double press your Tile to ring your phone – even on silent.
• Last place seen – The app always shows the last time and place it saw your Tile. Simply open the app to view the map.
• Community Find – If your Tile moved location since the app last saw it, tap the Notify When Found button in the app. This will securely and anonymously put all other Tile apps on the lookout for your Tile. You'll receive an alert when another Tiler comes within range of your item. We call this feature Community Find.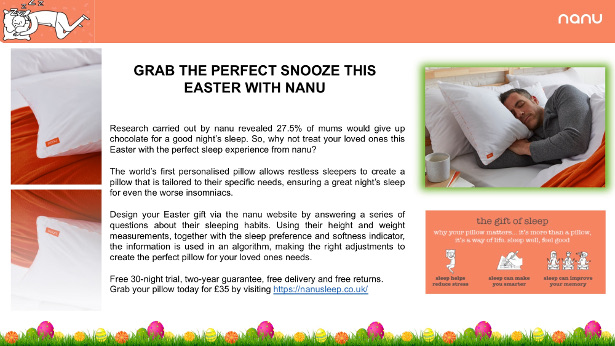 www.claudiacanu.com
Healthy Easter Bunny made with food.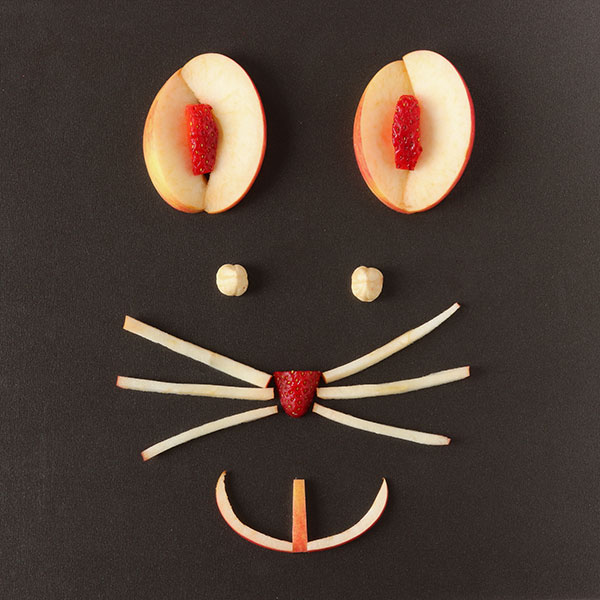 https://claudiacanu.com/healthy-recipe/healthy-easter-recipe/
Easter Day Ideas
What to get your friends this Easter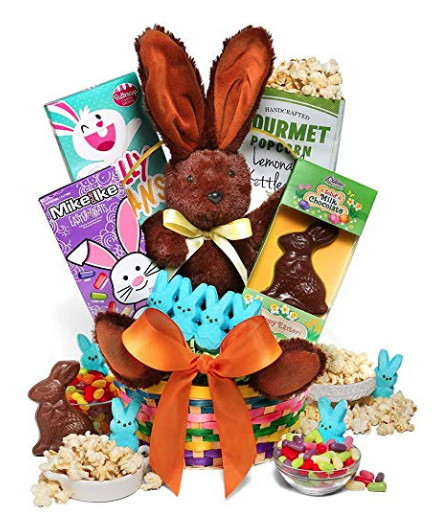 Easter is a great time of the year. Spring is in full bloom and people are taking part in all sorts of fun activities and hunts among other things. And seeing all the kids exchanging eggs and having a blast, I'm sure you want to give some of your buddies an Easter gift too. Fret not, we have just the thing for you!
Classic Easter Basket
Product link: https://www.amazon.com/GourmetGiftBaskets-com-Classic-Easter-Basket/dp/B001MA8JG4
It's not just kids who have a sweet tooth – many grownups do too. And this is the perfect gift basket for them. Filled with a chocolate Easter bunny, marshmallow peeps, lemonade kettle corn, jelly beans, and more, it is perfect for your friend's cheat day. And that's not all – it comes with a bunny rabbit stuffed toy that is too cute to handle. What's more is that the basket comes professionally shrink wrapped so you have to do nothing. So, get into the spirit of Easter and give your bestie a gift for a change!
www.simplycelebrate.net
Creative ways to express love + appreciation for the people in your life.

Here's an idea for how to add an extra loving twist — and added surprise!—to your Easter baskets!
A very simple idea that makes Easter Baskets so much sweeter!
It involves writing out some things you love about the recipient of slips of paper — or typing them up! Then you hide one in each of the plastic eggs in the basket. The recipient expects to find just a little candy or some jelly beans, but instead, gets a big dose of love!
Called >>Love Lists!

THE EASTER BUNNY'S ESCAPED!
TRACK DOWN ESCAPE HUNT'S FURRY FRIEND THIS EASTER AT CORN EXCHANGE TO WIN INSTANT PRIZES IN A WONDERLAND THEMED HUNT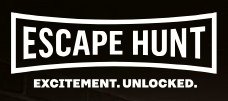 www.escapehunt.com
The White Rabbit has escaped from Escape Hunt's Wonderland-based adventure, Alice in Puzzleland and over Easter, will be wandering around the Corn Exchange with a basket full of amazing prizes from the leisure destination's restaurants and brands.
Those eagle-eyed enough to find the bunny have the opportunity to try and solve one of the Rabbit's riddles in a minute or less. Should sharp-minded shoppers successfully crack the code, they get to open one of the Rabbit's Easter eggs.
As well as free games at Escape Hunt, top prizes include £100 and £50 vouchers from Alston Bar & Beef, Cabana and Cosy Club, as well as a range of fantastic dishes from Gino D'Acampo Restaurant.
To get involved, simply head to Corn Exchange this bank holiday weekend and look out for the White Rabbit.
Alex Butler, General Manager of Escape Hunt Manchester, said: "With our White Rabbit on the loose, we're excited to reward eagle-eyed shoppers who can help us track him down! We can't wait to give out so many awesome prizes to some top-notch code-crackers in the Corn Exchange."
www.yorktest.com
Egg-citing News and Easter Sale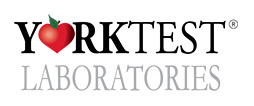 Easter is almost here and it's nearly time to crack open your Easter egg (if you haven't already done so).
This time of year can be challenging if you're free-from or if you have friends or loved ones who are avoiding certain trigger foods, such as cow's milk.
Luckily, there are some great alternatives at the supermarkets and we would like to share these with you, as well as some egg-citing news.
From all of us here at YorkTest, Happy Easter!