GlobalWelsh Academy Now Accepting Applicants for Entrepreneur Programme in California
Welshman Lyndon Faulkner, CEO of Pelican Products, Hosts 'Meet the Makers'
globalwelsh.com/pelican-masterclass-2018
Wales – May 1, 2018
GlobalWelsh, an organization committed to connecting one million people around the world with an affinity for Wales, has just announced the opening of the application period for Meet the Makers – Sponsored by Pelican Products. Selected applicants will participate in a week-long intensive masterclass with the worldwide design and manufacturing business, headquarted in Los Angeles, California.
The programme is a partnership between GlobalWelsh and Pelican Products, the global leader in the design and manufacture of high performance protective cases, temperature controlled packaging solutions, advanced portable lighting systems and rugged gear for professionals and outdoor enthusiasts.
The CEO of Pelican, Lyndon Faulkner, is a Newport, Wales native and looking to share his international success by bringing six Welsh business entrepreneurs to the United States for this comprehensive learning experience at Pelican. The programme is the first initiative of the GlobalWelsh Academy, aimed at providing members with workshops, mentoring, inspiring talks, masterclasses and global opportunities.
Meet the Makers – Sponsored by Pelican Products provides an all-expense paid trip to Los Angeles, California this September, where entrepreneurs will spend the week learning from and collaborating with top Pelican professionals in various business disciplines such as sales, marketing, human resources, design, research & development, customer service, finance and information technology.
Key dates include:
• Application period: May 1st through May 31st (Include application link here)
• Selected applicants announced: June 30th
• Programme dates: September 8th – September 14th
Pelican's CEO, Lyndon Faulkner, is passionate about the GlobalWelsh community and says "it's exciting for me to be part of a programme where I can use my 25 years of international business experience to help Welsh companies grow inside and outside of Wales".
Interested individuals and businesses can join the GlobalWelsh movement as a community member or become a "Pioneer" and donate funds to the mission, helping GlobalWelsh offer similar opportunities that create real impact for Welsh entrepreneurs.
Visit globalwelsh.com/pelican-masterclass-2018 to join and apply.
Pelican Products, Inc. is a portfolio company of Behrman Capital, a private equity investment firm based in New York and San Francisco.
###
Pelican Products, Inc. is the global leader in the design and manufacture of high performance protective cases, temperature controlled packaging solutions, advanced portable lighting systems and rugged gear for professionals and outdoor enthusiasts. Their products are used by professionals in the most demanding markets including fire safety, law enforcement, defense / military, aerospace, entertainment, industrial and consumer. Pelican™ products are designed and built to last a lifetime. The company operates in 21 countries, with 22 international sales offices and six manufacturing facilities around the globe. In Europe, the company does business under the name Peli Products, S.L.U. For more information, visit www.pelican.com or www.behrmancap.com.
All trademarks are registered and/or unregistered trademarks of Pelican Products, Inc., its affiliates or subsidiaries.
Meghan and Harry's Love Nest Makeover
Despite the high security around the upcoming Royal nuptials, Blinds 2 Go have managed to track down a few pictures of Meghan and Harry's love nest Nottingham Cottage, named after the same town as Blinds 2 Go HQ!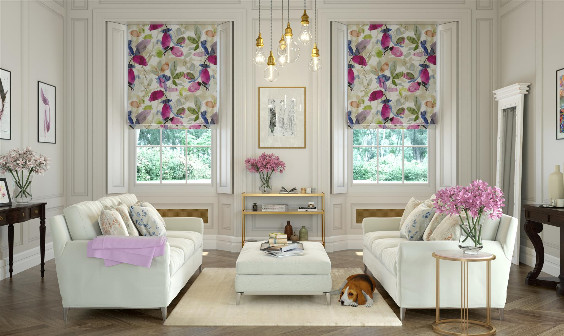 On the grounds of Kensington Palace, Nottingham Cottage holds a special place in Prince Harry's heart as not only has he lived there for the last four years, he will be making it his home with Meghan Markle after they get married on May 19th.
After some snooping on Instagram, pictures of Meghan's Toronto apartment were uncovered and with a bit of artistic licence Blinds 2 Go have given the living room of Nottingham Cottage a makeover so that she would feel more at home. Basically they have 'Meghanised' it!
Royal Apartment BEFORE image
Royal Apartment AFTER image
Featuring Blinds 2 Go Hadley Linen Blooming Violet made to measure roman blinds in a predominantly white and gold setting. We think Meghan would love this new look. However, it turns out they are now moving after the wedding. If only Harry had listened to Blinds 2 Go he could have saved the big cost of moving with this Meghan-friendly makeover!
For free fabric samples and further information visit www.blinds-2go.co.uk tel 0800 862 0464.
New quartz surfaces are the perfect match for
summer colours in the kitchen
Pictures by Paul Craig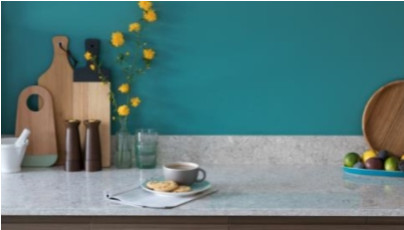 The trend for hyper-realism in quartz worktops makes the latest additions to the CRL Quartz collection the ideal contrast to summer colours in the kitchen.
From bright shades to bold tones, the summer season is the perfect to introduce a splash of colour into the kitchen and combined with CRL Quartz surfaces it is a look that has all-year-round style appeal.
The shift towards natural stone effects is strong in kitchen design, giving the space a timeless appeal in both a contemporary and traditional setting. Latest additions to the CRL Quartz range – Montana Gris (above) and Carrara (pictured right and bottom left) – have all the beauty of such natural materials, combined with the highest levels of durability and ease of maintenance for the very best of both worlds in the modern home.
The quartz surfaces have a distinctive pattern throughout to give them a marble-like appearance, with grey hues that combine seamlessly with the latest summer colours, from blue to yellow and everything in between.
Available in 20mm and 30mm thicknesses, Montana Gris and Carrera have a polished finish and are available in jumbo slabs for greater consistency of design over large areas, such as kitchen islands. Scratch, heat and stain resistant, the surface requires minimal maintenance and no need for sealing to keep it looking as good as new.
Prices start from £250-£450 per square metre.
For more information and free samples call CRL Stone on 01706 863 600 or visit www.crlquartz.co.uk
Create Coastal Calm with ILIV's new collection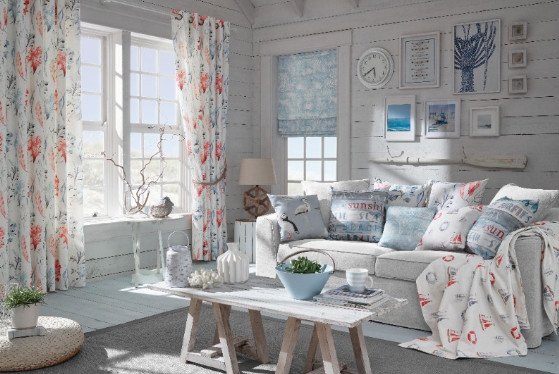 ILIV are delighted to introduce their new 'Sea and Sand' fabric collection. This lovely assortment of fabrics comprises an uplifting medley of playful designs, all inspired by sandy coastlines. Full of fresh colours and delightful details, these fabrics will help you bring the seaside to your home wherever you are.
The coastal trend is a great one for refreshing your interiors, as it is all about recreating the carefree, relaxed atmosphere found by the sea. There are many ways to achieve this, from classic seashell and fish prints, to a more subtle look using neutrals inspired by seaside scenes. No matter what your preference, the beautiful new Sea and Sand collection from ILIV has an ideal selection of fabrics to choose from.
Available in three beautiful colourways; Marine, Aqua and Seasalt, these muted palettes make it easy to create a relaxing, laid-back look. The Seahorses fabric with it's subtle pattern, is perfect for window dressings, while the Reef fabric would look cute in a nursery with it's playful tiny sailing boats and fish.
(Clockwise from top left: Seahorses fabric in Marine, Seahorses fabric in Coral & Reef fabric in Aqua all from £25.00 per metre)
Try mixing some of the seabirds, beach huts and coral for eye-catching scatter cushions, which are sure to make you smile. All of the fabrics in the Sea and Sand collection work beautifully together, so from the sophisticated coral prints of the Sea-Ferns fabric to the cheerful Ice Lollies fabric, there is something for everyone.
(Clockwise from top left: Seabirds fabric in Marine, Sea-Ferns fabric in Marine, Coast fabric in Seasalt and Decking fabric in Marine all from £25.00 per metre)
However you decide to create your coastal look, with the beautiful collection of fabrics included in the new Sea and Sands collection, it's hard to go wrong. Prices start from £25.00 per metre.
(Clockwise from top left: Seahorses fabric in Marine, Surfboards fabric in Multi, Shoal fabric in Aqua, Ice Lollies fabric in Aqua all from £25.00 per metre)
Singer/Actress Jazmin Grace Grimaldi and Actress Kiera Chaplin Placed 3rd in the E-Gazelles Category in the
2018 RALLYE AICHA DES GAZELLES DU MAROC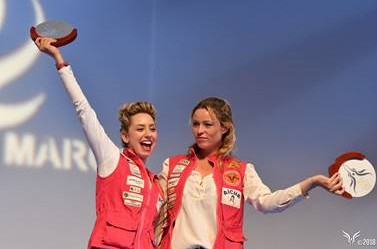 Jazmin Grace Grimaldi, Kiera Chaplin (Photo Credit: Maienga)
WHAT:
More than 1000 people gathered in the marquee tent in Essaouira on Saturday, March 31, 2018 to ring out the 28th Rallye Aïcha des Gazelles in style. A total of 165 teams, including 6 electric vehicles, participated in the 28th edition of this one-of-a-kind adventure. It is the world's first international off-road Rallye race for women only. Since 1990, it has been bringing together women between the ages of 18 and 71, from more than 30 different countries, who embark on an adventure of a lifetime from the French city of Nice and onward to the start of the Rallye in the Moroccan desert. Participants of the 2018 rally included singer and actress Jazmin Grace Grimaldi and actress Kiera Chaplin, who came in 3rd place in their e-vehicle category, and Monegasque royalty Pauline Ducruet competing alongside fashionista Schanel Bakkouche.
After spending 9 days deep in the Moroccan desert, the Gazelles enjoyed a prestigious gala evening in an immense white marquee tent across from the ramparts of Essaouira. In a fitting tribute to the former Mogador, the theme of this year's gala was "Marine Marvels".
Dominique Serra and the Governor of Essaouira opened the gala, inviting the 1,200 guests to stand and drink a toast with a glass of Tsarine champagne. The décor featured an aquarium, seashells, a sailboat and even a mermaid. Jazmin Grace Grimaldi, daughter of Prince Albert II of Monaco and a Gazelle of Team 504 (competing alongside actress Kiera Chaplin in the e-Gazelle Class), took to the stage to perform an original song at the commencement of the evening's dinner. Further entertainment during the dinner was provided by belly dancers, sailors and acrobats. The winners of each category were then invited to the stage to receive gifts from event partners Aïcha, Saint Honoré and Afriquia.
Lively applause and a standing ovation were given to Marina Vrillacq, President of the Rallye's non-profit, Cœur de Gazelles; and Frédéric Valat, Manager of the Cœur de Gazelles medical caravan; and all the event's volunteers and partners. "We were able to perform 8,400 medical procedures thanks to our volunteers and the partners who support us and understand our needs. I wish to thank them, because without them, we could do nothing. The strength of Cœur de Gazelles is in its patient follow-up. My thoughts go out to each of them," said Marina Vrillacq. Her speech was interrupted by tears, and Frédéric Valat took over: "Thanks to the 140 teams of Gazelles who stopped to visit us in the villages where we were set up. You are our best representatives. You are the ones who promote Cœur de Gazelles." The evening ended with music as dinner gave way to the dance floor.
The 2018 Rallye Aïcha des Gazelles winners and runners up were:
Expert Class (4×4/Truck): 1st place: Team 238 (Hélène GRAND'EURY & Charlotte ZUCCONI),
2nd place: Team 246 (Carole MONTILLET & Sylvie GODEAU GELLIE), 3rd place: Team 153 (Fabienne GALIDIE & Tania LIO-MARTINEZ).
4×4/Truck Class: 1st place: Team 238 (Hélène GRAND'EURY & Charlotte ZUCCONI), 2nd place: Team 246 (Carole MONTILLET & Sylvie GODEAU GELLIE), 3rd place: Team 153 (Fabienne GALIDIE & Tania LIO-MARTINEZ).
Crossover/SUV Class: 1st place: Team 312 (Laetitia GIRAUD & Sarah SOURBIER), 2nd place: Team 313 (Solen KERLEROUX & Carine POISSON), 3rd place: Team 310 (Sandrine MARTIAL & Isabelle FAUST).
Quad/SSV/Moto Class: 1st place: Team 28 (Elisabeth (Betty) KRAFT & Sonia BAUDOIN-GUERARD), 2nd place: Team 27 (Prune SALTI & Elisa BOULAND), 3rd place: Team 26 (Amélie DELACHESNAIS & Emilie CAZAL).
E-Gazelles Category: 1st place: Team 503 (Natacha BORDRY & Clothilde HAMION), 2nd place: Team 502 (Mélanie MOR & Delphine MIQUEL), 3rd place: Team 504 (Kiera CHAPLIN & Jazmin GRIMALDI).
First Participation Class ("First Participation" Class rewards teams who are participating in the Rallye Aïcha des Gazelles du Maroc for the first time.): 4×4/Truck Class winner: Team 139 (Léa GOULLIEUX & Laetitia BERTIN), Quad/SSV/Moto Class winner: Team 22 (Tracy MORANDIN & Valérie ROCHE), Crossover/SUV Class winner: Team 312 (Laetitia GIRAUD & Sarah SOURBIER), E-Gazelles Class winner: Team 503 (Natacha BORDRY & Clothilde HAMION).
For a full list of all participants and rankings, please visit:
Jodie Whittaker wearing the Les Georgettes Bijou Bag to the 2018 BAFTA Awards.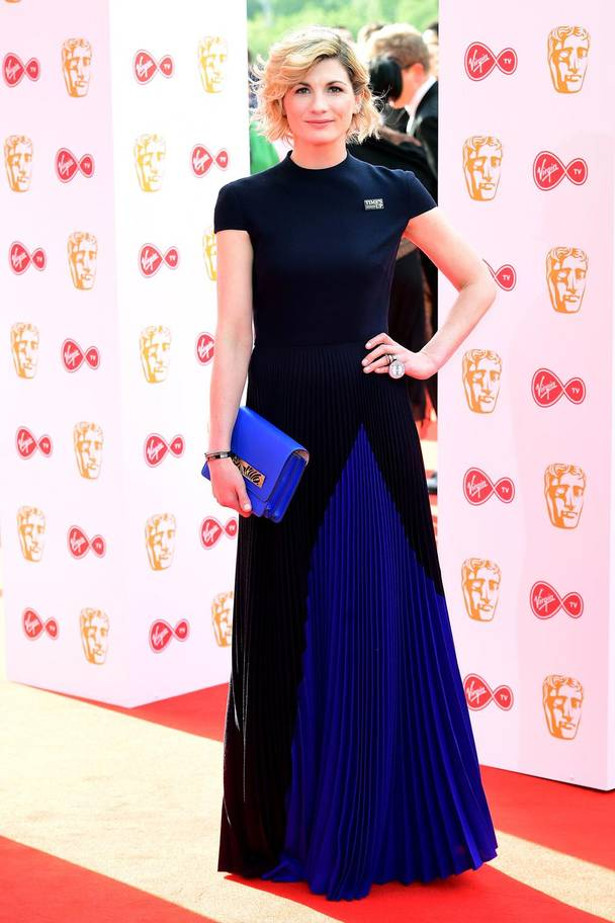 Children's Non-Profit Invited to Nominate Player Escorts
At UEFA Europa League Final in Lyon
Main Sponsor, FedEx Express, Donates Full Player Escort Lineup
To Leading French Charity, Sport dans la Ville
London, 14 May 2018— FedEx Express, a subsidiary of FedEx Corp (NYSE: FDX) and the world's largest express transportation company, and the UEFA Foundation for Children are offering children an unexpected opportunity at this year's UEFA Europa League Final on May 16, 2018.
As Main Sponsor of the UEFA Europa League, FedEx Express collaborates with the UEFA Foundation for Children on initiatives that use football as a platform to connect people to new possibilities. This will be the third occasion that charities based in the host city of the UEFA Europa League Final have been engaged to offer children a chance to be player escorts at this prestigious match. The activity complements FedEx Cares, the company's broader commitment to invest in communities where its team members live and work around the world.
"Many children in the care of charities face very challenging life circumstances. For them, to step out onto the field at the UEFA Europa League Final is something completely out of the ordinary, and you can see the joy on their faces on the night," said Jerome Ovion, vice president, Hub Operations, FedEx Express, France.
French non-profit Sport dans la Ville was invited to select the 22 children who will accompany the professional players out onto the field. FedEx Express engaged its UEFA Europa League ambassador, Ruud Gullit, to deliver the news to the children during a behind the scenes stadium tour of the Stade de Lyon.
"The news that the children would escort their most admired football stars onto the field at the UEFA Europa League Final was completely unexpected—a possibility many would not even have dreamt of," said Hélène Blondel-Ehni, director of Partnerships, Sport dans la Ville.
"For the third consecutive year, FedEx Express and UEFA Foundation for Children are able to give children in the UEFA Europa League host city a moment to shine," said Pascal Torres, general secretary, UEFA Foundation for Children.
The children will lead professional players from Marseille and Atlético onto the field at Stade de Lyon on May 16, 2018, where for a brief moment, they themselves will be stars of the UEFA Europa League Final.
About FedEx Express
FedEx Express is one of the world's largest express transportation companies, providing fast and reliable delivery to more than 220 countries and territories. FedEx Express uses a global air-and-ground network to speed delivery of time-sensitive shipments, by a definite time and date with a money-back guarantee. [1]
[1] Subject to relevant terms and conditions
About FedEx Cares
FedEx Corp. (NYSE: FDX) provides customers and businesses worldwide with a broad portfolio of transportation, e-commerce and business services. With annual revenues of $64 billion, the company offers integrated business applications through operating companies competing collectively and managed collaboratively, under the respected FedEx brand. Consistently ranked among the world's most admired and trusted employers, FedEx inspires its more than 425,000 team members to remain "absolutely, positively" focused on safety, the highest ethical and professional standards and the needs of their customers and communities. To learn more about how FedEx connects people and possibilities around the world, please visit http://about.fedex.com.
Raeburn Place Foundation announces Waterstones to open 'Stockbridge Books' at new development in Edinburgh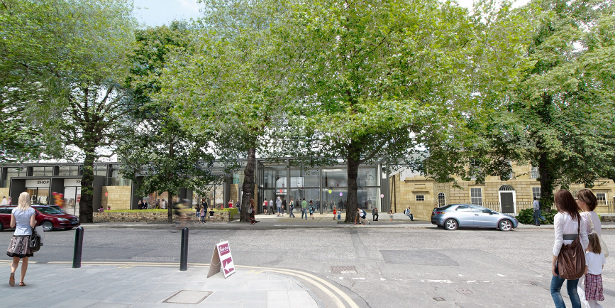 Raeburn Place Foundation (RPF) is delighted to announce the signing of a lease agreement with Waterstones Booksellers Limited for its new development at Raeburn Place, in the heart of Edinburgh's fashionable Stockbridge. As the last remaining chain of specialist bookstores on the High Street, Waterstones will transform 220m² of the new development into 'Stockbridge Books'.
David Newlands, Chairman of the Raeburn Place Foundation, said:
"As trustees, we have been keen to ensure a good mix of tenants that will attract people to Stockbridge, with positive benefits for the whole area. We are delighted to have secured Waterstones as a tenant. As a national chain, they are recognised and reliable, but they are also seriously committed to providing bookshops that become part of the local community, as highlighted by their willingness to trade as 'Stockbridge Books'."
James Daunt, Managing Director, Waterstones, said:
"Waterstones is delighted to be opening a bookshop in Stockbridge. It is an area of the city in which we have long wished to have a shop and Raeburn Place Foundation's development offers a wonderful space in which to do so. It will be a tad smaller than our Princes Street flagship and, like every good bookshop, will draw its personality from its community and neighbouring shops. In consequence, we will be calling it Stockbridge Books and look forward greatly to its opening."
RPF is to redevelop the famous sports ground at Raeburn Place, where the first rugby international was held, to create first-class sports and recreational facilities fit for the 21st century that are open and accessible to all.
The incorporation of nine commercial units is central to these plans and is one of the unique aspects of the project. The estimated annual income generated by these units will ensure the charity's financial sustainability and enable it to meet its charitable objectives, which include the advancement of public participation in sport and the advancement of heritage. In practical terms, this includes actively supporting sports organisations, including Edinburgh BATs, a community youth rugby programme, other charitable initiatives and the Museum of International Rugby, as well as maintaining the facilities and sports ground at Raeburn Place.
RPF's trustees look forward to announcing the remaining tenants for the development in the near future.
NEW "CATCH & COOK" EXPERIENCE FROM CHICHESTER MARINA WITH THE CRAB & LOBSTER RESTAURANT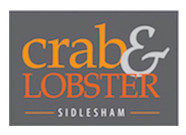 14 MAY 2018: New from The Crab & Lobster restaurant in West Sussex is a 'Catch and Cook' gourmet fishing experience. Available on selected dates from now to November, the "Catch and Cook" stays start from £152.50* per person per night based on two sharing a double room including a full English breakfast and the half-day Catch and Cook experience.
The five-hour adventure departs from Chichester Harbour and takes place on a twin-engine modern fishing vessel. It is arranged in association with local fisherman Adam Shaw of Something Fishy Fishing Charters together with one of the restaurant's own chefs and includes hot drinks, all equipment, tackle and tips from Adam and his crew on how to rig and bait rods and catch fish.
Guests also enjoy a cooking masterclass at sea using locally foraged produce such as samphire and sea spinach. The fresh and tasty seafood feast is cooked for guests to enjoy whilst anchored in the calm waters of picturesque Chichester Harbour, an area of outstanding natural beauty, just off East Head.
The Big Event Northern Ireland returns for 2018
Eikon Exhibition Centre hosts extensive display of vehicles for disabled people
14 May 2018 – This Summer, The Big Event Northern Ireland returns, offering disabled motorists and their families the chance to discover worry-free motoring with the Motability Scheme. The country's largest display of vehicles for disabled people will set up home at the Eikon Exhibition Centre on Friday 1 and Saturday 2 June following a hugely successful event in 2016.
Free to attend and with free parking for all visitors, it will kick start the Motability Scheme's programme of events throughout the UK this summer.
Visitors to The Big Event will have the chance to get behind the wheel alongside a professional driving instructor and test drive a range of vehicles, including a wide selection fitted with popular driving adaptations. Guests can book a test drive on the day by presenting their full driving licence to the test drive team.
The Big Event will showcase over 65 vehicles from leading manufacturers including Ford, Vauxhall, Hyundai, and more. There will be a number of Wheelchair Accessible Vehicles (WAVs) on display plus a range of vehicle adaptations and scooters. Motability Scheme advisors will be on hand throughout the event providing advice and useful information about the Scheme.
An event for the whole family to enjoy, The Big Event has free balloon modelling, a bouncy castle, free face painting and of course the chance to say hello to the Motability Scheme mascot, Billy the Bear. Plus, on arrival you'll be treated to a token for a free cup of tea or coffee.
In conjunction with The Big Event, Disability Action will also be hosting Northern Ireland's largest disability exhibition. That's two days, two great events, all in one place.
Find out more about The Big Event online at motability.co.uk/thebigevent
Full programme of 2018 One Big Day events:
The Big Event, NEC, Birmingham: Friday 6 and Saturday 7 July 2018
One Big Day, Westpoint, Exeter: Saturday 28 July 2018
One Big Day, Yorkshire Event Centre, Harrogate: Saturday 11 August 2018
One Big Day, East of England Arena, Peterborough: Saturday 8 September 2018
Crabbie's among big name drinks brands limbering up
for 'Sporting Glastonbury'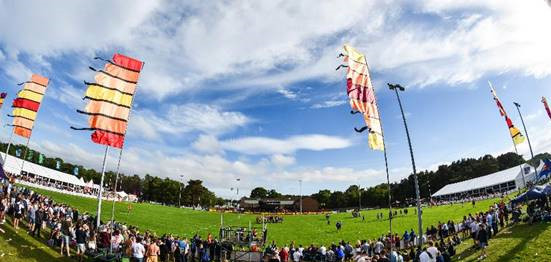 Some of the country's biggest drinks brands including Crabbie's Alcoholic Ginger Beer, Whitley Neill, and Lambrini, have this week signed up to be part of the world's largest music and sporting festival, Bournemouth 7s, which takes place in Bournemouth, May Bank Holiday weekend, 25th – 27th 2018.
Crabbie's Alcoholic Ginger Beer, Whitley Neill, Sadler's Peaky Blinder spirits & ales, premium rum Dead Man's Fingers, Lamb & Watt mixers, 8 Year Old Crabbie Whisky, Perelada Cava, Ill Colle Prosecco, Lambrini and Tequila Rose are all taking part in the festival, which is expected to bring in over 30,000 revellers over the weekend.
Across the three-day event, over 400 teams will compete in a variety of sports including rugby, volleyball, ultimate frisby, dodgeball, netball and hockey with named acts and DJs entertaining the crowds day and night.
While headline artist, Example and Southampton based duo Artful Dodger get the party started, festival goers can visit the Whitley Neill Cocktail Garden and discover exotic flavours including Whitley Neill Blood Orange Vodka or settle into the Bank Holiday vibe at the Lambrini and Tequila Rose glitter bar.
The action will be hotting up at The Crabbie's Experience where maverick attendees can compete against current and ex rugby players in a passing cage challenge, for a chance to win prizes. The iconic Crabbie's Bus will be serving up refreshing and fiery Crabbie's Original Ginger Beer, Crabbie's Scottish Raspberry Ginger Beer and new beer blends, Crabbie's IPA and Crabbie's Stout for a thirst-quenching twist on traditional summer drinks.
Roger Woodall, CEO, Bournemouth 7s says: "Bournemouth 7s is a unique event – the only sporting and music festival of its kind in the world. We've gained an incredible following since founding the festival over ten years ago and having big drinks brands, such as Crabbie's, Lambrini and Whitley Neill on board will bring a different level of experience to the event."
Lucy Cottrell, Brand Manager, Crabbie's says "Crabbie's is a staunch supporter of rugby so we're really excited to be celebrating the sport, among others, at the world's largest sports and music festival. Visitors should look out for the Crabbie's National Cup, our own rugby tournament starring big name players, as well as an array of other challenges where visitors can test their skills against the pros!
"Bournemouth 7s has something for everyone, whether an experienced sports enthusiast, a complete beginner or an avid spectator. It's great fun for all."
Crabbie's Alcoholic Ginger Beer, Whitley Neill, Sadler's Peaky Blinder spirits & ales, premium rum Dead Man's Fingers, Lamb & Watt mixers, 8 Year Old Crabbie Whisky, Perelada Cava, Ill Colle Prosecco, Lambrini and Tequila Rose are manufactured and/or distributed by Halewood Wines & Spirits, the UK's largest independent alcoholic drinks manufacturer.
For the full event schedule and to book day or weekend tickets for Bournemouth 7s please visit www.bournemouth7s.com.
Israeli sensation Meital Dohan.
Cabaret
Maxime.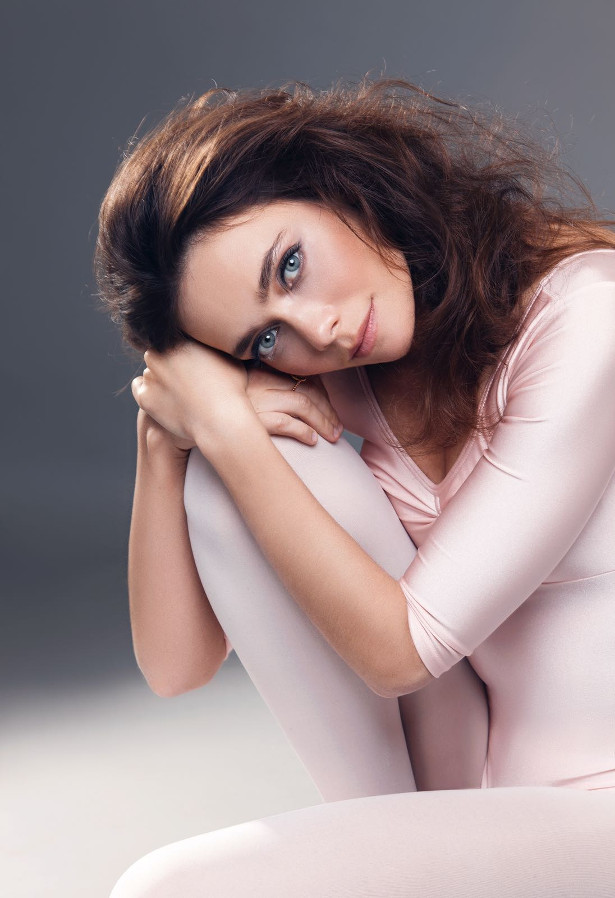 Meital Dohan is a multi-award-winning theatre, film and TV actress and
has won an Israeli Tony Award and two Israeli Oscar nominations. She has
previously starred in worldwide hit TV shows such as Weeds, Woke Up Dead
and loads more.
She is also an incredible singer and songwriter and has collaborated
with some of the biggest names in music including Sean Kingston, Reflex
(Kayne West, Kendrick Lamar, Rihanna), R3hab (Lady Gaga, LMFAO, Calvin
Harris) and Che Pope (Kanye West, Jay-Z, Eminem). Her 3 music videos has
raked up over 12 million YouTube views.
Please see her social media
channels below:
https://twitter.com/meitaldohan
https://www.instagram.com/meitaldohan/
LONDON'S WEST END CELEBRATES THE CHELSEA FLOWER SHOW WITH A HOST OF FLORAL TREATS
11 May 2018: From teas to spa treatments and cocktails in bloom, there are a host of floral treats on offer this month in the heart of London to celebrate The Chelsea Flower Show – the annual event, which officially marks the start of the "Season".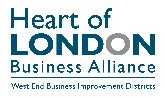 New rosy afternoon tea in a floral 'garden' and a nature inspired spa package at the Sofitel St James
Inspired by the Chelsea Flower Show and befitting its name, The Rose Lounge at The Balcon in Sofitel London St James has been gloriously transformed into a garden this May, complete with a soft, grassy floor. It's the perfect setting to enjoy a floral themed afternoon tea, which alongside a selection of finger sandwiches and scones with jam and cream, features new cake creations including: the Violet: a Violet White Chocolate Ganache, Violet Mousseline and Blueberry Compote cake; also the Jasmine– a Pistachio Sponge, Jasmine Mousse, Pistachio Crunch.
Tea choices include the aptly named 'La Vie en Rose' tea blend, or for a more decadent imbibe, there's a special 'Chelsea Flower Show Cocktail' – an English country garden mix ofAperol, rose and violet with lemon juice, served with edible flowers in a delicate glass teacup. Available daily from12pm to 6pm, prices from £32 or £35 with the cocktail. For more information: https://www.thebalconlondon.com/roselounge/roselounge.shtm.
In a further nod to Chelsea, the hotel's SoSPA has launched 'May Bloom'. This nature inspired package includes a refreshing hibiscus tea on arrival followed by a plant-based So Botanical massage. For extra pampering, guests can enjoy a glass of Champagne served with rose liqueur whilst having a manicure. The complete package costs £150. For more information: https://sofitelstjames.com/en/so-spa.html
Puttin' on The Ritz with Chelsea Flower Show package
A real gold medal winner in terms of experience, The Ritz London's Chelsea Flower Show package is a lavish two-night affair featuring a three-course dinner prepared by Michelin-starred Executive Chef John Williams MBE and his brigade on the evening of Monday 21 May, followed by a private chauffer driven car to the Chelsea Flower Show the following morning for a full day of hospitality within the Jardin Blanc by Raymond Blanc.
Guests will be treated to English breakfast each morning of their stay. They will also enjoy a private tour of the show with a horticulturist and a Champagne reception followed by a four-course lunch. Afternoon tea and a complimentary bar throughout the day complete the package.
Rates from £4465 for a two-night stay for two inclusive of all taxes, for arrival on 21 May. For more information visit https://www.theritzlondon.com/find-an-offer/socialseason/chelsea-flower-show/.
Bloomtastic floral displays and pick your own chillies at W in Bloom
W London – Leicester Square is sporting a floral take over this spring, transforming the entrance, lounge and new-look Perception Bar with colourful red, orange and pink floral displays including a fragrant living wall masterpiece. 'W In Bloom' is also reflected in the vibrant fresh ingredients and flavours that feature in the bar's new spring cocktail menu. And, reminiscent of guest chef Ravinder Bhogal's flavoursome Vegan dishes, the hotel's living wall features chillies, blossoms and fresh herbs including basil, rosemary and tamarind from which guests can pick their own flavours and enhance both their food and cocktails.
W London's floral masterpiece and new cocktail menu will feature until the end of June. The Perception Bar is open Sunday to Thursday 8am – 1:30am, Friday to Saturday 8am – 3am. https://www.theperceptionbar.com/w-in-bloom/
A festival of flowers in a cup from Fortnum & Mason
Inspired by Fortnum's long history with the eponymous flower show, the Chelsea Garden Tea Blend is like walking through a meadow on a warm summer's day. Grown in the Chelsea Garden of London, the blend is made with real cornflower, rose and jasmine, resulting in a tea that is wonderfully fragrant in both aroma and taste, and best paired with Fortnum's famous scones and Battenberg Cake.
Available online and in-store for £9.95. https://www.fortnumandmason.com/products/chelsea-garden-blend-100g-loose-leaf-caddy
For everything, you need to throw a picnic party,
check out Flying Tiger's brand new bright and colourful picnic essentials.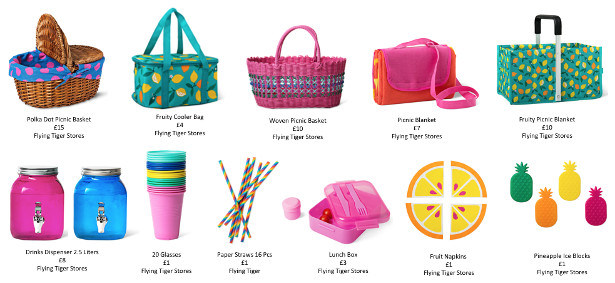 Summer skincare tips from the founder of Elise Marques London.

As your wardrobe changes to linens and light cottons, apply the same principles to your skin care. "It's time to lighten up," says Michelle, who suggests swapping richer heavy moisturisers for light lotions and gels during the warmer months, adding that she uses the Illustre face and eye serum fortified with antioxidant every day. Antioxidants help revive a dull complexion and shield skin from environmental damage. Highly concentrated, this intensive gel serum focuses and targets specific areas of concern, light in texture, it soaks into the skin activating the cells at the core to regulate melanogenesis to help even out skin tone, lighten age spots and reduce skin discoloration.
• Its richness in oryzanol, vitamins and minerals gives the serum softening, toning and moisturising effects
Always use an SPF, however, no SPF is foolproof, it's wise to add skin brightening products to your daily routine. If summer leaves its mark, take a tip from Michelle's own skin-care routine. "I use our Illustre range" to help keep my skin even, moisturised and flawless, says Michelle, who uses Illustre Brightening Moisturiser on her face, neck, and chest every day and in the hotter months she recommends reapplying every 2-3 hours to keep skin hydrated and plump. Illustre Brightening Moisturiser is a light moisturising cream brimming with rice bran oil, vitamin E and jojoba oil to nourish, even out skin tone as well as lighten the appearance of blemishes and age spots.The vitamin E acts as an antioxidant and protects cell membranes and aids skin repair. Jojoba oil is also loaded with antioxidants for a supercharged punch, leaving your complexion looking revitalised, radiant and pores less prominent. Every 7-10 days Michelle also uses the Illustre glorious facial polish, a fine light facial polish with micro particles of rice to buff away dull skin leaving it noticeably smoother and more radiant. Perfect for balancing the skin's complexion, this rich, creamy polish firms the skin and reduces wrinkles. Skin feels smoother and more radiant with noticeably less pores, whist gently exfoliating the skin, it will help lighten blemishes and appearance of age spots. " Michelle cautions, it's Important to replenish the skin and be more delicate after being in the sun, so it's best to avoid any aggressive products. Your nighttime routine is just as, if not more important in the hotter months, Michelle is very serious about her evening routine and even has a time out ritual that her clients have dubbed the evening miracle, as part of this she uses our Enrich Timeless Face Oil, a luxurious face oil for all who want to hold back time, this natural oil is without nasties but brimming with a blend of neroli, sweet mandarin, rose wood, almond, star flower and bitter orange oils, perfect for deeply nourishing the face, it is packed with vitamin E and is a great anti-oxidant. The scent invokes feelings of joy, uplifting the mood whilst making you feel relaxed so perfect to apply before bed. Promotes new skin cell generation and reduces scarring and leaves the skin nourished and silky.
Everything you need to keep your skin flawless, youthful and radiating that healthy summer glow.
I would like to offer a prize Illustre Brightening Moisturiser and an Illustre Glorious Facial Polish. Total prize value £108.
Illustre Brightening Moisturiser is a light moisturising cream brimming with rice bran oil, vitamin E and jojoba oil to nourish, even out skin tone as well as lighten the appearance of blemishes and age spots.The vitamin E acts as an antioxidant and protects cell membranes and aids skin repair. Jojoba oil is also loaded with antioxidants for a supercharged punch, leaving your complexion looking revitalised, radiant and pores less prominent.
Illustre glorious facial polish, a fine light facial polish with micro particles of rice to buff away dull skin leaving it noticeably smoother and more radiant. Perfect for balancing the skin's complexion, this rich, creamy polish firms the skin and reduces wrinkles. Skin feels smoother and more radiant with noticeably less pores, whist gently exfoliating the skin, it will help lighten blemishes and appearance of age spots.
Please let me know if this is suitable and I can send pictures across. All products are on the website www.elisemarqueslondon.com
BBC Studios licensee Star Editions launches Sarah & Duck customisable online gift shop
Following the agreement between BBC Studios and personalised giftware specialist Star Editions, a global e-shop for BAFTA award-winning pre-school series Sarah & Duck – shop.sarahandduck.com – launches today.

Licensee Star Editions has created a stunning bespoke online shopping destination for Sarah & Duck products. The brand new e-shop will feature a Star Editions designed range of customisable giftware, in addition to hosting a number of Sarah & Duck branded products.
Will Marston, CEO of Star Editions Ltd says: "Working with the Sarah & Duck brand had always been on our wish list and I am thrilled to say that we've achieved that goal this year and are proudly launching a stunning range of Sarah & Duck personalised and non-personalised gifts."
Jason Easy, Head of Licensing at BBC Studios says: "We are thrilled to be working with Star Editions, it's is a very exciting partnership; one that caters to the growing consumer demand and allows us to offer personalised branded products to our fans."
From Clothing to Clocks, Mugs to Magnets, every product on shop.sarahandduck.com can be personalised and is exclusive to the website. Product are also available to ship worldwide so fans of Sarah & Duck across the globe can enjoy the range.
Now in its third series, Sarah & Duck continues to be a great performer on CBeebies, growing on its previous series and winning its timeslot for key audiences. Outside of the UK, key broadcasters for the series are Netflix and NBC Universal Kids in the USA, KBS Kids in South Korea, BesTV and iQiyi in China, ABC in Australia, KIKA in Germany and NHK in Japan. The enchanting world of Sarah & Duck can also be seen live on stage in brand new theatrical adventure Sarah & Duck's Big Top Birthday, which is currently touring the UK.
Personalised giftware ranges for fans of Sarah & Duck are available to order now at shop.sarahandduck.com. The shopping portal is also accessible via the official Sarah & Duck website, sarahandduck.com.
Rebecca Minkoff presents: Floral Collection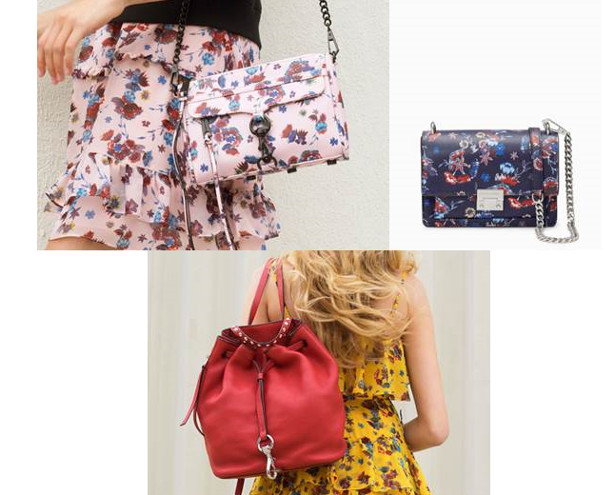 The latest Rebecca Minkoff Floral Collection offers all the perfect pieces for your floral or Garden Party!
Featuring Handbags, Ready-to-Wear, Swim, Footwear and Accessories.
*All products may be credited to www.RebeccaMinkoff.com or Rebecca Minkoff Stores.
With the long hot summer days and nights it can be hard to keep your little one cool.. but cosy enough to rest and sleep well.


The award winning Matchstick Monkey is here to help with its clever collection of swaddles and blankets, providing a calm and comfortable summer.
Matchstick Monkey 100% Organic Cotton Muslin Swaddles with Teething Label (pack of 2)
Available in grey, blue or pink, £24.00
The ideal solution for when you're out and about, these a perfect for giving them a light cover to keep them feeling secure. Each comes with a handy silicone teething label to help and comfort them with any painful gums.
Matchstick Monkey Luxury 100% Organic Bamboo Blanket, available in two signature prints, £49.95
For a more substantial cover for successful naps and bedtimes, this sumptuous and soft blanket is soft and breathable, with a clever 4 layered design which helps to regulate their body temperature.
www.matchstickmonkey.com