GIVE A GIFT WITH A DIFFERENCE THIS YEAR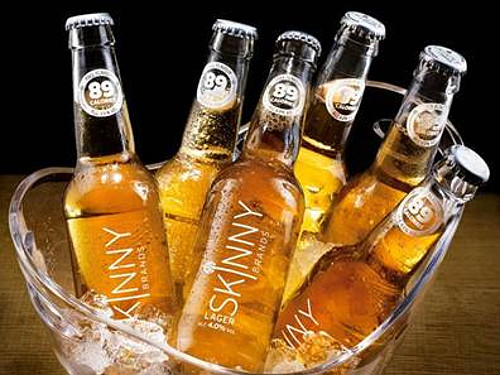 FACEBOOK | TWITTER | INSTAGRAM
Looking for a new drink choice this winter? Whether you're searching for stocking fillers, hamper gifts or a tasty tipple to take to a Christmas party, get ready for the festive season with Skinny Lager!
Launched in 2016 by Skinny Brands, Skinny Lager is the guilty pleasure you can enjoy without compromise – it's great tasting with a fraction of the carbs and calories of other beers! This crisp and clean lager has a low carbohydrate content of 0.9%, 0% fat and 0.4% sugar. And with 89 calories per 330ml bottle, it contains 35% fewer calories than regular lager!
By choosing Skinny Lager you don't have to miss out on the enjoyment of indulging this Christmas – and who wouldn't want to save the calories for those pigs-in-blankets? Skinny Lager is created by a special brewing process which removes residual sugars from the liquid without reducing the ABV, producing a quality, full taste as the ABV stands at 4%.
It's the perfect drink choice for everyone this festive period. Do you have friends, colleagues or family members who are vegan, vegetarian or have a gluten free diet? Skinny Lager meets all of these requirements, making it suitable for celebrating together, no matter your diet – cheers to that!
RRP: £5.99 per case of 4.
Stockists: Find Skinny Lager on the shelves in selected Asda, Tesco and Co-op stores. It's also available online at Morrisons and Ocado.
For more information please visit www.skinnybrands.co.uk and follow @SkinnyLager.