Green's launches two spook-tacular mixes – Halloween Cakes and Halloween Cookies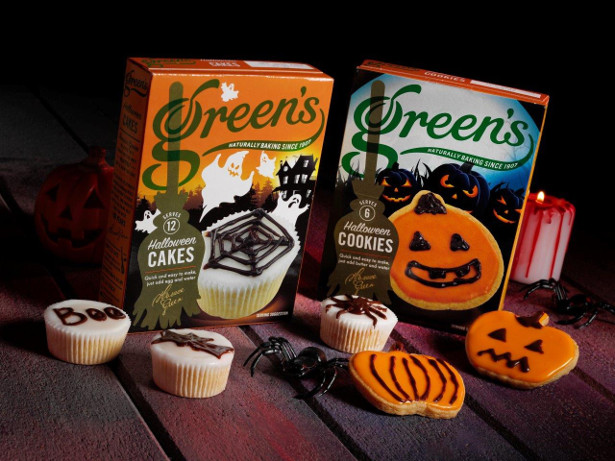 FACEBOOK | TWITTER | INSTAGRAM
With Halloween approaching, Green's is relaunching two popular baking mixes. The new Halloween Cakes and Halloween Cookies mixes offer both experienced and would-be bakers all the tools required to make a range of spook-tacular treats in a matter of minutes.
The mixes are versatile products that are fun and easy to bake; all customers need to do is add butter and water to the cookie mix and an egg and water to create the cupcakes. A chocolate sauce pen, which is included, can then be used to decorate the Halloween treats, allowing bakers to let their imaginations run wild. From creepy spider webs to bat silhouettes, each pumpkin-shaped cookie and ghostly cupcake can be decorated differently using the chocolate sauce.
It can also provide the ideal solution to home bakers who are put off by the amount of mess created when baking. With Green's mixes, there is no fuss as each and every ingredient is measured and ready-mixed in one easy-to-use pack.
Green's spokesperson, Rob Allardyce said: "We are delighted to be launching our new Halloween Cakes and Halloween Cookies mixes. We have tested and tasted a variety of ingredients and believe that our newly launched products are sure to satisfy the UK's cake and cookie lovers. Our versatile mixes provide the tools required for our customers to bake the most frighteningly spectacular Halloween treats in their own home."
To celebrate the launch of the new products, Green's is running a competition on its social media channels, in search for the UK's best baking talents. Home bakers across the country will be asked to submit a photo of their best Halloween bake using the hashtag, #GreensHalloweenBakes. Three lucky entrants will win a ghoulish hamper of Green's goodies, including the new Halloween Cakes and Halloween Cookies mixes. The competition will run from 10am 17th October until midnight on 31st October 2018.
Green's continues to inspire bakers of all ages from around the world to bake divine cakes, scrumptious desserts and savoury delights. Made with care at its facility in Yorkshire, Green's easy-to-use mixes guarantee baking perfection every time and ensure fun for friends and family. Each and every mix has been created from natural ingredients and no artificial colourings.
Green's Halloween Cakes (RRSP £1.49) and Halloween Cookies (RRSP £1.00) mixes are available from NISA, Scotmid Co-operative and convenience stores in October as well as online: www.greenscakes.co.uk