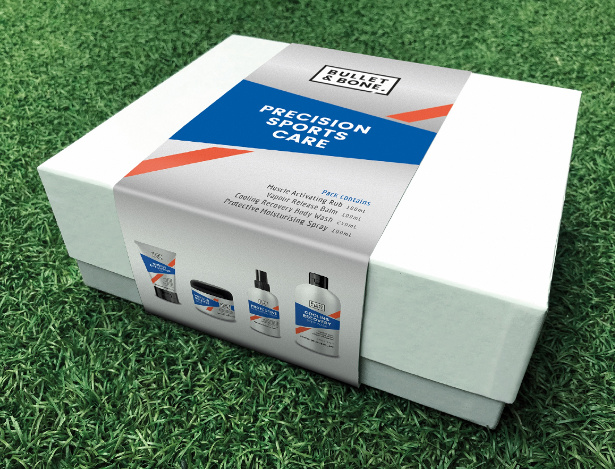 FACEBOOK | TWITTER | INSTAGRAM
This is the perfect gift for any father with an interest in sport or physical activity, regardless of their skill level. The skincare range has been carefully designed to enhance preparation, performance and recovery when active, while simultaneously soothing the skin, through unique combinations of
natural ingredients. The revolutionary products are a great way to treat your dad this Father's Day. Developed, tested and manufactured at state-of-the-art facilities in the UK by a team of experts with over 40 years' experience, this male grooming 'equipment' harnesses the natural efficacy of
ingredients such as Siberian ginseng, geranium and taurine. All products get off the starting block with a trio of active ingredients, unique in combination to Bullet & Bone, in maca extract: offering multi-functional properties that help boost performance, endurance and recovery (while also
performing a barrier function for the skin); magnesium: which aids energy production and muscle rehabilitation and jasmine, to aid alertness and concentration. Further components in the ranges are tailored and engineered to assist with those all-important marginal gains in the gym and maximise performance in competitive sport.
Harnessing active, performance power ingredients, as nature intended, for the face and body,
choose from:
Bullet & Bone Muscle Activating Rub will give muscles and joints an instant kick-start using rapidly absorbed, warming and stimulating ginger, black pepper and willow bark.
Bullet & Bone Vapour Release Balm is the first of its kind to perform functionally and be pleasurable to apply and wear on the skin. The soft wax opens the airwaves with menthol and eucalyptus extracts while jasmine, lemon and coffee beans enhance concentration, alertness and stamina.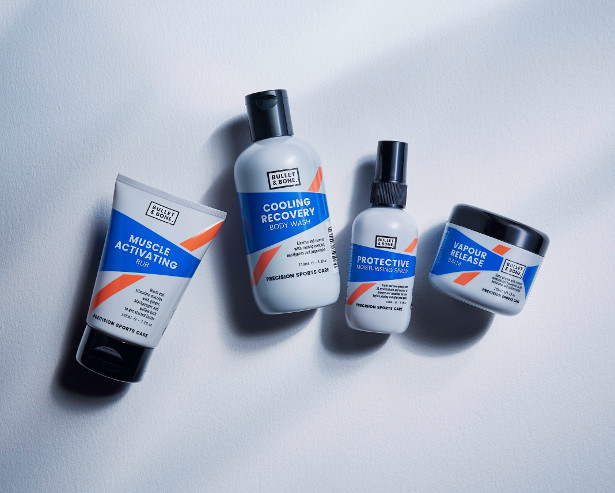 Bullet & Bone Protective Moisturising Spray channels the efficacy of 11 essential oils in a light weight, non-greasy formula that provides protection from the elements and can be reapplied before, during and after being active. It's also lightly fragranced with fresh aloe vera and jasmine to aid
concentration and focus.
After a workout, the Bullet & Bone Cooling Recovery Body Wash will aid cooling down and muscle recovery. Magnesium Sulphate (Epsom salts) aids muscle recovery while menthol, eucalyptus and peppermint alongside essential oils pack a punch to ensure this high performing wash will stop perspiration, revive and ensure you're ready to go.
Bullet & Bone will help ease you into a workout after a long day in the office or maximise performance ahead of competing on track or field. These results-driven products are like no other, combining the benefits of sports science know how and high-performance personal care, each variant is carefully designed and packaged to seamlessly fit in with both your high-octane lifestyle and sports bag.
The innovation was informed by Bullet & Bone's recognition that time poor, active men will invest in the latest sporting equipment, gadgets and food supplements to enhance their sporting prowess, but there's a gap in the market for potent, 'all-in-one' skincare tools that help to warm up, optimise
performance and cool down.
 Muscle Activating Rub
Ginger, black pepper, willow bark extract, jasmine and tea tree oil are just some of the potent natural ingredients chosen to warm,
refresh, energise and condition the skin.
Willow bark has been used for centuries for pain relief. Jasmine is proven to stimulate serotonin to enhance focus and concentration.
RRP £12.99
Vapour Release Balm
Menthol, eucalyptus and lemon open the airwaves, peppermint aids stamina and in combination with coffee beans and rosemary prompts alertness – just some of the high-performance ingredients that make this balm pleasant to use and highly effective when active.
RRP £13.99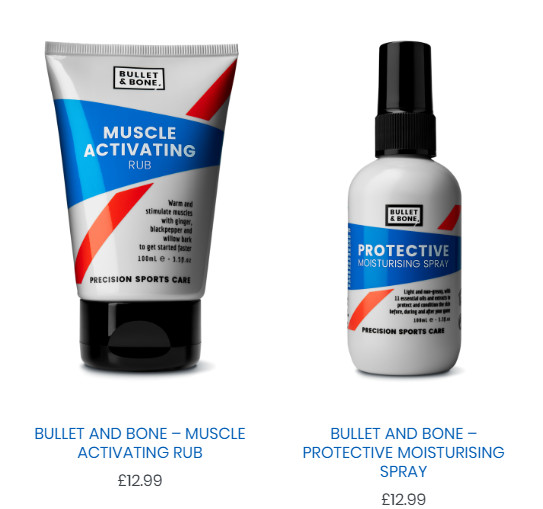 Protective Moisturising Spray
Packed with 11 essential oils, including Taurine to aid skin regeneration, condition and protection plus aloe vera to soothe and condition. Siberian Gingseng improves resistance and provides a barrier function. Concentrated Inca Maca Extract protects the skin from UV, pollution and environmental damage.
RRP £12.99
Cooling Recovery Body Wash
Menthol, eucalyptus, peppermint, moringa seed and magnesium sulphate join forces with further ingredients to ease and boost. Magnesium has a long sporting history as it supports muscle function, promotes the release of energy and helps combat muscle fatigue. While geranium also helps
counter inflammation. Moringo seed extract actively purifies the skin and is an anti-pollutant.
RRP £6.99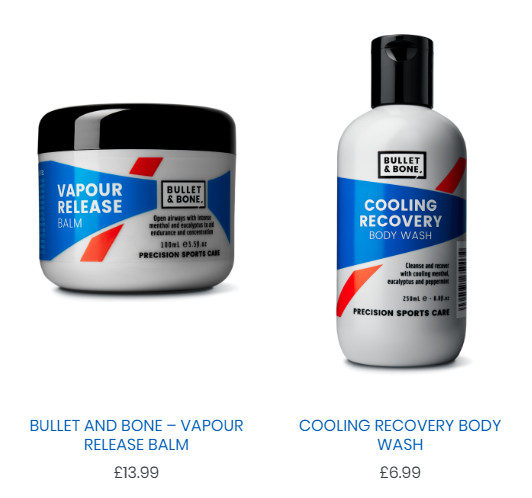 The Bullet & Bone gift set can be purchased exclusively from www.bulletandbone.com and has an RRP of £39.99.
Individual products are available from www.thegroomingclinic.com and Amazon. @bulletandboneuk