Leading Natural Body Care Brand Launches First Food Product in the UK
Dr. Bronner's fair trade, whole kernel Organic Virgin Coconut Oil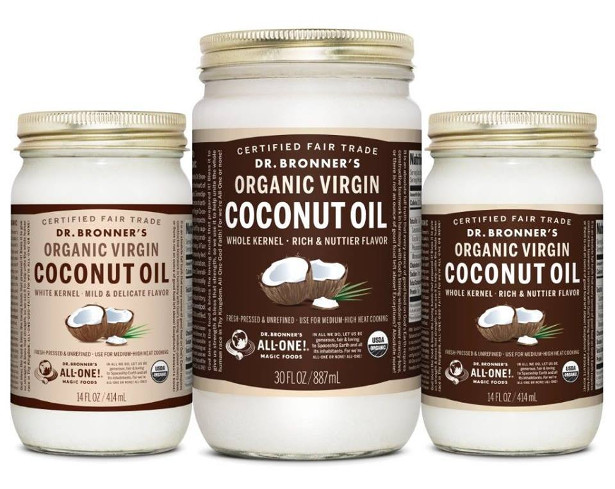 TWITTER | FACEBOOK | PINTEREST | INSTAGRAM
Dr. Bronner's, the top-selling brand of certified Fair Trade and Organic soap worldwide, has expanded into the grocery aisle with its very first food product in the UK market, Dr. Bronner's Organic Virgin Coconut Oil. The Fair Trade and Organic certified culinary oil is expeller-pressed from the fresh, carefully dried whole kernel of the coconut to further increase its health benefits, as well as offering a delicious, nuttier flavour. Whole kernel oil, which is made from the coconut kernel with the inside skin left on, is more nutritious and higher in antioxidants, minerals and vitamins – making it even better for high-heat cooking.
Just as Dr. Bronner's Pure-Castile Liquid Soaps have been hailed by many as the ultimate natural multi-tasker, Dr. Bronner's Organic Virgin Coconut Oil is ideal for any number of tasks. This versatile and healthy oil can be used for stir-frying, soups, sauces, baking, desserts, and body care. As the ideal culinary product for foodies, the health conscious, vegans, vegetarians, and anyone who loves tasty and nutritious foods, Dr. Bronner's Organic Virgin Coconut Oil also makes an intensely nourishing product for moisturising the skin and hair.
Dr. Bronner's is dedicated to using regenerative organic farming methods and creating products that are natural, organic, fair trade, and healthy. Dr. Bronner's Organic Virgin Coconut Oil is directly supplied from Dr. Bronner's own sister company, Serendipol, a farm in Sri Lanka's "Coconut Triangle." Serendipol was founded in 2006 following a tsunami relief effort as part of Dr. Bronner's desire to create a cleaner supply chain by sourcing all of their major raw ingredients from fair trade and organic sources. The ongoing development is part of Dr. Bronner's commitment as a fifth generation soap-making family to carry on the social and environmental ideals of company founder Emanuel Bronner through integrating social initiatives and environmental stewardship into their business model.
Since its founding, Serendipol has become the world's foremost producer of certified fair trade and organic coconut oil. The company currently purchases from approximately 1,200 farmers who farm organically, a practice initiated by Serendipol that has resulted in improved soil fertility and increased yields. The company's staff has grown to 300 individuals who enjoy working conditions and compensation uncommon in the industry, proving that business can be socially responsible and environmentally sustainable.
To learn more about Serendipol and how Dr. Bronner's Virgin Coconut Oil is sourced, watch Journey to Serendipol, an 8-minute documentary about the effort, now subtitled in German, French, Japanese, Korean, and Mandarin. 
In the UK, Dr. Bronner's Organic Virgin Coconut Oil is certified organic by the Soil Association, UK's oldest and largest organic certification body.  This independent third-party certification ensures Dr. Bronner's Organic Virgin Coconut Oil meets the highest standards and strict requirements of the Soil Association Organic Standards and the EU organic regulations.
Dr. Bronner's Organic Virgin Whole Kernel Coconut Oil
£8.99 for 440ml www.drbronner.co.uk