LOOKING FOR A HEALTHY SNACK THIS SUMMER?
Looking for a healthy snack this summer? Search no further, our range of California grown Wonderful nuts are the perfect way to enjoy a delicious yet healthy snack this summer!

FACEBOOK | INSTAGRAM | TWITTER | LINKEDIN
The UK's only flavoured pistachios range, Wonderful Pistachios come in four fantastic flavours; Sweet Chilli, Roasted Salted, Salt & Pepper and Roasted Unsalted.
Our Wonderful Pistachios are not just the perfect picnic companion but are great for a trip to the gym too as our Pistachios are a delicious source of protein. The NHS promotes eating a healthy; balanced diet plays an essential role in maintaining a healthy weight, which is an important part of overall good health.
A 100g serving of Wonderful Pistachios are a high source of Vitamin B6, which contributes to the reduction of tiredness and fatigue. Also high in Potassium and Copper, copper is a nutrient which is known to contribute to the normal function of the immune system, our Pistachios are sure to keep you feeling healthy this summer!
And for the ultimate wellbeing snack in the sunshine, our Wonderful Almonds are available in two different varieties – Natural and Roasted & Salted, and a 100g serving is full of nutrients including Vitamin E and Calcium. Vitamin E contributes to the protection of cells from oxidative stress and Calcium contributes to normal muscle function and to the maintenance of normal bones.
Both our Wonderful Pistachios and Wonderful Almonds are the ideal ingredient for your healthy recipes. Try using our Wonderful Pistachios in your favourite smoothie or include Wonderful Almonds in your breakfast oats. You can even make a delicious pasta dish with them; try out this recipe created by Charley's Health:
Creamy Vegan Almond Pasta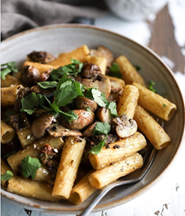 Ingredients:
Sauce:
1/4 Cup of Wonderful Almonds
1/2 Ripe avocado
1/2 Cup non-dairy milk (I typically use coconut or cashew)
1 Clove of crushed garlic
Pinch of sea salt and black pepper
2 tbsp Nutritional yeast
Pasta:
2-4 Servings of pasta of your choice
Small handful sun-dried tomatoes
200g Chestnut mushrooms
Olive oil spray/olive oil
1 Clove of crushed garlic
Black Pepper and herbs to garnish
Method:
To make the sauce, pop all of the ingredients into a blender and blitz until smooth and creamy.
Cook the pasta according to the instructions on the packet.
Wash the mushrooms and thinly slice. Heat a little olive oil in a frying pan over medium heat and add in the crushed garlic.
Pour in the mushrooms and sauté these until golden and crisp on the edges. Slice the sun dried tomatoes into small pieces and add these into the pan also.
Once your pasta is cooked, drain most of the pasta water, reserving a little in the bottom of the pan to help create that delicious creamy consistency when you stir in the sauce.
Add a few tbsp of your sauce and mix through the pasta. Stir through 2/3 of the mushroom and tomato mixture and heat the pasta until piping hot.
Serve topped with the remaining veggies and extra sauce if you desire. Garnish with some herbs and black pepper. You can also add some vegan cheese here if you have some.
Our Wonderful Pistachios and Wonderful Almonds are also a great addition to sweet treats. Why not try this recipe from The Fashion Fitness Foodie.
Pistachio and Pomegranate Yoghurt Bites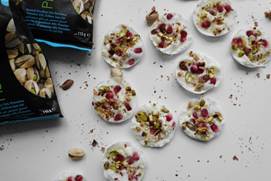 Ingredients:
20 x Wonderful Pistachios
200g Greek Yoghurt
100g Pomegranate
1 tbsp Honey
& a silicone muffin tray for 12
Method:
Mix together the yoghurt and honey in a bowl.
Spoon the mixture evenly into each section of the muffin tray.
Using the back of a spoon, smooth the top of the yoghurt.
Gently press the pomegranates into each yoghurt bite.
Remove the shells on your pistachios and using the back of a large spoon, press down on the nuts to break them down into smaller pieces.
Put the pistachios on top of the bites, pushing down any larger pieces.
Place the tray into the freezer for at least 4 hours.
So, if you want a unique and delicious snack that the whole family can share this summer, pick up a bag of Wonderful Pistachios from Asda, Ocado, Tesco or Waitrose. Pick up a bag of Wonderful Almonds from Ocado or Waitrose.
Wonderful Pistachios: Available from £3.95 – 220g // £1.75 – 115g
Wonderful Almonds: Available from £2.29 – 115g