Marqués de Cáceres. CRIANZA 2014.
D.O.Ca. RIOJA !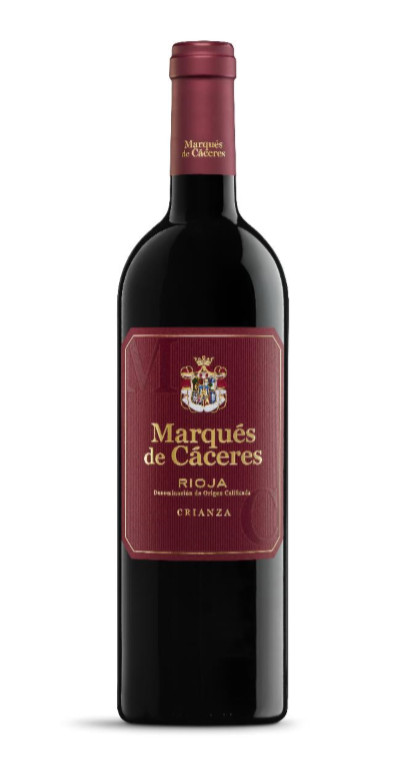 INSTAGRAM | FACEBOOK | TWITTER
GRAPE VARIETIES 85% Tempranillo, 10% Garnacha tinta, 5% Graciano
WINEMAKERS, TRADITIONAL RANGE WINES Fernando Costa, Emilio González & Manuel Iribarnegaray
VINEYARDS AND YIELDS Selection of parcels from 15-25 year-old vineyards, located in Rioja Alta (85%) and Rioja Alavesa (15%). Low yields of 35HL/HA on average.
SOIL Mainly clay and limestone. Some parcels in Rioja Alta with ferrous subsoil.
PREDOMINANT CLIMATE Mild, Atlantic climate with marked seasons.
HARVESTING 100% manual, parcel by parcel.
VINIFICATION The grapes are de-stemmed and crushed. Alcoholic fermentation at controlled temperatures starting off at 10ºC to reach 28ºC. Prolonged skin-contact maceration up to 20 days. Malolactic fermentation in stainless-steel tanks. Once this process has finalised, the wines are put into barrels for ageing with racking every six months.
TOTAL TIME IN BARREL 12 months in French (60%) and American (40%) oak barrels, split equally between, new barrels and 2, 3, & 4 year-old (maximum) barrels.
AGEING IN BOTTLE 1 year minimum before release.
TASTING NOTES The flagship wine of its category, true to its style year after year. Black cherry colour with ruby red highlights of medium intensity. On the nose, balsamic notes, red berry fruits, toasted bread and cocoa. A touch of spice in the mouth with notes of vanilla and succulent fruit. Balanced complexity.
Serve at 16°C. ABV:13,5%.
GRAPE VARIETIES 85% Tempranillo, 10% Garnacha tinta, 5% Graciano
WINEMAKERS, TRADITIONAL RANGE WINES Fernando Costa, Emilio González & Manuel Iribarnegaray