Mighty Fine Honeycomb Treats… could be the perfect Valentine Treat… and then after that!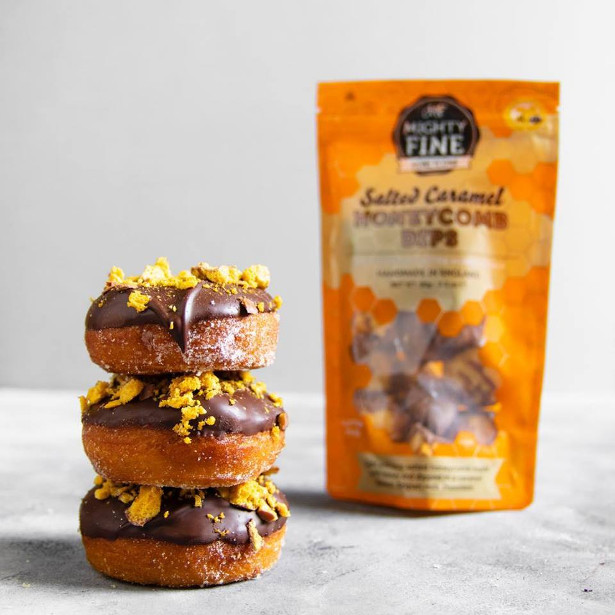 FACEBOOK | TWITTER | INSTAGRAM
There's a new challenger to the biscuit for that perfect 4pm tea accompaniment – the Mighty Fine Honeycomb Dip.
Available as bite-size chunks to share (or not) and a snack bar, this light and delicate treat is not only made from the most natural ingredients but also vegetarian and gluten-free.
The light & crisp honeycomb is made with British honey and covered in a variety of the finest ingredients from luxurious dark chocolate to salted caramel, so there's bound to be a favourite for everyone.
Available in:
· Belgium Milk Chocolate 30g bars £1 & 90g dips £2.50
· Belgium Dark Chocolate 30g bars £1 & 90g dips £2.50
· Salted Caramel 30g bars £1 & 90g dips £2.50
These exceptional handmade honeycomb heroes have come a long way from their humble beginnings in a little shop in Camden. But each piece is still handmade and delicately dipped in smooth Belgian chocolate.
The ideal treat to reward the small victories you achieve every day, and congratulate yourself for being Mighty Fine!
Stockists:
Belgium Milk Chocolate, Belgium Dark Chocolate and Salted Caramel bars and dips available at JS, Amazon, Superdrug, WHS, Whole Foods, Harvey Nichols, Waitrose, John Lewis, BP and speciality independent stores across the UK.
Also available to purchase www.mightyfine.co