Mimbleballs!
These lovable creatures are more than just toys – they are comforting friends for those who need a little extra love, joy and laughter!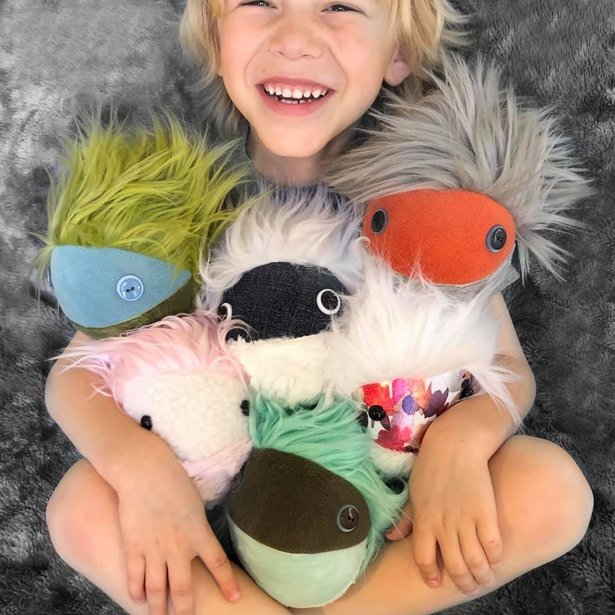 Mimbleballs are serving such an important role right now where visiting friends and family is not always an option due to social distancing. This holiday season send a Mimbleball in your place!
Only the softest fabrics were chosen for these 5″ round therapy toys. There are 6 Original Crew Members, each with unique, engaging color combinations — everyone will have a favorite! I would also like to mention that we are planning to unveil a new team member, Violet, who will have a textured sequin face and will also contain a weighted bag for extra sensory comfort! Discover the Mimbleball's superpower as soon as you hold it in your hands: smooth the soft hair down, and then give it a tap on the underside or a little shake — its hair stands straight up and invokes surprised laughter from everyone who sees it.
Mimbleballs have endless uses:
• help children and adults with self-regulation
• soothing companions for friends in the hospital, undergoing chemotherapy, quarantine, or even at the dentist's office!
• calming therapy toys for children with anxiety or depression
• a friend to help focus during meditation
• included in comfort kits to help relieve stress, loneliness, and anxiety
• fosters fun – a deliciously soft, throw-able ball with a fun personality
• comforting friend to bring to college, camp, and sleepovers
• a proven icebreaker for therapists and patients
• a silly, fun intergenerational connector
• physically soothing for people with arthritis
• a unique comfort tool for patients with Alzheimer's and dementia — excellent occupier of restless hands
• more pettable than a Pomeranian — the soft hair can be stroked and twisted into spikes or a mohawk!
• a birthday party game and take-home party favor all in one!
• send a Mimblegram to a loved one when you can't be there during social distancing
A Mimbleball is best experienced in person — press kits are ready to be delivered, which include a complimentary full-size Mimbleball friend for you. (Warning — professional samples are often adopted spontaneously by family members and friends of all ages. Please let us know if you require a replacement friend.)
Learn more at www.mimbleball.com