New Recipes from California walnuts – Halloween Party Recipes, Seasonal October Fruit and Veg Recipes >>  californiawalnuts.uk
FACEBOOK | TWITTER | INSTAGRAM | PINTEREST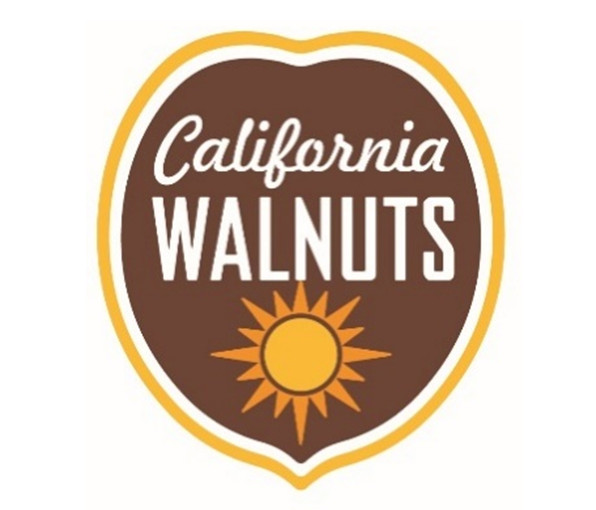 Beetroot, California Walnut and Sour Cream Dip
This nutty, creamy dip is perfect for a healthy snack or light lunch option. Serve with crackers or rye bread and bring the vibrant colours of California to your mealtime.
Preparation time: 20 mins
Serves: 4
You'll need:
60g California walnuts
2 tsp caraway seeds
270g cooked beetroot
Juice of 1 lemon
1 clove garlic
3 tbsp sour cream
2 tbsp fresh dill, roughly chopped
1 small slice of stale bread
Salt and pepper
1 tbsp walnut oil
Method
1. Preheat the oven to 180°C.
2. Place the walnuts onto a baking tray and toast in the oven for 8-12 minutes, or until tinged golden brown and fragrant.
3. Toast the caraway seeds in a dry frying pan for 1-2 minutes until fragrant. Place 1 tsp of the seeds in a pestle and mortar and grind to a powder, setting the rest aside.
4. Roughly chop the beetroot and place into a food processor along with the lemon juice, garlic, walnuts, sour cream and ground caraway seeds.
5. Tear the bread into chunks and add to the processor, then blitz until smooth. Season with salt and pepper to taste.
6. Spoon into a bowl and sprinkle with the remaining caraway seeds and chopped dill. Drizzle over the walnut oil to finish.
7. Serve with crudité and rye crackers or toasted dark rye bread.
California Walnut and Pumpkin Cream Cheese Tart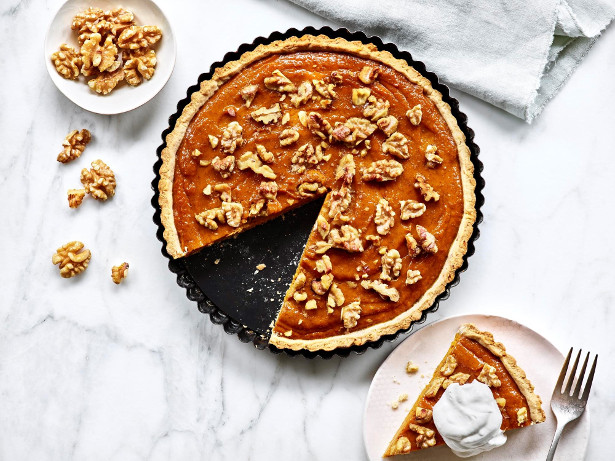 This California walnut and pumpkin tart combines the delicious creaminess of California walnuts with their crunchy bite too. Serve with a dollop of whipped cream for a truly luxurious Halloween dessert!
Preparation time: 90 mins
Serves: 12
You'll need:
For the tart crust:
150g plain flour
50g California walnuts, finely chopped
35g icing sugar
80g salted butter, softened (plus extra for greasing the tin)
1 large egg
For the filling:
425g canned pumpkin
115g low-fat cream cheese, softened
100g light brown sugar
2 tsp pumpkin pie spice
1 tsp vanilla extract
1 egg
1 egg yolk
75g California walnuts, coarsely chopped
Method
1. Preheat the oven to 180°C. Lightly grease a 9-inch round tin with a loose base with butter.
2. In a large bowl, beat together the flour, California walnuts and icing sugar. Stir in the butter and the egg and mix well until the mixture becomes a soft dough. Gather the dough into a ball, wrap tightly in cling film and leave in the fridge for at least an hour (or until the dough is easy to handle.)
3. Place the pastry dough onto a lightly floured board and roll out into an 11-inch circle. Press onto the bottom and sides of the tin and poke the pastry with a fork. Bake for 20 minutes.
4. While the crust is baking, whisk together the pumpkin and cream cheese in a bowl until smooth. Add the light brown sugar, pumpkin pie spice, vanilla extract, the egg and the egg yolk, and beat until just combined.
5. Pour the mixture into the baked crust and top with California walnuts. Bake for 40 minutes or until the filling is set when the tin is gently tapped.
6. Remove from the oven and let cool. Cover and refrigerate until ready to serve.
7. When ready to serve, top each slice with a dollop of whipped cream.
Fig, Orange, Cranberry and California Walnut Raw Flapjacks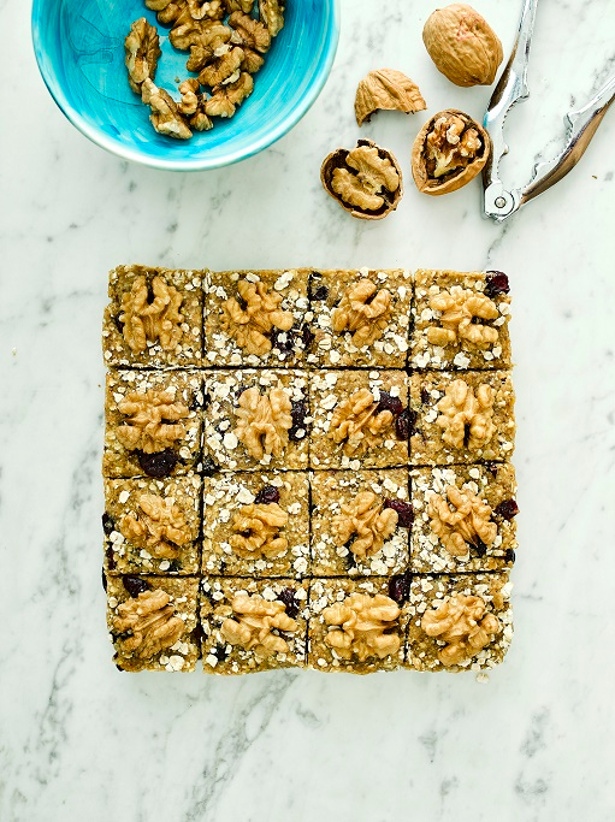 These no-bake flapjacks combine the flavours of California walnuts, figs, orange and cranberry for a mouthwatering snack or dessert – perfect for lunchboxes, picnics and elevenses.
Preparation: 1 hour 30 mins
Serves: 16
You'll need:
100g dried figs
120g California walnuts, plus 16 whole walnuts to garnish
150g oats
Zest of 1 orange
50g flaxseed
100g medjool dates
40ml maple syrup
60ml melted coconut oil
60g dried cranberries
Method
1. Grease a small, square, deep sided baking tray with a little coconut oil and line with baking parchment.
2. Place the figs in a small bowl, pour over enough hot water to cover them and leave to soak for 20 minutes, then drain.
3. Meanwhile, place the 120g of walnuts and half the oats into a food processor and blitz until they are the texture of course sand.
4. Add the orange zest, flaxseed, medjool dates, maple syrup, coconut oil and drained soaked figs to the food processor. Process until the mixture comes together into one lump.
5. Tip the mixture into a mixing bowl and add in the remaining oats and cranberries, kneading them in with your hands.
6. Tip the mixture into your prepared tray and smooth down with the back of a spoon, pushing the mixture into the corners.
7. Place into the fridge to set for around 1 hour, or until firm to the touch.
8. Cut into 16 squares using a sharp knife and place a walnut on top of each square to serve.
Flourless California Walnut Cake with Poached Pears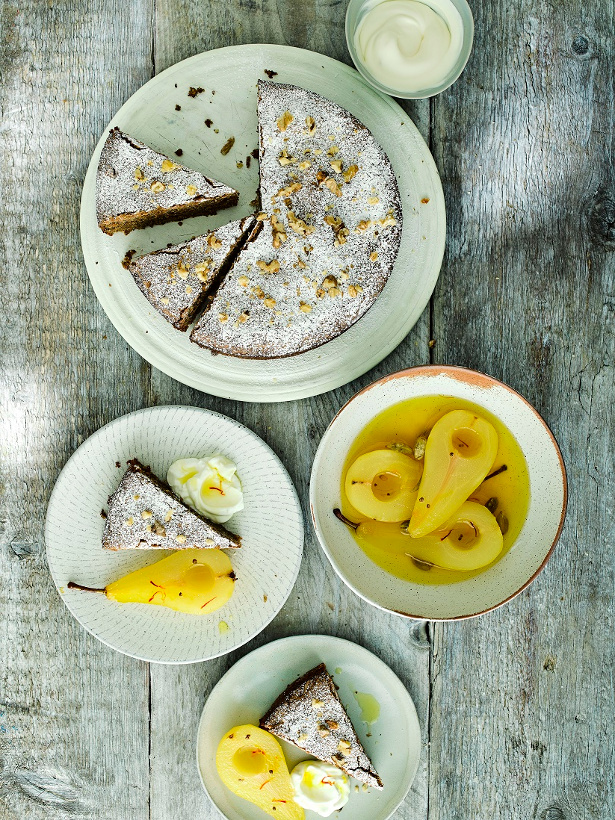 This flourless, gluten free cake perfectly showcases the flavour of California walnuts – serve with poached pears and crème fraiche for a show stopping dessert or tea time treat.
Preparation time: 1 hour
Serves: 8
You'll need:
For the cake:
Butter for greasing
350g California walnuts
Zest of 1 lemon
4 eggs
225g golden caster sugar
1 tbsp icing sugar
For the poached pears:
4 ripe conference pears
8 cardamom pods
Pinch of saffron
Juice of 1 lemon
150g caster sugar
250ml water
Greek yogurt or crème fraiche to serve
Method
1. Preheat the oven to 180°C, grease and line the base of a 9-inch cake tin with a circle of baking parchment.
2. Place the walnuts into a food processor and blitz until you have a flour like consistency.
3. Separate the eggs into 2 mixing bowls.
4. Whisk the egg yolks, lemon zest and caster sugar with an electric hand whisk until pale and creamy, then whisk the egg white to stiff peaks.
5. Mix the blended walnuts into the egg yolks, then fold in the egg whites.
6. Spoon the cake mixture into your prepared cake tin, place on the middle shelve of the oven, and bake for 35-40 minutes (or until cooked in the centre and risen).
7. Meanwhile, peel the pears and cut in half, scooping out the core with a melon baller or teaspoon, and bruise the cardamom pods.
8. Add the peeled pears, saffron, cardamom pods, lemon juice, caster sugar and water to a medium sized saucepan over a low heat and poach the pears for 15-20 minutes, or until soft and infused.
9. Slice the cake into 8, and serve each slice with a poached pear on the side and a blob of Greek yogurt or crème fraiche.
Spooky Walnut Energy Bite Bats

Preparation time: 45 min
Serves: 12
You'll need:
For the energy bites:
100g California walnut halves
100g raisins
100g dark chocolate chips
100g quick-cooking oats
¼ tsp salt
For the bat wings and eyes:
300g dark chocolate, broken into pieces
24 California walnut halves (2 per bat)
24 white chocolate chips (2 per bat)
1 small tube black decorating gel
Preparation:
1. For the energy bites, line a baking tray with parchment or baking paper.
2. In a food processor, combine the raisins, oats, dark chocolate chips, salt and 100g of walnut halves. Pulse until the mixture forms into a thick, but still chunky, paste (1-2 minutes), turning off the food processor and scraping down the sides as needed.
3. Using your hands, roll the mixture into 15g (around tablespoon-sized) balls. Refrigerate for at least 30 minutes.
4. For the bat wings and eyes, line another baking tray with parchment or baking paper.
5. Gently melt the dark chocolate in a microwave, or in a bowl over simmering water. With a fork, dip each walnut piece into the melted dark chocolate, covering it completely with chocolate. Tap the fork on the side to remove excess chocolate, and place the walnut pieces on the prepared baking tray. Repeat until all wings are coated. Refrigerate for 30 minutes.
6. Gently push a chocolate walnut piece into the left and right side of each bat bite to make the wings.
7. Push two white chocolate chips onto the bat's front side to make the eyes. Using your hands, roll the mixture into 15g (around tablespoon-sized) balls. Refrigerate for at least 30 minutes.
8. Serve, or refrigerate until just before serving.