New Study Shows Lower Prevalence of Type 2 Diabetes Among Those Who Consume Walnuts californiawalnuts.uk
Check Out these Recipes! So easy to make, nutritious & healthy!
FACEBOOK | TWITTER | INSTAGRAM | PINTEREST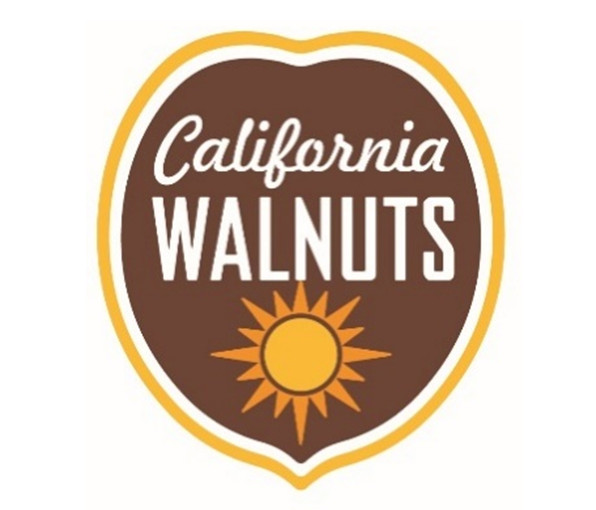 New Study Shows Lower Prevalence of Type 2 Diabetes Among Those Who Consume Walnuts
Data from large sampling of U.S. adult population demonstrates connection between eating walnuts and lower risk of type 2 diabetes
A new epidemiological study representing more than 34,000 American adults suggests that those who consume walnuts may have about half the risk of developing type 2 diabetes compared to adults who do not eat nuts.1 According to the study from the University of California, Los Angeles (UCLA), the average intake among walnut consumers was approximately 1.5 tablespoons per day. Doubling walnut consumption (eating 3 tablespoons) was associated with a 47% lower prevalence of type 2 diabetes. This amount of walnut intake is close to the recommended serving size of walnuts, which is 30g or four tablespoons. The researchers did not look at the impact of increasing walnut consumption beyond doubled intake.
"These findings provide more evidence for food-based guidance to help reduce the risk for diabetes," says Dr. Lenore Arab of the David Geffen School of Medicine at The University of California, Los Angeles. "The strong connection we see in this study between walnut consumers and lower prevalence of type 2 diabetes is additional justification for including walnuts in the diet. Other research has shown that walnuts may also be beneficial for cognitive function and heart health."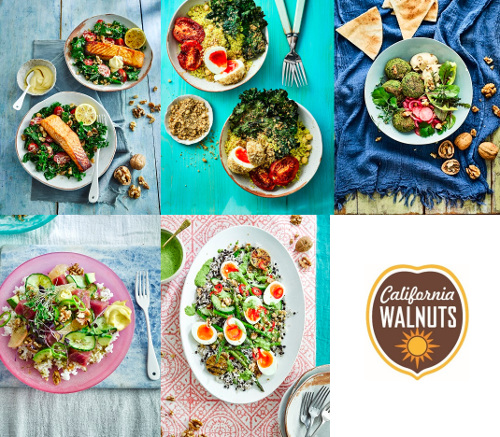 Researchers looked at data from the National Health and Nutrition Examination Survey (NHANES), which draws from a large sampling of the U.S. population. In this study, 34,121 adults ages 18-85 years old were asked about their dietary intake, as well as if they had been diagnosed with diabetes or if they were taking medications for diabetes. Individuals were also assessed for diabetes using common laboratory measurements including fasting plasma glucose and hemoglobin A1c. Those who reported consuming walnuts showed a lower risk for type 2 diabetes compared to those who did not consume any nuts regardless of age, gender, race, education, BMI, and amount of physical activity.
Individuals with diabetes often have elevated blood pressure, cholesterol, or triglycerides, which can increase the risk for heart disease and stroke. Previous studies have examined the association between walnut consumption and cardiovascular health as well as diabetes. Findings from this study provide additional support for the role of walnuts as part of a healthy diet that may help reduce the risk for diabetes.
Among the numerous properties in walnuts that may be providing health benefits, walnuts are a rich source of recommended polyunsaturated fat (17.2g per 30g portion), which includes the plant-based omega-3 fatty acid alpha-linolenic acid.
As with any scientific research, some study limitations should be considered. Participants were asked about their dietary choices over the course of one to two days, which may not be representative of usual consumption patterns. In addition, because of the cross-sectional nature of the study, the findings cannot prove causality.
Toasted California Walnut, Tuna and Pink Grapefruit Poke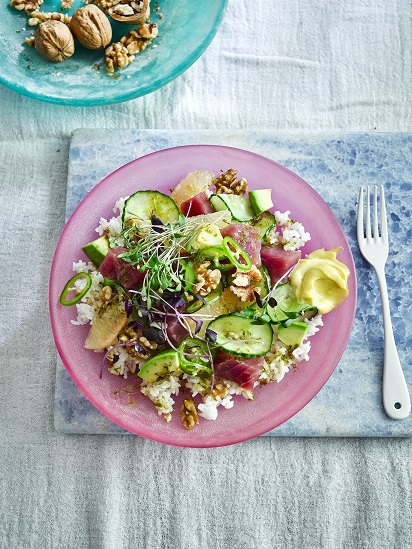 This fresh and healthy dish brings a taste of Japan to the UK. The nutty flavour of the California walnuts works extremely well with the acidity of the grapefruit, and alongside the delicate flavours of the tuna and avocado.
Preparation time: 20 mins
Serves: 2
You'll need:
130g cucumber
½ tsp salt
150g sushi rice
2 tbsp rice vinegar
2 tbsp mirin
2 tbsp sesame oil
2 tbsp soy sauce
1 tbsp caster sugar
Juice and zest of 2 limes
2 tbsp mayonnaise
½ tsp wasabi paste
250g fresh tuna, cut into bite sized chunks
½ an avocado, cubed
80g California walnuts, toasted
1 green chilli, finely sliced and deseeded
1 pink grapefruit, peeled and segmented
A handful of Asian micro herbs, or rocket leaves
Method
1. Slice the cucumber into 5mm thick rounds, place in a sieve and sprinkle with ½ tsp salt to draw out the water.
2. Wash the rice in a sieve under cold running water until the water runs clear. Cook over a high heat until tender, then remove the rice from the pan.
3. Meanwhile, whisk together the rice vinegar, mirin, sesame oil, soy sauce, caster sugar, lime juice and zest.
4. In a separate bowl, mix together the mayonnaise and wasabi.
5. Spoon the rice onto two plates. Top with the tuna, cucumber, avocado, toasted California walnuts, green chilli, grapefruit and micro herbs or leaves. Spoon over the lime dressing and add a dollop of mayonnaise to each plate to serve.
Toasted California Walnut, Lentil and Coconut Rice Salad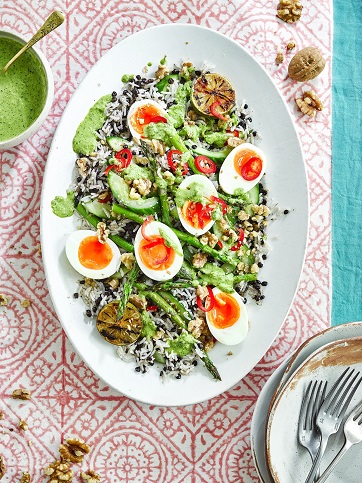 A filling dinner or impressive lunch to serve guests, who said salads were boring? The combination of fresh flavours and crunchy texture from tasty California walnuts makes this Lentil and Coconut Rice Salad a dish that is bound to satisfy hunger and impress.
Preparation time: 35 mins
Serves: 4
You'll need:
200g cucumber, cut in half lengthways, deseeded and sliced
1 tsp salt
40ml rice vinegar
2 tsp caster sugar
200g white basmati rice
1 tbsp sunflower oil
1 white onion, finely chopped
300ml coconut milk
150ml water
2 limes
Small bunch of fresh coriander
1 garlic clove, peeled
2 chillies, deseeded and finely chopped
2 tbsp Greek yoghurt
Salt and pepper, to taste
120g asparagus spears
1x 250g pouch of pre-cooked Puy lentils
4 eggs, soft boiled and cut in half
140g California walnuts, toasted
Method
1. Place the cucumber slices into a sieve and sprinkle with a teaspoon of salt, leaving for 10 minutes to draw out the water. Then mix the rice vinegar with the caster sugar and stir until dissolved. Place the cucumber in the vinegar mix and stir, then leave to one side.
2. Place half the sunflower oil and the onion into a medium sized saucepan and sauté until soft.
3. Meanwhile, rinse the rice until cold running water runs clear. Once the onion is soft, add the rinsed rice to the pan and sauté for one minute. Add the coconut milk and water, bring to the boil, then reduce the heat to a low simmer, cooking for 10-15 minutes until the rice is tender.
4. While the rice is cooking, place the juice of 1 lime, the coriander, garlic, half the chopped chilli and the Greek yoghurt into a food processor and whizz into a pourable sauce. Season with salt and pepper.
5. Coat the asparagus with the remaining oil and cut the remaining lime in half. Heat a griddle pan until searing hot and griddle the asparagus and lime until strong lines appear, then remove from the heat.
6. Heat the lentils as per the packet instructions and toss through the cooked rice, along with the drained cucumber.
7. Spoon the rice onto a large serving platter and top with the asparagus and soft-boiled eggs. Crush the California walnuts and sprinkle over the salad along with the remaining chopped chilli. Finely drizzle over the green coriander sauce and serve with the griddled lime halves on the side.
Cauli-rice and California Walnut Crusted Egg Buddha Bowl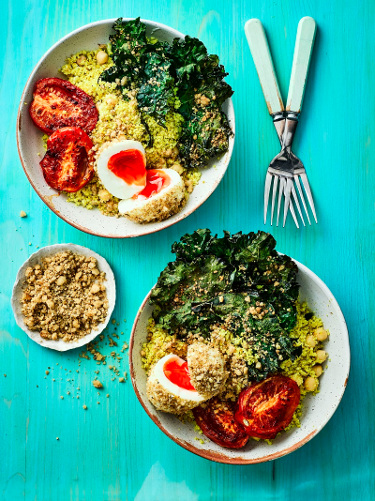 Looking for a low carb option? We've got you covered. With spicy cauli-rice, warming harissa tomatoes, a walnut encrusted egg and crispy kale, this buddha bowl is packed with nutrients – and flavour!
Preparation time: 45 mins
Serves: 2
You'll need:
For the cauli-rice:
1 large cauliflower
1 tbsp olive oil
1 tsp turmeric
1 tsp cumin
A pinch of salt and pepper
1 x 210g tin of chickpeas
For the tomatoes:
2 tsp harissa
1 tbsp extra virgin olive oil
2 plum tomatoes
For the eggs:
1 tsp cumin seeds
1 tsp sesame seeds
1 tsp coriander seeds
50g California walnuts, roughly chopped
2 eggs
50g kale leaves
2 tsp olive oil
Method
1. Preheat the oven to 180°C.
2. Prepare the cauliflower by removing the outer green leaves and discarding. Break into florets, place in a food processor and whizz in batches until coarse.
3. Empty the cauli-rice into a mixing bowl, then add the olive oil, cumin, turmeric and salt and pepper and mix well.
4. Mix the harissa with the extra virgin olive oil. Cut the tomatoes in half and toss in the harissa oil, then place into a small roasting dish.
5. Next, toast the spices in a dry frying pan until fragrant. Place into a pestle and mortar with the walnuts and grind to medium/fine texture.
6. Prepare the kale by removing any woody stems. Massage 2 tsp of olive oil into the leaves, making sure they all get an even coating, then sprinkle with 2 tsp of the walnut spice mixture.
7. Tip the cauli-rice out onto two baking trays lined with parchment and roast in the oven for 12 minutes.
8. Roast the tomatoes for 15 minutes.
9. Lay the seasoned kale out on a flat tray lined with parchment and roast for 15-20 minutes.
10. Boil the eggs for 5 minutes (or a little longer if you like the yolk to be cooked through).
11. Mix the chickpeas into the cauli-rice and spoon into two large bowls, then top with the kale and roasted tomatoes.
12. Peel the eggs and roll into the walnut spice mix, then place on top to serve.
California Walnut Falafel Buddha Bowl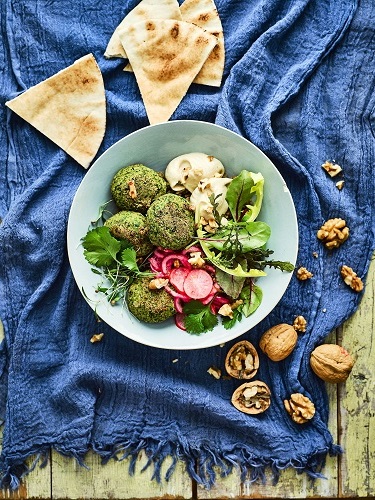 This bowl of goodness will please any palate! Whip up this plant-based feast with nutty falafels, radishes, hummus and quinoa for a lunch time treat.
Preparation time: 30 mins
Serves: 2
You'll need:
For the quick pickled radishes:
1 small red onion
6 radishes
1 lime
50ml rice vinegar
For the falafel:
1 400g tin of chick peas, drained
1 clove of garlic
1 tbsp ground cumin
80g California walnuts, toasted (plus a few extra halves to garnish)
Medium bunch of coriander (reserving a few leaves for garnish)
1 tbsp olive oil
1 pouch of pre-cooked quinoa
2 tsp olive oil
4 tbsp hummus
2 handfuls of green salad leaves
1 piece of flatbread, toasted
Method
1. To make the radish and onion pickle, peel and finely slice the red onion and thinly slice the radishes. Place into a small bowl.
2. Zest and juice the lime and add to the bowl along with rice vinegar. Put to one side whilst you prepare the remaining ingredients.
3. Place the chickpeas, garlic, cumin, walnuts and coriander into a food processor and blitz until the mixture comes together.
4. Roll into 8 evenly sized balls and flatten each ball slightly. Add the olive oil to a non-stick frying pan over a medium heat and fry on both sides until golden brown.
5. Heat the quinoa as per the packet instructions. Split between two large bowls and drizzle each with olive oil, stirring through to combine.
6. Top each bowl with the falafel, hummus, pickled radish and salad leaves. Sprinkle each bowl with the reserved walnuts and remaining coriander leaves and serve with warm flatbread.
California Walnut and Kale Salad with Grilled Salmon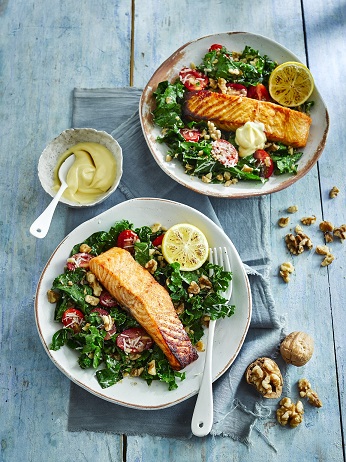 This salad is an omega powerhouse, starring California walnuts and salmon fillets. The crunch of the California walnuts adds essential texture to this dish and the subtle, nutty flavour pairs beautifully with the flavour of oily fish such as salmon and anchovies. The smoky dressing enhances the flavour of the walnuts, showcasing their creamy-nuttiness, which ties in beautifully with the salmon.
Preparation time: 20 mins
Serves: 4
You'll need:
150g kale, stalks removed and roughly chopped
3 lemons
1 tsp salt
2 anchovies
2 tbsp walnut oil
4 tsp soy sauce
4 tsp maple syrup
1 tsp smoked paprika
4 salmon fillets
120g California walnuts, toasted and roughly chopped
150g cherry tomatoes, halved
40g parmesan, grated
Method
1. Place the kale into a large mixing bowl and squeeze over the juice of one lemon, sprinkle with the salt and toss together to coat the leaves, then leave to one side.
2. Next, muddle the anchovies in a pestle and mortar with the walnut oil, then set aside.
3. Whisk together the soy sauce, maple syrup and smoked paprika. Place the salmon fillets skin side up on a baking tray lined with foil and brush with the soy mixture.
4. Cut the remaining lemons in half and place next to the salmon fillets. Grill skin side up for 3-4 minutes, then flip the fillets and grill for a further 3-4 minutes, or until tinged golden brown.
5. While the salmon is grilling, toss the California walnuts, tomatoes and parmesan together and add to the dressed kale, then stir the walnut oil and anchovy dressing through the salad.
6. Divide the kale salad between four plates and top with the salmon and griddled lemon to serve.