FACEBOOK | TWITTER | PINTEREST | GOOGLE+ | LINKEDIN | YOUTUBE
  Mrs. Brown's Boys is a huge success story and has grown from a simple radio programme into a global smash TV show, with a  Mrs. Brown's movie to boot. And, if your Dad's a big fan then you need look no feckin' further than the Danilo range of character cards to bring some Irish cheer this Father's Day.  All Dads love the risky humour of the program and Agnes Brown's down to earth observations on life and close friends and  family, and these Father's Day cards bring them to life in a range of side-­‐splitting greetings cards.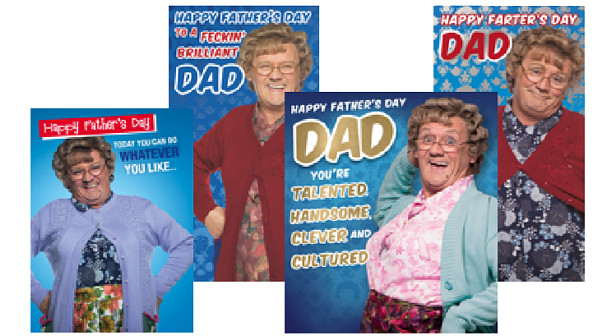 And, remember, on Father's Day your dad can do whatever he likes … except no dad dancing!!
  The hilarious range of official cards, for both Dads and Grandads is available from danilo.com with free first class delivery, good card retailers, such
as ASDA, Tesco and Clintons and independent card shops.
 RRP  £2-­‐£2.50