Power Up For Pancake Tuesday! Salter Housewares to the rescue >> Measuring Scales & Scales + thermometer bundle! >> www.salterhousewares.co.uk
TWITTER | FACEBOOK | PINTEREST
Lemon Electronic Scale – RRP £20.00, PROMO £13.33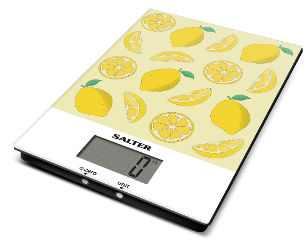 Available from: Sainsburys (in-store exclusive)
· Large ultra slim glass platform – hygienic and easy to clean
· Easy to read large digit display – size 5.6 x 2.5cm
· Aquatronic function – for measuring liquids in ml or fl.oz
· Add & Weigh 'zero' function – allows for measurement of multiple ingredients in the same bowl
· Weigh directly on the platform or weigh with own mixing bowl – suitable for use with most bowls or containers
· Slim design for neat storage
Salter Waterproof Digital Kitchen Scale – RRP £39.99, PROMO £29.99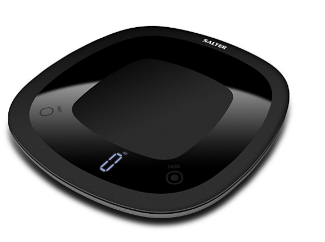 Available from: salterhousewares.co.uk, Lakeland, Ocado, John Lewis, Amazon, Ebay
Sounds too good to be true? Well, we've cracked it and are proud to present you with the kitchen scale that can join the rest of your dishes in the washing up bowl at the end of the night. The Salter waterproof kitchen scale is IPX7 rated and can be immersed in water up to 1m deep for 30 minutes! Designed with touch sensitive buttons, the entire surface is smooth and simple to clean. This stylish kitchen accessory features a sleek black design, curved edges and a sealed battery compartment. The 'add and weigh' function allows you to weigh multiple ingredients in the same bowl! Simply press the 'Tare' button to reset the scale to zero and only measure the next ingredient you add in. Our Aquatronic feature also lets you measure liquids without the need for a measuring jug, simply change the unit on the scale to ml or fl.oz and let the scale work its magic. Suitable for all water based liquids (including milk, stock, cream. wine etc), there are no excuses for not trying out that new ice cream recipe.
Waterproof (IPX7) kitchen scale – perfect for washing up!
Large LED displays imperial or metric measurements
Add & weigh function lets you measure multiple ingredients in the same bowl
Aquatronic feature measures liquids in ml or fl.oz
Weigh ingredients directly on the scale or in your own bowl!
Salter Cook Interactive Bluetooth Kitchen Scale and Thermometer Bundle, RRP £69.99, promo £59.99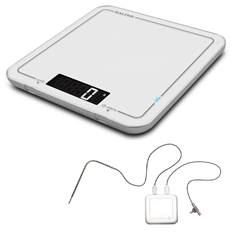 The perfect gift set for newbie cooks, this bundle includes the Salter Cook Bluetooth Pro Kitchen Scale and the Salter Cook Bluetooth Thermometer. With a sleek and modern design, both items add a modern touch to any kitchen with the ability to connect to your chosen mobile device. Connect to the Salter Cook app to set targets direct from the recipe and see measurements on your smartphone or tablet. And if you're stuck for inspiration whilst out shopping, all your favourite recipes and ingredients lists are available at your fingertips in the Salter Cook app.