PRIMAL CURE GYM BUDDY has 14 benefits so you can hit the ground running this spring! >> www.primalcure.com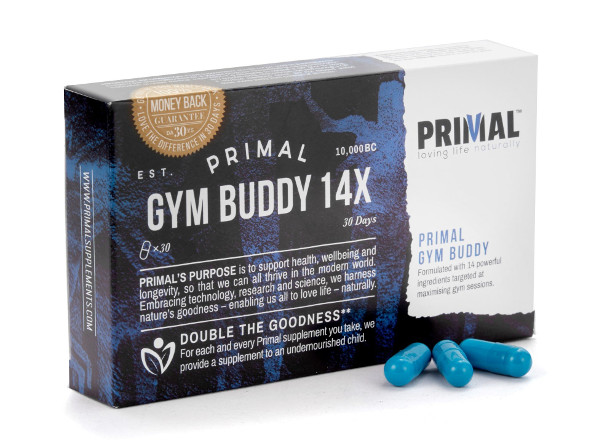 FACEBOOK | TWITTER | INSTAGRAM | YOUTUBE
GYM BUDDY 14X BENEFITS:
Protein and amino acid complex helps restore energy systems quickly, allowing you to lift heavier for longer
Help improve muscle function, maintenance and growth with a mix of 14 potent ingredients
Fight fatigue and reduce muscle tiredness
MADE IN THE UK
 GMP Certified
MAXIMIZE YOUR WORKOUTS
Do you ever feel like you're not reaching your full potential in the gym? Our Gym Buddy is designed to help you maximize your workout, so you can lift heavier for longer!
Our formula contains BCAA's with Creatine, Magnesium, Zinc and Vitamin B6, together with 8 more gym goers favourites.
BCAAS CAN HELP YOU BUILD MUSCLE
The term  'BCAAs' (Branched-Chain Amino Acids) is derived from the structure of 3 compounds: Leucine, Isoleucine and Valine… Essential amino acids, as they are the building blocks of muscle-building protein. BCAA supplements require no digestion and are rapidly absorbed into the bloodstream.
Our formula contains 50g of 'HMB' which is a natural by-product of the amino acid Leucine and this is one of the most important amino acids for protein synthesis in the body. We've also included Arginine Alpha-Ketoglutarate, L-Arginine HCL, L-Glutamine, L-Citrulline DL-Malate!
REDUCE TIREDNESS IN THE GYM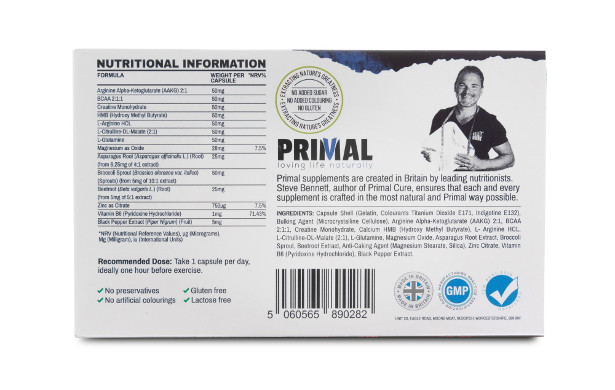 Do you feel like you're getting tired too quickly during your workouts? Studies have shown that magnesium is beneficial for reducing tiredness and fatigue, which is why we've included 28mg of magnesium along with other beneficial vitamins and minerals in our formula such as Zinc and Vitamin B6.
100% NATURAL INGREDIENTS
Our Nutritional Product Development team and in-house scientists have created a complex blend of effective botanical extracts which are 100% natural including Asparagus Root, Broccoli Sprout, Beetroot Extract and Black Pepper.
FEEL THE DIFFERENCE OR YOUR MONEY BACK
We are proud of our products and believe you'll notice the different in 30 days. If you are not happy though, send it back to us and you'll get your money back.
HOW TO USE
We recommend taking one capsule per day, ideally 1 hour before your workout.
DOUBLE THE GOODNESS
With our Double the Goodness scheme, 25% of our net profit goes to improving health and nutrition in malnourished communities.
See more and buy at :- www.primalcure.com/products/gym-buddy-14x