Primal Cure Natural Whey Protein in Vanilla & Chocolate Flavours is designed to be FLEXIBLE AND VERSATILE – USE IT WHEN IT SUITS YOU! So Many Nutritional Benefits for those pursuing healthy & active lifestyles! >> www.primalcure.com
BOOST YOUR WORKOUTS!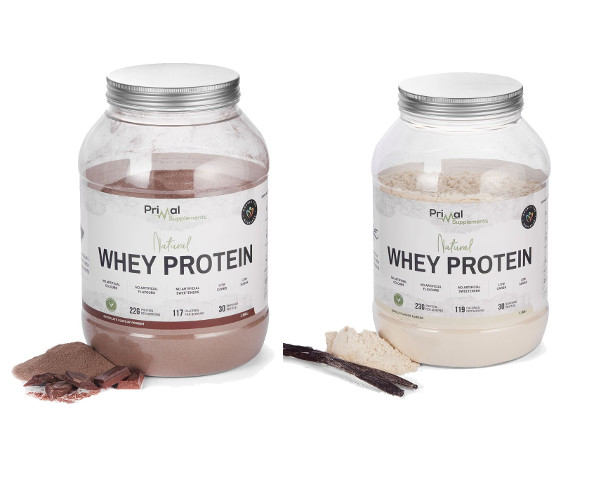 FACEBOOK | TWITTER | INSTAGRAM | YOUTUBE
NATURAL WHEY PROTEIN POWDER 1.1KG
BENEFITS:
High source of protein (22g per 30g serving)
Protein contributes to a growth in muscle mass and the maintenance of muscle mass and of normal bones
100% natural ingredients: Colouring, flavouring and sweeteners (natural plant sweetener from Stevia)
Rich source of BCAAs (Branched-Chain Amino Acids – 18 in total, including all 9 Essential Amino Acids (EAAs)
Potent source of Leucine, which provides the building blocks for muscle growth
GREAT TASTE WITHOUT THE SUGAR OR ARTIFICIAL SWEETENERS
Our protein powder comes in 2 delicious flavours: Chocolate or Vanilla. They contain a 100% natural sweetener that is 200 – 300 times sweeter than sugar!
Purified extracts from the leaves of the stevia plant, that has been used for many years in Asia and South America.
Although we don't calorie-count, stevia instead of natural sugar or artificial sweetener has no calories.
FLEXIBLE AND VERSATILE – USE IT WHEN IT SUITS YOU
When and how you take our Natural Whey Protein is up to you.
For building muscle mass or gaining strength, we recommend you take at least one scoop after a resistance training workout to quickly replenish your muscles of any depleted protein.
If exercising and fasting at the same time, Natural Whey Protein is best served BEFORE you exercise!