Prosciutto di Parma! Pancake Tuesday Pancake Recipes! www.prosciuttodiparma.com

INSTAGRAM | FACEBOOK | TWITTER
Parma-Maple Breakfast Pancakes
This is a classic American breakfast, done the Italian way. Simply layer homemade, pancakes with Parma Ham, conference pear and ricotta cheese, and finish with a generous drizzle of Maple syrup. What a perfect way to start the day!
Serves 6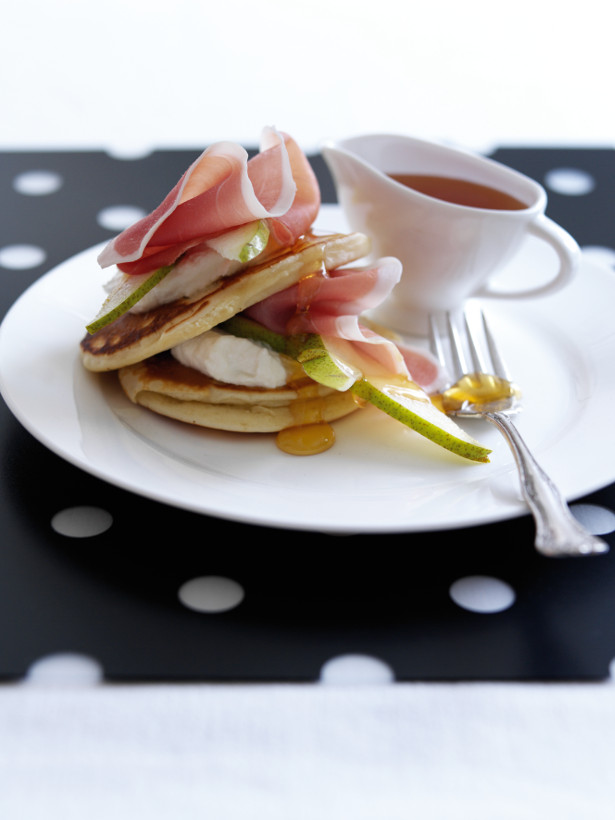 Credit the Consorzio del Prosciutto di Parma www.prosciuttodiparma.com/en_UK/home
For 12 homemade pancakes:
150g self raising flour
1 tsp baking powder
pinch salt
1 tablespoon caster sugar
1 large egg, lightly beaten
1 x 250g tub Ricotta cheese
2 ripe conference pears
12 slices Parma Ham
Maple syrup, to drizzle
150ml (5 fl oz) milk
2 tbsp melted butter
A few drops of vegetable oil, to grease
First make the pancakes. Sift together the flour, baking powder, salt and sugar into a mixing bowl. Add the egg, milk and melted butter, and whisk together. Leave to stand for 15 minutes.
Place a non-stick frying pan over a medium heat and add a knob of butter to coat the surface of the pan. Drop tablespoons of the pancake batter into the pan and flip over after a couple of minutes, when tiny bubbles start to appear on the batter surface. Leave the pancakes over the heat for a further 1-2 minutes, until both sides are golden brown. Repeat this process until you have 12 medium-sized pancakes.
Layer the pancakes on to six serving plates with ricotta cheese, sliced pear and Parma Ham. Finish with a final slice of Parma Ham and a generous drizzle of Maple syrup.
Cook's tip: Why not experiment with different combinations of filling for your morning pancakes, try peaches or mango, or even drizzle with runny honey instead of Maple syrup. You can always buy Scotch pancakes to save time, don't worry – we won't tell!
Swiss chard pancakes with savoury yogurt and Parma Ham
Preparation 25 minutes
Cook to taste
For 3-4 servings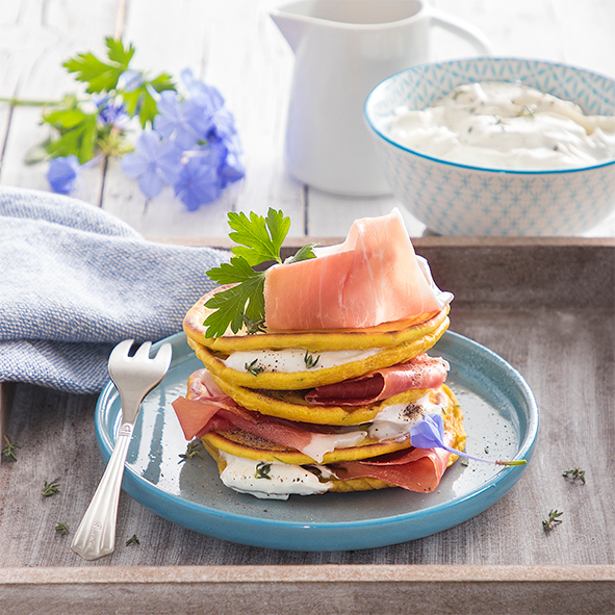 Credit the Consorzio del Prosciutto di Parma www.prosciuttodiparma.com/en_UK/home
Ingredients
Pancakes:
135g flour
130g milk
1 level teaspoon of baking powder for savoury pies
4 pinches of salt
1 level teaspoon of turmeric
1 large egg
2 tablespoons of melted butter
parsley and thyme chopped
In addition:
200g thick yogurt
extra virgin olive oil
100g Parma Ham
pepper, salt, butter q.s.
Preparation
Pancakes: sieve the flour, yeast, salt and pepper in a bowl. Separately, beat together a small amount of milk, the egg, the chopped herbs, the turmeric and melted butter. Add the liquid mixture into the flour mix by whisking with a fork until obtaining a smooth batter. Allow the dough to rest for some minutes. Heat up a non-stick pan on medium heat with a knob of butter. When it melts, pour a small ladleful of batter. Let it cook for some minutes, then flip it and finish cooking. Cook as many pancakes as there is batter.
Yogurt sauce: whip the yogurt to a cream with pepper, salt, 2 spoons of oil and a few thyme leaves.
Serve the pancakes dressed with the yogurt and Parma Ham.
Wholemeal Pancakes Filled with Parma Ham, Ricotta, Rocket and Pesto
Makes 6 Pancakes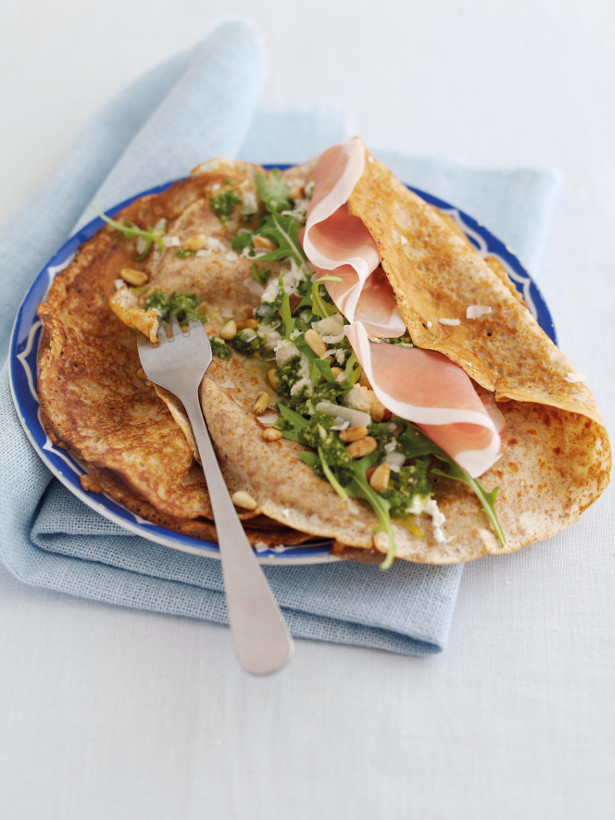 Credit the Consorzio del Prosciutto di Parma www.prosciuttodiparma.com/en_UK/home
Butter, to grease
180g ricotta
50g rocket
30g pine nuts, toasted
3 tbsp pesto
6 slices Parma Ham
Pancake Batter:
1 egg
300ml milk
1 tsp vegetable oil
100g wholemeal plain flour
Salt and cracked black pepper
Blend together the batter ingredients then leave to rest for 30 minutes
Heat a large frying pan and add a little butter to grease the base. Pour small ladles of batter into the pan, tilting it to give a thin yet even layer of batter. Cook for 2-3 minutes until the pancake can easily be turned over. Flip the pancake and continue to cook for a further 2-3 minutes until browned. Repeat to use the remaining mixture
Spread a little ricotta over each pancake the top with rocket leaves, pine nuts, pesto and a slice of Parma Ham.