Celebrate Chinese New Year with Street Delights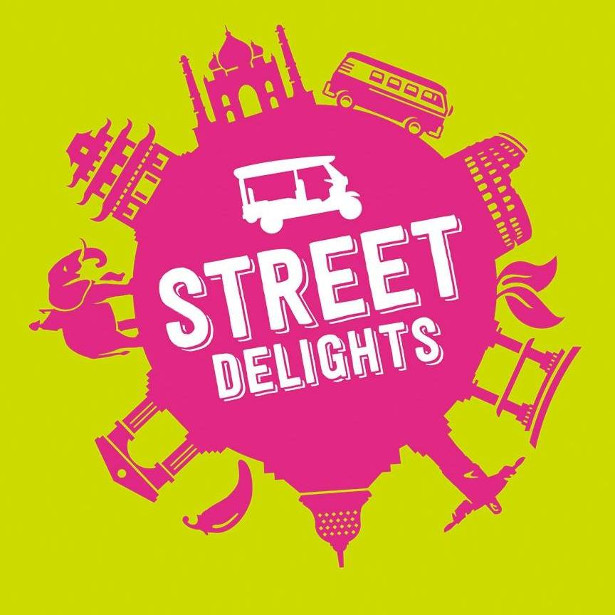 FACEBOOK | TWITTER | INSTAGRAM
Street Delights Chinese Kung Pao meal kit will make celebrating Chinese New Year simple, fast and authentic.
Ready in three easy steps and in less than twenty minutes, simply add chicken or vegetables and cook up some rice, to create a fiery dish with szechuan peppers.
Available in Tesco stores, RRP £3.00
Discover a world of exciting flavours
STREET DELIGHTS·FRIDAY, 30 NOVEMBER 2018
Discover the world of street food with our range of 6 home-cooking meal kits! Inspired by the street food from around the world, Street Delights have created meals kits bursting with global tastes.
Our step-by-step packs make cooking food you love easier than you can imagine!
Discover the range
Indian Biryani Meal Kit
A deliciously fragrant basmati rice dish that tastes delicious with chicken or lamb filled with exotic spices.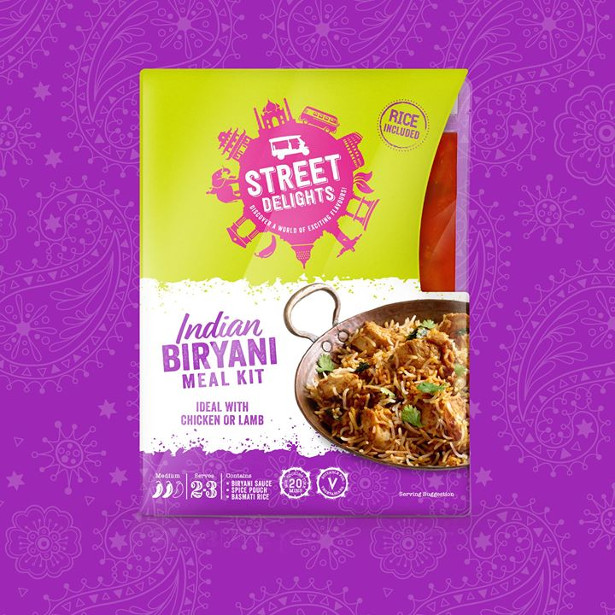 Moroccan Tagine Meal Kit
A rich and aromatic dish from North Africa, traditionally slow cooked and served with couscous.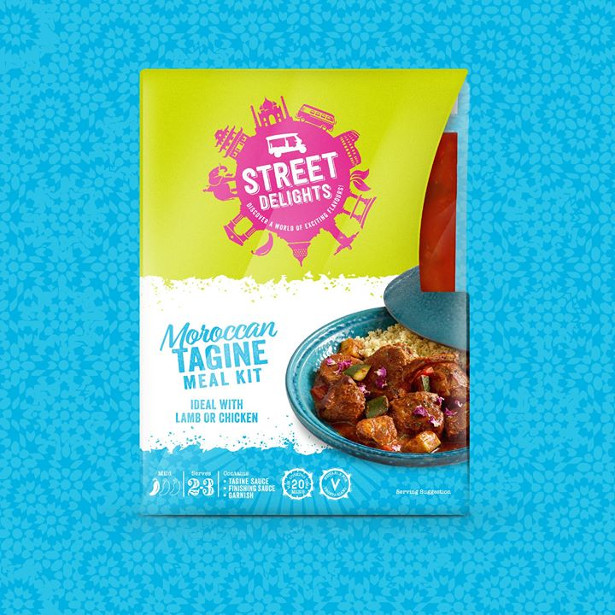 Caribbean Jerk Meal Kit
Succulent fiery chicken, marinated with authentic Caribbean jerk seasonings, traditionally served with rice and beans.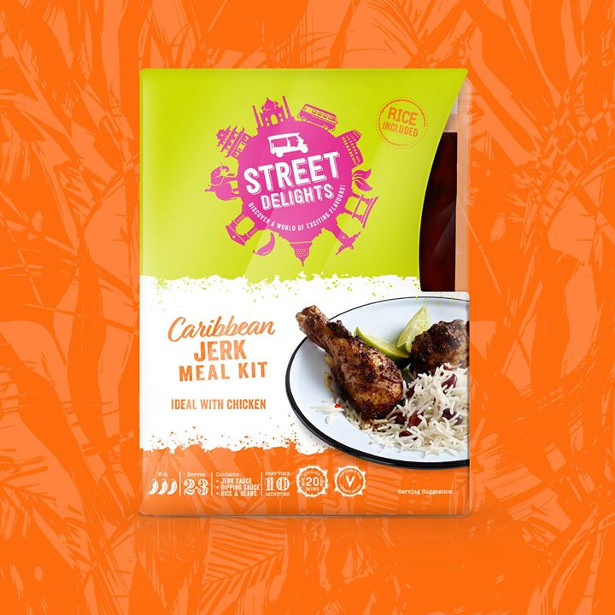 Indonesian Nasi Goreng Meal Kit
A traditional Indonesian fried rice dish with a hot sambal sauce. Delicious with chicken or prawns.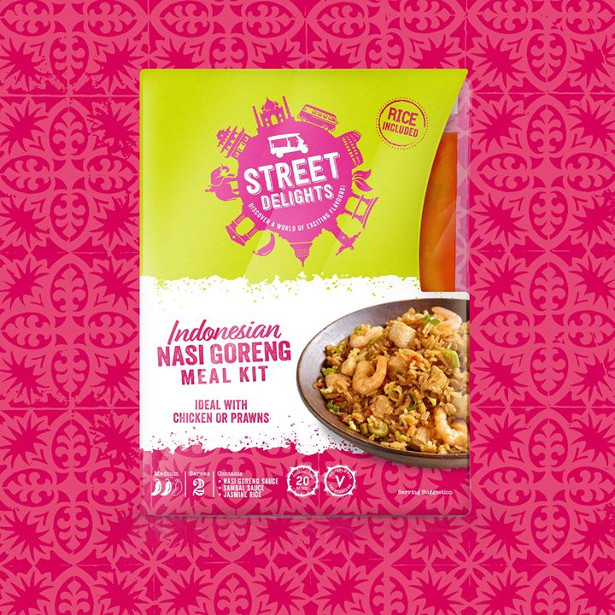 Chinese Kung Pao Meal Kit
An authentic fiery dish of stir fried chicken with szechuan pepper, often served with fresh spring onions and rice.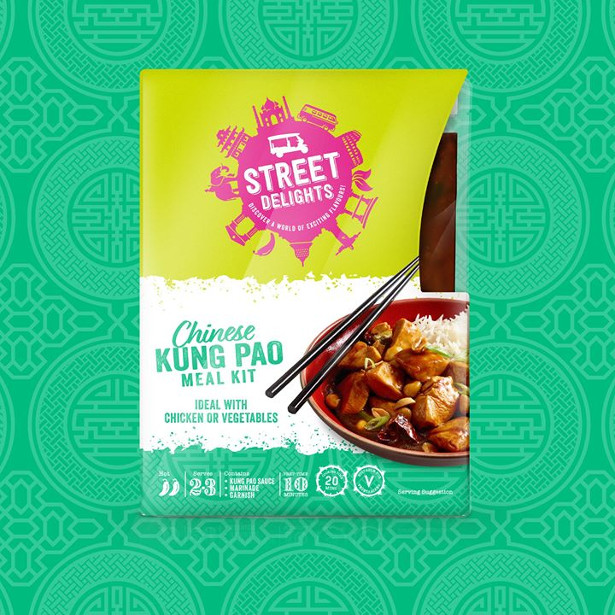 Japanese Katsu Curry Meal Kit
Crispy coated chicken served with a Japanese-style creamy and aromatic curry sauce.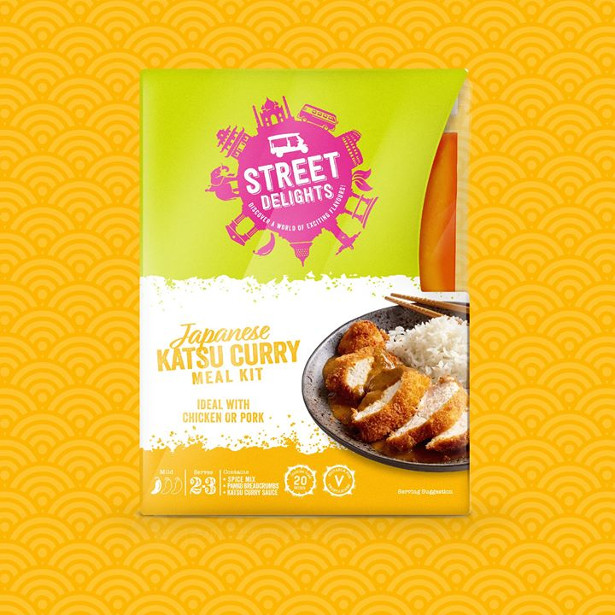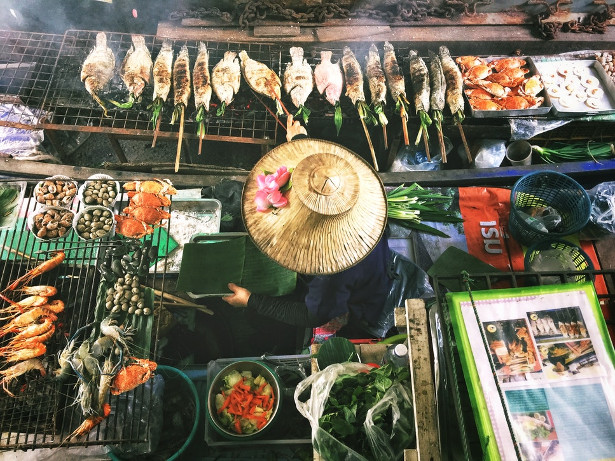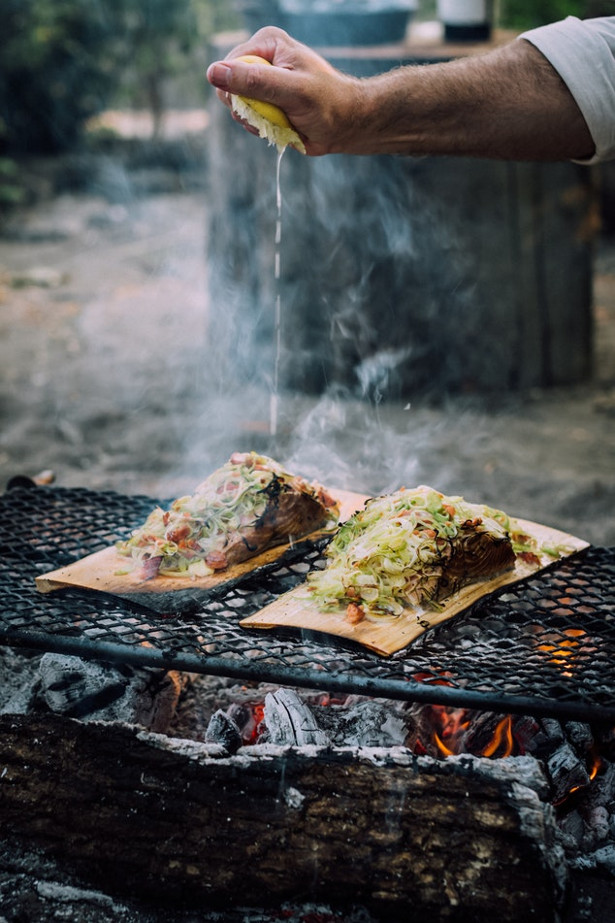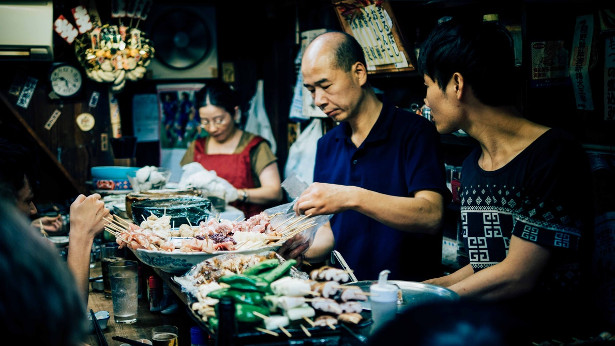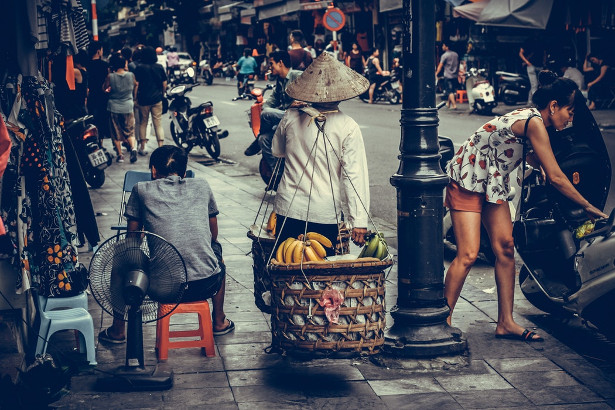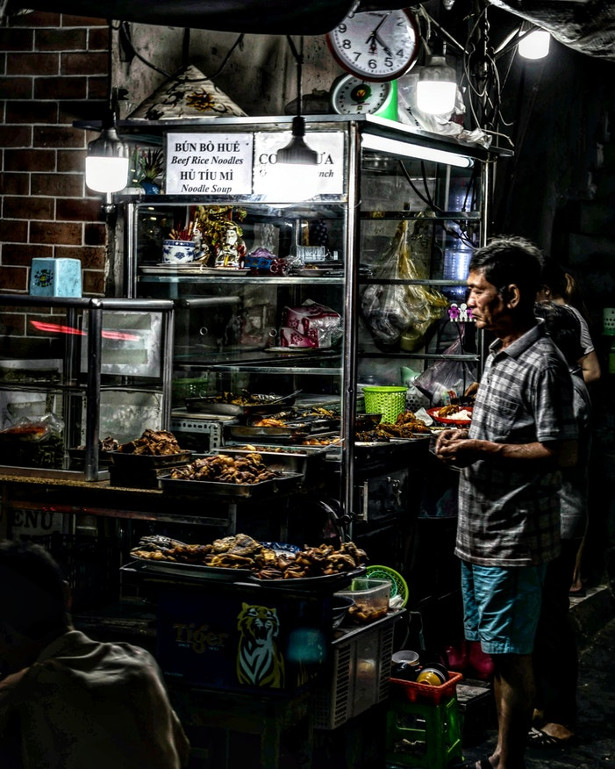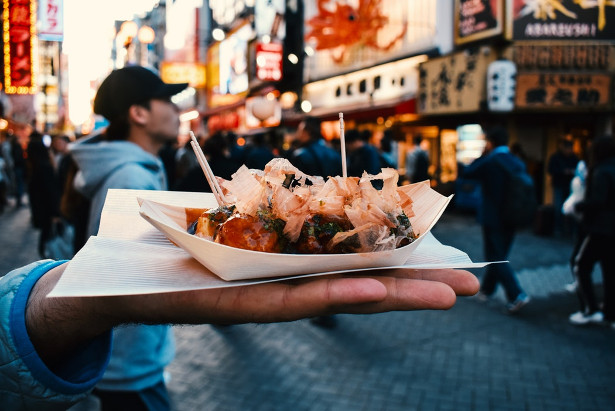 Celebrate Chinese New Year with Bonne Maman
Bonne Maman welcomes the Chinese New Year with two enticing recipes that are easy to make at home – Chinese Duck A L'Orange and
Avocado, Prawn and Cabbage Salad.
Chinese Duck A L'Orange
(Serves 2)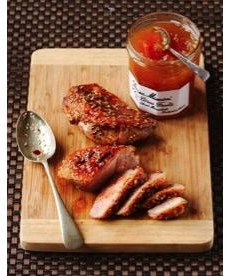 Ingredients:
2 duck breasts
Salt and pepper
100g Bonne Maman Bitter Orange, Sweet Orange or Tangy Mandarin Marmalade
3tbsp soy sauce
1tbsp sesame seeds
Method:
1. Preheat your oven to 220°C/425°F/Gas Mark 7. Slash the skin of the duck breasts then season generously and place – skin side down – in a hot dry frying pan over a high heat. Cook for 2 minutes then turn and cook for 2 minutes again.
2. Meanwhile, in a small roasting tin mix the marmalade with the soy sauce and sesame seeds. Add the part cooked duck and coat well.
3. Roast in the preheated oven for 10 minutes, then rest for 10 minutes before slicing.
4. Drizzle the juices from the roasting tin over the meat and serve with potatoes and seasonal vegetables.
Avocado, Prawn and Cabbage Salad
(Serves 6)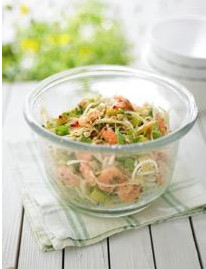 Ingredients:
6 fat garlic cloves, thinly sliced
2 tbsp vegetable oil
350g (12oz) raw shelled prawns
25g (1oz) roasted cashew nuts, finely chopped
1 ripe avocado
125g (4oz) white cabbage or Chinese cabbage, finely shredded
1 small green mango, peeled, stoned and shredded
1 small handful of fresh mint and coriander leaves, roughly chopped
6 spring onions, shredded
For the dressing:
½ red chilli, deseeded and finely chopped
1 tbsp rice wine vinegar
2 generous tbsp. Bonne Maman Apricot Conserve
Juice of 2 limes
1 tbsp fish sauce
2 tbsp vegetable oil
Method:
Put all the dressing ingredients in a jar and shake together.
Fry the garlic in the oil in a heavy-based saucepan over a medium heat until golden and crispy. Remove from the oil with a slotted spoon and set aside.
In the same oil, stir-fry the prawns with the roasted cashew nuts for about 2-3 minutes until the prawns are just pink. Add to the garlic, spoon over 2 tablespoons of the dressing and set aside to cool.
When ready to serve, peel, stone and dice the avocado and toss together with the cabbage, mango, herbs, spring onions and prawn mixture. Serve immediately, handing round the remaining dressing in a separate bowl.
Cooks Tips
– Make the dressing up to 1 week ahead and keep in a jar in the fridge. Cook the prawn mixture the day before needed. Keep chilled and toss everything together just before serving.
– This dressing is also delicious spooned over pan-fried chicken fillets and served with basmati rice.
Mariage Frères launches new tea blend in celebration of Chinese New Year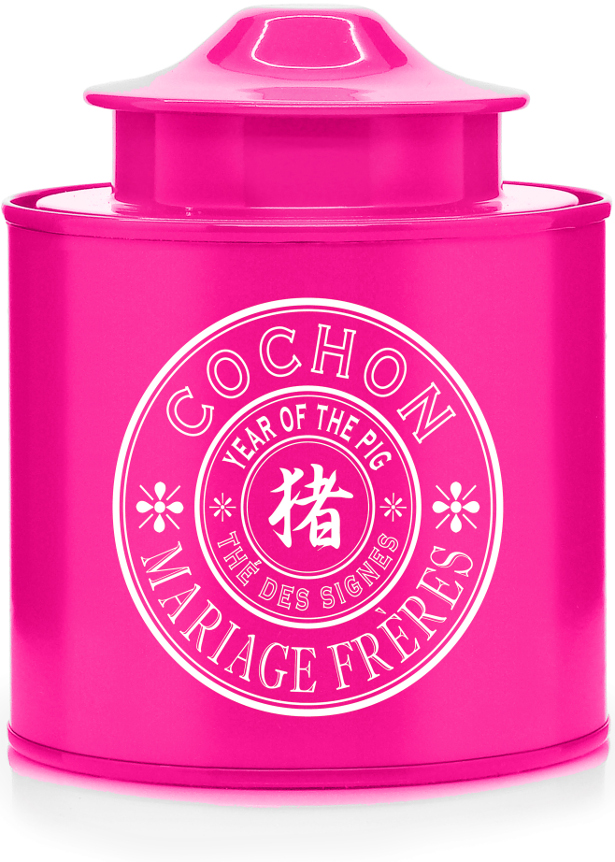 This Chinese New Year welcomes the year of the pig, and Mariage Frères have created a special all-new blend. Joining the existing Asian zodiac collection, Thé Des Signes® – Cochon will continue the range of teas sealed with the Chinese animal signs.
The Year of the Pig tea is a subtle composition of organic green tea and Jardin Premier® red rooibos with delicate hints of rose and Tibetan goji berries. Rich in antioxidants and vitamins, goji berries add an energetic twist to the blend, and is an excellent way to kickstart the Chinese New Year.
The tea is presented in a vivid hand-made fuchsia tin, inspired by the layered pagoda towers that can be seen throughout historic East Asia. The Year of the Pig tea can be purchased online or at the newly opened Mariage Frères tea emporium in Covent Garden, priced at £26.
Mariage Frères
38 King Street, Covent Garden
www.mariagefreres.com
@mariagefreresofficial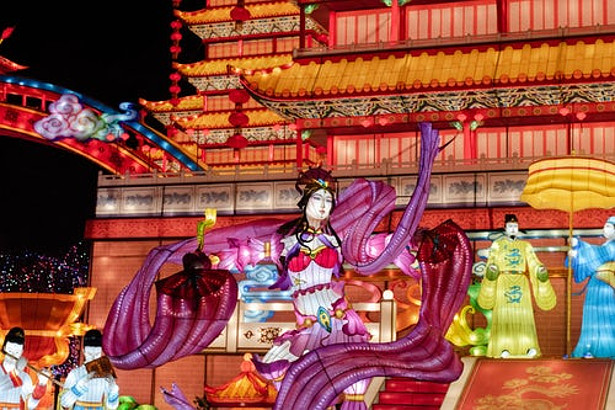 Celebrate Chinese New Year with Corkers' Duck & Hoisin Sauce Crisps
This Chinese New Year (15th February, 2019) Corkers have the perfect snack to help you celebrate – their fabulously flavoursome Duck & Hoisin Sauce crisps!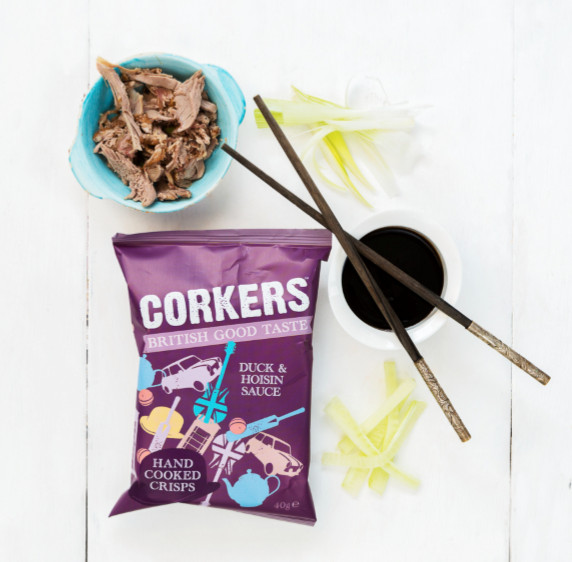 This culinary classic has been transformed into a tasty treat using Corkers' award winning 'Naturalo' potato (created by the team, it's only grown on their farm and is the perfect frying potato with a white skin to make the crisps extra chruncy) – and the hand cooked crisps are gluten free with no artificial or MSG products.
Growing their own spuds means Corkers are in complete control of the supply chain from seed to bag, meaning they know the provenance and origin of every single potato and packet.
Corkers can be found in quintessentially British stately homes, National Trust properties, the National Gallery, countryside farm shops, local delis, railways and airlines.
Corkers is continually developing and evolving, with new products coming soon, but always connected with their roots. Corkers Hand Cooked Potato Crisps – Duck & Hoisin Sauce
Available in 40g and 150g bags 
 Recommended retail price: £0.90 – £1.00 (40g) and £1.80 – £2.00 (150g)
www.corkerscrisps.co.uk

BURGER & LOBSTER CELEBRATE CHINESE NEW YEAR WITH LIMITED EDITION GOLD FORTUNE COOKIES
2019 marks the year of the pig, known for its fortune and luck. To celebrate Burger & Lobster will be scattering 20 gold cookies across London and New York and challenging diners to #findthegoldcookie. Hidden inside will be luxury prizes worth up to £2,000.
The lavish red lobster specialists, Burger & Lobster will be hiding limited edition opulent gold fortune cookies ahead of the Chinese New Year celebrations on 5th February. This golden offer will run from 4th – 10th February across the London and New York restaurants in celebration of their vast Chinese audience, challenging diners to #findthegoldcookie.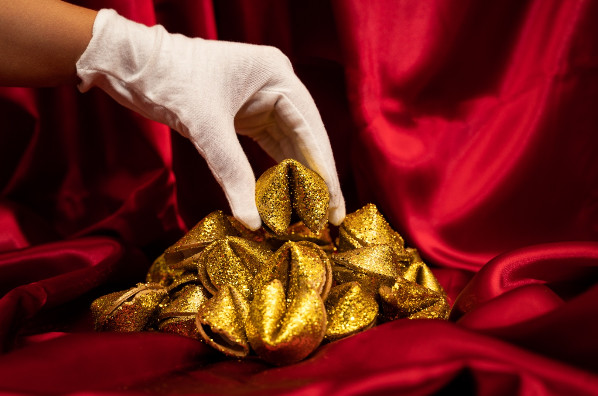 Guests will simply need to order an almighty jumbo lobster weighing up to 7kg, which make it perfect for groups to share, to be in with a chance to win one of the many luxury prizes, including an incredible trip to New York and visit Burger & Lobster Flatiron, lavish Burger & Lobster meals for two, complimentary bottles of champagne and pre-drinks at Burger & Lobster restaurants bars.
Burger & Lobster is featured as part of the top places to eat on the Chinese equivalent to Trip Advisor, Dianping, referencing the mono product champions twice as part of their top 15 places to visits in London*.
The Chinese New Year celebrations will continue on the 10th February as Burger & Lobster unveil a stall in Trafalgar Square selling their iconic lobster rolls – with each lobster roll sold red balloons will be handed out with red envelopes enclosed with special restaurant vouchers.
Misha Zelman, CEO of Burger & Lobster said: "
Chinese New Year is always a special time in our restaurants, with people from all over the world celebrating this special occasion. This is our chance to make sure we are giving something back too. "
This exclusive offer will be available at Burger & Lobster from 4th – 10th February 2019 across London restaurant branches Soho, Leicester Square, Knightsbridge and Threadneedle Street. Prizes available will be a trip from London to New York, a trip from New York to London, one night stays within the cities, including a night's stay at W London – Leicester Square and Signature Massages at the hotel's AWAY Spa, free meals at Burger & Lobster, as well as rounds of drinks on the house.
To book the Burger & Lobster Soho experience please visit: www.burgerandlobster.com/locations/soho
-END-
#findthegoldcookie
Instagram @BurgerAndLobster
For further information please contact Talker Tailor Trouble Maker:
020 3858 0022 | Burger&Lobster@talkertailor.com
Notes to Editors:
Burger & Lobster was launched in Mayfair by four schoolmates in 2011. They had set out to open a restaurant where the focus was on perfecting the craft of just one or two main ingredients. Since then, Burger & Lobster have been bringing live, wild Atlantic lobsters and prime cut Nebraskan burgers to fun and passionate personalities around the world who share their appetite for creativity. Simplicity is at the core of the Burger & Lobster concept, with respect for great food and quality service. With nine sites in London, two in New York and a further four in Bangkok, Dubai, Genting and Kuwait City all restaurants feature live lobsters that are flown in from Nova Scotia, Canada and beef from the cattle ranchers in Nebraska. The restaurants work tirelessly with the families that supply the ingredients to this mono-product offer to ensure the absolute best quality.
*http://www.dianping.com/london/food/
Prizes will include:
Trip from London to New York
Trip from New York to London
Hotel stays in London inclusive of a meal in Burger & Lobster
Hotel stays in New York inclusive of a meal in Burger & Lobster
Free meals in Burger & Lobster
Free drinks in Burger & Lobster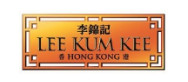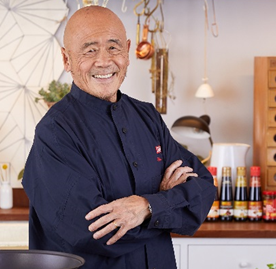 Ken Hom's Vegan friendly Sichuan Dan Dan Noodles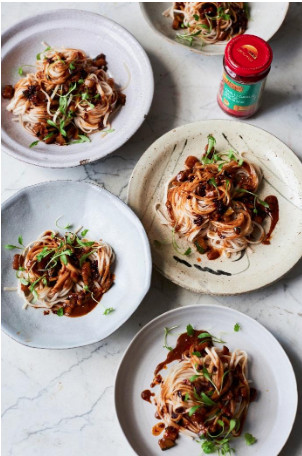 "This vegetarian version of the popular Sichuan traditional 'dan-dan noodles', is meatless and is lighter than the original. Use your imagination with any of your favourite vegetables like courgette or carrots, or even cucumber. It is the sauces that gives this noodle dish its full bite of chillies, garlic and other seasonings without the heaviness. These noodles are usually served after a meal, making a tasty finale. But I think this recipe can be easily a delicious part of any meal or a simple main dish." – Ken Hom
Serves 4
Preparation: 15 minutes
Cooking time: 15 minutes
1 tablespoon groundnut or vegetable oil
110g courgette, finely chopped
1 tablespoon garlic, finely chopped
2 teaspoons fresh ginger, finely chopped
2 tablespoons Shaoxing rice wine or dry sherry
2 tablespoons Lee Kum Kee chilli garlic sauce
2 teaspoons Lee Kum Kee Chiu Chow Chilli oil
1 tablespoon peanut butter
1 tablespoon Lee Kum Kee Premium dark soy sauce
1 tablespoon sugar
450ml (16 fl oz) vegetarian stock
225g (8oz) whole wheat noodles
Heat a wok or large frying pan over high heat and add the oil. Add the courgette, garlic, ginger and stir-fry for 1 minute. Add the rest of the ingredients. Reduce the heat and simmer for 3 minutes over low heat.
Cook the noodles in a large pot of boiling water according to the pack instructions. Drain them well in a colander. Divide the noodles into individual bowls and ladle the sauce over them. Serve at once.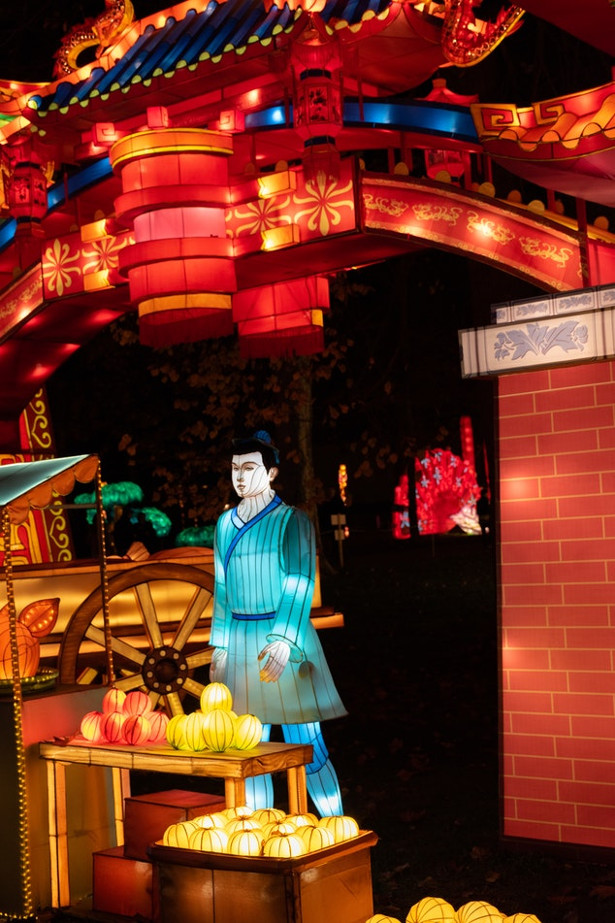 Gizzi Erskine's Soy Roast Chicken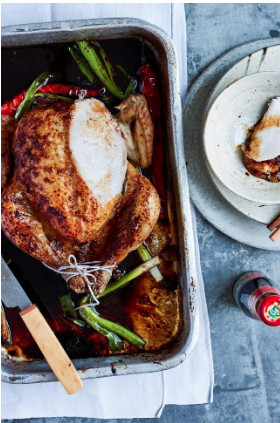 "This dish combines two of my favourite things – a great British roast dinner and Asian flavours. Nothing beats a roast chicken, but this take on it delivers something a bit special that can either be served with all the traditional roast trimmings or equally well with plain rice and stir-fried vegetables." – Gizzi Erskine
Serves 4
Prep time: 10 minutes
Marinating time: 1-24 hours
Cooking time: 1 hour 10 minutes
1 whole chicken 1.5-2kg
For the marinade:
3 tbsp Lee Kum Kee light soy sauce
1 tbsp Lee Kum Kee dark soy sauce
3 tbsp golden caster sugar
1 tbsp sesame oil
60ml rice vinegar
3 tbsp Lee Kum Kee Premium Oyster sauce
1.2 tsp Chinese 5 spice
1 tsp ground white pepper
1 tsp freshly ground black pepper
5 cm piece fresh ginger, peeled and sliced
1 red chilli, halved
6 spring onions
1 tbsp groundnut oil
Decent pinch of sea salt
Mix together all of the marinade ingredients together in a small bowl. Place the chicken on a roasting tray. Pour the marinade all over the chicken, massaging it into the skin, and stuffing the ginger pieces and chilli into the cavity of the chicken. Allow to marinate for at least 1 hour, but preferably overnight.
Once the marinating time is up, preheat the oven to 190C / 160C fan oven / Gas mark 5. Now this next bit is a little fiddly, but trust me it's worth it. With a needle and thread, carefully sew up the skin around the base cavity of the chicken, (blanket stitch is ideal for this), so that it is as tightly sealed as possible. Pour off the marinade into a jug.
Give the roasting tray and wash, and then lay the spring onions in a line to act as a trivet for the chicken. Next, pour the marinade back into the cavity of the chicken through the neck cavity. Gently place on top of the spring onions being careful not to lose any juices. Finally, sew the skin of the neck cavity up to contain all of the marinade within the chicken.
Drizzle the groundnut oil over the chicken, and season liberally with salt. Put in the oven for 1 hour 10 minutes, depending on the size of the bird.
Allow the chicken to rest for 20 minutes before serving. To serve; cut through the part of the chicken that's been sewn together and Pour out the juices. Carve the chicken either British or Chinese style and serve.
Two recipes using Specially Selected Pork for Chinese New Year from Quality Meat Scotland's (QMS) Scotch Kitchen (www.scotchkitchen.com)
The recipes are part of QMS's new campaign – 'Go Places with Pork' – which seeks to raise awareness of the nutritional benefits, versatility and great taste of Specially Selected Pork.
Sichuan-style Pork Noodles
Serves 4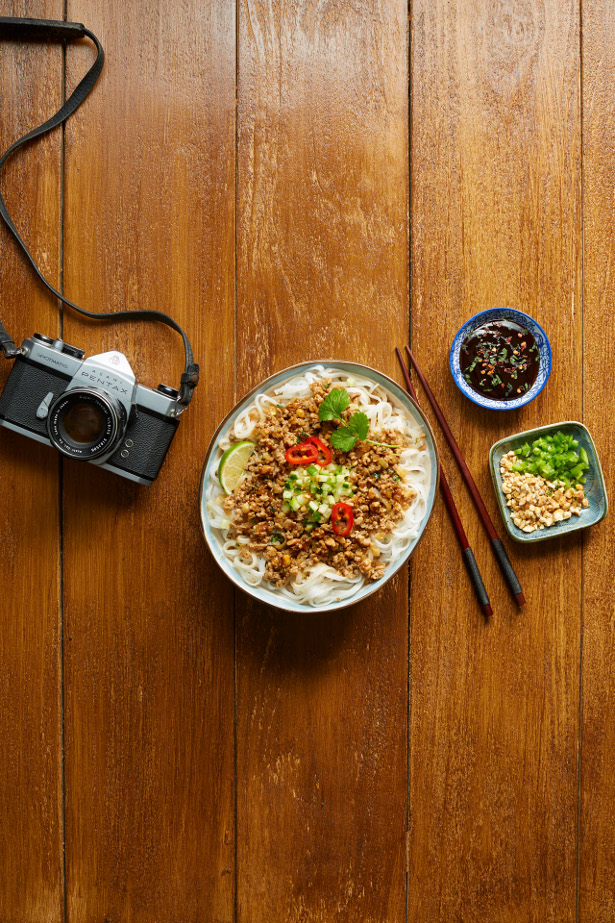 Ingredients:
500g pork mince
2 x shallots
12g peeled fresh ginger
35ml sesame oil
3 x cloves garlic
1 x tsp paprika
1 x green chilli – approx 14g
50g dry roasted peanuts
50ml dark soy sauce
25ml oyster sauce
200ml water
15g fresh coriander
200g pack rice noodles
½ cucumber
Method:
Peel the shallots and finely chop
Grate the ginger
Finely chop the chilli – with the seeds
Peel and mince the garlic
In a wok, sauté the pork and the shallots in oil until lightly browned
Add the chilli and the garlic, and cook another minute
Add the soy sauce, oyster sauce, paprika, ginger and water and bring to the boil. Simmer for 15 mins
Finely chop the peanuts – add half to the pan and stir through
Cook the noodles as per the instructions on the pack
Chop the coriander and add to the pan
Finely chop the cucumber
Serve the mince on the noodles – topped with the remaining peanuts and the chopped cucumber
Serving tip: this dish is also great served without the noodles in crisp iceberg lettuce leaves
Prep time – 10 mins
Cook time – 20 mins
Sweet and Sour Pork Fillet
Serves 4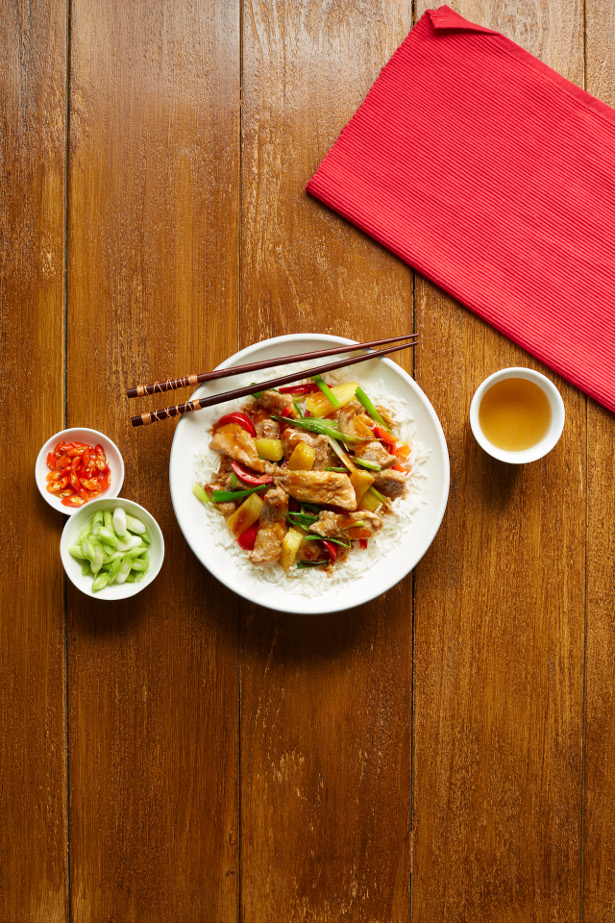 Ingredients:
600g pork fillet
For the sauce
1 x large red pepper
4 x spring onions
3 x cloves garlic
300g fresh pineapple
35ml white wine vinegar
35g tomato ketchup
35ml light soy sauce
35ml lemon juice
35ml rapeseed oil
15g piece fresh peeled ginger
For the pork
15ml lemon juice
15ml light soy sauce
20g cornflour
Extra rapeseed oil to fry
Fresh chopped coriander to sprinkle
Method:
For the sauce
Chop the red pepper into thin strips, discarding any white pith and seeds
Wipe, trim and cut the spring onions into thin strips
Peel and finely chop the garlic
Finely chop the ginger
Chop the pineapple into small pieces
In a wok heat the oil and add the peppers, spring onion, garlic and ginger and fry for 2 minutes
Add all the rest of the ingredients for the sauce and bring to the boil – put this to the side while you cook the pork
For the Pork:
Cut the fillet in half lengthways – then cut the pork into thin strips
Place the pork in to a bowl along with the extra soy sauce and lemon. Stir to coat the pork.
Add the cornflour the pork bowl and mix well
Heat some oil in a large frying pan and sauté the pork on a high heat for 4 minutes (You may have to do this in batches if your pan isn't big enough. Be mindful not to crowd the pan)
When cooked transfer the pork to the wok where the sauce is.
Gently heat through until the sauce is piping hot has thickened slightly.
Serve topped with chopped coriander and steamed rice.
Prep time – 15 mins
Cook time – 15 mins


VEGAN SESAME TOAST – A TREMENDOUSLY TASTY STARTER WITH A TWIST THIS CHINESE NEW YEAR
This Chinese New Year, Roberts bakery's vegan sesame toast recipe is the perfect for takeaway-style treat.
Prepped and served in just a few simple steps, this Chinese favourite is jam-packed with ginger, soy sauce and sesame seeds to curb the most cantankerous takeaway cravings.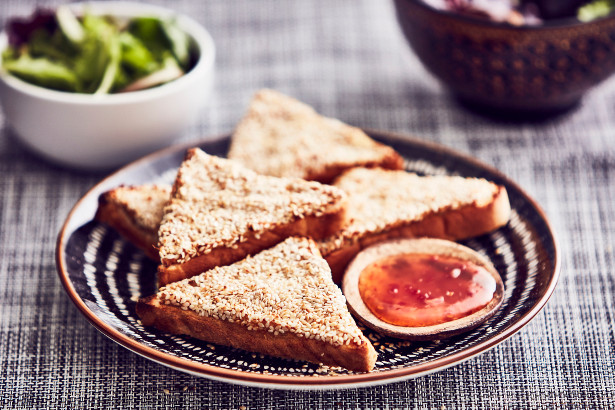 This sesame toast takes 20 minutes to prepare and just 10 minutes to cook
We recommend using Roberts Thick White Bread
Serves 8
You'll need
250g drained tofu
1-2 teaspoons of seaweed (or umami) salt (in some supermarkets, or online)
1 tbsp baking powder
1 tbsp water
2 tbsp sesame oil
2 tsp ginger, fresh
1 tbsp light soy sauce
1 small red onion
8 slices of Roberts bread
How to make it
Pre-heat your oven to 200°C. Put the tofu, umami salt, baking powder, water, ginger, soy sauce, onion and sesame oil in your food processor and pulverise to a paste.
Quarter each slice of bread diagonally then slather the flavour-packed paste across one side, with a little mound in the middle.
Pour the sesame seeds onto a plate and press each bread triangle, paste-side down, into the seeds to give them a smooth, scrummy covering.
Pop them on a baking tray and crisp them in the oven for 10 minutes (giving you just enough time to learn a couple of tai chi moves online). If you want the top more golden, just stick them under the grill for a few minutes. Now say "open sesame" and tuck in.
Full details and more images of the dishes – along with lots more recipe inspiration – can be found at https://www.robertsbakery.co.uk/recipe-inspiration.
Two Books That Change Lives By Bronwen Sciortino! Keep it Super Simple & The Economy of Enough! They are both available on Amazon
Available at :- www.amazon.co.uk/keywords=bronwen+sciortino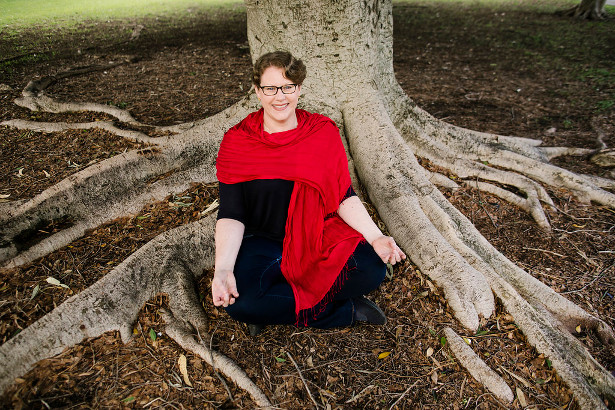 FACEBOOK | LINKEDIN | INSTAGRAM
Keep It Super Simple: Tips from a Recovering Perfectionist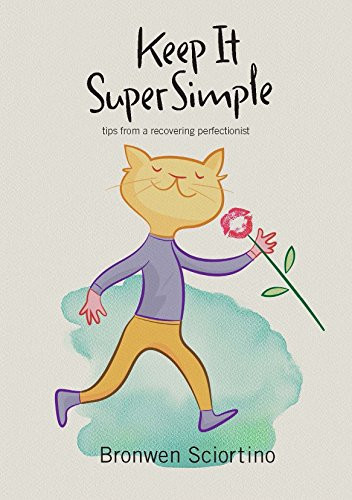 Creating A Simpler Life And Overcoming Overwhelm
Keep It Super Simple – Tips from a Recovering Perfectionist
When it comes to creating a simpler life there's many things that can impact us. This highly engaging book by award winning business woman and author Bronwen Sciortino, offers a brilliantly simple approach to overcoming overwhelm and living a life with less stress and more resilience.
Described as 'chocolate for the soul' …. 'Keep It Super Simple':
– shows you how to live life differently, every day;
– shows you how to find the best ways to recharge YOUR energy so you can stop being exhausted all the time;
– shows you the importance of creating your values, align your life to them & live every day being true to you;
– shows you how to minimise the impact of FOMO & YOLO on your life;
– provides you with simple steps to help you make sure you're doing the things that are aligned with who you are;
– shows you how to step away from stress & live a life that is calm & full of energy;
– shows you how you can easily implement simple steps that empower you in YOUR life;
– gives you confidence that there IS light at the end of the tunnel;
– shows you how to be yourself whilst limiting the impact of shame, guilt & recriminations from others;
– shows you how to understand YOUR path to success so you can boldly step into the thick of YOUR life;
– neatly fits in your bag so you can easily take it with everywhere you go;
– workbook style – space for journaling and recording 'Ah-ha' moments in every chapter;
– you can build on your thoughts, comments & feelings – almost like a diary;
– use it as a reference in every day situations – a little 'how-to-do' that's always with you.
The Economy of Enough: Unlocking the Secret to Happily Ever After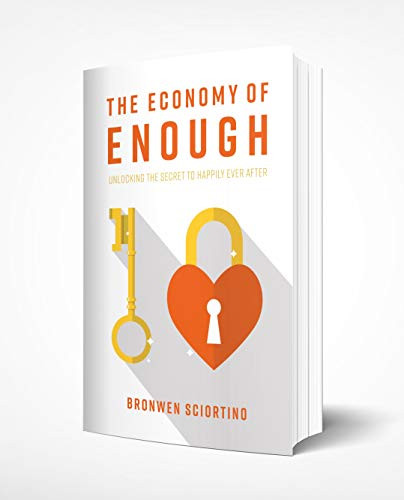 Never put off being kind to yourself again.
What if you could go from feeling like the worst person in the world to stepping into happily ever after?
How about in the time it takes you to read this book?
'You're useless….' 'You're so dumb…' 'How could you be so stupid?'
How many times have you said these things to yourself?
Probably multiple times a day, every day of your life, if this describes how you feel about yourself:
– Never have a kind word for yourself
– Easily find ways you could have done something better
– Have a foreboding sense of resignation that you'll never get anything 'right'
– Hold yourself to much higher standards than everyone else
– Nothing you ever do is 'good enough'
In her latest book, award-winning businesswoman Bronwen Sciortino unlocks the secret to happily ever after and shares practical and easy steps to allow you to experience the same love and commitment you give to everyone around you.
From exhausted to exulted, this book reveals just how easily you can infuse your life with outrageous happiness, love and laughter – using an easy to follow process and with loads of ease and grace.
The world is waiting for you to become the magnificent person you were always supposed to be.
Let's be real. There are no 'miracle' cures that work without applying attention. But there are simple and practical steps you can easily take to move your life in a different direction.
Infused with all the 'downloads' you need to catapult your life differently, The Economy of Enough is the golden nugget you've been waiting for to understand exactly what you need to be happy.