Start the Day the Right Way with Bioglan Superfoods
Great tasting superfoods makes it even easier to be healthy -either by capsule or powders that can be added to a smoothie/recipe for a much- needed daily boost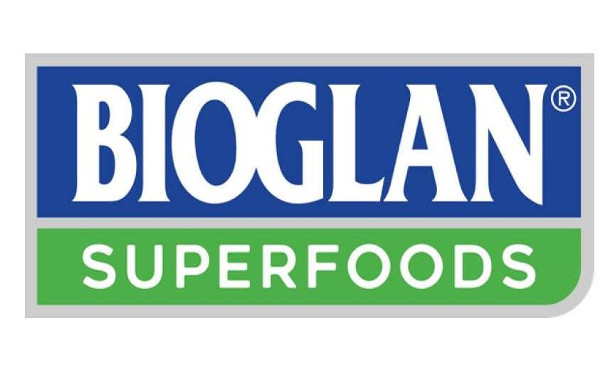 FACEBOOK | INSTAGRAM | TWITTER | PINTEREST
Australian brand Bioglan Superfoods have been hard at work, harvesting the world's finest quality ingredients, to make better tasting healthy products, new look packs and even new products, to ensure that everyone can get some the necessary vitamins, minerals and superfoods into their diets.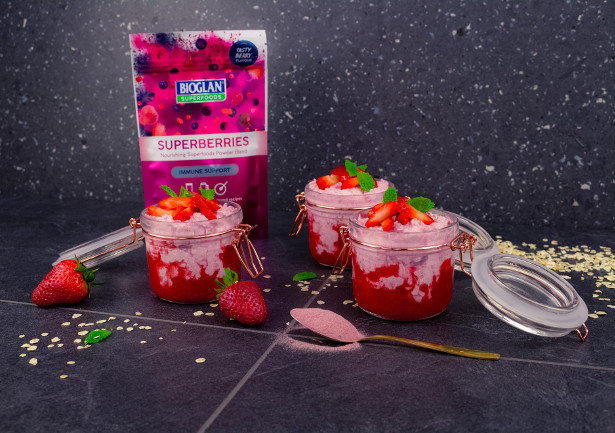 Where we were once told we need to eat 5 portions of fruit and veg a day and we should ingest 'superfoods'; (nutrients and minerals found from seeds, leaves, fruits and vegetables, which help the body in a positive way), we've now been told that we need 10 portions a day and to ensure we eat these 'superfoods' daily. However, how can we ensure we are getting what our bodies really need, when we haven't got the time or money to do so? Enter Bioglan Superfoods, an easy way to get these much- needed superfoods, that give your body natural vitamins and minerals, into your daily diet, hassle free and cost effective. Either take a couples of capsules in the morning, or add one of the powders to a morning smoothie, sprinkle on cereal or include in a delicious recipe to get the full benefit.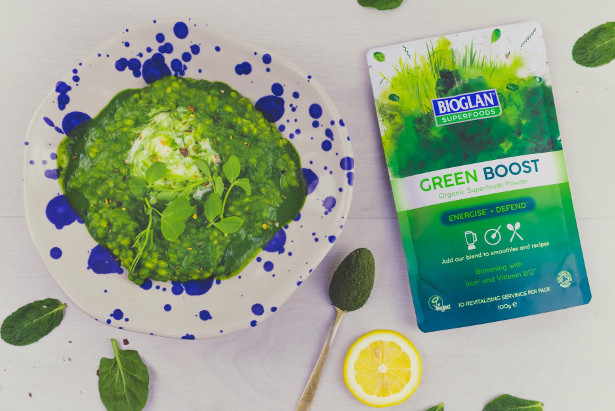 With a range of great tasting powders, such as Superberries, containing an array of colorful berries including Goji, Acai and Pomegranate, with added Vitamin C&K (great for skin, hair and nails) and Folic Acid with Magnesium (great for women) or the Supergreens, made up of amazing superfoods such as Spirulina (which has more protein than 5x steaks – so great for vegans) and Chlorella, an algae that draws toxins from the body and lowers cholesterol and blood sugars, with added vitamins B12, C and E for energy. The powders have all been made to taste great, no earthy, grassy flavours here, just yummy sweet fruit notes or warming spices that taste great in recipes or even with nut milk or just plain water. .
Bioglan Superfoods powders are super easy to use, just two teaspoons in your regular smoothie, or on your cereal to set you up for the day, The powders are also great in recipes, ideal for whole family- the Green Boost is yummy in a pesto and the Cacao Boost makes some fab healthy chocolate and raspberry muffins. You can make a huge change to your health without making a huge change to your lifestyle or bank balance.
If you're not a foodie or like to keep breakfast as is, then Bioglan Superfoods has that covered too, with a range of easy to take capsules that help with everyday wellbeing. Organic Spirulina capsules, with added vitamin C, are great for giving you energy and the Organic Turmeric capsules help with joints and the immune system.
In a world where we all want to be healthier and we are more conscious of what we put into our bodies, Bioglan Superfoods allows us to take control of our health in a versatile, quick and easy way,
The full range can be found at www.bioglansuperfoods.co.uk along with a whole host of recipe ideas.
Range available online and in store at Holland&Barrett, Boots and in Tesco.
RRP Superfood Powders: £9.99 for 70g Superberries, Green Boost, Supergreens or the Cacao Boost. £4.99 for 100g Organic Cacao and for the Flax + Chia.
RRP for the Superfood capsules: £14.99- £16.99 for 60 capsules