Summer is here! Check out these phenomenal new products from Fade Away Scar Management company that is all the rage with women, children and even men! www.fadeawayscars.com
(Image top left Image via BarefootBlonde.com.)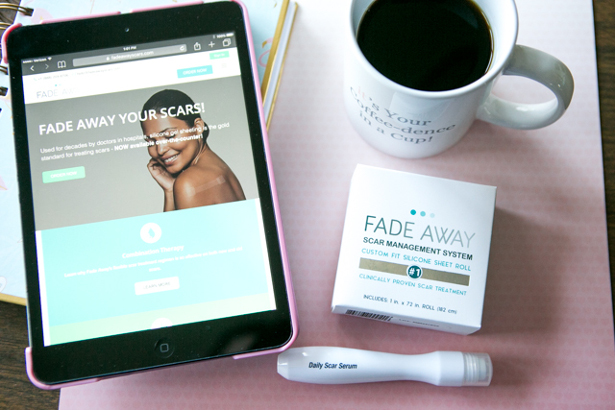 FACEBOOK |INSTAGRAM | YOUTUBE | TWITTER
Summer is here and I would like to introduce a phenomenal new product that is all the rage with women, children and even men! Many people feel self-conscious about their scars during swimsuit season and the Fade Away Scar Management company offers two revolutionary products (with more to come) that truly fade away scars non-surgically with their silicon-based products. The Silicone Gel Scar Roller is clinically proven to fade and flatten scars, and the Surgery Silicone Sheeting Tape is clinically proven to improve the appearance of new or old raised, or discolored scars. Ladies, this is even a perfect product for C-section scars. You can check out the photos below, but you are truly going to want to try out this amazing product to see the results for yourself.
The Fade Away difference is that the Silicone Gel Scar Roller and Surgery Silicone Sheeting Tape were created by medical professionals with years of experience in the plastic surgery field (they actually own the largest plastic surgery practice in the Midwest) and guarantee actual results vs. products you may see on your late night infomercial. Please let me know your availability for an interview and if you would like a product sample for a review. I look forward to hearing from you! In the meantime, if you would like additional information, please visit: www.fadeawayscars.com
BIO
ASHLEY KALUS, MPA
Ashley Kalus, the CEO of Adhereon, is a medical industry entrepreneur with over 10 years of experience creating and growing businesses.
Prior to her role at Adhereon, Ms. Kalus created the largest cosmetic surgery practice in the Midwest by anticipating the commoditization of the cosmetic surgery market, introducing retail installment loans into surgical financing, and vertically integrated the business to include accredited surgical facilities. The result is a multi-million dollar cosmetic surgery brand currently in two states with plans for further national expansions. Ms. Kalus started her career in Management Consulting at Accenture in the Communications and High Tech Industry Division where she worked on large scale system implementations and business process outsourcing for Fortune 100 companies.
Ms. Kalus has two Masters Degrees awarded with Honors from the London School of Economics (Economic Policy with a focus on Regulation) and Columbia University (Security Policy). She holds a Bachelors of Business Administration in Finance (Investments) and a Bachelor of Arts in Legal Studies from the University of Massachusetts at Amherst. She has won numerous academic and service awards for her civic work which has included serving as political campaign staff, consulting with the United Nations Department of Peacekeeping Operations, serving as a District Court Mediator and the Pew Foundation Civic Engagement Fellow.
Ashley's disciplined, goal-oriented approach to life and unbridled love of learning has led to a 2001 Golden Gloves boxing title, a spot as a Division I rower in college, and mean goat herding skills acquired during her time living with a Mongolian family in the Gobi desert.