This Christmas Create your own festive floral arrangements with FlowerBe
FACEBOOK | INSTAGRAM | TWITTER
FlowerBe is a unique, one-of-a-kind flower delivery service, brainchild of siblings' Li and Sean. What sets FlowerBe apart is that they give you the opportunity to style your flower arrangements yourself, rediscovering the joy, art and creativity of flowers. You get the tools in a box, loose and unarranged along with ideas and inspiration and of course – your seasonal flower selection. A beautifully laid out yet comprehensive booklet will outline what your delivery has included, along with some tips and images for styling inspiration. What makes FlowerBe entirely unique is they offer a variety of styles every month and clients get to choose which selection best suits their style. On top of this, FlowerBe also offer a flexible pay as you go option, eliminating the fear of subscription fees.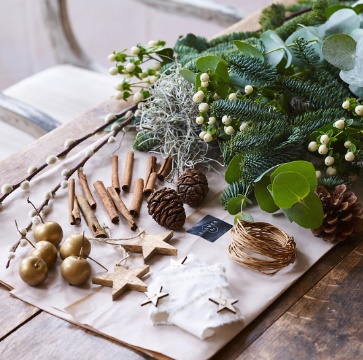 Taking it an extra step for the festive season, FlowerBe are offering the 'Get Creative Box', a selection of decorative accents to add to your arrangements, mantle and table centrepieces. The loose selection of festive bits and bobs along with flowers will be everything you need to create a beautiful Christmas home. Decorations include twine, pine cones, cinnamon sticks, salix, golden stars, ribbon and reindeer moss.
The Christmas Get Creative Box goes on sale from 14th November through to 19th December, priced at £30 including delivery. The December flower selections will be available to order from 26th November with a final order date of 19th December to ensure delivery by 21st December.