WIN FOXY PANTS!
Brand new for little ones, from Drumond Park Games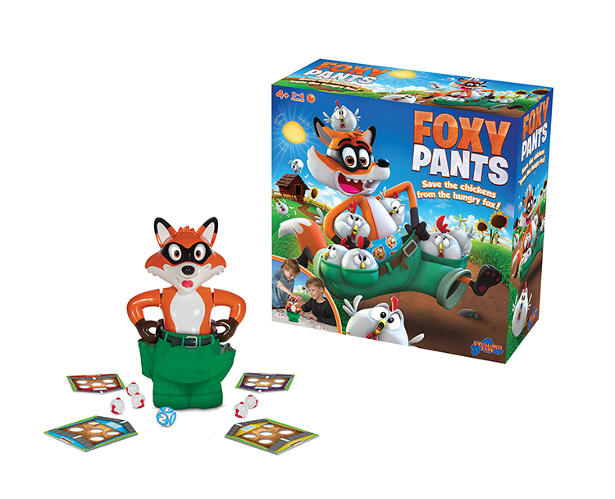 Our friends over at Drumond Park have come up with an absolute corker of a game for little ones this Autumn… the irrepressible, hugely entertaining Foxy Pants (rrp £22.99, for ages 4+) who does, quite literally, get caught with his pants down! Bursting with excitement and thrilling anticipation – but simple to play, this brand new action game is set to be massively popular with little ones with its unbeatable combination of super-fast fun and just a twist of dexterity.
Players will need to watch out for the dastardly Fox who sneaks around the chicken coop, looking to fill his pockets with sleeping chickens. But once Foxy's pants get too full of stolen hens, watch as they suddenly disappear before your eyes, as if by magic! The kids just love it. The chickens are sent flying across the table … and it's time to see who can react the fastest, nimbly gathering up the most hens – using one hand only. There are five spaces in the chicken coops, and the first child to fill their coop is the winner – and that thieving Foxy is beaten once and for all!
To be in with a chance of getting your hands on this hilarious game, simply share our competition post on Twitter HERE or Facebook HERE
For more information and stockists visit www.drumondpark.com
Have a look at Drumond Park's Facebook and Twitter feeds – facebook.com/drumondpark and twitter.com/drumondpark. And to catch up on all the news on their crazy blog go over to drumondpark.com/blog