Winter Essentials! Coping with Weather Emergencies. Extreme Winter conditions… Snow. Ice. Sleet. Arctic Winds. Plummeting Minus Temperatures. Remaining Safe / Mitigating The Disasters & Coping Successfully / Surviving & Thriving Amidst All Of This…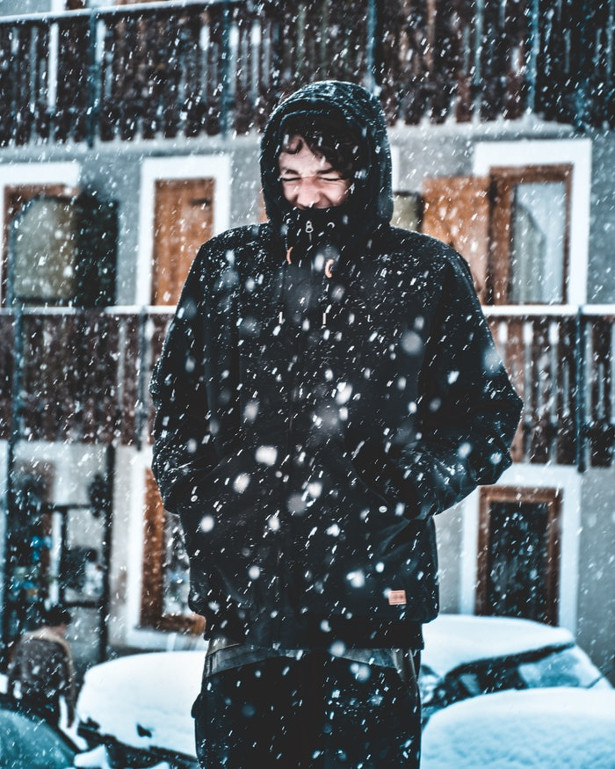 Meet Jack Frost's New Nemesis: ewool
Introducing the World's Warmest Heated Vest,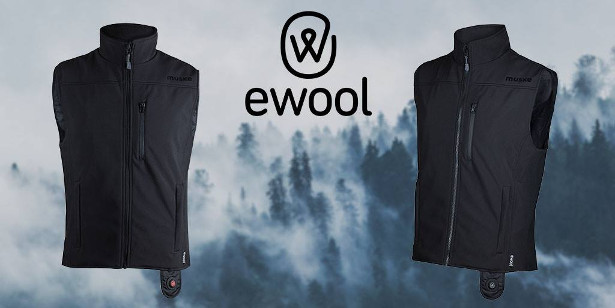 FACEBOOK | TWITTER | YOUTUBE | INSTAGRAM
Much of Canada is amidst  a long, cold and snowy winter according to The Weather Network, which couldn't make Alain Desmeules happier.
The Montreal-based inventor of the world's warmest heated vest was inspired to create the form-fitting and stylish ewool vest after watching countless weary Canadians huddling in the cold outdoors.
"I would see all of these people just hating the cold and I thought – I can make this experience much more bearable, even pleasant" for them, said ewool creator, industrial engineer, Alain Desmeules.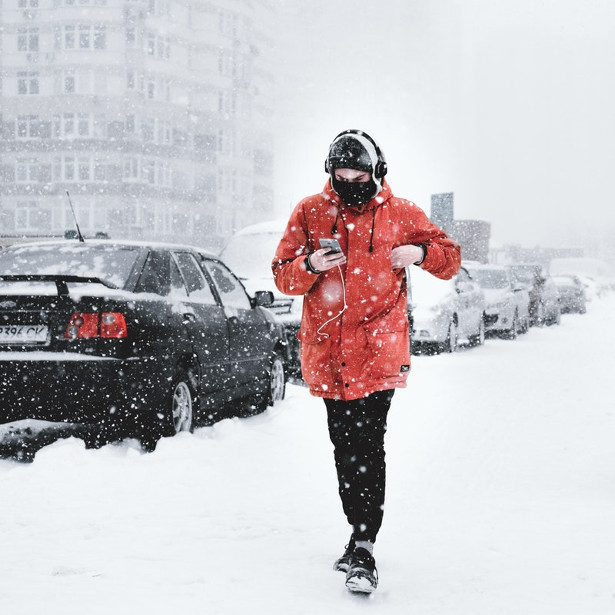 With over 20 patents to his name, Alain spent over 5 years developing the patented heated technology and the heated vest itself to make the ewool truly extraordinary. Key is the amount of power that it can generate: up to 5 times the power of any other heated vest on the market.
Origi nally designed for professionals who work in extreme cold conditions such as police officers land surveyors and cold-storage workers, Alain has turned his sights to bring the ewool to everyday Canadians, including commuters, skiers, snowmobilers, ice fishers, and anyone who wants to more than just braves the cold, but instead, embrace it.
"I've had "people tell me that it's really changed their lives", added Desmeules.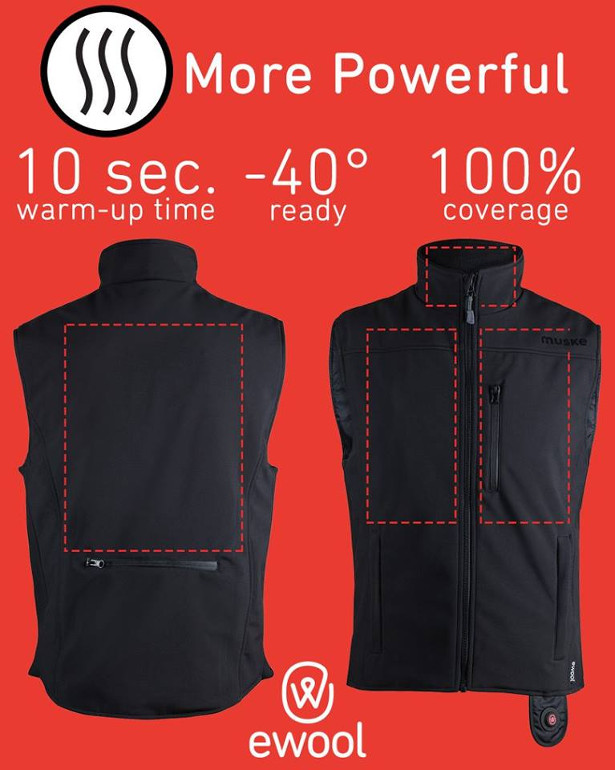 Within just seconds, the vest is warmed up, with heating elements woven throughout the vest including the collar. And unlike conventional heated vests, you don't have to take the battery out at to charge, something that many find a hassle with conventional heated vests. He even tweaked the placement of the on/off button to be an external tag, allowing people to quickly control their access to the heating feature. The vest can even b e plugged into any 12V adapter to allow for continuous heating without using the battery, perfect for the snowmobile aficionado.
The vest even has 2 settings, regular and max, allowing you to adjust the level of heat needed. And if you're getting a little too toasty, you simply hit the power button and the vest stops generating heat in seconds.
The ewool comes in a variety of sizes from Small to XXL, in unisex.
If Alain Desmeules has his way, Canadians will no longer have to have to dread Old Man Winter.
For more info, go to: www.ewool.com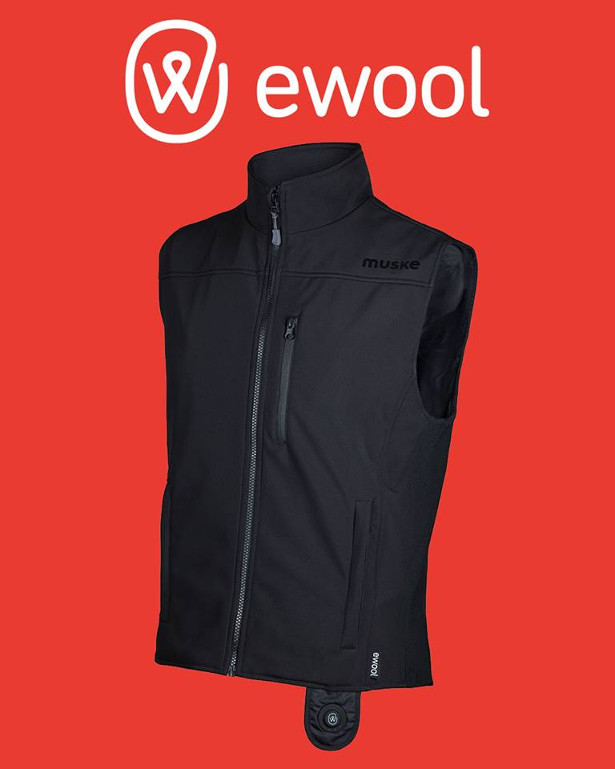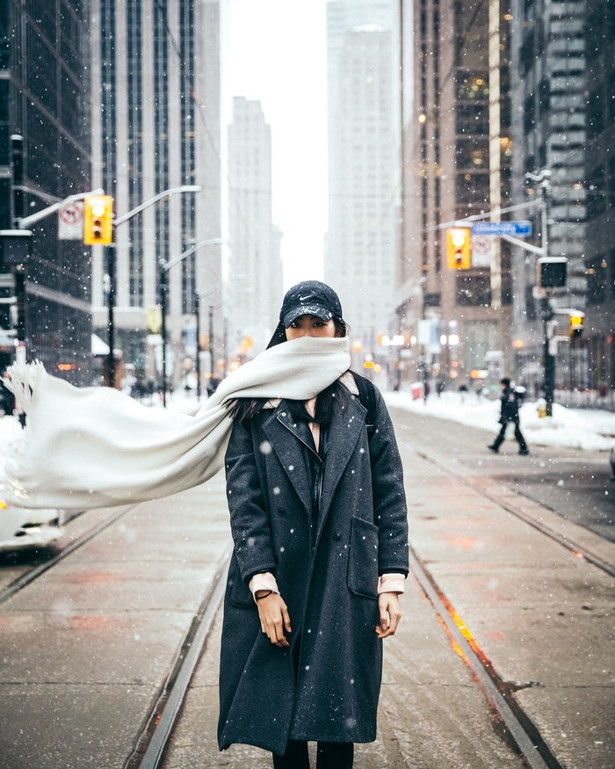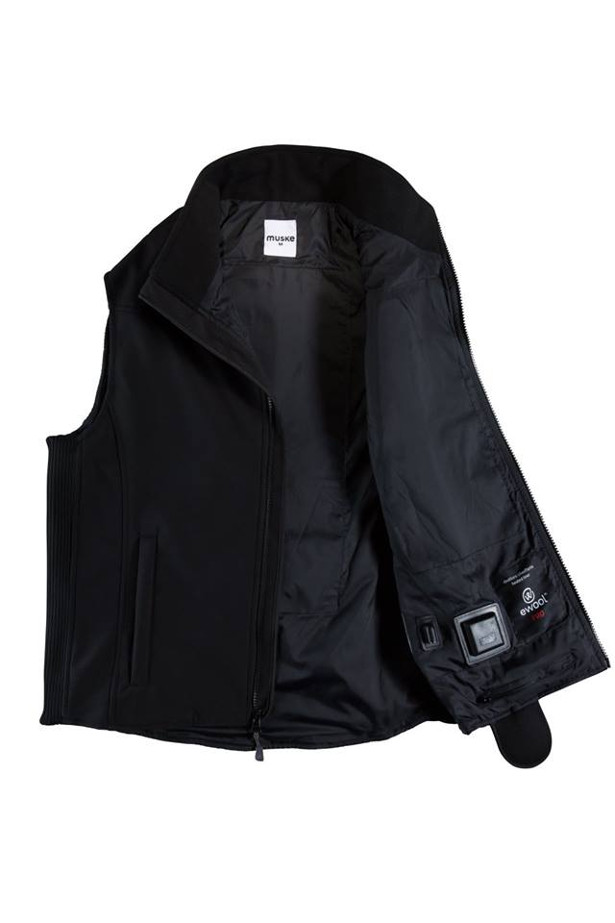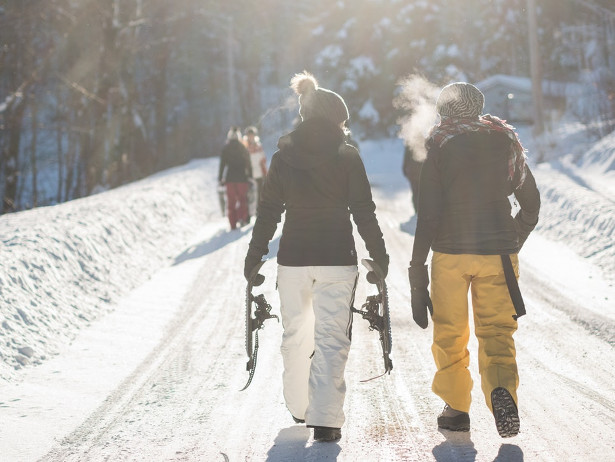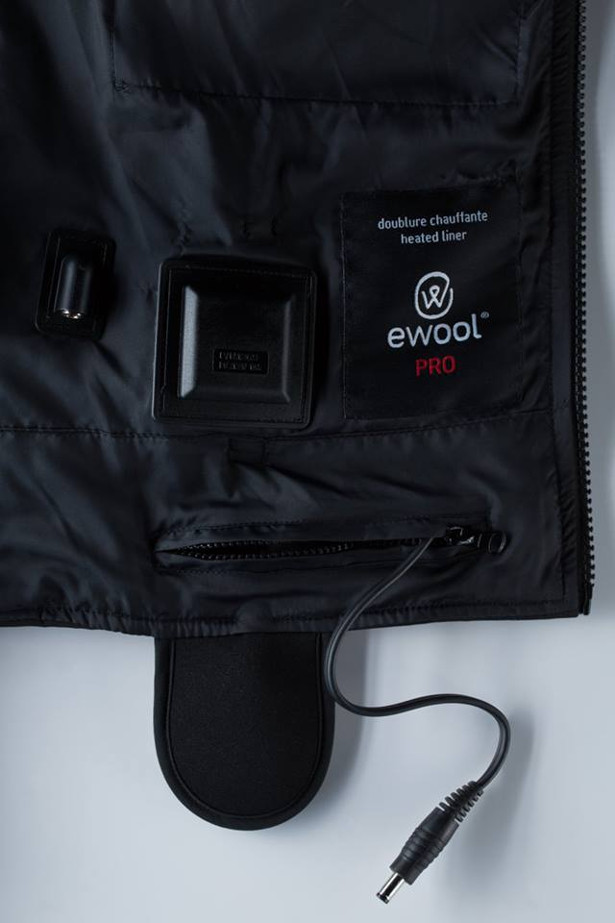 Train warm this winter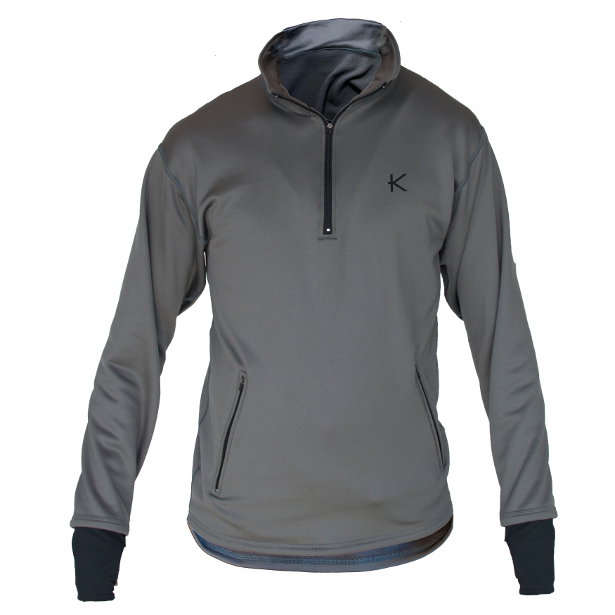 TWITTER | FACEBOOK | INSTAGRAM
KYMIRA Sport, the original producer of infrared sportswear, launched its brand new winter collection at the Ski and Snowboard Festival on 25th – 28th October 2018 (Battersea Evolution, London), which included garments that ensure customers can begin winter sports training.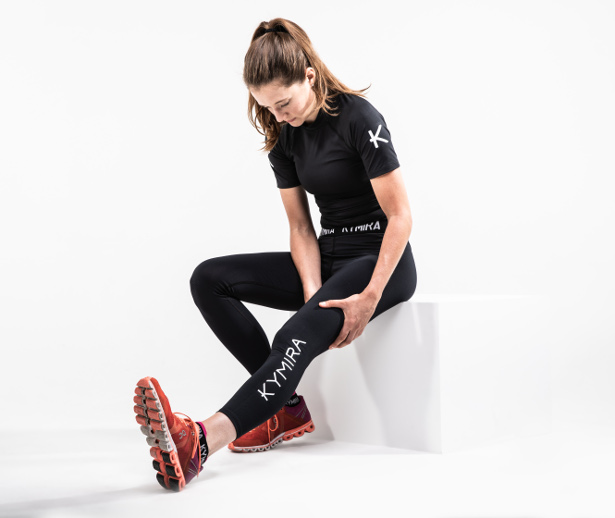 Using KYnergy technology, KYMIRA Sport's garments are recognised by the sports industry and professional athletes for improving performance, accelerating recovery, regulating body temperature and increasing microcirculation. The new garments in this season consist of gloves, a ¼ zip mid-layer and a full zip hoodie each embedded with its KYnergy technology.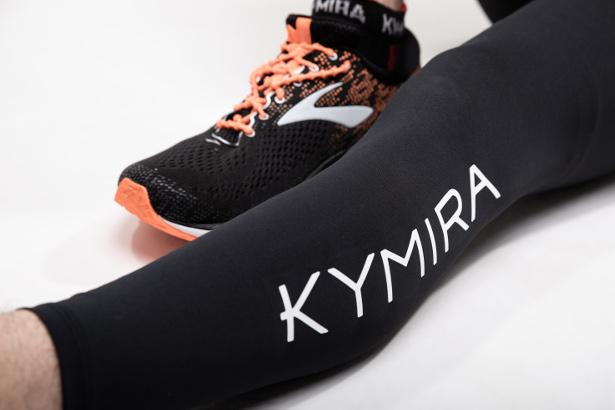 Made with water-resistant infrared fleece, the gloves have been designed for use in colder climates. With infrared technology to boost circulation in the hands and wrist, the gloves help to maintain warmth and dexterity while keeping the wearer's hands dry in wetter conditions. The gloves also feature silica microdots for grip and capacitive finger tips which are compatible with all types of touch screen.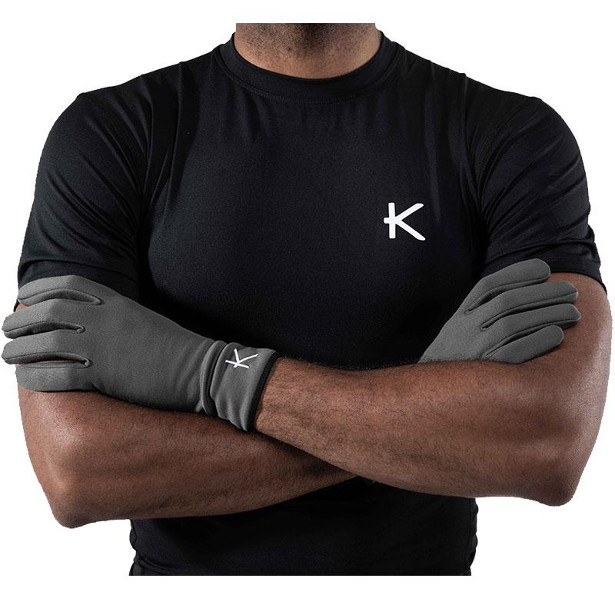 The ¼ zip fleece and full zip hoodie have both been designed to match an active lifestyle, tapered to the wearer's body. The new range is the ultimate mid-layer for any outdoor enthusiast. Boasting a new water repellent Kymira fabric, both the fleece and hoodie will promote circulation throughout the upper torso, maintaining warmth, keeping the wearer dry and regulating temperature.
In addition, the fleece features zip-lock pockets to keep possessions safe and a high rise collar to protect against harsh winds. Furthermore, the fleece's wide zip-lock neck can be easily taken off when wearing a helmet and its snow stop sleeves fit into or over gloves to prevent any snow getting in. The oversized hood on the full zip infrared hoodie can also be used with or without a helmet, perfect for winter sports enthusiasts on the go.
Tim Brownstone, CEO and Founder of KYMIRA Sport, commented: "We're delighted to be offering a new range of winter garments, adding to our already extensive range of sportswear. Designed with our KYnergy technology, the garments will assist both the pro and amateur athletes alike in regulating their body temperature and enhancing their performance and recovery time, particularly for those undertaking in outdoor sport."
GLOVES £40
¼ Zip £120
Full Zip Hoodie: £140
About KYMIRA® Sport
KYMIRA Sport was founded by Tim Brownstone during his final year (2013) at the University of Reading. The primary reason for starting KYMIRA Sport was to bring to market a technology Tim had been researching and developing during his time at University.
The brand KYMIRA Sport is primarily focused on performance and recovery enhancing apparel for elite and lifestyle athletes alike. These products were developed in partnership with a Californian technology company who they still work closely with today to further research aims and exposure on a global scale. Within the first 3 months of KYMIRA Sport products being available on the global market, direct sales were coming from Australasia, the Middle East, Mainland Europe, the UK and the US, all of which were achieved through organic growth.
KYMIRA Sport has won multiple accolades, including:
2017 SXSW Best Bootstrap Company winners
Lloyds Bank Enterprise Award 2014: Best Start-Up (London & South East).
Shell Live WIRE Award, SY Global Entrepreneur Awards: Most innovative start-up
SY Global Entrepreneur Awards: Best tech start-up
Best Tech Start-Up in the Thames Valley
Connecting Thames Valley Tech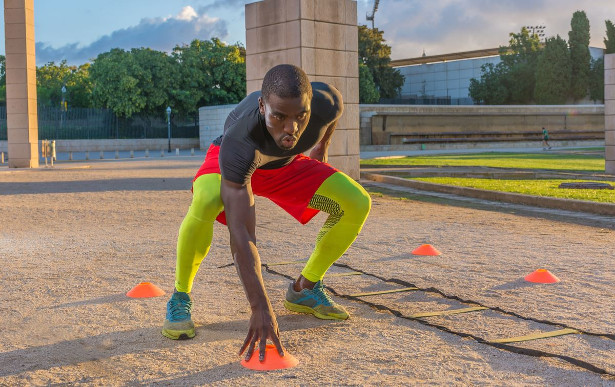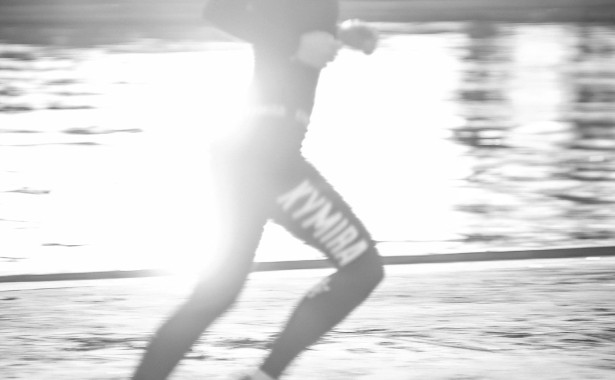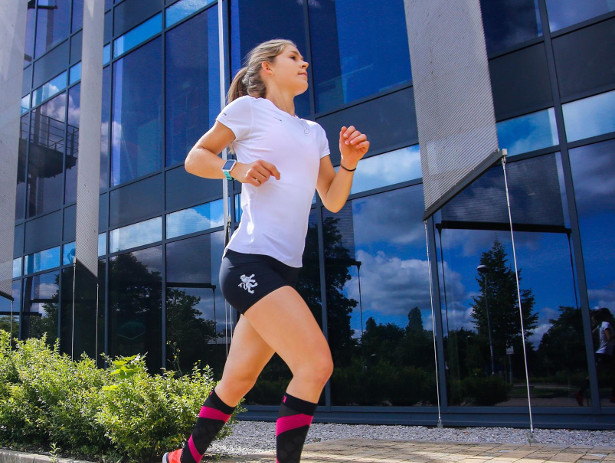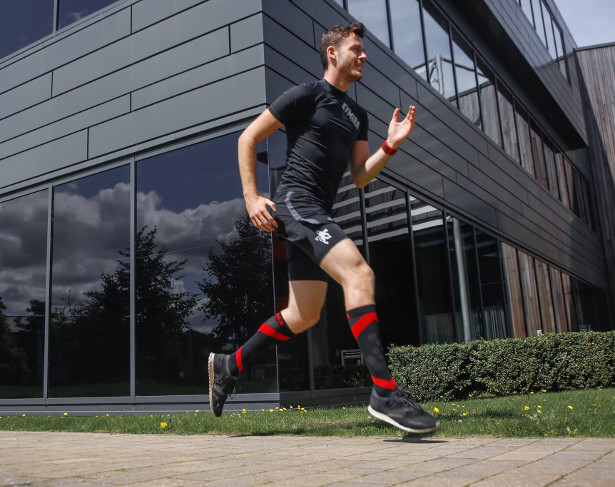 WINTER SUN MADE EASY
Silver Cross Jet For Compact Travel

If you're jetting off for a holiday abroad with your little one this winter, then the all-new, ultra compact lightweight 'Jet' travel stroller from Silver Cross is a must!
Jet folds so small it can be taken on board an aircraft and stowed away in the overhead locker, alleviating the risk of damaging the stroller in transit. And, once off the aircraft, baby can go straight back in the pram.
When not in use, Jet can be wheeled along like a small suitcase, protected by a smart cover which keeps everything tidy whilst on holiday.
Roomy and robust, Jet is suitable from birth with a soft-padded seat that reclines to a lie-flat position in one easy action – and with the addition of the Simplicity car seat and adaptors Jet converts into a compact travel system.
If you're off for a bit of winter sun, then the fully extendable UPF50+ hood with an air-flow ventilation system is perfect for keeping sunny rays off your baby. The Flip-flop friendly brake means you don't have to chip your holiday pedicure!
Available in five stylish colours. Suitable from birth up to 15kg.
£275
www.silvercrossbaby.com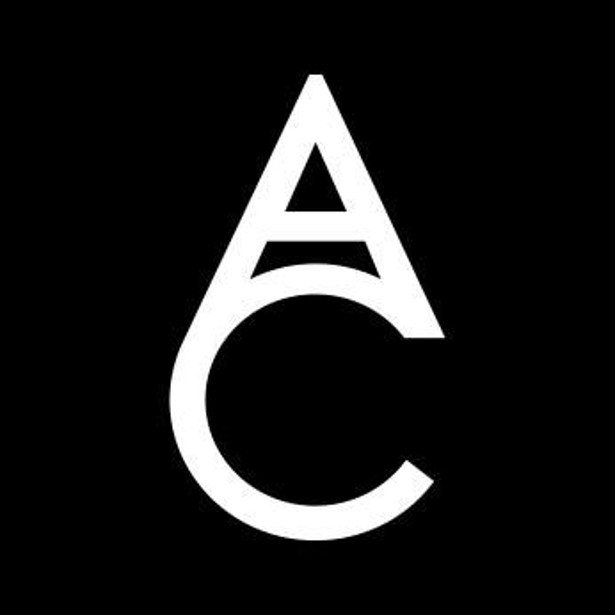 Make a Sparkling Start to 2019 with Nature's Finest Water www.aquacarpatica.com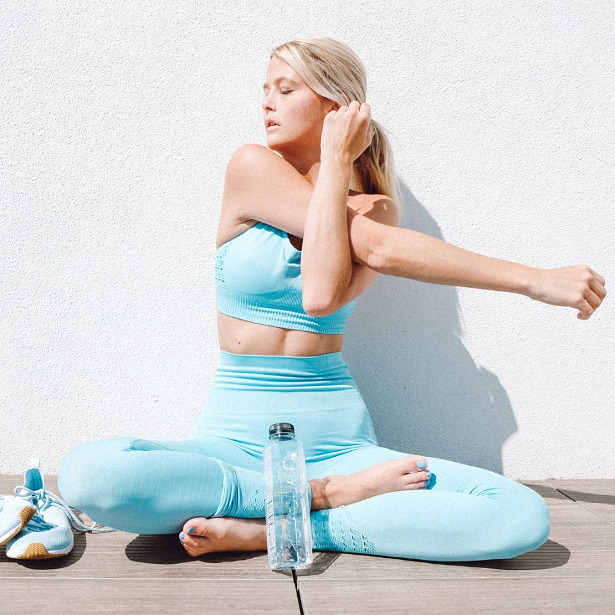 FACEBOOK | TWITTER | INSTAGRAM
Make a Sparkling Start to 2019 with Nature's Finest Water
Forget the juice cleanse and head back to nature – AQUA Carpatica mineral waters will nourish you from the inside out
Sourced from splendor
No ordinary mineral water, AQUA Carpatica Mineral Still and AQUA Carpatica Mineral Sparkling water is sourced from the picturesque Carpathian Mountains, an area untouched by civilization and rich in wildlife. Bottled at source. The end result is a smooth, clean and award-winning taste.
Vegan vitality
Attempting Veganuary? Each 1l bottle of AQUA Carpatica Mineral Sparkling water contains 39% of your recommended daily clacium allowance, ensuring that even those following a vegan diet can get enough of this essential mineral
Naturally Nitrate Free
Unlike many other brands, AQUA Carpatica Mineral Still water is virtually nitrate free, and AQUA Carpatica Mineral sparkling water is naturally free of nitrates. It's water, as pure as water should be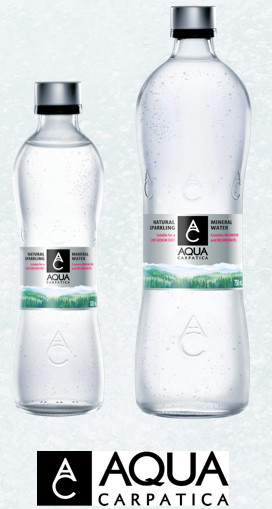 RRP & Stockist
AQUA Carpatica Mineral Sparkling Water is available in Ocado, Wholefoods, WHSmith, selected Tesco stores and independent health food stores.
330ml RRP £1.29
750ml £1.75
105L £1.20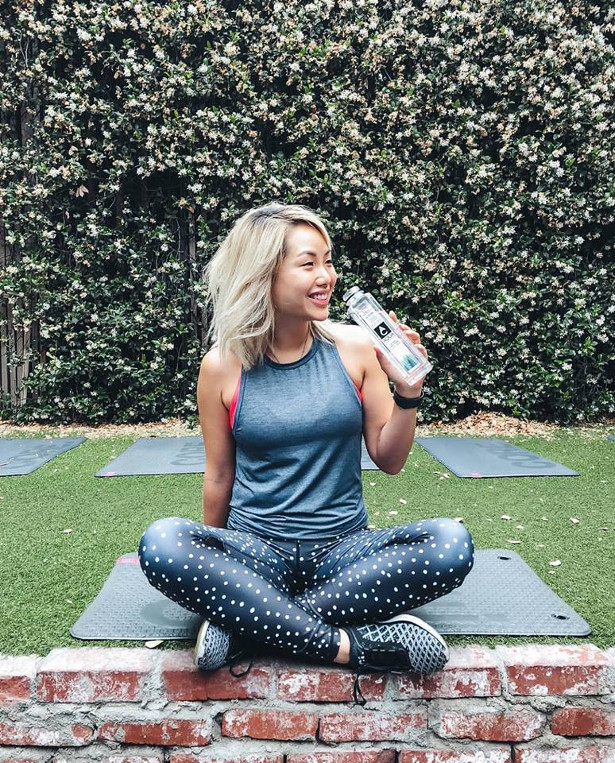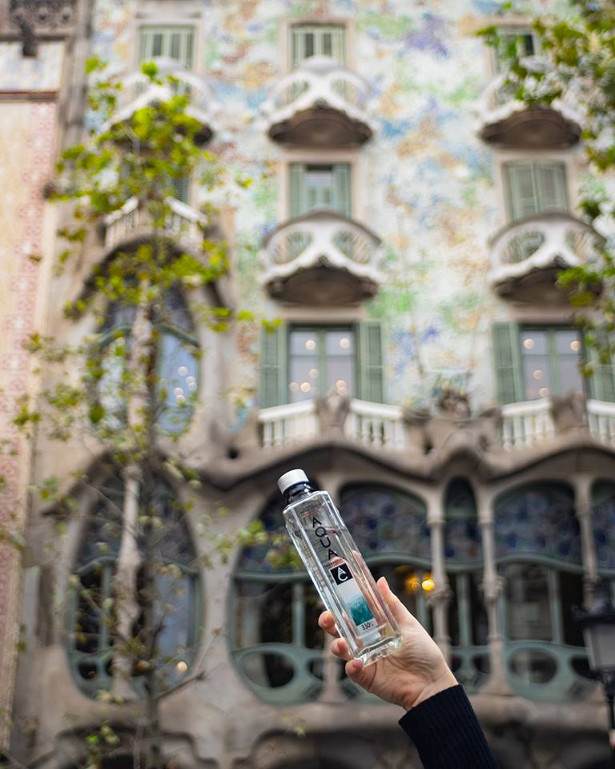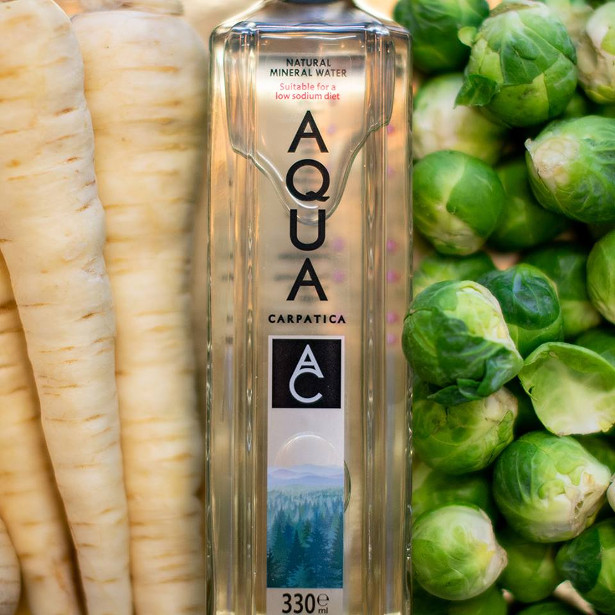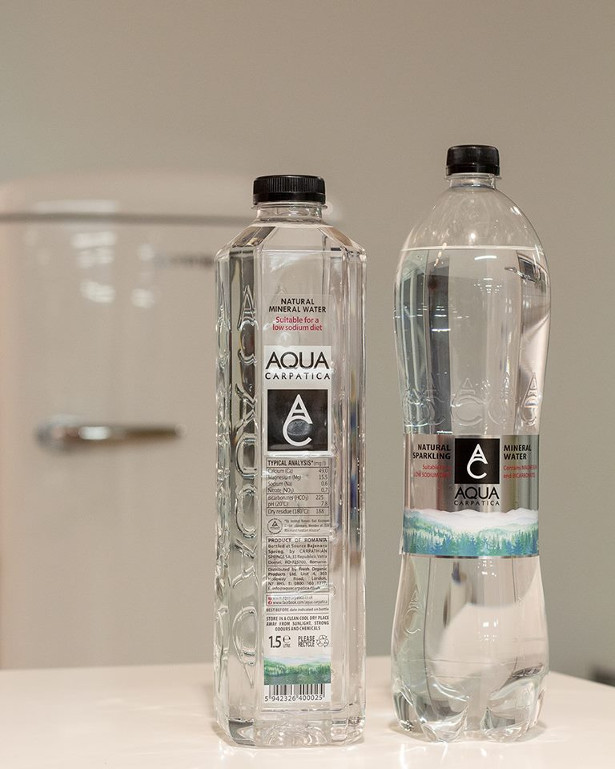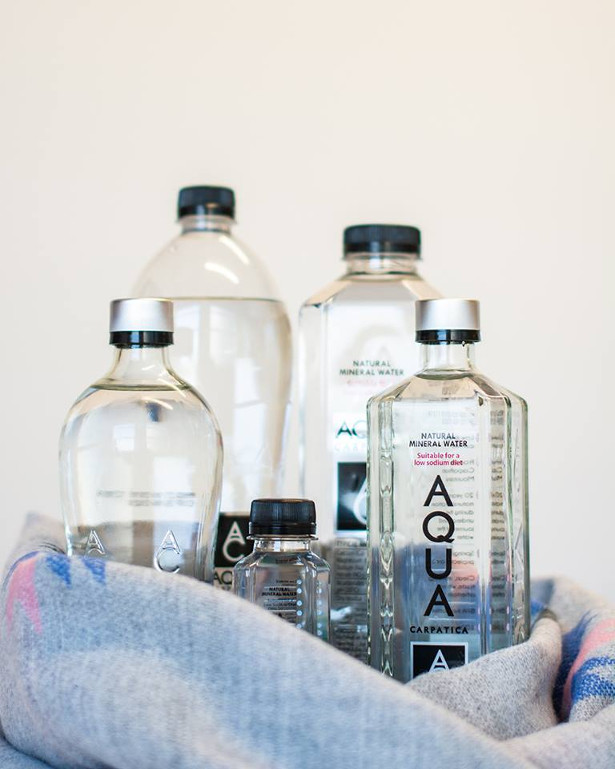 The Nines Gentleman's Shoppe
Harsh winter weather can leave your skin feeling flaky, dry, itchy, and maybe even cracked.
Cold weather causes your skin to dry out due to low environmental humidity which can be especially brutal for those of us who already have a dry skin type. That's why The Nines Gentleman's Shoppe has put together a combination of products that will help keep your skin soft and prevent that uncomfortable itchiness associated with seasonal dryness. Here's what's included in their package:
1. Rock & Roll Revival by Drifter Grooming is an all natural, high fat bar soap that will leave your skin soft and smelling great for hours.
2. Daily Clarifying Shampoo and Revitalizing Conditioner by Brickell to protect, soften and moisturize your scalp and hair.
3. Brickell's Daily Advanced Face Care Routine II comes with a face wash, face moisturizer and exfoliating face scrub. The skin on your face is thinner, more fragile and more exposed to the elements than any other body part, so it's important to give it extra attention in your grooming routine.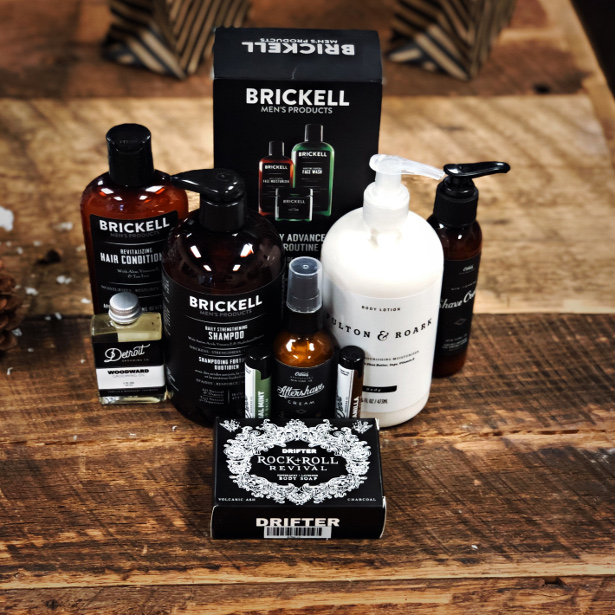 4. Body Lotion by Fulton & Roark smells great and moisturizes your skin without feeling greasy.
5. Non-foaming Shave Cream and Aftershave by O'Douds Apothecary are all-natural and won't strip your skin of moisture.
6. Lip Balm by Detroit Grooming to help soothe and protect chapped lips.
7. Grooming Oil by Detroit Grooming for touch-ups throughout the day. Use on your knuckles, cuticles, eyebrows, beard, or anywhere that has the propensity to dry out.
These products purchased separately are valued at over 250 USD. The Nines has a special winter promotion in which you pick up this entire kit for $225 and ride out the rest of the season in comfort and style.
You can pick up the kit by the owner Hershel a call at 616.288.9906 or contacting him via email contact@theninesman.com.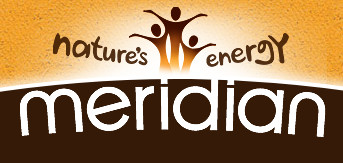 PINTEREST | YOUTUBE | TWITTER | FACEBOOK | INSTAGRAM
RECIPES
Roast Winter Veg & Quinoa Buddha Bowl
Ingredients
1 small sweet potato, peeled and chopped into bite size pieces Handful of cauliflower florets, approx 150g 1 carrot, peeled and sliced into 2cm disks 1tbsp oil 100g quinoa 1 avocado 4 brussel sprouts 1tbsp pumpkin seeds For the dressing ½ clove garlic, grated ½ cm ginger, grated ½ tsp miso paste ½ tsp soy sauce 1tbsp Meridian Peanut Butter with Seeds
Method
1.Heat the oven to 200C/180C fan. Put the sweet potato, cauliflower and carrot in a large roasting tray, drizzle with the oil and season well. Roast in the hot oven for 30 minutes, shaking the tray halfway through to shuffle the veg. 2.While the veg is cooking put the quinoa in a saucepan with double the depth of water. Bring to the boil and simmer for 10 minutes. When the quinoa is cooked drain any remaining water. 3.Make the dressing by mixing together all of the ingredients with 3tbsp hot water until smooth. 4.Slice the avocado, finely shred the sprouts and toast the pumpkin seeds in a dry frying pan. 5.In two large deep bowls, build the dish in sections, piling the roast veg in one side then add a mound of quinoa, some slices of avocado and pile of sprouts. Scatter over the toasted seeds and drizzle with dressing. Serves 2.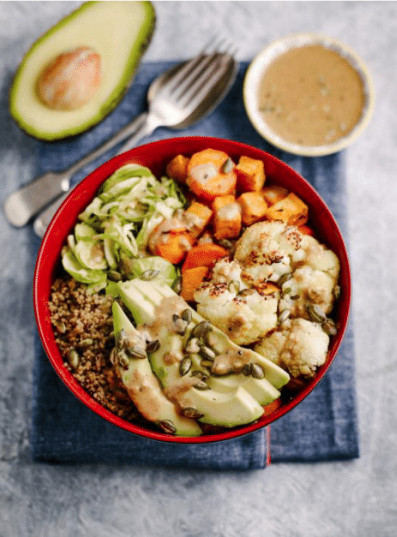 Peanut Butter Mocha
Ingredients
A shot of espresso 2tsp Cocoa powder 2tsp Meridian smooth rich roast peanut butter 100ml Boiled water 100ml Steamed Milk Cocoa powder for dusting Sugar to taste Hand held mini whisk
Method
Mix a shot of espresso with 2tsp of cocoa powder and 2tsp of Rich Roast Smooth Peanut Butter and 100ml of boiled water and mix until all smooth and combined. Whisk in 100ml of steamed milk and top with a dusting of cocoa. Add sugar to taste. Serves: 1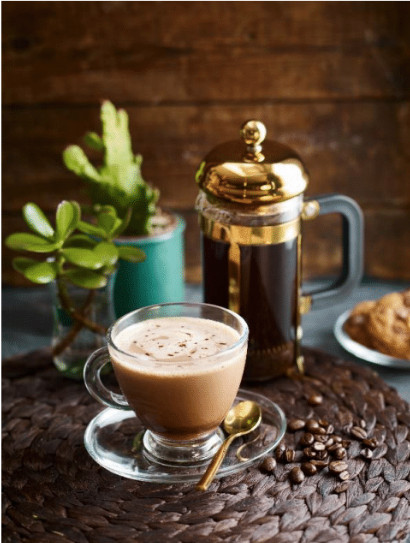 Peanut Butter Chocolate Chunk Ice Cream
Serves: 6-8Takes: 15 minutes plus freezing time
What you need:
4 ripe bananas, peeled, chopped and frozen 200ml almond milk 3 tbsp Meridian crunchy peanut butter Plus 2 tbsp for the ripples 60g dark vegan chocolate, chopped fine
What you do:
Put all the frozen bananas, almond milk and 3 tablespoons of Meridian Crunchy Peanut Butter into a blender and whizz together until smooth. This will take a while, keep scraping down the sides and separate any banana chunks that have become frozen together. Once smooth, remove the blender blade and stir in the chopped chocolate. Tip the ice cream into a freezer container dotting and swirling in the remaining peanut butter as you go, cover and freeze until set. Remove from the freezer 10 minutes before serving. Recipe suitable for vegans.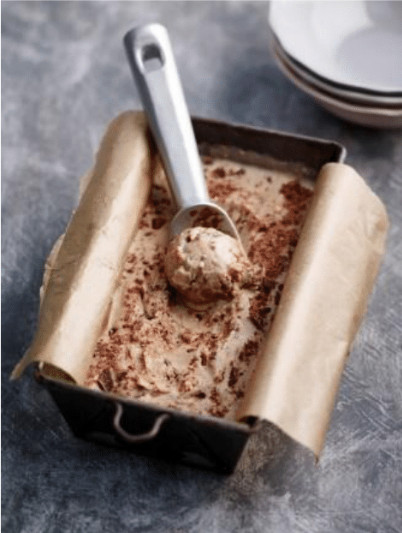 Chocolate Orange Porridge
Ingredients
100g Porridge Oats 500ml Milk 2 eggs, beaten 2 tbsp Meridian Cocoa hazelnut butter 1 orange 2 tbsp Greek Yogurt drizzle of honey and flax seeds to serve
Method
1.In a saucepan combine the oats, milk and eggs and bring to a simmer. Cook for 6-8 mins, stirring regularly until the oats are cooked and the porridge is thick. 2.Stir in the nut butter and the zest of the orange. Add a little more milk if the porridge is too thick for your liking. 3.While the porridge is cooking, slice the skin from the orange and cut into segments. 4.Divide the porridge between two bowls and top with the yogurt, orange, a drizzle of honey and sprinkle of flax seeds.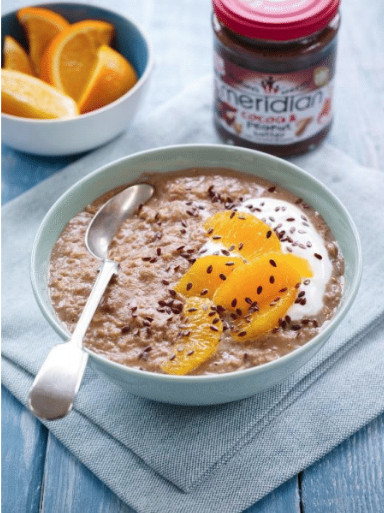 Cashew Butter and Honey Breakfast Muffins
Ingredients
275g self raising flour 50g oats 1tsp baking powder 100g Sultanas 2 eggs 100g runny honey 2 bananas, mashed 100g Meridian Cashew Butter (Smooth or Crunchy)50g butter, melted 200ml milk Makes 12 muffins
Method
1.Preheat the oven to 190C/gas 5 and line a muffin tray with 12 paper muffin cases. 2.Mix the flour, oats, baking powder and sultanas in a large bowl and set aside.3.In another bowl, beat the eggs, and then gently beat in the honey, mashed bananas, peanut butter, melted butter and milk. You'll end up with a gloopy liquid.4.Make a well in the centre of the dry ingredients, tip in the wet ingredients and quickly combine. Don't over mix.5.Spoon the mixture into the muffin cases and bake for 25-30 minutes, or until the tops are golden brown. Cool on a cooling rack.Cook's tip – these muffins are perfect for breakfast in a hurry or as an addition to a sandwich box.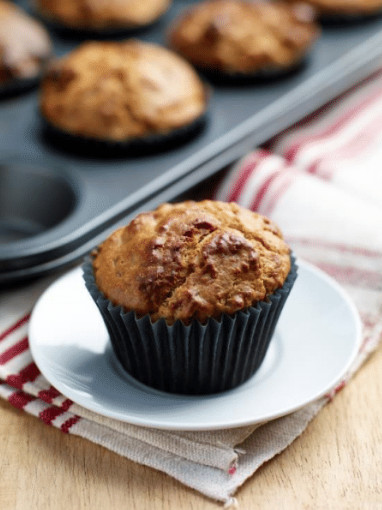 Sweet potato and baby kale Peanut Satay Curry
Serves 4
Takes 20 minutes
What you need
2 sweet potatoes 1 jar Meridian Peanut Satay 2 large handfuls of baby kale Rice, coriander and lime to serve
What you do
. Peel the sweet potatoes and chop into small chunks. Put in a saucepan with the Meridian Peanut Satay sauce. ⅓ fill the jar with water and shake to release all of the sauce and pour into the pan too with the potatoes. 2. Simmer for 10 minutes, stirring occasionally. Add a little more water if the sauce gets too thick. Stir in the baby kale and check that all is tender. Serve with Rice, coriander and lime. Notes Try some other veg combinations for a change. It also works well with cauliflower and spinach. Great for lunch boxes too.
Here are some Images and inspirational ideas from Meridian!
Check it all out on thier social media!
FACT: We do not use Palm oil in any of our products 🧡
We work closely with The Borneo Orangutan Survival Foundation who provide care and rehabilitation for orphaned and displaced orangutans due to deforestation. 🥜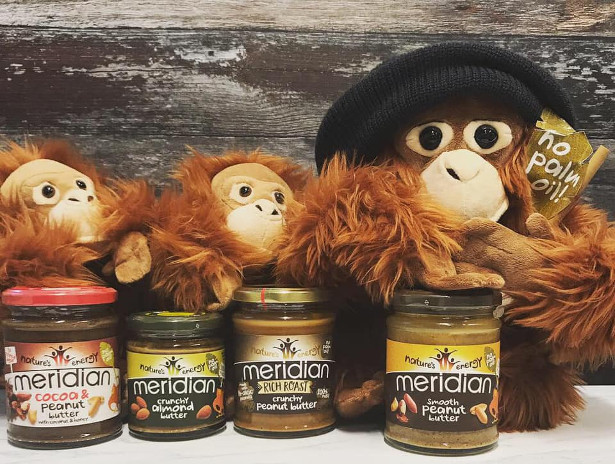 To find out more about our stance on no Palm oil, head over to our website www.meridianfoods.co.uk and click on the Orangutan 🐵
Did you know that our peanut butter tastes great in a stir fry!?
Try this Thai style prawn & peanut noodle recipe: https://bit.ly/2ACzoP4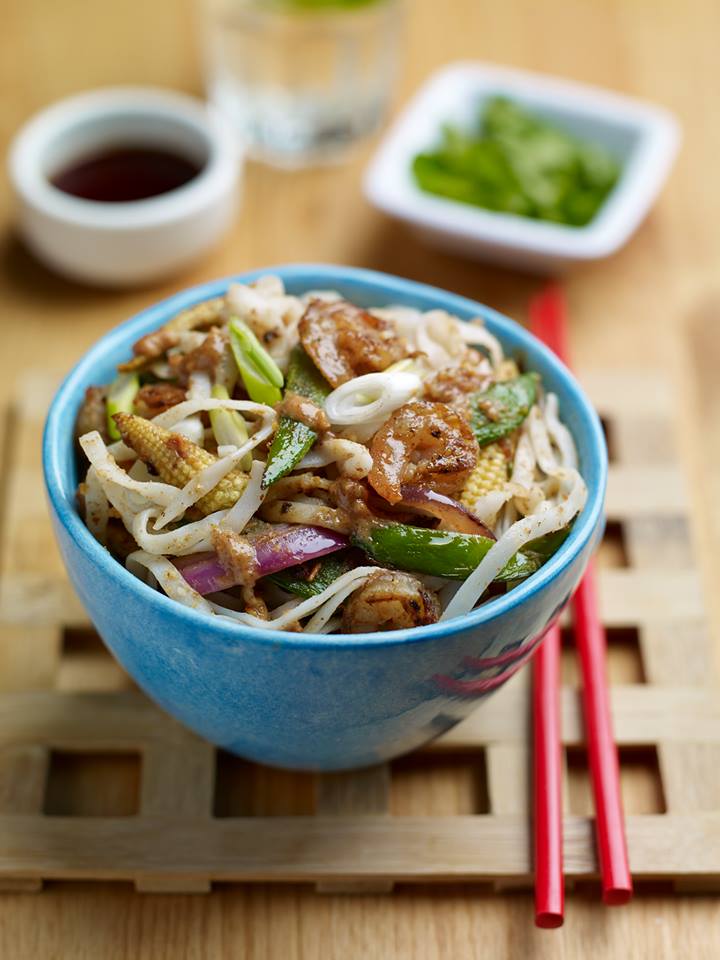 thai style prawn & peanut noodles
Noodles
print
ingredients
4 tbsp Meridian crunchy peanut butter
2 tbsp sweet chilli sauce
1 tbsp dark soy sauce
Juice of 1 lime
2 tsp fish sauce
1tbsp sesame oil
1 red onion sliced into thin wedges
2 cloves garlic
2cm ginger
150g baby sweetcorn, sliced in half lengthways
150g mange tout, sliced in half lengthways
300g frozen prawns
2 x 300g packs straight to wok thai noodles
4 spring onions, sliced widthways
method
In a bowl whisk together the Meridian peanut butter, chilli sauce, lime juice, fish sauce and soy with 2 tbsp boiling water.
Put the sesame oil into a wok or large frying pan and heat till very hot, toss in the onion and stir fry for 2 mins. Finely grate the garlic and ginger directly into the pan and continue to stir fry until the onion starts to soften.
Add the sweetcorn and mange tout then the frozen prawns. Continue to stir fry for 3-4 mins on a high heat until everything is hot. The vegetables should be tender but not soggy.
Finally add the noodles and the dressing and toss well. Once the noodles have warmed and everything is coated in peanut dressing, divide between 4 bowls, top with the spring onions and serve.
Serves 4
Nut butter and toast is a simple yet delicious treat! Have you tried our Cocoa & Hazelnut butter on toast? We have 🌟15% off🌟 our Cocoa range- SHOP NOW! 🛒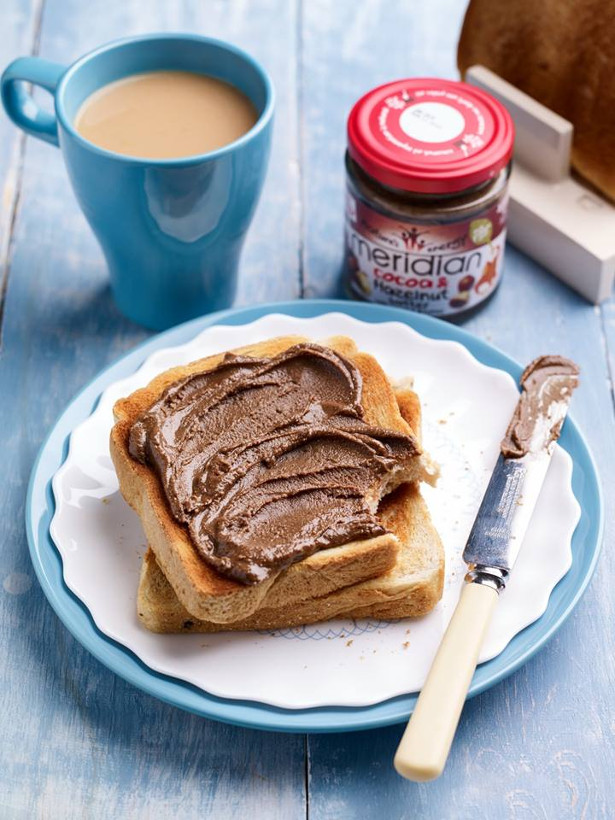 Sunday mornings 🧡
Sometimes a simple breakfast of peanut butter on toast is all you need to start your day! Especially if it's using our new rich roast peanut butter 🥜
#nutsaboutnuts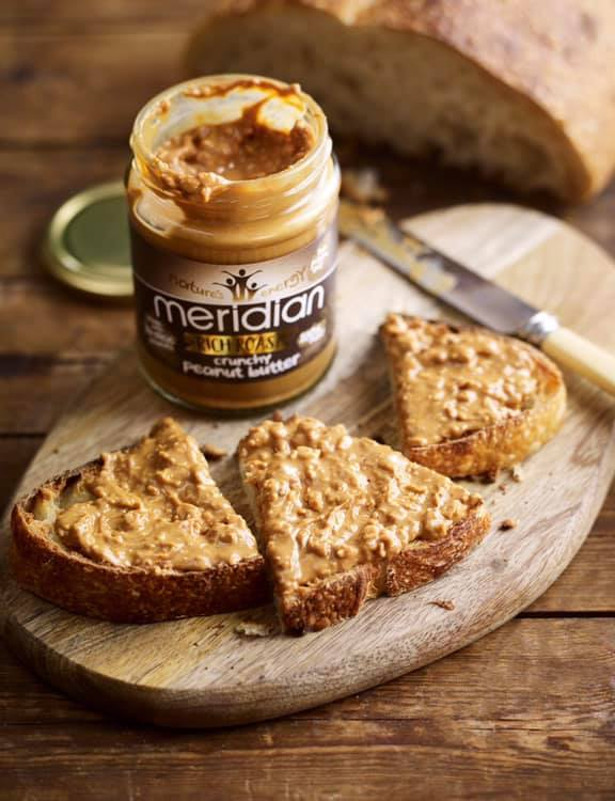 Saturday morning banana pancakes…what a way to start the weekend!
Recipe for these peanut butter & banana scotch pancakes here: https://bit.ly/2JwGojC #nutsaboutnuts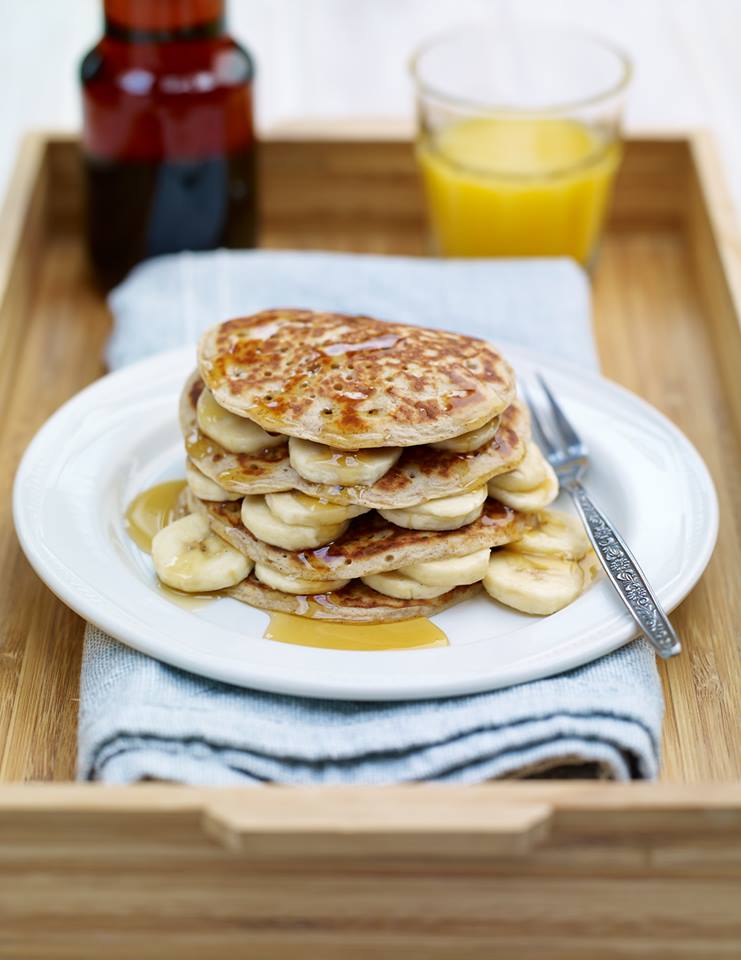 peanut butter & banana scotch pancakes
Pancakes
print
ingredients
125g self raising flour
1 tsp baking powder
1 egg beaten
300ml milk
1 small banana well mashed
2tbsp smooth peanut butter
method
Mash together the banana and peanut butter until you have a smooth-ish thick paste. In a large bowl whisk the rest of the pancake ingredients until smooth then add the peanut butter and beat into the batter.
Wipe a little oil over a heavy based, non-stick frying pan, skillet or bake stone and heat to a medium temperature.
To make each pancake, pour 2 tablespoons of the mixture onto the pan so it forms a small circle. Cook until you see bubbles rising and the top begins to dry then flip over and cook the other side for a further minute. Cook 3 or 4 at a time depending on the size of the pan.
Stack the pancakes on a warm plate in a low oven to keep warm while you?re cooking the rest. Serve with more sliced banana or some seasonal fruit and a drizzle of maple syrup.
The batter mix can be made in advance and stored in the fridge overnight so its ready for breakfast time.
Serves 4
We have a wonderful vegan recipe for Indonesian peanut butter and tomato soup! 🥜🍅
Recipe here: https://bit.ly/2AEz1DE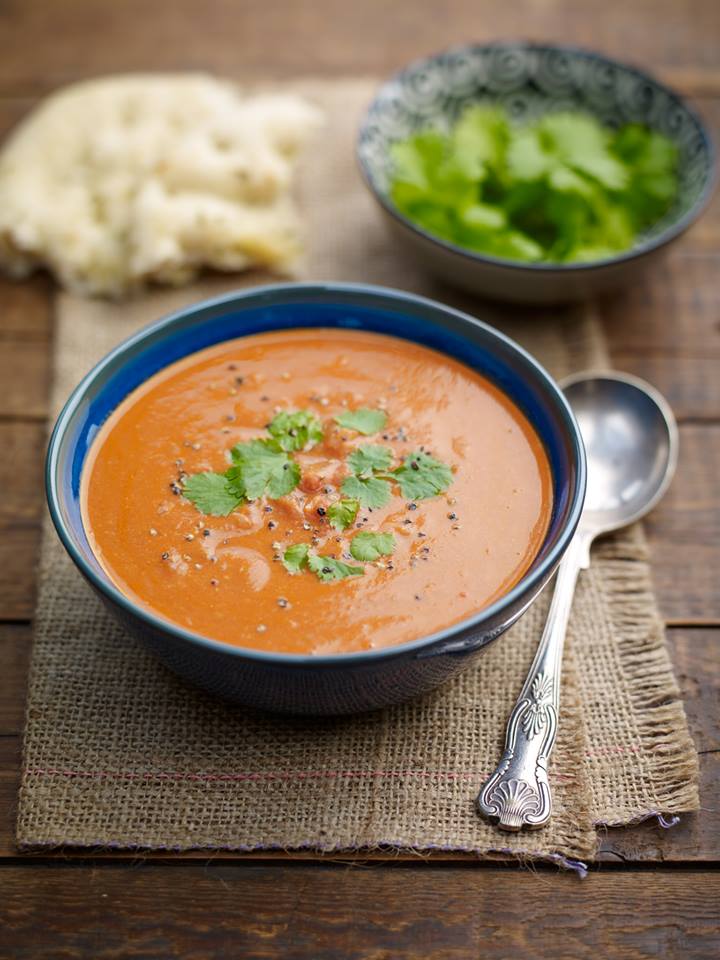 indonesian peanut butter and tomato soup
Makes: 2
print
ingredients
2 tsp nut oil
1 onion, finely diced
2 cloves garlic, crushed
2cm of ginger, grated
1 red chilli, diced
1tsp paprika
1tsp cumin
3tbsp Meridian crunchy peanut butter
440g chopped tomatoes
2tbsp tomato puree
500ml vegetable stock
Small bunch coriander
method
Heat the oil and gently cook the onion for 6-8 minutes until it's soft. Add the garlic, ginger, chilli, paprika and cumin, stir and cook for 2 minutes.
Stir in the peanut butter, chopped tomatoes, puree and stock, season to taste. Bring to the boil and simmer for 5 minutes and serve scattered with coriander leaves.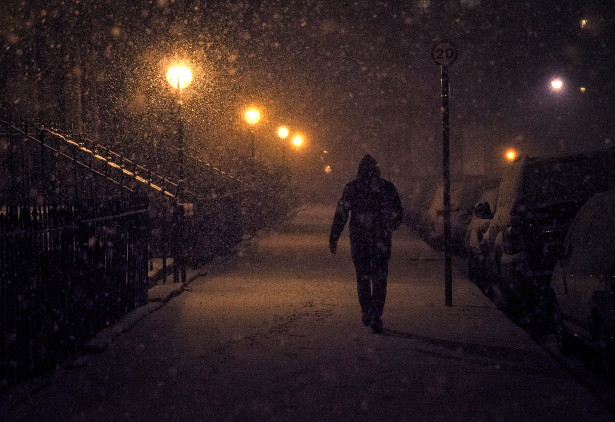 Do Brits Prepare Enough for Cold Season?
New research indicates NOT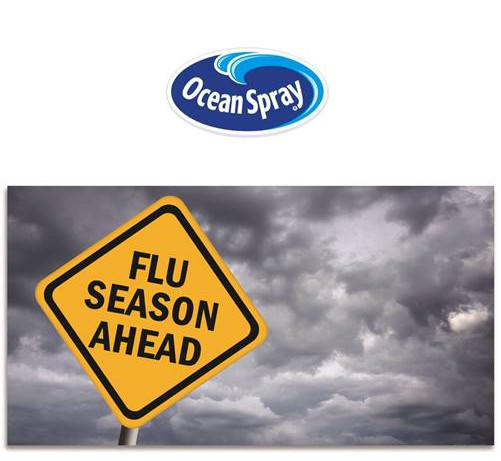 · The average Brit suffers around 200 colds throughout their lifetime, which can mean upwards of five years sick-time
· Half (50%) only start taking preventative methods to stop an illness once they've started feeling unwell
· Nearly a third (32%) won't take any further action to stay well after being ill once in the year; 66% don't eat any extra fruit or vegetables after they become sick to try and make them feel better
It's been a long few weeks, with Christmas and New Year celebrations well behind us. Even if you aren't one of the many who already feels run-down due to the excesses and overindulgence so often associated with the season, there's a chance you might be feeling a cold or even the flu starting to creep in.
However, despite the plethora of preventative options available to stem those winter-time illnesses, new research finds that 50% of Brits don't start using any kind of remedy until after they feel their sickness starting to take its toll.
The research, commissioned by Ocean Spray cranberry juice, also suggests that nearly a third (32%) won't take any further action to prevent seasonal-related illnesses and to remain well even after being ill already.
Following a healthy diet, keeping fit, taking regular vitamins, and some over-the-counter medicines can easily help us from succumbing to winter's harshest conditions. However, despite there being lots of different options available, nearly a third of people (31%) say they don't even know which vitamins to take to prevent winter colds.
Similarly, two-thirds (66%) of Brits freely admit to not making any changes once they become ill, like eating more fruit and vegetables to fuel their wellness. Further, nearly a quarter (23%) do not eat healthy foods to avoid illness at any point throughout the year.
Over a third (36%) freely admit they have no idea which kinds of foods to eat regularly to assist their body's natural defenses. Meanwhile, less than half of us (46%) say they do this kind of thing all year round and only 27% of us take vitamins regularly to keep ourselves in peak condition.
Eating ourselves well is one way to boost immunity levels over winter. For example, plant-based foods which contain phytochemicals can protect against a range of infections, as well as juices such as cranberry which make a strong base against common colds as they're chocked full of Vitamin C. Meaning even in the cold winter months we will be able to enjoy socializing with our friends, exercising and feeling motivated to do well in work.
Commenting on the research and how best to prevent illness during and before it happens, so we can live active, healthy lifestyles, is immunologist, Dr. Jenna Macciochi.
"We suffer through colds for such a large portion of our lives, we should be learning to prevent them before we start getting symptoms instead of treating our illness after it's developed by popping a pill. Instead we should look towards prevention by eating a plant-heavy diet, which ups our phytochemical ante significantly. Natural plants have been used to prevent and to treat various diseases for thousands of years and these properties are now attributed to the abundance of phytochemicals.
"Take the humble little cranberry for instance. Not just for Christmas, this unassuming tiny fruit packs a mighty punch when it comes to health benefits, in particular when it comes to our immune system. The cranberry is like Mother Nature's superfruit; one of the most nutrient-dense fruits there is, as well as being naturally low in sugar. It contains more naturally occurring polyphenol antioxidants than many other popular fruits, as well as offering unique health benefits. Studies have shown that regular consumption of cranberry juice can reduce the number of cold symptoms".
Having a cold impacts all the things we need in order to ensure a good quality of life. Preventing them means we can enjoy active, healthy lifestyles where we can see our family and friends, be productive at work and exercise.
Health Benefits of Cranberries:
Cranberries have whole-body health benefits: mouth, heart, gastrointestinal tract and urinary tract
The humble cranberry is like Mother Nature's superfruit – it is one of the most nutrient-dense fruits
They contain more naturally occurring polyphenol antioxidants than many other popular fruits
This includes antioxidant vitamin C (one 200ml glass of Ocean Spray Cranberry Original juice a day provides you with 60% of your recommended daily dose)
Serotonin plays an important role in our immunity. You can boost serotonin levels by eating and drinking foods that contain this hormone such as cranberries or a glass of cranberry juice
A study has shown that regular consumption of cranberry juice can reduce the number of cold symptoms
Consumption of melatonin rich foods such as cranberries seem to help keep you winter-well AND give you a good night's sleep
A glass of cranberry juice promotes urinary tract health
As well as cleansing and purifying the body, there are emerging heart health benefits too
A glass of cranberry juice helps you meet your recommended daily intake of fruit
Cranberries have also been credited as being good for blood flow, removing bacteria and helping the skin
Cranberries are naturally low in sugar
www.waveapplication.com

Wave Let's Meet App is a real-time geolocation app with pinpoint accuracy in which two people or a group share their location for a limited time. It is a widely used solution among hikers who go skiing or hiking in the mountains, which allows them to follow the location of their friends in real time when they separate on different ski slopes without having to call or try to explain where they are. Wave is the easiest way to meet in natural environments and has the pioneering option that any other app has as to set a meeting point, for example the bar of the ski resort or any center of a city, see the estimated time of arrival and distance to the meeting point (ETA) and the estimated time to arrive to the friend's location.
Wave is also a security application, in which to stay connected with other friends on a private map and feel safe in case one gets lost or not does not answer the phone and know how to go to look for him/her, or if he/she has arrived safely at home. It also is the end of waiting in the cold as you know exactly when your friends are arriving and geeting out of their houses.
How does it work? When you want to open a map you select the contacts in the app, the time of the session (from 15 minutes to 8 hours) and you send them a request. When the others accept it, the map with all located during that time and a millimeter accuracy is opened. When you want to close the session just close it and you can also have several maps simultaneously with different people.
We have been featured at Pop Sugar, El Pais and Forbes last year and as we are improving every day with new technology we would love to have the great chance to appear on your magazine as the best solution for meeting friends, going on a trip, going to ski, taking care of women coming back home or finding friend s in festivals, among other situations.
Any skier knows the importance of staying warm and dry while out on the slopes.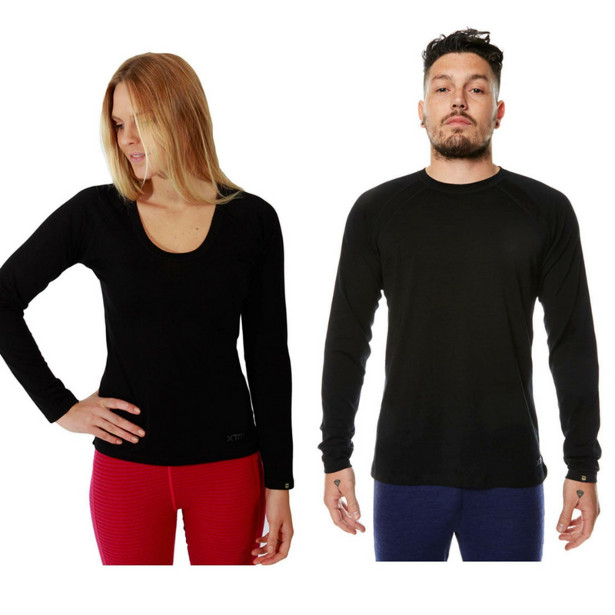 It can quickly ruin your day faster than an entourage of beginners fumbling their way down before you. Even if you're not skiing but facing a cold day out in the middle of Winter, exposed to all the elements, it's important to layer-up and this all starts with a reliable base layer. Forget cotton though – it's so 1990. Cotton holds moisture, leaving you soaking in your own cold sweat. Even though it's cold outside, your body can radiate in its own heat when wrapped in a couple of layers. Swap it out for a Merino base layer that's breathable and will transport moisture away from your body. This goes for everything that's in direct contact with your skin, from your buff, top and bottoms, glove liners and socks. Merino is a particular breed of sheep that has a fleece unlike other breeds. Nature has already provided the perfect solution as the Merino sheep can survive in temperatures ranging from -10°C to +30°C. Merino wool is soft, odour resistant, doesn't irritate or itch like other wool or synthetic fibres, and will ensure you have a warm and cosy day out in the cold.
@ aussieskier.com
www.aussieskier.com
Orange Sky Co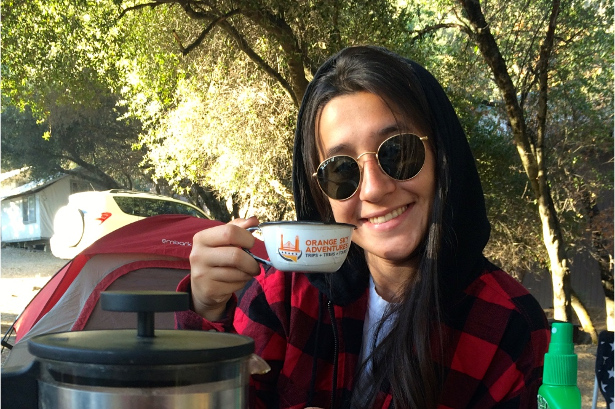 Our essentials for winter, especially on our camping tours, are a short, strong list. Warm clothes are first. Everything from hats and jackets to socks and waterproof shoes; gloves, an insulated vest, and long underwear—the list goes on. A rule of thumb for us is the more layers you bring, the better, without overstuffing your suitcase to the point of bursting. Pack enough to be warm, with a few spares for emergency. We do the same.
Next is our over-the-road gear: snow chains, reflectors, emergency blankets and snacks. All the things we might need during a roadside emergency. We try to visualize a scenario in which our vehicle is in trouble (or where we need to stop on the side of the road), and then pack accordingly. Even a deck of Uno can be a moral boost for a group of friends stuck on the side of the road during hazardous snow conditions.
And last is the wood. Fire can be your lifeline during a cold night. A campfire is your spot to dry your wet clothes, roast a marshmallow, or huddle around a flame with a warm glass of whiskey. We bring enough wood to be comfortable, with a few extra sticks as a buffer, especially for those bitter-cold mornings. We also search where we can find more wood, in case the weather turns sour and we need to burn more than usual.
Our goal is safety, adventure and to provide the unexpected for when friends visit California. Winter requires more preparation than usual, but in a spot like Yosemite, the preparation is well worth it. See you on our next trip!
Dylan
OrangeSkyCo.com
Burns Night might be over for another year, but don't put that tartan away too fast –
Break this trendy throw out for wintry weather days still ahead and keep the ceilidh spirit all year round.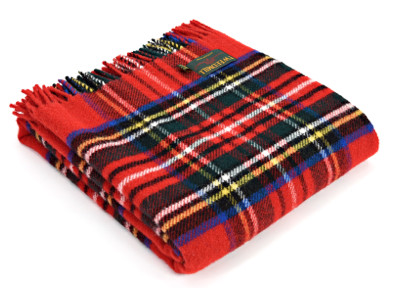 Royal Tartan Throw, £48
Available at the National Theatre Bookshop: shop.nationaltheatre.org.uk
Are re-useable coffee mugs really any better for the environment?
With all the hype and fanfare over the last few weeks in reaction to the government's plans to introduce a 'latte levy' tax on coffee shops and food establishments issuing disposable coffee mugs, it feels like there is a real shift of consciousness both in society and government to act now in reversing the devastation such 'disposables' are having on the planet. Indeed, television shows such as the BBC's Blue Planet have highlighted the epic impact on marine life and has seriously pushed the conversation forward on a global scale.
But is all this hype and fanfare really solving a problem, or just a pr exercise by government in shifting one environmental disaster to another. After all, the impact of general plastic, metal and other non-biodegradable material production in China alone is arguably even more devastating on a global scale. A study published by Science magazine in 2015 reported that a third of all the plastic clogging our ocean's is produced in China and not just in the form of 'throwaway' coffee cups and plastic water bottles, but as a non-disposable material in general. Is the 'latte levy' more a housekeeping exercise by government officials in appeasing public demand to take action, with little end result? Well, home-ware designer Remco Van Der Leij believes he holds the real answer in resolving the issues at hand and has been quietly starting a biodegradable production revolution in Amsterdam. At last he finally feels like his voice has a chance to be heard.
His work started back in 2011 and although already established as an industrial designer, he had no experience in the field of biodegradable product production, but he always considered himself a bit of an eco-warrior and strongly believed eco-friendly items produced for everyday living would be a thing of the future and indeed mainstream thinking in 10 years. Described by those closest to him as a real life 'super eco-hero', Remco was at the forefront of the conversation on mass eco-product production back in 2011 and based on those timeline predictions he had in 2011, it looks like he might be on track, as we consider the movement in thinking today.
Remco reflected, ''Back in 2011 we saw an enormous growth in demand for organic food and it just made sense to me that this conscious awareness of how we consumed things would soon transfer into the products we use on a day to day basis, from a salad bowl for the table, to the kitchen gadgets we use to prepare and serve food. It made sense to me that the journey of being socially conscious didn't just end with the food itself, but also in the production, preparation and presentation of food and drinks too.''
So with little experience, but bundles of enthusiasm, Remco went about sourcing a biodegradable solution for bringing a more eco-friendly product into thousands of homes across Europe. His journey ironically took him to China and a sustainable resource of bamboo and this is where his homeware brand Zuperzozial began to really take shape and evolve…


Zuzperzozial – the hammered collection
The original eco-friendly tableware collection, based on bamboo-fibre and corn starch, reinforced with melamine-resin to shape the products and make them durable. The collection is both dishwasher safe and food safe – meeting all EU and US food regulations – for use at home, dining al fresco and whilst on the go to. Zuperzozial uses the maximum amount of plant fibres currently available in product manufacturing techniques – between 70 and 80% without losing functionality.
With production techniques continuously evolving and improving, it is also hoped this percentage will continue to rise. And when it comes to looking at what the best-seller of the moment is, it's not surprising that the collection of 'cruising travel mugs' for enjoying eco-friendly hot drinks whilst on the go are at the top of the pile right now.
The Cruising mugs are priced from £9.50 via formahouse.co.uk
Avoiding the use of plastics, glass and metals which can be seriously environmentally unfriendly in their production – including re-useable coffee mugs – Remco Van Der Leij identified bamboo as a key resource for eco-friendly mass product production, which is commonly grown in Asia, cultivated on a large scale in China and the main ingredient of this durable travel mug. Even the silicone band on the Zuperzozial cruising mug (to protect hands from heat ) is produced without containing plasticisers (environmentally impacting solvents often used in the production of plastic) – the most environmentally friendly of its kind at the moment and something that separates Zuperzozial from much of their competition. For Remco this is a serious business and attention to detail is paramount. Not just a pr exercise.
Cup of Flavour – part of the kitchenware collection by Zuperzozial (£11 for set)
Bamboo is the future…
Bamboo is the fastest growing plant on earth and is harvested after 3-5 years – the rapid growth of the plant also has minimal impact on the environment. The bamboo is cut with an official cutting license issued by the Chinese government. There is no use of pesticides. The product ingredient of corn is also grown in the same manner as a food crop. There is limited use of pesticides, but it is not (yet) organically grown. Zuperzozial is produced in China free of Child labour and is heavily regulated to ensure workers do not come into contact with hazardous and toxic materials for example. The range is also biodegradable and takes between 12-24 months to break down depending on the size of the product. The range has the same strength as melamine and plastic competitors for everyday use. Degradation only starts when it comes into contact with certain enzymes – primarily when buried underground. The product surface has a coating that repels dyes and therefore the whole collection is safe to use for serving anything from a curry to a spaghetti Bolognese. To make Zuperzozial even more environmentally friendly, no packaging is used to 'sell' the product in-store and item labels are made of recycled paper. The entire ethical journey is purposely documented from production to point of sale.
City Cruising Travel Mugs by Zuperzozial: £9.95 via formahouse.co.uk
But is this product really kind to the environment? What's the footprint and impact in terms of production?
Remco commented, ''Yes, it definitely is. Instead of petrol based plastics we can now make durable products on mass from vegetables and need only a small part of artificial resin to reinforce the products and make them dishwash-proof and long lasting. We use bamboo which is harvested in a controlled way and grows rapidly. We use corn as well. And besides that we are experimenting with waste-components of the agri-industry right now like rice husk to continue the evolution of mass eco-product production. This is the future.''
Consumer response
Back in 2011 sales were slow as consumers took the time to absorb the idea that durable products based on plant-fibres are as strong as more traditional materials. Turnover growth averaged at a 20% increase year on year to start with, but fast-forward 3 years and turnover popped with a 200% increase in sales. The early adopter's were convinced, and plant-based product production only looks to expand in the years to come.
But what does the future really hold…
Zuperzozial Shopping bag £25 – Spice It Up set of 3 hanging pot's £16.99 – Washing bags from £14
The Zuperzozial range demonstrates how far recyclable and biodegradable mass product production has actually moved on in a very short space of time, steering away from the dowdy image they once had. This gives an opportunity for Remco and his team to develop a variety of products for day to day living, maximising different aspects of eco-friendly mass production techniques currently available. A new series of products Remco has recently launched is based on a paper material, which is long lasting, but avoids using any plastics and plastic sheet-material (like disposable paper cups). Zuperzozial's new range of washable paper products – as seen above/below – are durable, usable for many years and easy to recycle.
The future of disposable anything looks in doubt and the future in Remco's eye is all about how we reuse and regenerate. In the same vein as the growth in the Vegan food movement, products for mass market distribution made from plant fibre's, feels like an ideology that is fast becoming a reality and soon in the mainstream.
Zuperzozial hanging wall pockets £59.95 – L90cm x W60cm x D6cm
The ultimate winter essential
Winter may be arriving any minute here in the UK, and before long we'll be seeing all those holidays ads on TV.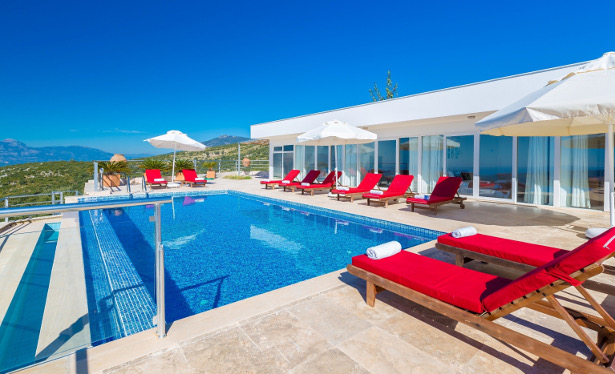 TWITTER | INSTAGRAM
However, on the Turkish Mediterranean the weather is still a balmy 28° with 300 sunshine days annually. The sea stays warm so you can enjoy a dip even on Xmas Day!
So what if instead of bundling on coats, scarves and woolly socks, you could enjoy sunny fun-filled family holidays all year round?
We're offering ONE lucky person to win their dream holiday home located near the Turquoise Coast in Turkey for just £10.
With an incredible 1 in 80,000 chance of winning, it could be the winter essential that just keeps on giving.
There's a catch – but it's fun. All entrants have to do is work out the puzzle below: it looks easy and should have all the family head-scratching.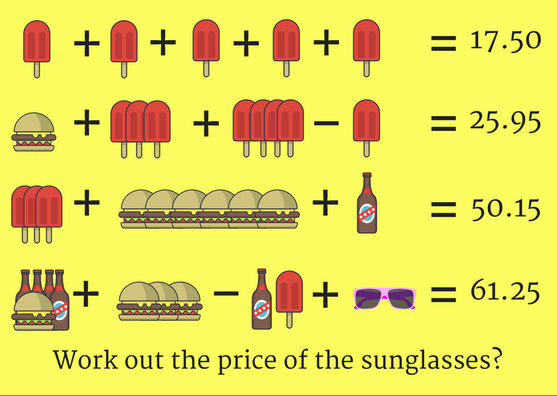 Apart from the entry fee, there is not a penny more to be paid to win this stunning home – voted one of the sexiest villas in Europe by Sunday Times Travel.
The Prize includes a fully-furnished 4-bed luxury home with stunning views to the Mediterranean, all legal fees paid PLUS a 5-day all expenses trip to Turkey for two with £500 spending money.
More information at: www.win-houses.com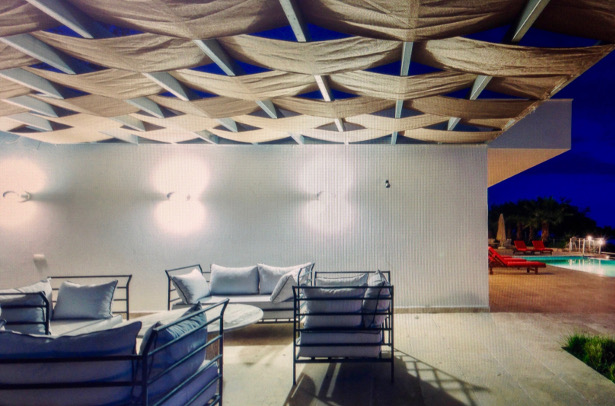 ONESIES FOR OUTDOORS!
Muddy Puddles AW18 Collection

3 in 1 Scampsuit: Baltic Silver Birch (pictured) or Navy Raindrop – £75
Puddleflex All-in-One: Midnight Navy – £45
EcoSplash All-in-One: Baltic Interstellar (pictured) or Navy Red Stripe – £45
Outdoor Onesies For Little Adventurers – Keep Them Warm, Cosy And Fashionable On Winter Walks And Everyday Play!
The much loved 3 in 1 Scampsuit is back with a removable fleece inner suit, pointy hood with a soft sherpa lining and elasticated cuffs & adjustable stirrups from 12 months up – to ensure extra waterproof protection. Durable, snug and available in two gorgeous colours.
For the ultimate in waterproof All-in-Ones, the Puddleflex is the one! 10,000mm waterproof and with a warm polar fleece – it's ideal for walks in the rain or exploring muddy tracks! And now available up to six years of age.
Made from high quality recycled fabric, the fleece-lined Ecosplash All-in-One is a fully waterproof, lightweight and breathable splashsuit with practical fold over hand warmers and removable feet for 0-12months.
www.muddypuddles.com
Be Bold
It's all about maximalism in our homes this winter, with glamorous exciting fabrics, detailed patterns and of course lots of bold expressive colours. The beautiful baths from The Albion Bath Company are available in a huge choice of finishes, so our bathrooms can enjoy this fabulous trend too!
Painted Finish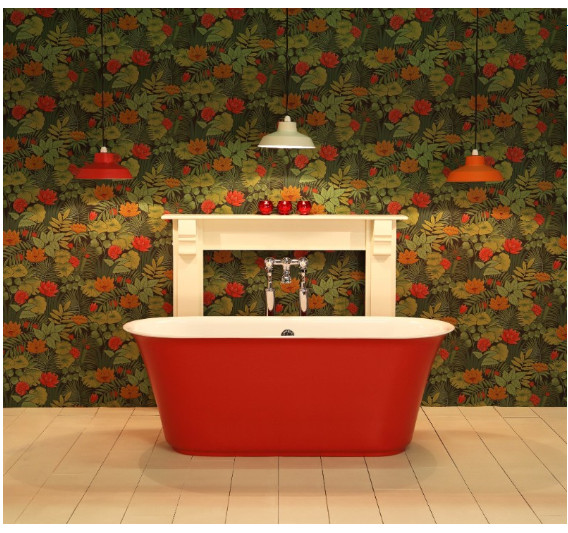 Origine Double Ended Bath shown in Dulux Thai Magic 1, From £2630
Make your bath the star of the show in your bathroom, with one of Albion's colourful painted finishes. Every one of their beautiful designs can be finished in your choice of Dulux or Farrow & Ball colours, meaning you can be as bold as your dare! Phil Etherden, MD at The Albion Bath Company explains, "All we need from you is a colour code or name and we'll do the rest. The sprayed process gives a smooth finish with a slight sheen. It is hard wearing, washable and if you fancy a change of colour in the future, the surface can be painted over." Why not try picking out a colour from a daring wallpaper feature wall for real impact, as shown above.
Origine Single Bath, From £2333. Neptune Slipper Bath, From £1655
Burnished Metallic
Tubby Too Double Ended Bath, From £2091
If you're not quite ready for such a statement but still want to embrace the maximalism trend, metallics are a great way to go. Adding a sense of luxurious indulgence, metallics can also bring warmth to a room. Albion offer three eye-catching burnished metallic colours; bronze, iron and gold, which are applied in a four coat painting process. The result is a stunning swirly, mottled effect, sure to make the bath the focal point of the room.
Tubby Torre Duo, From £2837. Imperium Bateau Bath mounted on a Solid Plinth, from £2194
Polished Pewter
Apollo Doubled Ended Bath, From £3129. Polished Pewter Finish priced at £1610.
For even more drama and shine, take a look at Albion's Polished Pewter finish. The latest addition to their range, this highly reflective finish is created by depositing metal particles directly onto a highly polished bath surface. This is then buffed and sealed with a high performance lacquer to create the polished pewter-like finish. Perfect for this season's maximalist trend but also sure to stand the test of time.
——————————————————————————–
It is also worth noting that all baths from The Albion Bath Company are created from the company's unique Iso-enamel material. This self-reinforced, acrylic free cast stone resin and mineral mixture gives Albion baths the closest possible match to original cast iron in both look and feel. However, an Albion bath weighs just one third of the weight of an equivalent cast iron bath. They also retain heat better, insulating the water for up to an hour more than the traditional models, and will happily stand up to all cleaning products.
Wood Vs Timber Alternative Windows – Can you tell the difference?
Windows made of uPVC versus wood are a great social divider, much like hot tubs, solar panels and fake grass!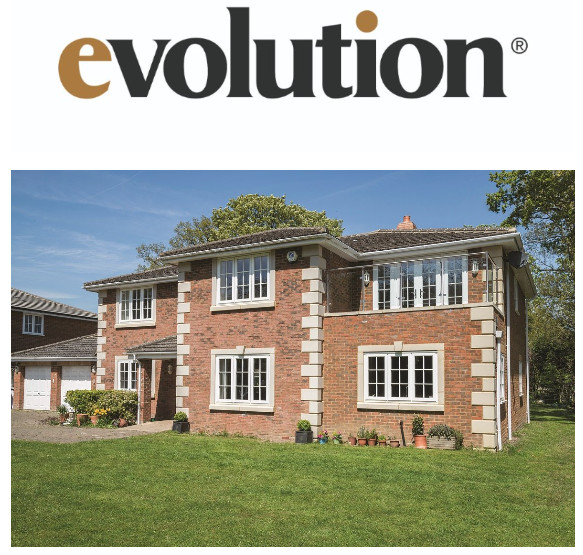 Not so long ago most windows were made of wood. But during the 1960s improved uPVC manufacturing quality created a low cost, easy-to-make alternative that now accounts for 90% of all new windows installed in the UK.
The use of uPVC has been under attack for a number of years, primarily because of its association with chlorine chemistry. However modern uPVC is durable, low-maintenance, recyclable and performs well in life cycle assessment tests.
Evolution Windows have addressed the issue of offering the benefits of both wood and uPVC with their Timber Alternative Storm and Flush ranges. Every aspect has been meticulously designed and hand crafted to authentically emulate traditional timber windows. Taking inspiration from classical windows blending intricate period detailing and authentic colour options with advanced material technology and innovative design to create a unique window, which offers unrivalled aesthetics and a virtually maintenance free solution.
The latest Timber Alternative range from Evolution truly has the look and feel of real wood as well as the following benefits:
– Lower Cost
Evolution Windows timber alternative windows are around 20% cheaper than solid wood windows.
– Low Maintenance
Once installed an Evolution timber alternative windows require little or no maintenance unlike solid wood, which requires regular sanding and repainting to ensure its longevity.
– Superior Insulation
Another reason people have, in the past, embraced uPVC is its superior insulation. Wooden windows not so long ago had just a single pane while uPVC windows were launched as a double-gazed product. Evolution also now offer a triple glazed option for even greater energy saving benefits.
Prices for Evolution timber alternative double and triple glazed windows, supplied and fitted, start from £1000 for a window measuring 100cm W x 100cm H including installation. For further information visit www.evolutionwindows.com tel 0800 773 4045.
THE WORLD'S FIRST RANGE OF SLEEPWEAR
THAT'S SCIENTIFICALLY PROVEN TO
IMPROVE SLEEP QUALITY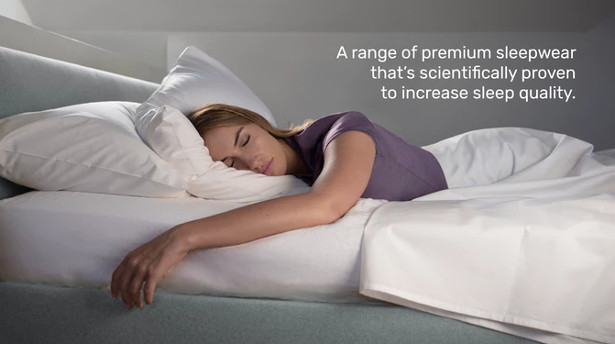 · sleepdeep performance sleepwear® has been scientifically proven to increase sleep quality by 64 per cent
· sleepdeep® users woke up 75 per cent less during the night
· Unique mix of natural Merino Wool and Eucalyptus Tree fibres regulate body temperature
· sleepdeep® also improves concentration, emotion, perception and decision making
· Women are twice as likely to have a bad night's sleep
· From the age of 20 our sleep quality declines
· sleepdeep performance sleepwear® goes on sale through Kickstarter on October 13th
A former advertising executive has created the world's first range of sleepwear that has been physiologically and psychologically proven to increase sleep quality, leading to improved health and general wellbeing.
James Smith spent three years researching sleep and sleepwear before creating sleepdeep®. He engaged with leading experts to understand the science of sleep and discovered the critical role that body temperature plays in ensuring good quality sleep.
Studies show that room temperatures in our homes now exceed 18.3°C, which is above the accepted optimum temperature for quality sleep, with the hottest rooms being those in a flat, semi-detached or end of terrace home. However, sleeping naked is not the answer as the sweat the body produces to cool down sits on the body but with sleepdeep® it is absorbed and the body's cooling process is accelerated.
Studies have shown that sleep deprivation or bad quality sleep can contribute to a whole range of diseases including cancer, diabetes, heart disease, mental health issues and high blood pressure, costing businesses and the NHS billions of pounds.
To improve sleep quality James developed a new fabric called SOMNOTEC® which is made from a blend of 94 per cent natural fibres. The innovative fabric combines ultra-fine merino wool known for its natural thermoregulatory properties with a plant-based fibre extracted from eucalyptus trees, which is capable of wicking sweat three times faster than merino alone.
Together, the fibres work efficiently to wick away sweat during the night and keep your body temperature at an optimum level for good quality sleep. The plant-based fibre is also twice as smooth as silk and gives sleepdeep® an ultra-soft feel against the skin.
James said: "The sleepwear we have created really does help you get a better night's sleep, meaning you are more refreshed to face the day ahead.
"Room temperatures in our homes have risen by nearly 6oc over the last 50 years and this causes us to be too warm to sleep properly. Sleeping naked is not the answer as sweat stays on the body and causes hot and cold spikes throughout the night that lead to poor quality sleep.
"The problem with traditional sleepwear is that many of the fabrics used are not good at managing thermoregulation. Synthetic fabrics such as polyester are very poor at absorbing moisture, while natural fabrics like cotton or silk are poor at evaporating moisture, so we created something that worked."
He came up with the idea after struggling to sleep when it was too warm. "I tried to find something that would help me sleep but while there was plenty on offer that tracked sleep quality there wasn't much that improved sleep quality so I set about changing that. I wanted to create something that you would naturally wear for bed that helped you sleep and sleepdeep® does that."
sleepdeep® was tested on volunteers who clocked up more than 1,000 night's sleep before the right blend of fibres was perfected. The science behind the sleepwear was led by neuroscientist and sleep expert Professor Vincent Walsh.
They found that the people wearing sleepdeep® fell asleep 53 per cent faster, woke up 75 per cent less during the night, and experienced 64 per cent more deep sleep.
Participants also kept sleep diaries and subjectively rated their sleep quality as 2.5 times better than when they slept naked or wore traditional sleepwear.
Sleep research shows that as adults our sleep quality gets worse as we get older, and the outlook is particularly bad for women, who are twice as likely as men to suffer from poor quality sleep.
"Insomnia is known to be a bigger problem for women, but historically over 90 per cent of sleep research was, and still is, carried out on male subjects. This is because the menstrual cycle makes it harder to measure the effects of sleep. Our scientific research ensures that sleepdeep® works for everyone because it was developed on both men and women." said Mr Smith.
They also assessed the cognitive effects of wearing sleepdeep® on women, and found that there were significant improvements on concentration, emotion, perception and decision making after wearing sleepdeep® sleepwear.
Professor Walsh said: "I was initially sceptical about the idea that sleepwear could improve sleep quality. After the first phase of scientific testing, the physiology and psychology of sleep were clearly improved by the absorbency and wicking properties of the textile. In addition to improving sleep quality, further testing showed significant improvements in concentration and other cognitive functions after wearing sleepdeep®.
The professor, who was so impressed by the test results, he invested in the company, added: "Finally we carried out tactile tests – how does the fabric feel? The results of this were overwhelming. sleepdeep® was chosen as the preferred fabric to the touch by 94 per cent of our testers. At the end of the process I think it's the most clearly applicable piece of scientific research I've done in 30 years, and the only one to cause me to invest in a company of any kind."
Other significant investors in sleepdeep® include Tim Ashton, one of the founding investors in British cycling brand Rapha.
Professor Walsh added: "sleepdeep performance sleepwear® works with the natural body clock that governs thermoregulation. It helps to maintain the cooling of the body during the night by wicking moisture from the body and preventing hot or cold spikes. During the night, a part of the brain called the hypothalamus works to cool the body in preparation for bed and continues the cooling through most of the night. sleepdeep® assists this process. It's not rocket science, it's sleep science."
sleepdeep® goes on sale through Kickstarter on Saturday 13th October. Prices start from £114.
www.sleepdeep.co.uk
Let the Light In
Winter can be a cold, dark time for many but with these beautiful shades from Blinds 2 Go you can maintain your privacy as well as maximise the light in your home.
If you are looking for something a little different to make your window decorations stand out from the crowd that not only have the wow factor but also offer great functionality and added features that bring a smile to your face, then your search is over.
The Blinds 2 Go Day and Night collection is distinct, stylish, affordable and designed to offer user delight.
Firstly take a look at the stunning Illusion Shades. They are soft as silk, elegant as a curtain and practical as a Venetian blind. Soft fabric vanes suspended between two sheer facings, allow as much or as little delicately filtered light as desired. They are operated with a single pull cord to raise and lower the shade as well as tilting the vanes.
Or there are Enjoy Day and Night blinds, with alternating vanes of opaque and translucent woven fabric which create a uniquely soft effect and allow light to gently filter through your home. By sliding the opaque and translucent sections past one another with the simple control chain you can choose the perfect balance of privacy and light for any moment in the day.
Pricing starts from £26.10 for the Enjoy roller blinds and £39 for Illusion shades, made to measure. The Enjoy Day & Night range is available in a range of 30 colours and styles and Illusion Shades in 4 colours. For further information visit www.blinds-2go.co.uk tel 0800 862 0464.
Unique New Industville Lights to Illuminate
your home this Winter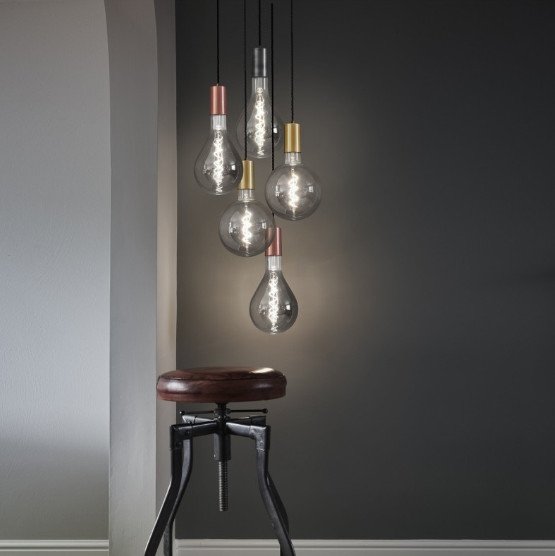 The designers at Industville have been hard at work again and we are delighted to bring you their very latest designs. With practical waterproof lighting, elegant wall lights and vintage retro style bulbs, all in their unique industrial style,
lighting has never been more stylish.
The Sleek
The Sleek Collection features simple designs with smooth lines and the two latest editions are certainly no exception. The new Sleek Large Edison Pendant puts all the focus on the exposed bulb, which makes a bold statement either on its own or hung in a group. Available in Pewter, Brass and Copper, less is more with this 1 wire design. Recommended bulbs are the giant smoked glass LED bulbs, which create a warm glow with their squirrel cage-style filament. Available in a globe or drop design, try a mix of the two for added interest.
Also newly available is the Sleek Long Arm Flat Wall Light. This elegant 8 inch wall light comes with a choice of copper, brass or pewter finishes and customers can even mix and match colours for the shade and the wall holder. This timeless design would look great in both modern and traditional settings.
The Vintage Bulbs
As we've just seen, in modern lighting the bulb can make just as much of a statement as the lighting fixture itself, and these new vintage amber coloured bulbs are simply stunning. Industville stock a huge range of vintage style bulbs, all of the highest quality and featuring the very latest innovative LED technology. These latest amber versions, cast a warm comforting glow and add interest with their spiral filaments.
The Swan Neck
The name says it all for this classic collection, and the swan neck design never goes out of style. Two new designs have been introduced to the collection, both featuring beautiful ribbed glass shades. Choose from the traditional dome shape or the more modern funnel to suit your own interior design style. Both lights are available in brass or pewter and would look stunning in any room of the home.
The Brooklyn
Several new designs have also been added to the popular Brooklyn Collection, including these cute and trendy jar shaped lights. With an IP65 rating, they are suitable for both bathrooms and outdoors, and are available as pendants, wall lights or flush mounted, making them extremely versatile. They come in copper, pewter and brass with the option to mix the ring colour too. A perfect choice for above a front or back door, lighting the way for visitors.
The new Brooklyn Pharmacy Table Lamp comes in stylish gunmetal grey and makes an ideal reading lamp. With it's classic dome shape and adjustable arm, it's the perfect companion for a home office or study. Elegant and efficient, this timeless design will never go out of style.
The Bulkhead
Last but certainly not least, inspired by bulkhead lights traditionally found on ships, these quirky designs are the epitome of industrial style. The two new additions come in a brass finish and customers can choose from a round or oval shape, depending on their space and personal preference. These lights also carry the IP65 rating making them ideal for use outside or in the bathroom and would look fantastic in a nautical themed room.
Keep your head warm
By Smile 90.4FM Presenter, Lindy Lehto.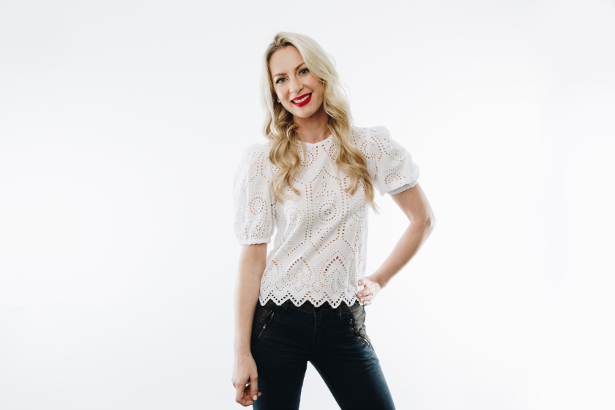 Thirty percent of the body's heat is lost through the head, so it's a good idea to layer.
If I'm going for a run on a chilly Winter's evening, I use a TOPE as a kind of skull cap under my cap or beanie. It also covers my ears & protects them from the cold sea air if I'm running along the beachfront.
TOPES are sold by The Sunflower Fund to raise funds and awareness to support individuals diagnosed with life-threatening blood diseases like leukaemia.
TOPES can be bought here for only R30
https://www.zando.co.za/The-Sunflower-Fund-Tope-Grey-249877.html
DISCOVER THE TASTES OF THE GLOBE WITH
THREESIXTY˚ COFFEE
Take your taste buds on an adventure of the world with the rich and flavoursome new range from threesixty° Coffee.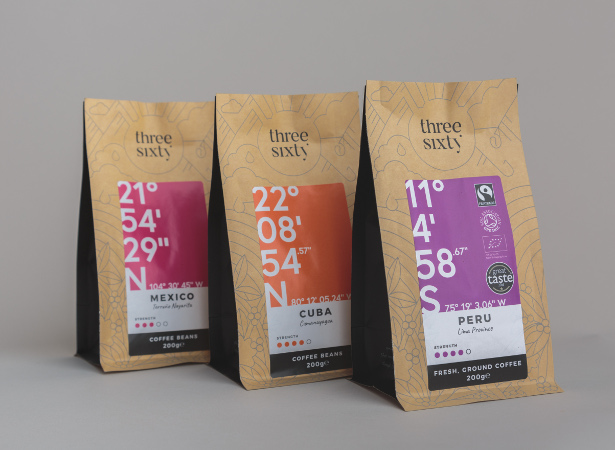 Discover distinct and unique single origin coffees from Cuban, Mexican and Peruvian coffee regions with this bold new collection.
Each of the threesixty° single origins is picked and roasted to showcase its incredible flavour profile.
The three 100% arabica coffees have their own unique profile and distinctive flavour, taking your coffee experience to new heights and adventures.
Enjoy a taste of the Cumanayagua region in Cuba with a full-flavour coffee featuring hints of roasted peanuts and cinder toffee, a caramelised sugar sweetness and perfectly balanced acidity. Trace the co-ordinates on pack to a town in a valley near the Guamuhaya Mountains, renowned for its delicious coffee beans.
Transport yourself to Mexico, with a single-origin coffee rich with silky milk chocolate and vibrant mandarin tones, bringing a sun-kissed feel to your morning routine. The beans come from three farming communities to the west of Tepic and Nayarit, a region dominated by smallholders and famous for its variety of delicious coffee profiles.
Sit back and relax with a certified coffee from Peru and be transported to the beauty of the Vinicunca mountains through its full-bodied taste. Sourced from one of the largest coffee-growing communities in the world with a culture of organic production, this rich coffee with notes of cocoa and hazelnuts will take you off the beaten track.
All of threesixty° coffees are lovingly roasted in the UK and each pack is hand-packed and fully traceable, with precise on-pack map coordinates to help discover each coffee's specific region of origin.
Experience the premium quality coffee of threesixty° and join an adventure through taste.
All products are available from Waitrose and Ocado with an RRP of £5.00. For further information, visit www.threesixtycoffee.co.uk.
BEAT THE COLD THIS WINTER WITH FIREMIZER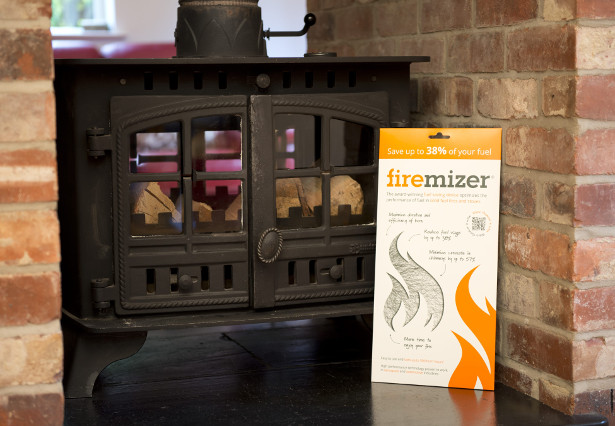 In the colder months we rely on our home as a sanctuary to shelter us from the weather outside. This year, interior innovations from Firemizer will help kick the cold chill in style. With one small change to at-home habits this winter, families could be benefiting from warmer homes, lower bills and reduced environmental household impact.
Firemizer is a fuel-saving mesh grid that is scientifically proven to improve the look of your fire, make it last longer and improve its carbon footprint. By increasing log burning efficiency in your wood burning stove, wood burner or fireplace, with Firemizer is less carbon intensive than electric heating and can limit emissions by up to 72% as well as solid fuel usage by up to 38%.
The flexible grid, which is made up of a special blend of stainless steel alloys that are patented and welded together, is placed on the base of your stove or hearth. Firemizer spreads the heat evenly across your fire to ensure all of the fuel is burnt thoroughly, enabling you to enjoy your perfect fire for longer.
The use of 'secondary heating' such as wood burning or solid fuel stoves are more efficient at heating one space for a limited time as opposed to cranking up the central heating, which is wasted on the rest of the house.
Minimising environmental impact even further, the cardboard packaging can be recycled with normal household paper waste and a used Firemizer can be recycled with normal household metal waste.
Firemizer can be purchased online for £19.99 at https://www.firemizer.com/shop
EVY IS LAUNCHING DAILY REPAIR MOUSSE -CLINICALLY PROVEN SKINCARE FOR THE MOST SENSITIVE SKIN.
Price 25 Pounds – 100 ml
EVY is known for its effective and gentle sun protection, but few know that EVY's products are based on medical skincare technology, that has been used primarily in healthcare. Now, EVY Daily Repair Mousse is to be launched, a repair and moisture-retaining barrier mousse, which counteracts and prevents dry skin, irritation, eczema, and contact allergy.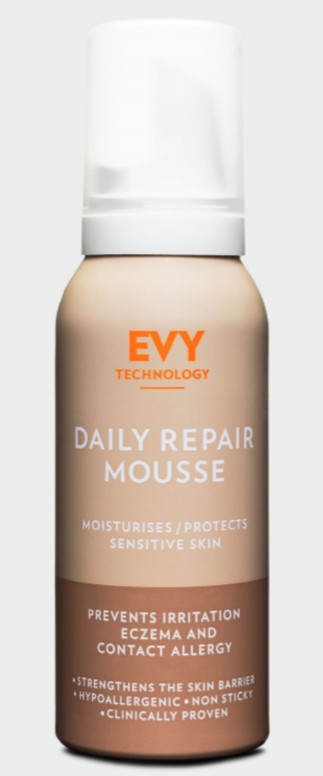 EFFECTIVE SKINCARE RECOMMENDED BY DERMATOLOGISTS EVY's basic formula took over a decade to develop, and is based on advanced Swedish skincare technology, which both treats and prevents skin problems. Rather than clogging the skin surface, like ordinary creams, the light mousse is quickly absorbed into the skin's top layers. The technology gives the skin increased resilience by forming an osmotic membrane which exemplifies the skin's own defence system. The skin regains its balance, and can breathe freely without forming a sticky, greasy layer that clogs the pores. The formula also protects against skin irritants such as moisture, detergents, and latex. The product was developed for severe skin conditions, but everybody with dry, or sensitive skin, can use Daily Repair as part of their daily skincare routine, as it provides effective protection for 4-6 hours, even after washing.
MULTIFUNCTIONAL SKINCARE FOR THE WHOLE FAMILY The Daily Repair Mousse is suitable for everything ranging from persistently dry feet, to nappy rash, or for the treatment of more severe skin problems throughout the body. The mild formula also works after shaving, and on the scalp. The product is ideal to calm and protect the skin after aggressive treatments such as microneedling, chemical peeling, or laser treatment. The Daily Repair Mousse is particularly suitable for professionals, such as healthcare workers, who handle substances that may irritate the skin, and frequently wash their hands.
LONG-TERM NURTURING AND MOISTURISING In addition to EVY's protective basic formula, Daily Repair provides emollient and moisturising agents such as Urea, Allantoin, Caprylic Capric, and Vitamin E. The product is intensively caring and helps the skin to maintain its own moisture. Like all EVY products, it is completely free from perfumes and preservatives, and, thanks to its airtight aerosol packaging, the contents remain effective and fresh, up to the last drop. The aerosol mousse bottle lasts longer than a cream, since it works like a concentrate and expands upon contact with air.
A drop in temperature has been forecasted but you will always look glam with this peacock umbrella from National Theatre Bookshop!
No need to worry about the weather because you'll be singing in the rain –
Turquoise, royal blue and gold is all you need to conquer the winter blues!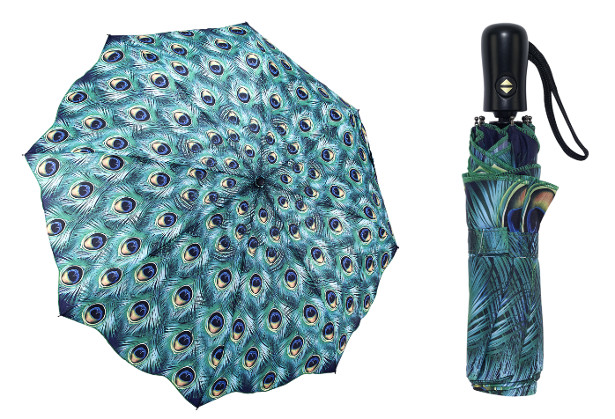 Peacock Umbrella – £30 – National Theatre Bookshop – shop.nationaltheatre.org.uk
AN APPLE (AND BLACKCURRANT) A DAY KEEPS THE DOCTOR AWAY Health and Wellness brand Phizz launches brand new flavour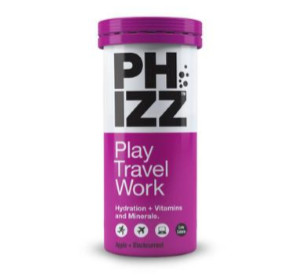  Health and wellness brand Phizz launches a brand new natural flavour – Apple and Blackcurrant  Same hybrid product includes a hydration formula, electrolyte replacement and vitamins and minerals now made with natural Stevia  Phizz hydrates better than water, it helps you absorb more water, replaces the five key electrolytes lost through sweat, provides natural energy and possesses health benefits from a wide range of vitamins and minerals  This unique blend of electrolytes, glucose, vitamins and antioxidants helps tackle jet lag, hangovers, workout-outs and busy lifestyles.
London, January 2019 marks the launch of brand new flavour from innovative health and wellness brand Phizz. The apple and blackcurrant flavour launches following the success of the Original orange which has seen over one million sales since launch in 2016.
The brand new flavour hits the market with some new ingredients, using stevia rather than sucralose means the product offers consumers an even more natural choice but with all the benefits they know and love. Not only is Phizz vegan, it also is low calorie providing you with the perfect solution to support your immune system, boost your antioxidants and with an eye catching new bright purple tube, this product is a must have this winter.
Phizz is an effervescent tablet that keeps you on top of your game. Phizz helps you work smart, travel fresh and play hard. The innovative formula merges two product categories – hydration mixtures and vitamins/minerals. Phizz provides all the essentials to combat dehydration, boost your immune system and keep mental and physical fatigue at bay.
"Launching a second flavour is a big moment for Phizz! After many months of trialing different flavours and ingredients, we are really pleased to finally share the Apple and Blackcurrant with everyone. We have used stevia to give consumers an even more natural offering without compromising on taste or benefits and look forward to sharing the new Phizz with all customers." Daniel Cray, Co-Founder and Marketing Director, Phizz
Phizz has gathered a cult-like following amongst jet setters, professional athletes and businesspeople. Providing over 60 sports clubs around the world with product from Saracens Rugby Club, Surrey Cricket Club, to South Africa Cricket and Burnley Football Club. Phizz is also an amenity onboard Emirates (First Class) and American Airlines (international First/Business) and in a host of five star hotels including One & Only Resorts.
Phizz comes in convenient tubes (10 tablets for £4.99 or 20 tablets for £7.99).
Phizz is available in the UK through Phizz.co, Amazon, Ocado and Lloyds pharmacies
Website: www.Phizz.co Instagram: @Phizz | Twitter: @Phizz | Facebook: facebook.com/PhizzUK