Aelder is a wild elderberry liqueur, hand crafted in small batches by the Buck and Birch team at East Links Farm in Dunbar, East Lothian. www.aelderelixir.com

TWITTER | INSTAGRAM | FACEBOOK
Launched in November 2016, this deep, complex and fruity elixir is decidedly moreish. Wild elderberries are infused with a host of wild Scottish botanicals and spices, before being blended with young Scottish whisky to fully enliven the flavours. The end result is a dark, rich fruit liqueur that is smooth and well balanced, with complex aromatics, tasting notes of treacle, blackberries and dark chocolate, and a beautifully warming finish.
Created by Rupert Waites, head chef and chief forager at Buck and Birch, Aelder was one of numerous wild flavour experiments developed in 'The Shed'. Taking its debut at Buck and Birch's very first dining experience in 2012, it proved an instant hit, with diners immediately requesting to take bottles home.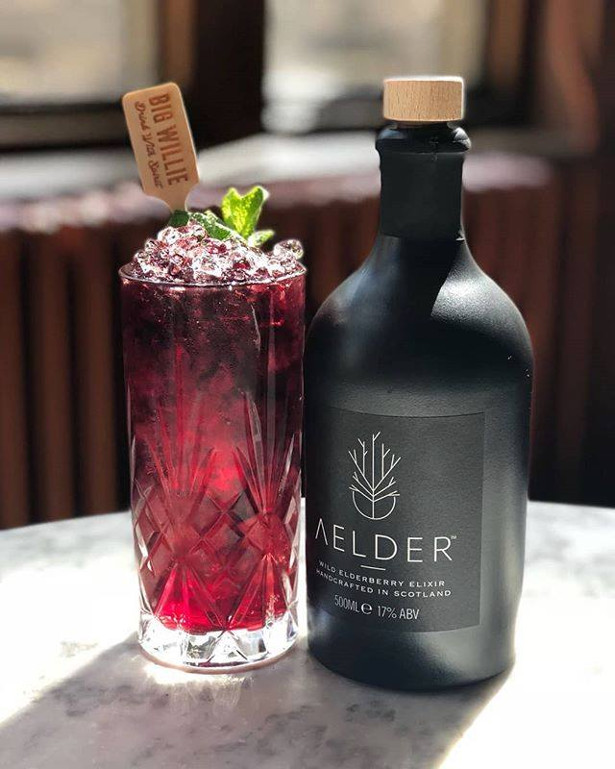 With the passing seasons, and Rupert and creative partner Thomas Chisholm refined the flavour and complexity of their elixir, adding a host of wild Scottish botanicals to compliment the dark, rich fruit of the elderberry. The result is Aelder: crafted by an unflinching desire to do justice to the diversity and quality of Scotland's wild pantry.
Aelder is both distinctive and versatile. Drunk neat or over ice, Aelder is intensely fruity and well balanced, making it the perfect alternative to port. Enjoyed in this way, it is the ideal digestif and proves the consummate companion to game, charcuterie and cheese.
For cocktail lovers, Aelder can be used to add a unique and distinct twist to
any drink. A small measure transforms a glass of fizz into a stunning pre-dinner
aperitif – or choose instead to add Aelder any libation where a dark fruit hit is needed. Aelder is a truly versatile product that looks just as at home in a cosy pub as it does a five-star dining establishment.
Traditionally, the elderberry season began in August, with these wild purple berries picked at their most ripe to be incorporated into dishes all over the country. Now, elderberries are often forgotten, overlooked and ignored, with the full potential of this historic fruit rarely realised. Aelder is unique in the sense that is elevates not only the elderberry, but many more of Scotland's forgotten ingredients into the contemporary consciousness.
Aelder is available in 50cl, 20cl and 5cl bottles; 17% ABV.