Are You Smarter Than Your Kid?
As seen on Channel 4
18th October 2018 | hardback | £14.99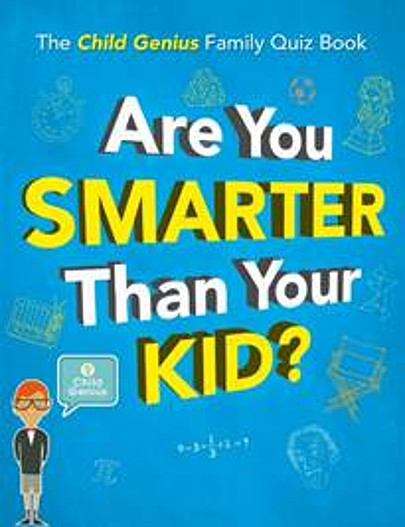 A fun, challenging and informative quiz book for all ages,
based on the hugely popular TV show 'Child Genius',
hosted by Richard Osman.
Includes: Quizzes with answers
"DID YOU KNOW?" sections with tips on how to improve your brain power and insights into brain function.
For example: "Why sleep is more important than diet or exercise."
"Give your brain a break."
"Brain food." (Vitamins B6,12 and folic, Vitamin C and E, fatty acids)
9781787476615 (2)
Packed full of challenging questions that will test your mental sharpness, your ability to problem-solve and your capacity for quick-thinking.
From spelling to mental maths, and from general knowledge to history, Are You Smarter than your Kid? Includes 10 exciting quizzes for all ages. With fascinating 'did you know' facts about the best brain food, memory tricks and much more, this is the ultimate guide to the secrets every mastermind needs to know.
Now it's YOUR turn to take your place on the podium. Go head to head against your family to find out who has what it takes.
Will you be crowned Child Genius?
This is your chance to put your family to the test.
Quizzes include: Spelling and Comprehension; Linguistic Memory; Maths; Memory Challenge; History; Science; General Knowledge; Logic and Reasoning; Advanced language; The Sudden Death Challenge; and more!
@CorinnaZifko / @QuercusBooks