BABY TOYS

Lullaby Sheep Cot Light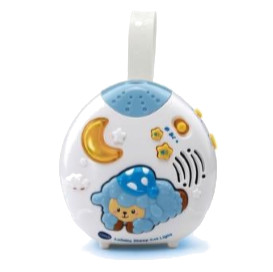 Press the Lullaby Sheep Cot Light's sheep button to play soothing responses that calm your little one and send them off to a peaceful sleep. Reponses include 3 sing-along lullabies, 40 calming melodies, relaxing nature sounds and soothing shushing sounds. Choose between the 2 modes to play either music or sounds. The cot light features a 10, 20 and 30 minute timer, volume controls and light controls that operate the night light and the rotating light pattern projected onto the ceiling. The built-in sound sensor plays calming responses if baby cries. Strap included to securely attach the unit to a cot.
Snooze & Soothe Elephant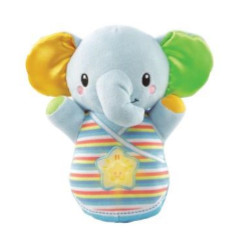 The Snooze & Soothe Elephant by VTech is an adorable and cuddly little friend to comfort baby when it's time to go to sleep. The elephant has a variety of soft fabrics which provide comforting tactile stimulation. Cuddling the elephant and pressing the elephant's light up button triggers responses, including 2 gentle sing-along songs, 30 calming melodies, relaxing nature sounds and loving phrases designed to soothe your little one, whilst promoting sensory and auditory development. Squeeze the elephant's glowing light up button to pause or play the current response. The electronic module is removable, allowing the elephant to be hand washed.
My 1st Car Key Rattle

Driving is so much fun with the My 1st Car Key Rattle! This Car shaped rattle features 3 press buttons on the car to introduce baby to car concepts, colours, music and sensory and tactile stimulation. The music button play 11 melodies and happy 3 sing-along songs. The horn button plays horn sound effects for realistic role play and press the window to learn the car and car key colours. Baby can shake the car to activate the motion sensor which will play car engine and acceleration sounds for realistic role play. Includes a flashing light – up window that attracts baby
– £14.990+ years
– £16.990+ years
– £12.990+ years
Stockist information: Tesco, Thetoyshop.com, Argos
Stockist information: Tesco, Amazon, Thetoyshop.com
Stockist information: George
Little Friendlies Starlight Sounds Polar Bear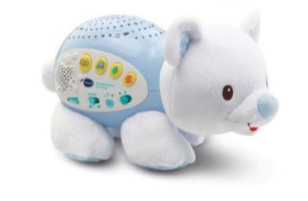 Soothe your baby to sleep with the Starlight Sounds Polar Bear. The cute, soft and cuddly polar bear features 4 modes of play with a 15, 30 or 45 minute timer, a light control button and an adjustable volume dial. The polar bear projects four different coloured lights with the option of 6 different light displays onto the ceiling whilst playing calming nature sounds and lullabies in the nature and lullaby mode, 3 soothing sung songs and melodies play in the lullaby mode, 7 popular nursery rhymes will be read in the story mode and 60 relaxing melodies will play in the lullaby mode.
Sleepy Glow Bear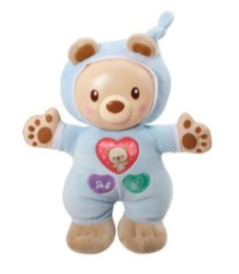 This soft and cuddly soothing bear is the perfect companion to help baby settle at night. Featuring a squishy body, soft furry feet & paws for tactile stimulation and a soft glowing light with two settings that help soothe baby. 3 press buttons on the bear's tummy play loving phrases, white noise and nature sounds. Includes 2 sing-along songs and 40 melodies to help relax baby to sleep. Parent friendly features include a light control switch to control the light intensity and a timer switch for 15 or 30 minutes play time. English speaking voice promotes recognition and accelerates learning.
Little Friendlies Glow & Giggle Playmat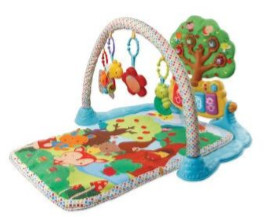 This beautiful playmat features a colourful rainbow arch with 3 attachment links for a hanging a mirror for self discovery, a dangling butterfly with crinkled wings for sensory development and a caterpillar teether for soothing baby's gums. Beneath features a soft padded mat covered with the popular Little Friendlies characters to make play time comfy. Includes a detachable piano activity centre where baby can press the piano keys laying down or sitting and learn animals, shapes, sounds and colours in the 3 modes of play. The giant tree attracts baby with magical light-up apples. Features 20 melodies and 6 sing-along songs.
– £27.990+ years
– £16.990+ years
– £44.990+ years
Stockist information: George, Smyths, Argos
Stockist information: George, Smyths, Mothercare
Stockist information: George, Argos
Baby Toys
Hug & Rhyme Bears Book RRP £16.99, 6+ months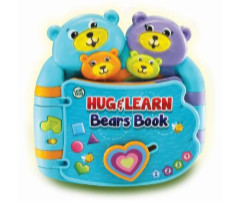 This adorable, interactive book introduces early language skills to pre-readers. The six-page story is full of family love and big bear hugs while teaching numbers, shapes and colours. Press the four light-up faces to hear phrases from each bear and listen to music and sweet sounds as you turn the pages.
Popping Colour Mixer Truck RRP £18.99, 6+ months
Get to work mixing colours with the Popping Colour Mixer Truck. Drop one of the colourful balls into the adorable construction truck and the mixer will light-up to match the colour of the ball. Add another ball and press the lever to watch the balls tumble around and "mix" together to change the colour of the mixer and learn how new colours are created. Buttons on the side of the truck teach colours, shapes and numbers.
My Pal Scout/Violet RRP £25.00, 6+ months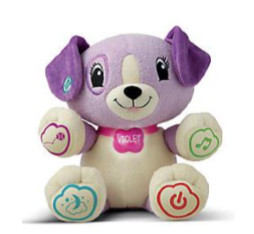 My Pal Violet introduces a variety of early learning concepts from numbers to routines and music. As a loyal learning buddy, Violet prompts kids to interact with him socially and encourages them to talk and sing along to build early language skills.
Stack & Tumble Elephant™ RRP £19.00, 6+ months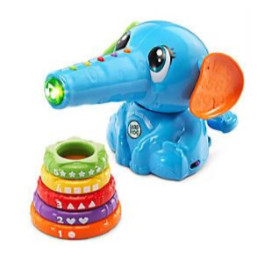 Stacking is tons of fun with the Stack & Tumble Elephant™. Stack the five brightly coloured, textured rings on the elephant's trunk. As each ring is placed on the trunk, he will play silly sounds, say adorable phrases and introduce colours, numbers and shapes. Press the music note button on the elephant's trunk to hear playful songs. When you press his tail, the elephant will count, talk, sneeze and send the rings tumbling off his trunk. Then, play again!