Bird & Wild coffee is Fairtrade, Organic, Bird Friendly and Shade Grown. As the RSPB's official coffee, 6% of all sales are donated back to them to help them to protect wildlife, restore our woodlands and build a future where we live in harmony with nature.
www.birdandwild.co.uk  (On Amazon) + Ocado!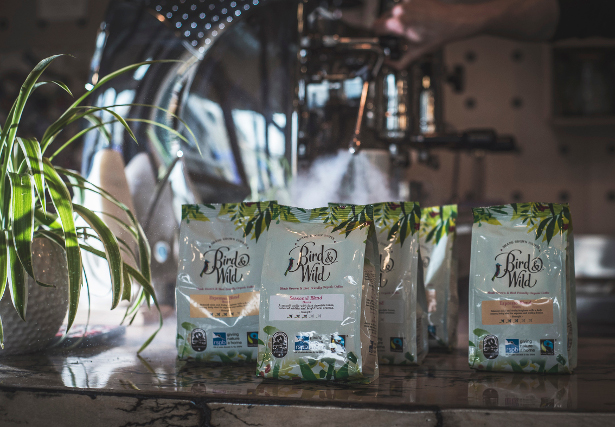 Available in two delicious flavours, the Seasonal Blend is medium roasted to perfection for a smooth coffee with dark chocolate tones, balanced acidity and bright floral aromas. The medium dark Espresso Blend is expertly roasted to produce a well-balanced tang of cocoa and fruit within a dark, creamy body that makes it ideal for espresso and milky drinks.
What is bird friendly coffee?
Bird Friendly Certification guarantees that every bean is produced organically and under high-quality shade, ensuring tropical 'agroforests' are preserved and migratory birds find a healthy haven when they travel from northern climes to faraway farms producing the beans. With widespread clear cutting for sun coffee plantations, it's imperative to protect the tropical forest that remains and help to rehabilitate degraded ecosystems. Every cup of Bird Friendly coffee you drink encourages more farmers to grow in the shade, which is good for birds and for people.
What is shade grown coffee?
Traditionally, coffee was grown commercially under other trees that provided shade, and in its natural wild state, coffee much prefers shade in the heat of the tropics. However, since the 1970s, new sun-tolerant coffee plants have been developed with the aim of higher production rates and larger yields through higher-density, open planting over huge areas of land. Unfortunately, these cultivation practices of open planting is unsustainable, destroys the land through overexposure to the sun and has a negative impact on the environment. As a result, the concept of Shade Grown Coffee, a return to traditional coffee farming, was born. A canopy of assorted types of shade trees is created to cultivate shade-grown coffee, which incorporates principles of natural ecology to promote natural ecological relationships.
Price:
Seasonal Blend Medium Roast, Fairtrade, Organic Beans and Ground 200g – £4.99
Signature Espresso Blend, Fairtrade, Organic Beans and Ground 200g – £4.99