BOOK! The Tao of Sudoku: Yoga for the Brain (Sudoku Wisdom) / So helpful at anytime! >
www.cristinasmith.com/yoga-for-the-brain-books/
FACEBOOK | TWITTER | GOODREADS | YOUTUBE
The Tao of Sudoku: Yoga for the Brain is great  entertainment. It is for beginners and is appropriate for ages 10 up. It has been featured in elementary school team sudoku tournaments.
Want a fun way to maintain, train and entertain your brain? The Tao of Sudoku delivers health and happiness through the power of positive play. This is the perfect book for Sudoku beginners to intermediate puzzlers. Enjoy goodies galore to enhance your life inside this award-winning book.
It dishes up fascinating facts, Taoist philosophy, and some surprising benefits of this popular puzzle, providing chicken soup for your brain and soul. The 100 easy to intermediate puzzles come with an inspiring quote, making every page both a challenge to be solved and a meditation for self-realization.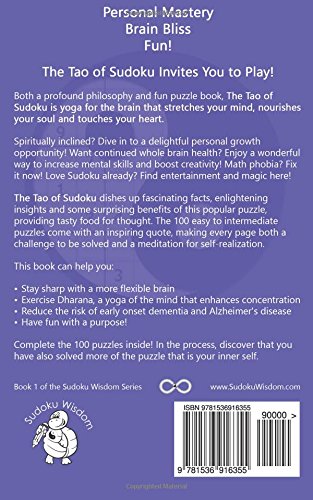 This book can help you:
* Stay sharp with a more flexible brain
* Exercise Dharana, a yoga of the mind that enhances concentration
* Reduce the risk of early onset dementia and Alzheimer's disease
* Have fun with a purpose!
The Tao of Sudoku: Yoga for the Brain invites you to play. Complete the 100 puzzles inside. In the process, discover that you have also solved more of the puzzle that is YOU!
Gold Medal Winner, Health and Fitness- 2017 Readers' Favorite Book Awards
Winner of International Excellence Body, Mind, Spirit Book Award®
Winner of 2016-2017 Readers View Literary Award
Medalist Winner of the 2016 New Apple Annual Book Awards