#1 Seller Helps Women Love Themselves in 5 Minute Per Day!
Overcome low self-esteem, body image issues, or lack of self-love with a guided journal.
FACEBOOK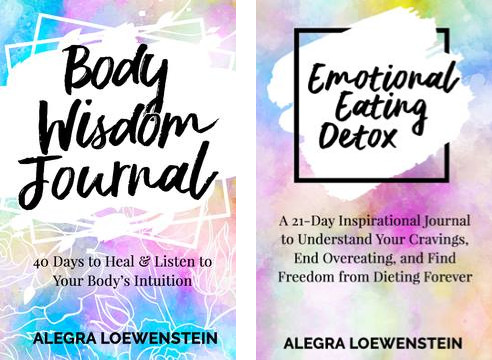 San Diego, California, USA – The problem today is that 80% of people who lose weight are unable to keep it off. We are busy and stressed, and it is making us unhealthy and overweight. The solution is as simple as starting a journaling habit.
Body Wisdom Journal: 40 Days to Heal & Listen to Your Body's Intuition taps into the body empowerment and self-love that I have found most women need in order to stop the self-sabotage that makes it hard to reach weight and health goals. It will help you use your own intuition to guide you to feeling connected to your body, and best of all to help you to step off of the scale in order to experience freedom from dieting and start feeling your best, even before you reach your health goals.
"It's not a moral failing," said Alegra Loewenstein, Author and Health Coach. "Overeating or being overweight has nothing to do with willpower, and everything to do with managing stress and getting in touch with what your body is telling you."
Even busy, ambitious people can free themselves from the yo-yo dieting cycle that does not work, and can do so while eating only the foods they love! They transform their days to feel confident in their bodies, let go of their fear of bad foods, and relax into a new way of eating that is simple and easy to do. All with 5-10 minutes per day of journaling. This transformative approach takes away the guilt and restrictions, making it safe and easy to create a new lifestyle of health that is aligned with goals and values.
"The body never lies," said Martha Graham, American Dancer and Choreographer. Alegra Loewenstein adds to that, "Your body is always talking to you, but we are taught not to listen. To lose weight and keep it off we have to rediscover our own body wisdom. Keeping weight off is about rediscovering what we already know."
The next journal forthcoming from Alegra Loewenstein will be Food Journal Magic: A Daily Food and Wellness Journal to Manifest More Health & Happiness, and it will focus on tracking day to day choices without counting calories or points.
Alegra Loewenstein
Author, Speaker, Coach
#1 Amazon Seller Emotional Eating Detox: A 21-Day Inspirational Journal to Understand Your Cravings, End Overeating, and Find Freedom From Dieting Forever
#1 Amazon Seller Body Wisdom Journal: 40 Days to Heal & Listen to Your Body's Intuition
—> If you are ready to end late night eating without using any willpower, click here (or share). <—