Ho Medics, where wellbeing and technology come together. Let's make your house a home:
FACEBOOK | TWITTER | INSTAGRAM | YOUTUBE
STRETCH XS – Back Stretching Mat
STRETCH XS – THE BACK STRETCHING MAT INSPIRED BY YOGA
Experience the touch of a massage therapist and feel immediate benefits in shoulders, back and hips with the HoMedics STRETCH XS. Lay back and unwind as STRETCH XS moves your body through a gentle yet powerful sequence of yoga inspired stretches and twists. Give yourself the gift the relaxation at home, work or even when you travel, release tension and improve flexibility with the HoMedics STRETCH XS. Compact and portable, this mat also comes with an adjustable headrest.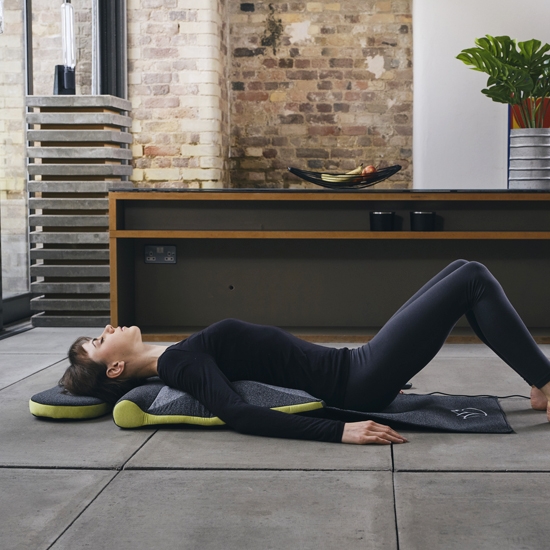 Compact Size & Lightweight
For easy portability simply fold and fasten straps for compact storage and travel. Handy handle to take with you from the home, to the office and on holiday for relaxation anytime, anywhere.
4 Precision-Controlled Air Chambers
A selection of carefully choreographed treatments inspired by yoga and recreated through a system of air chambers. Each one designed to inflate in sequence and stretch the body.
Suitable For Different Orientations
For a more customised experience, the STRETCH XS is designed to be used in two different orientations: 1. Shoulders & Back (Upper torso) – Lay on the mat with your shoulders against the bolster end of the mat. 2. Hips & Back (Lower torso) – Lay on the mat with your bottom against the bolster end of the mat.
See many many more benefits here >> https://www.homedics.co.uk/homedics-stretch-mat-xs.html
HoMedics UK is about creating a healthy home environment that helps you relax your body, de-stress, and simplify your life.
Originally founded in 1987 by entrepreneurs Ron Ferber and Alon Kaufman, HoMedics is widely recognised for its home massage products, and continues to be a leading innovator in massage technology today. But massage is not all we do! HoMedics has a full line of in-home wellness products that are uniquely designed to promote your well being; including: Professional Beauty, Air Filters, humidifiers, sleep aids, fitness monitors, and more.
Since HoMedics was founded in 1987, we've become the #1 name in health and wellness. Our extensive line of personal wellness products allow you to relax your body, renew your spirit and simplify your life. As the innovative leader in self-care, wellness and personal health products, we continue to strive to provide you with products that promote your well-being.
At HoMedics, we believe that nothing is more important than your health. Our revolutionary products and ideas have transformed the world of personal wellness for consumers worldwide. And we continue to invest in the latest technological advances to provide you with the most innovative personal well-being products available.
We stand by our products. Each one is created with the highest quality components and is quality crafted for years of dependable use. And every product is backed by a warranty.