FEEL-GOOD HEALTH
THREE OF OUR FAVOURITE MINERALS
Jayne Wilson, Wellbeing Expert for food supplement and mineral experts, Wassen, tells us which three minerals we should consider incorporating into our diet.
Minerals are inorganic substances found in rock, soil, plants and animals, which means they're connected to everything, including us! But before we get too deep and meaningful, bear in mind how essential they are for your health and wellbeing.
Jayne has selected three of the key minerals our bodies need and some tips on how to introduce more into the diet.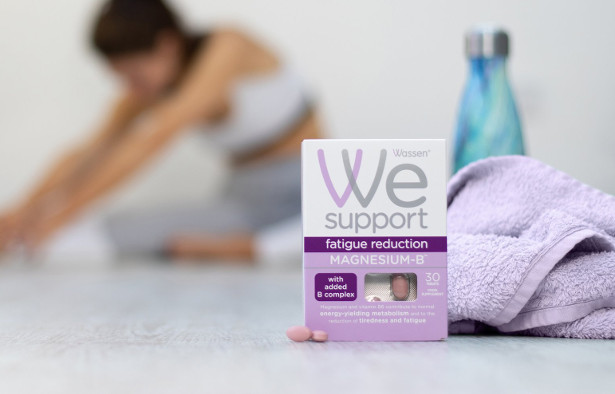 Magnesium is an essential mineral involved in helping to release energy from the food we eat. If we experience the symptoms of deficiency, it's possible to experience fatigue, muscle weakness and low tolerance to stress.
How to improve magnesium consumption
Have a relaxing bath with Epsom salts – they contain magnesium salts and are the perfect way to unwind

Eat more dark, green leafy vegetables such as kale and spinach as well as nuts, seeds and legumes.

A side salad of green leaves and pine nuts with olive oil and lemon juice is a tasty and delicious way to introduce more magnificent magnesium!
Selenium contribute to the normal function of the immune system and contributes to normal thyroid function. The symptoms of a deficiency of selenium include poor hair health, poor immunity and poor thyroid function.
How to improve selenium consumption
Eat organic foods as the amount of selenium in fruits and vegetables correlates with the amount of food in soil and organic produce tends to be more nutrient-dense and therefore an improved source of selenium.

Introduce oily fish such as tuna, halibut or sardines as well as wholewheat spaghetti, brown rice and brazil nuts.

For a quick and easy snack try sardines on wholemeal toast – fast food at its nutritious best!
Zinc
Zinc contributes to the normal function of the immune system and the symptoms of a deficiency could include poor appetite, skin and poor taste sensation.
How to improve zinc consumption
A healthy intake of red meat, poultry and seafood can be an excellent source of zinc.

It is harder for vegetarians so include lots of cashews, almonds and peas.

Zinc is also found in sesame seeds and chickpeas.  A great on the run snack is tahini (made from sesame seeds) or hummus (made from chickpeas) on oatcakes – wholesome, filling and healthy.
If you need a little extra help introducing these minerals into your diet, Wassen has a range of food supplements including Magnesium-B, Magnesium-OK and Selenium ACE+D. Available from Boots the Chemists and at www.wassen.com
About Wassen
The Wassen We Support range is manufactured by Wassen International Ltd. Other products in the range including Magnesium-OK for the monthly cycle and Co-enzyme Q10 for staying active. Wassen's expert formulas were originally created over 40 years ago to supplement vital minerals that can be in reduced supply thanks to soil depletion from modern farming methods and increased consumption of processed foods. Wassen's formulas combine these essential minerals with vitamins to offer solutions for everyday health concerns.  The Wassen range is manufactured in the UK to pharmaceutical standards with premium sources of vitamins and minerals using many years of expertise in product formulation.
Food supplements should not be used a substitute for a balanced diet or healthy lifestyle.
About Jayne Wilson
Jayne Wilson trained at the world-renowned Institute of Optimum Nutrition 10 years ago alongside the Lunchbox Doctor and Lowri Turner.
She has practised for the last 10 years as The Scrummy Nutrition Clinic, Wilsonhealth360 and as Jayne Wilson Nutritional Therapy. She specialises in women, children, alleviating stress and autoimmune disease.
RECIPE by Jayne Wilson
Easy, magnesium-rich kedgeree recipe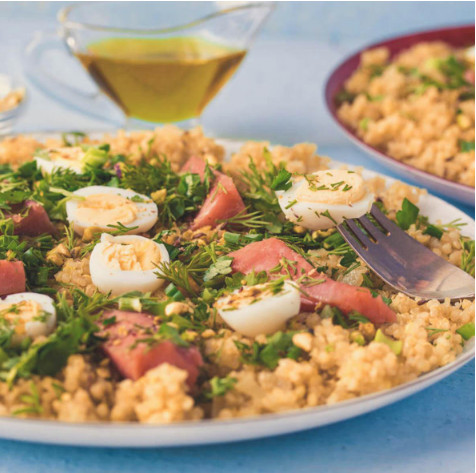 For an easy lunch, dinner or even a posh breakfast, kedgeree with mackerel and wholegrain rice is a tasty option that will keep up your magnesium levels as part of a healthy, balanced diet.
Ingredients
1.5 cups of brown/wholemeal rice

1 tbsp of chopped spring onion

Handful of spinach

Cooked mackerel fillet, flaked

1 hard-boiled egg – chopped

Dash of Soy sauce (to taste)

Dash of olive oil

1 tbsp fresh chopped parsley

Lemon Juice
Method
In a heavy based frying pan add the Olive Oil and gently sauté the spring onion, once softened as the spinach and brown rice. Warm through. Add the mackerel, boiled egg and soy sauce and gently stir into the rest of the ingredients. Once warm after 1-2 minutes serve immediately. Season with Pepper, the lemon juice a dash of olive oil and the parsley.
This can be placed in a Kilner jar and taken to work for lunch or stored in the fridge for a couple of days.