Ready for summer: Sharp's Brewery launches Doom Bar mini keg and cans
~ Fans can now enjoy Doom Bar in more ways than one~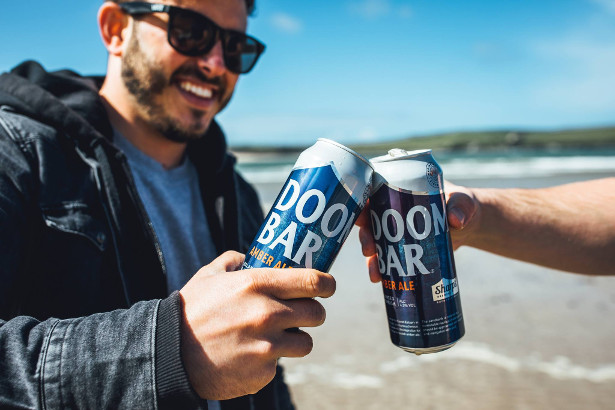 FACEBOOK | TWITTER | YOUTUBE | INSTAGRAM
With summer just around the corner, Sharp's Brewery has announced the launch of two new Doom Bar products. The UK's no.1 cask beer, Doom Bar, is now available in a 5l mini keg and in 500ml cans, giving drinkers even more choice of how to enjoy the iconic Cornish ale.
The new 500ml cans of the award winning amber ale come as a four-pack and are packaged in cardboard rather than plastic – a move which highlights Sharp's commitment to sustainability. The cans can be cracked open at home, enjoyed al fresco at the beach and summer events, and savoured alongside this year's round of barbeques. And the easily transportable Doom Bar mini keg is perfect as a gift, becoming a crowd pleaser for upcoming Father's Day and summer parties.
Inspired by its namesake, the treacherous sandbank near the brewery's home in Rock, Cornwall, Doom Bar is Sharp's most iconic beer. With a complex blend of succulent dried fruit, lightly roasted malt and a subtle yet assertive bitterness, the mouth feel is balanced and the finish is dry and refreshing.
The Doom Bar mini keg (£16 RRP) and 500ml cans (sold as a four-pack for £4.78 RRP) are now available nationwide at Tesco and will also be stocked at Sainsbury's and Morrisons stores from the end of May. The cans will also be available nationwide at Asda from 8th May.