Goodordering design highly functional bags that you can carry on or off a bike, and their mini range of bags is perfect for back to school season.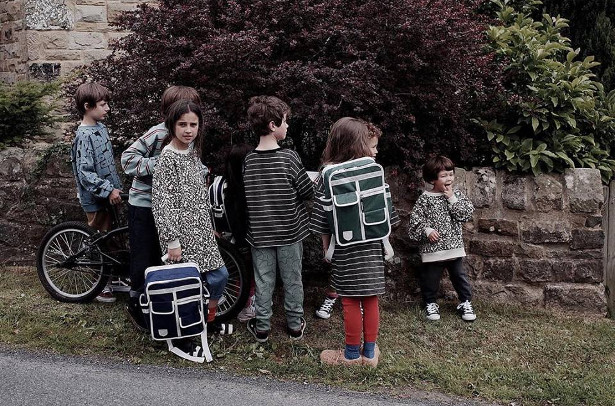 FACEBOOK | INSTAGRAM | TWITTER | PINTEREST | TUMBLR
 With high visibility straps for safety, and ergonomic design to match small proportions, plus plenty of pockets for stowing belongings neatly, the bags are very well thought through for school needs.
Founder of Goodordering, Jacqui Ma (pictured below), regularly cycles with her young family which inspired the Goodordering brand of clever bags and eyewear that make cycling easier to manage, more stylish, and more fun. The brand's mission is to encourage more girls in particular to give cycling a try, not only for the physical and mental health benefits, but also for the environmental impact and sense of community.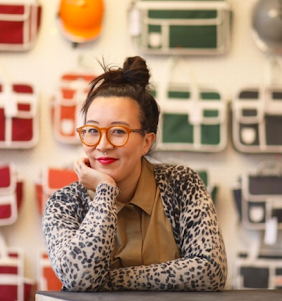 Jacqui always tests out designs on her family and none get produced unless they meet their exacting standards!
Goodordering is an independent design brand based in Hackney, East London.
Founder and designer Jacqui Ma designed bags for Puma, Virgin Atlantic, Microsoft and Debenhams before working in trend prediction at WGSN. In 2012, as a working parent who cycled everywhere, after spotting a gap in the market for practical and stylish bags for urban cycling families, Goodordering was born. Launching through Kickstarter, the brand was an instant hit with Kickstarter's innovation-savvy community.
At the heart of Goodordering is the belief that if cycling is made more fun and accessible, more people will cycle more regularly. The physical and mental health benefits of cycling are well-known, with more and more people taking to two wheels every year. For those that haven't (yet) there can be a number of reasons why, from road safety concerns to the ease of moving around when living a hectic 'digital nomad' lifestyle. It can also be pretty unstylish (thanks MAMILS!). For many women, it has felt like a 'male' mode of transport due to the brands and products dominating the market. And becoming a parent can add further complications to any 2-wheel adventures… although it doesn't have to be this way!
At Goodordering, our mission is to make cycling fun and easy for all. We celebrate the simple pleasure of taking life a little slower. We also love great design, and adding a dash of fun to our everyday adventures, through the accessories we wear.

The company was founded in a flat above a bicycle shop on Broadway Market and after opening a successful store in the East End (Goodordering's 'OFFLINE' shop!), now the brand has a store in the Gangman district of Seoul, South Korea. In fact, Facebook picked up on the Goodordering success story for their March 2018 Business Pages campaign, mentioning the Seoul store, with founder Jacqui featured on billboards and in the press, globally. In July 2018, the Dezeen Design Awards nominated Goodordering within their Transport Category, and the winners are to be announced in London in November 2018.
The range of bags include cycling bags for panniers and handlebars, baby buggy nappy bags, school bags (in 'mini' and full-size) and everyday work bags. The range was inspired by Japanese school bags and 80s retro travel bags, providing a touch of nostalgia. The bags all have multiple pockets for organising belongings, extra padded straps for comfort on the move, and are water-resistant and hardwearing. One of the key benefits of the range is the bags' multi-functional design for seamless lifestyle transition; allowing a cycle pannier bag to convert to a handy shopper, a handlebar bag to a messenger, and a backpack to a family picnic hamper! The range extended in 2017 to include 3-in-1 multi-function eyewear (optical prescription, sunglasses and night vision).
The brand name comes from the joy of ordering well at a restaurant. Jacqui says: "Our family often went out for meals together and after a very satisfying meal, we would all call out 'Good ordering!' to Mum. I wanted to capture that same spirit of delight and family together-ness in every aspect of the Goodordering brand". The entire brand experience is designed to leave customers feeling good.
This explains why the brand has seen steady success to date, particularly through focussing on creating a family atmosphere with staff and customers alike. The small female-only team (Jacqui's 'girl brigade' of cyclists) are particularly passionate about coaxing more girls out onto their bike, to join in the fun. Feedback from customers is paramount in the design process, and many fans have become friends of the team.
The next step for the brand is to further develop the growing community of style-savvy, working professionals and their families, otherwise known as 'GOers'. Goodordering are planning inspiring local events and online hangouts, where GOers can find and give support to like-minded creatives and entrepreneurs, that value bold, intelligent design and family values.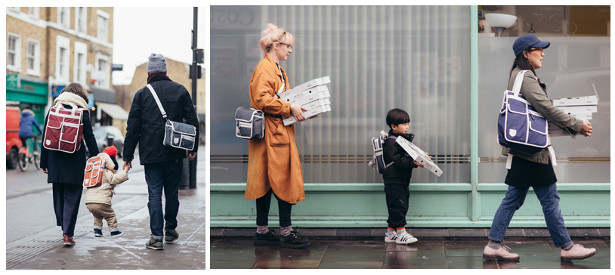 Goodordering is stocked in concept stores and independent boutiques globally, including Tokyo Bike, The Design Museum in London, Merci in Paris and Action Bicycle Club in New Zealand, to name a few.
The brand has been featured in The Guardian, The Independent and Another Magazine amongst many others, and has recently launched a collaboration collection with Transport for London featuring the iconic London tube map on the lining material, sold through the London Transport Museum Shop. The future sure looks bright for Goodordering and their GOers…
So, what are you waiting for? Get on your bike and get 'Goodordering'!