3 Sublime Moroccan Argan Oil 100% Pure & Organic www.lordandberry.com/uk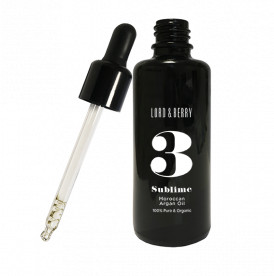 INSTAGRAM | FACEBOOK | TWITTER
This luxurious pure & organic Moroccan Argan Oil is your skin saviour when it comes to nourishing and hydrating as well as treating. Gentle on even sensitive and dry skin types, the anti-oxidants work to minimise fi ne lines and signs of ageing by restoring elasticity and plumpness to skin. SUBLIME also provides non-greasy hydration perfect for acne-prone skin as it regulates your natural oil levels and lowers the production of sebum.
As well as skincare, it can be mixed with foundation to create a dewy, healthy look and give matte foundations a more sheer fi nish. Smooth into the ends of wet hair to leave it feeling velvety soft and then massage any excess into cuticles to tide you over between manicures. Dab gently onto lips before bed for a mini overnight treatment leaving them silky soft and smooth in the morning.
This multiuse product serves multiple functions and comes in a handy 50ml making it perfect for a relaxing in-fl ight boost of hydration and use on the go.
TO USE: Simply smooth a few drops into your skin using gentle rubbing motions, as you would any face or body lotion. Perfect for all skin types, this oil can be used on complexion, hair, body and nails.
RRP £35 available at lordandberry.com

QUALITIES AND BENEFITS: • Enriched with Vitamin E, Fatty Acids & Anti-oxidants. • Can be used on hair, skin and nails. • Suitable for all skin types. • The black glass bottle fi lters out blue and ultra-violet light that can damage the formula and reduce effectiveness.
#1605
Made in Morocco Net wt 1,7 Fl Oz / 50 ml Not tested on animals