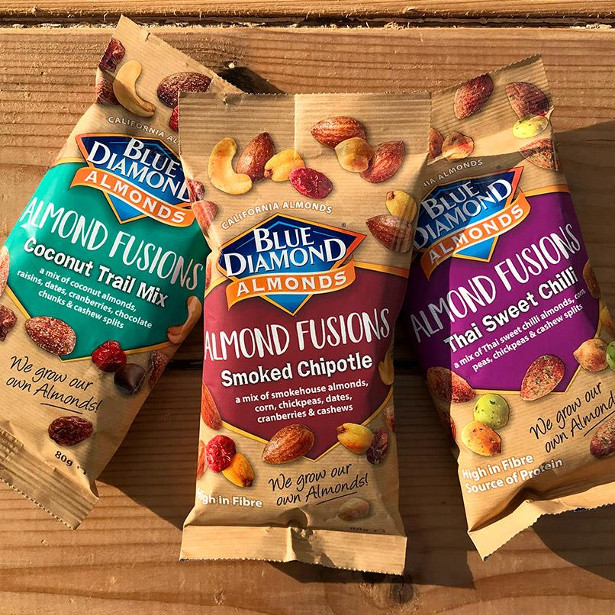 Blue Diamond Almonds has launched Almond Fusions – a new range of tasty almond snacks, inspired by different cultures for those looking for a healthy snack whilst on-the-go. The new flavours include Thai Sweet Chilli, Smoked Chipotle and Coconut Trail Mix.
With new Blue Diamond research revealing that two thirds of Brits feel stuck in a rut with their food choices, Almond Fusions offer the perfect option for those looking to spice up their snacking habits, whilst gaining natural goodness that almonds contain, such as protein to keep you energised throughout a busy day. What's more, they're the perfect healthy snacking option for those on-the-move.
New
Thai Sweet Chilli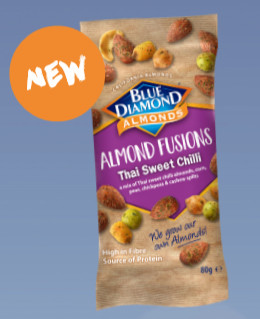 A mix of sweet chilli almonds, corn, peas, chickpeas and cashew splits, this new mix is high in fibre and a source of protein, perfect for a post-workout snack to help your muscles recover.
 Smoked chipotle
New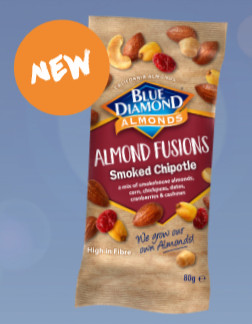 A mix of smokehouse almonds, corn, chickpeas, dates, cranberries and cashews, this smokey mix is high in fibre, which helps prevent digestive problems, as well as being delicious.
New
Coconut Trail Mix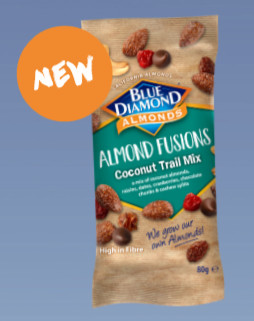 A mix of coconut almonds, raisins, dates, cranberries, chocolate chunks and cashew splits, this new mixture is high in fibre so will keep you feeling fuller for longer and help curb any sweet cravings.
Fibre is important for digestive health and has been shown to reduce cholesterol level, as well as the risk of heart disease, diabetes and bowel cancer.
Protein helps with the formation and repair of body cells including tissues, muscles, bones, hair, skin and nails. It also helps maintain the immune health and provides a great source of energy.