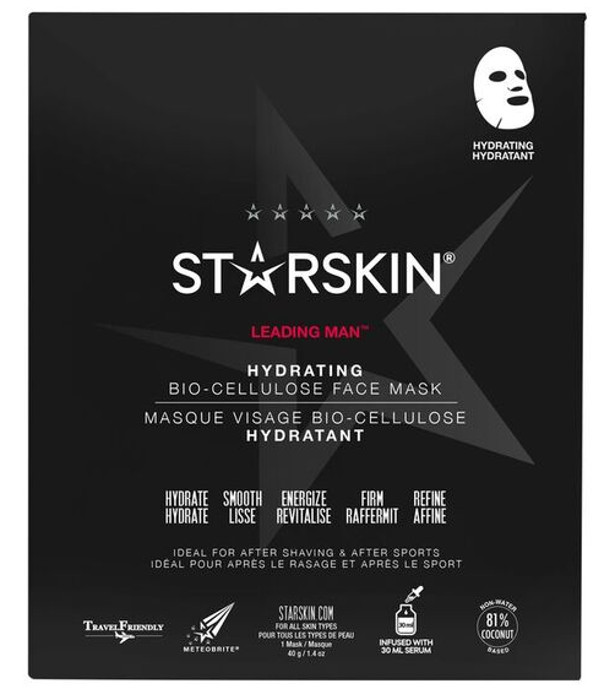 FACEBOOK | INSTAGRAM | YOUTUBE
Leading Man™ The first hydrating bio-cellulose sheet mask specifically created for men's skin According to Euromonitor, the men's grooming market will reach £47.2 billion by 2020. As men become more educated and aware of their skin concerns, a fresh demand for targeted solutions has grown.
Gone are the days where men opt for two-in-one everything or occasionally borrow moisturiser from their girlfriend. Starskin® introduces a solution for the modern man- the first Hydrating BioCellulose sheet mask specifically created for their drier, rougher skin which plain and simple is different to women's.
In addition to facial hair, their skin is thicker and produces more collagen and sebum. Leading Man™ delivers a non-water based – and therefore more powerful – 30ml concentrate of moisturising Coconut, Thyme and Butterfly Bush to refresh and rehydrate dry and tired skin and penetrate men's thicker layers.
Bio-Cellulose is a premium material made of naturally fermented, vitamin-rich coconut juice. The unparalleled, ultra-cooling gel-like structure adheres to the face like a second skin, ensuring maximum absorption of the concentrated serum.
Key Ingredients:
• Butterfly Bush: Anti Inflammatory
• Coconut: Hydrating
• Chamomile: Calming
• Thyme: Soothing
• Menthol: Cooling
Formulated without: • Parabens • Silicone • Sulphates • Phthalates Made in Korea. Vegan. PETA Certified. All Natural Certified. BPA Free. Available from Debenhams, Harvey Nichols and Fenwick. £8.50