MERIDIAN GOES NUTS ABOUT SUPERFOODS WITH NEW PEANUT BUTTER & BAOBAB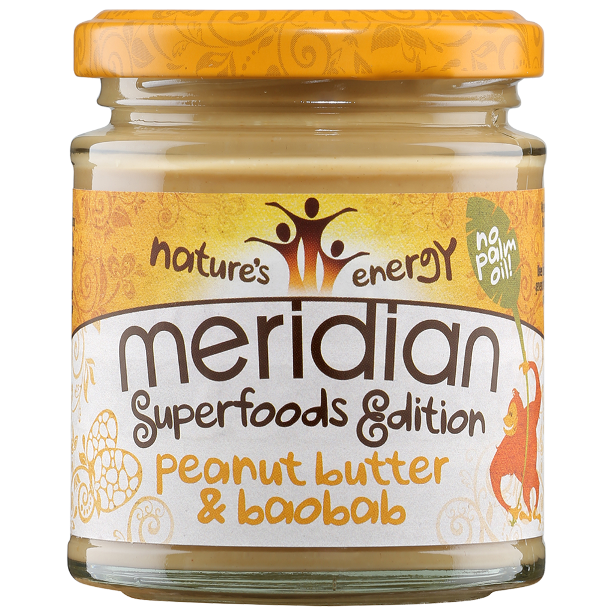 PINTEREST | YOUTUBE | TWITTER | FACEBOOK | INSTAGRAM
Meridian Foods, leading producers of delicious nut butters and nut bars, have added an innovative new product offering to their current range by launching a new special edition Superfoods recipe – Peanut Butter & Baobab.
As Britain continues to place a greater emphasis on health and wellbeing, consumers are increasingly looking for new and exciting, yet nutritious foods that are packed full of natural benefits and will help them to achieve their health, wellness & fitness goals. By combining three popular ingredients – peanuts, baobab and coconut oil, Meridian has developed an innovative new superfood nut butter.
The new Peanut Butter & Baobab is available in a 170g jar (RRP £2.49) and combines Meridian's popular peanut butter with the unique citrussy and sweet flavour of African Superfood baobab to create a deliciously creamy yet zesty nut butter with a smooth texture. It's perfect for adding into smoothies, shakes, cakes & bakes, generously stirred into porridge & ice cream, or just simply on spread on toast and crumpets.
Baobab is a unique African 'superfruit' derived from trees mainly native to Africa and Madagascar and is harvested by hand by collecting the pods from the trees or off the ground.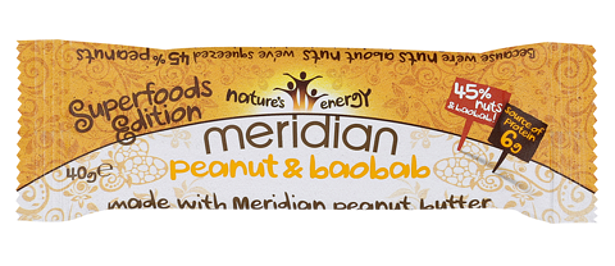 It is classified as a Superfood and offers a range of health benefits to consumers, with six times more Vitamin C than oranges, twice the amount of calcium than milk and extremely high antioxidant levels – more than double those of its nearest competitor, the Açai berry!
The accompanying Peanut & Baobab bar (RRP £1.19) is the ninth addition to Meridian's popular nut bar range. The 40g bar is made using Meridian's very own peanut butter, containing 6g of protein per bar and offering a tasty and convenient way for consumers to snack healthily on-the-go. By turning their nut butters into a snack format, Meridian are enabling consumers to enjoy nuts more and more in their daily lives, particularly in a delicious portable format.
Sue McIntosh, Head of Marketing at Meridian Foods, said: "Shoppers are increasingly looking for new and exciting foods that are both delicious and contribute nutritional benefits, but with convenience at the forefront to fit in around our busy lives. With just three ingredients, our new Peanut & Baobab Nut Butter provides a great tasting healthy snack immediately to help those on a busy schedule."
"Peanuts already provide a rich source of protein, vitamins and minerals, however the addition of Baobab as a superfood is something unique to the nut butter category. The superfood trend shows no sign of going away with demand and production of superfood products soaring in recent years* and we hope people will be looking forward to trying something new!"
Meridian's new Peanut & Baobab Range will be available to buy online at www.meridianfoods.co.uk and from selected independent health food stores from June onwards.
Visit www.meridianfoods.co.uk for a selection of delicious recipe ideas using the new Peanut & Baobab Butter and to buy the full range online.