MyShittyBackpack® Timeless 5 pocket hemp/cotton bagpack. myshittybackpack.com
(The 15% off code is RUGBY15 valid through 2/15/21.  Enter the code in the « Discount coupon » field at checkout and it will apply to your order.)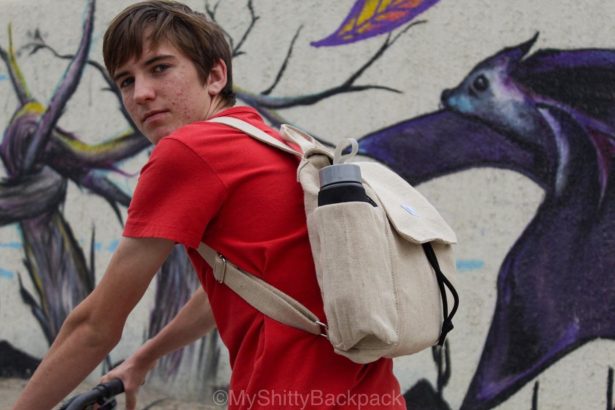 A hemp/cotton backpack design MyShittyBackpack It features an exclusive key organizer and 4 more useful pockets that customers love. This bag is a timeless quality item that is meant to last a long time.
15% off here !
What is special about this backpack? After 15 years of unsuccessfully searching for the perfect backpack online and in stores, Christelle Day created her own backpack in 2016 with features that she could not find in other backpacks, like the exclusive key organizer and the other 4 pockets. Most of her customers are women.
The story behind this backpack is that in 2016 Christelle first had it hand woven by a Mexican master-weaver in Oaxaca, Mexico. It was hard to find a weaver who would agree to take on this challenging design. The technical difficulties were high even for an experienced weaver. The result though was an incredibly beautiful and ethical backpack that is still for sale on another website but it cost too much!
So she turned around and had the exact same model made industrially in China in 2019. China owns 70% of the world's hemp production. Christelle was surprised by the quality of the product that came out of their production lines!
MyShittyBackpack®
Timeless 5 pocket hemp/cotton bagpack. External water bottle holder, large smartphone zip pocket, quick-access key organizer in the back. Durable, comfortable and practical. Vegan friendly, washable. Never forget or lose your keys again!